TALENT SCOUTING> Sexy Apex'i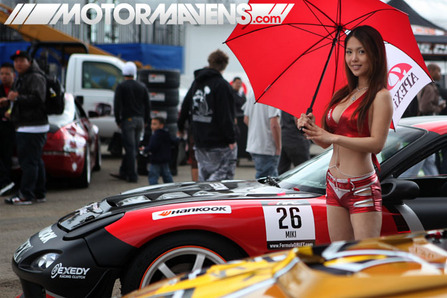 Apex Integration is a brand known not only for its power products – exhausts, suspension, and electronics… but also for its style. Ever since Apex'i started out in the USA, they have always had some of the most stylish cars and umbrella girls on the track.
At Formula D Long Beach, we noticed a new addition to the Apex'i camp that in our opinions, will attract quite a fan base. Of course we think FD driver (and former D1GP champ) Ryuji Miki is cool, but we think we'd rather have a signed Apex'i poster of Kurumi on our garage walls. Who else is down for a poster of her? We know we are!
::MotorMavens