NEWSWORTHY> Lexus LFA Debuts at SEMA!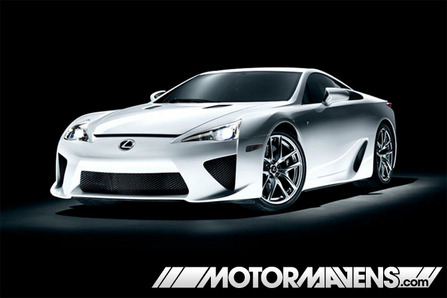 Economy notwithstanding, we're living in one of the most prolific periods of new automotive design. It's a great time to be a car lover. And, specifically, if you love the Toyota Supra you probably remember when your hopes for the return of the Supra were dashed with the unveiling of this car. By now, you're probably over it and you're ready to take a step back and evaluate the LFA for the incredible machine that it is. Or not. But, wherever you may be on the spectrum of opinion, you have to admit – she's pretty. And she's coming to the SEMA Show and the LA International Auto Show in November and December.
You might want to go and take a peek because, with a projected limited manufacturing run of 500, you won't be seeing them all over the streets. In the meantime, check out the pictures and go here to read the official Lexus press release. And tell us what you think about Lexus tossing their hat into the supercar ring.
:: Motor Mavens