CARSPOTTING> 2011 Mercedes SLS AMG Gullwing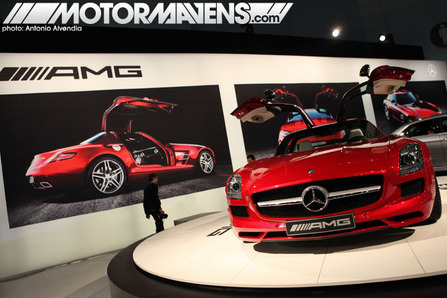 It seems that everyone and their mother were talking about the Lexus LFA online and at the LA Auto Show today. However, while walking the floor this morning, I just couldn't take my eyes off this really hot, curvy new model in the Mercedes Benz booth. I was overcome with the feeling of instant attraction when I spotted her from across the room, and naturally began gravitating towards her, like Scooby Doo and Shaggy when they're in the presence of submarine sandwiches. She was sexy and sophisticated, and she had me thinking about her all day; her initials were SLS.
If the car in the above photo looks familiar to you, it's because it reminds you of the most gorgeous, curvy (and rare!) Mercedes Benz collector's item from the 1950s… the 300SL Gullwing. The red car in these photos is the 2011 Mercedes SLS AMG Gullwing Roadster, which was the first car ever to be designed and built completely by AMG. Mercedes originally signed off on the Gullwing project with AMG way back in 2006, but the car would not be deemed ready until its pre-production mules had gone through years of secret endurance testing all over the world, including the Green Hell itself, Nurburgring's North Course. (Nordschleife).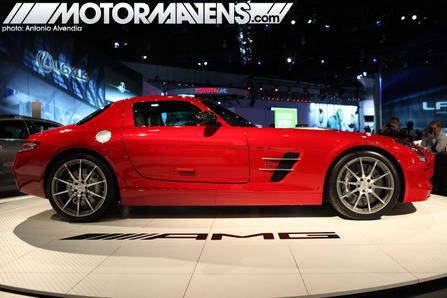 Here's the side profile of the car. Gorgeous car, but I'm not a huge fan of the wheels used on the display car; I much prefer the 5 spoke wheels on the wall art behind the car. Since I know you're wondering, those OEM Mercedes wheels are 19×9.5J up front with 265/35/R19 tires wrapped around them. The rear has a staggered setup, with 20x11J wheels in the rear with 295/30/R20s mounted up.
For the detail oriented readers who can see through the wheel spokes, those are 15.35 inch brakes up front, with 14 inch discs in the back. Both front and rear brake setups employ high end looking two piece, cross drilled, slotted, and vented rotors. Not too shabby!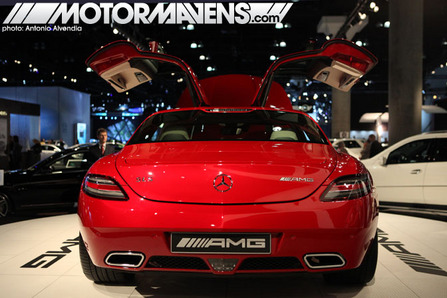 So gorgeous in the back! Now that is one sexy piece of tail.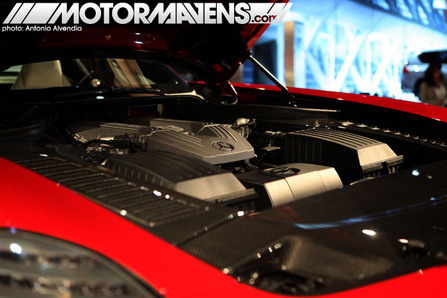 If you can see past all that carbon fiber, you'll notice the 563 horsepower AMG 6.3 liter V8 engine sitting there. It makes 479 ft lbs of torque and does 0-60 in only 3.7 SECONDS. Holy crap.
Hmmm… what else can I say to make you impressed with this car? How about the fact that it comes from the factory with a dry sump oil system, so it doesn't need to use a big, bulky, conventional oil pan. Since this 2011 Mercedes SLS AMG uses a shallower dry sump oil pan, and two sump pumps to keep things lubricated, it allowed the AMG engineers to mount the engine much lower than normal, giving the car an abnormally low center of gravity.
Impressive features about the drivetrain include the fact that the SLS has a carbon fiber driveshaft and a factory clutch type LSD. Let's say that again. CLUTCH TYPE LSD. I can't wait to see the first video (or photo) of someone drifting this SLS with ridiculous amounts of smoke coming off the fenderwells!
As for the transmission, the car comes with a seven speed AMG Speedshift DCT (dual clutch transmission), which performs automatic rev-matching when you downshift, just like a Nissan 370Z. Oh man, I'm sure that some Mercedes rep somewhere will be pissed that I referred to the 370Z's transmission when talking about their top of the line, cream of the crop SLS AMG.
Think about that for a minute… SEVEN speeds. This car must go ridiculously fast, right? Right. But unfortunately, it has an electronic speed limiter makes the top speed 197mph. Not like that's slow by any stretch of the imagination.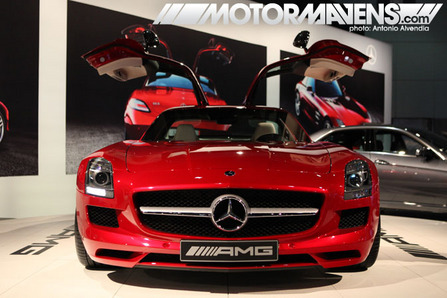 Oh hell. This thing is sooooooo gorgeous. I need to find one of these in a secret warehouse next!
WANT. Definitely WANT.
:: Antonio Alvendia