WEBMINING> Club EPS Works B310 Sunny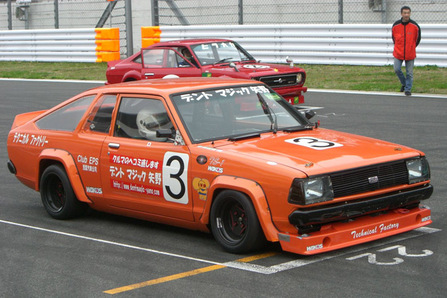 I was randomly browsing the internet over the past few days, and noticed this photo on the BeeOneOneOh blog in New Zealand, which I only recently found…. very cool site! Seeing these two vintage Nissans line up together on a track is super cool. Old school Nissan power… two generations of Nissan Sunny together at the same time.  In the front, we have the Club EPS Works Sunny from the TS Cup. Don't you just love those old school Advan Racing A3A wheels? Especially in BLACK with the red outlines.
I used to have a set of those wheels, but had to sell them when I was raising money to buy my TE27. Sigh… I loved those wheels, but it was a worthy cause. It's so lucky that the owner of this B310 Sunny has a set of these wheels… and they have such great sizes too! They fit perfectly underneath the works flares; finding aggressive sizes of Advan Racing wheels is very rare indeed. I love satin black Advan Racing A3A wheels!!!
:: Antonio Alvendia