COVERAGE> Bonneville Salt Flats Speedweek 2010
Speed Week 2010, run by the Southern California Timing Association (SCTA) at the Bonneville Salt Flats has come and gone.  It's more than a week later and I've still got Salt on my Suby (and my brain).  For reals, I washed out more white stuff from under my bugeye WRX today.  The Salt gets EVERYWHERE!  I love it!  Salt Fevaaaaaaa!
As I was snapping pics…photos (this is MotorMavens, these are photos!) of the activities, I was thinking about what I wanted to share with you guys on MotorMavens.com. There are TONS of things going on at the Bonneville Salt Flats! There were over 500 vehicle pre-entries at Speed Week 2010 – plus over 100 hot rods roaming the salt! Amazing! My hope is that I give you a flavor for what you'll experience WHEN (not if) you guys and gals attend your first Speed Week.
So, of course, I first had to perform the Salt Flats initiation on the MotorMavens flyer by sticking it in the Salt. Call it a tradition – that I'm starting right now.
The race cars.  Notice the number 4663 – which is probably a play on the fact that this Mitsubishi Eclipse's engine code is 4G63.  Clever!  The Retribution crew from Colorado has the craziest rig to pull this land racing Eclipse (see photo below).  This DSM uses an interesting combination of Galant VR4 and Eclipse GST transmission/transfer case setup for some long gearing (that's all I could get out of 'em – all racers have to keep some stuff top secret right?) which allowed the 500+ whp 4G motor to propel the fairly slippery shape to 209.622 MPH this week.  Not bad, considering this ride runs the G/PS class (G = 1.51-2.0L engine, Production Supercharged) where the record stands at 216.598 MPH.  Production class means no aero mods.  You do need roof rails, per the rules, if you're going over 200 MPH but notice the removed side mirrors.  The car is lowered, but it's hard to tell with those tall land speed racing-dedicated tires. 
Now, this is a pimpin' rig man!  Props to the Retribution crew for bringing this thing to the Salt Flats.  This thing has that vintage flair that a big shot might have brought to Bonneville in the 1960s.  Boss, man!  It had a pit motorcycle, a spare engine, spare tranny, tools, food, you name it.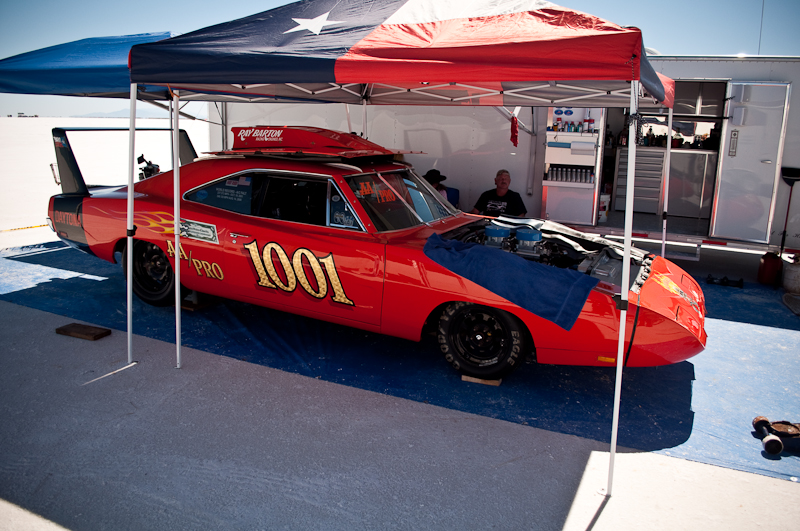 Dig this Dodge Charger Daytona sitting under some shade.  Life on the Salt Flats is all about escaping the sun from above AND below.  Seriously, you have to apply sunblock to the underside of your chin, nose, etc.  This Mopar is the new record holder for the A/PRO class (A = 440-500ci, Production Coupe/Sedan) at 235MPH.  On a later run, this 'bird (the Daytona's cousin was called the Plymouth Superbird) went 242.160 MPH out the back door.  These production cars are some of the coolest racers out there.  Pure muscle, factory body and then go flat out for 5 miles until you either break a record or break your car.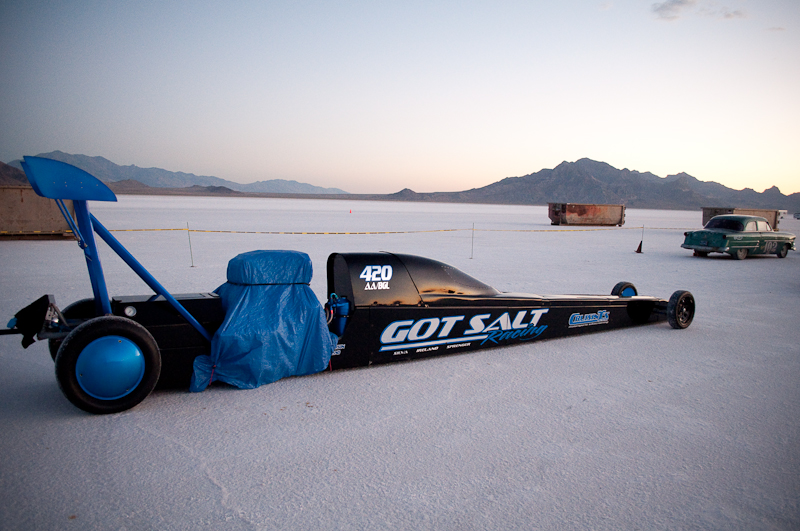 The Got Salt Racing Lakester.  Here it is sitting quietly where it was left for the night – waiting in line for Tech Inspection.  It runs in the AA/BGL (AA = over 500ci, Blown Gas Lakester) class where the record is 315.766 MPH.  The Got Salt Lakester could "only" muster up a 301 MPH pass. I can't imagine going 301 MPH and thinking "Man, that was slow".  There are a number of these Lakesters that resemble Top Fuel dragsters.  I guess it's cool to go 300 MPH for 4.5 seconds in the 1/4 mile on a smooth asphalt track, but how about going 300 MPH for 2 miles (24 seconds) on a natural (read: not smooth) surface. Twenty four seconds is a long time when the grim reaper is riding in the seat next to you.
Note:  You can tell a Lakester from a Streamliner because a Lakester is open wheeled and a Streamliner encloses or covers the wheels.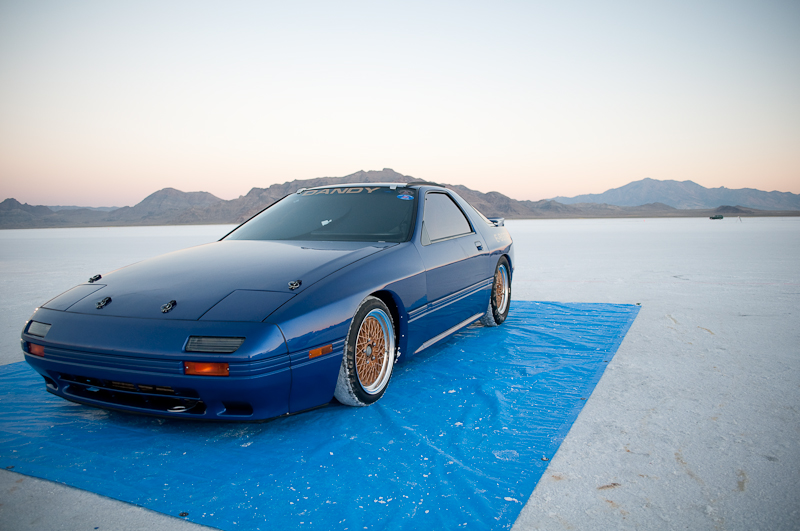 The Dandy FC3S RX-7 at sunrise on the Bonneville Salt Flats.  Sooooo cool!  Antonio was asking what is up with the blue tarp.  It would've made for a much cleaner shot says he. I agree, but I told him that the tarp is regulated by the SCTA to protect the salt from oil or coolant leaks.  Even though this is a racetrack, it doubles as a National Landmark.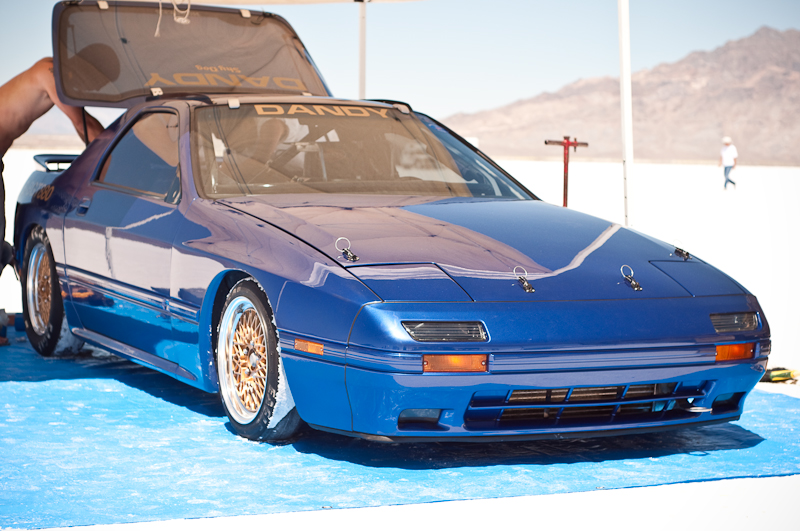 When I arrived on Friday, I found Dandy Tanaka and three of his crew from Japan hammering the parachute eyebolt through the rear of the car – obviously doing some last minute tweaks to be fully compliant with the SCTA's safety rules.
The shame is, this car was totaled about two days later when it flipped on its lid and slid across the salt at around 240 MPH in true FC3S Salt Flats tradition.  I say that because this is not the first RX-7 to spin around, flip over and slide across the salt at over 200 MPH on its roof.  Dandy and crew had been making clean passes in the high 190s with a new driver, but it was not to be.  The driver was taken to the hospital and released with no real injuries.  Thank goodness!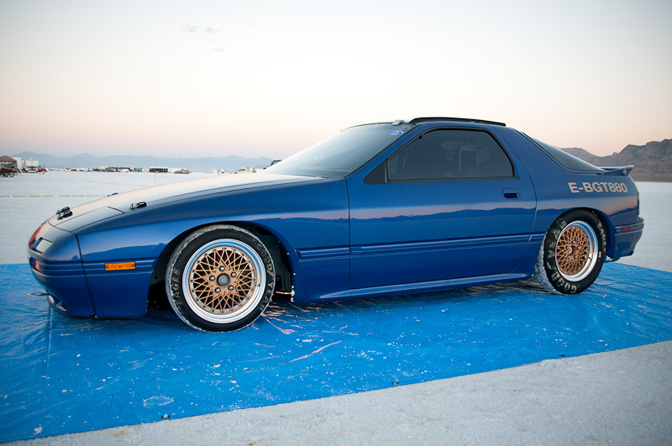 The Dandy FC is a great mix of Japanese street car style transplanted onto the Salt Flats.  The interesting thing about this car at Bonneville is that the Salt Flats regulars have no clue how cool this car is. They most likely look at it and think, "Hey, nice blue paint job! But, what's the deal with those 80s wheels?  And what is that anyway – a Nissan or a Datsun?" Haha! The lack of flashy graphics or stickers makes this RX-7 super clean.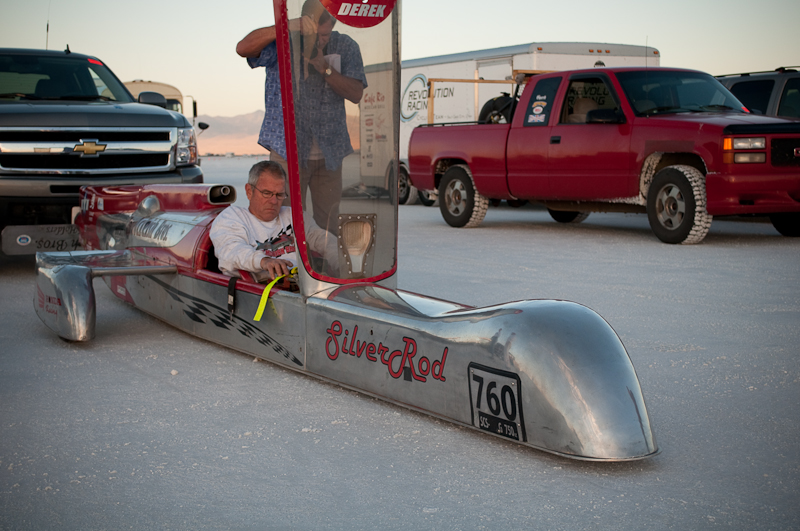 This is the McLeish Bros Sidecar Streamliner with a Ducati 750cc engine.  This skate ran against an Open Record – meaning there is no record, so however fast you average in two runs, that's your class record.  He ran 186MPH average for two runs with 750ccs.  This 'liner is ridiculous.  The drivers that slide into these rides are nutters! That sidecar wheel sticking out of the body is fully enclosed in an aerodynamic package.  I wonder what that does to the stability as you blast down the salt at almost 200 MPH. Look how low that is. I should've put the MotorMavens flyer up against it to measure lowness. Next time!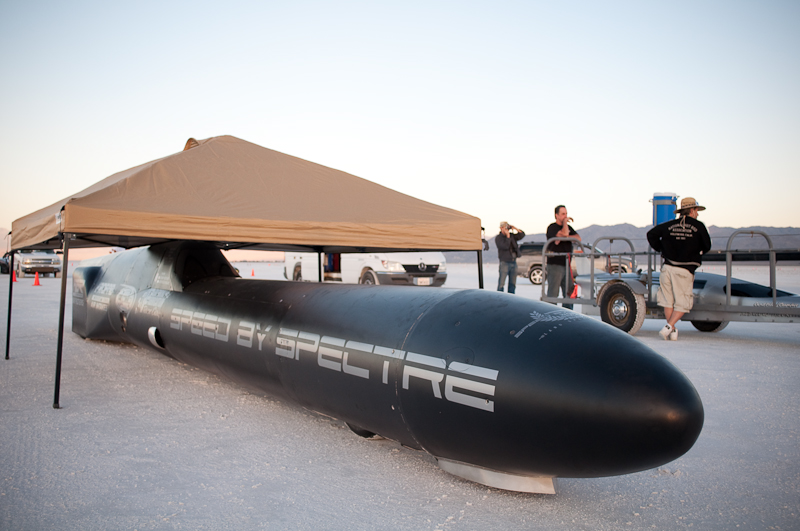 You gotta respect this land missile, owned by Amir Rosenbaum. This is the Speed by Spectre Streamliner in all its flat-black glory.  Powered by a blown Cadillac big block engine running in the AA/BGS class (AA = 500+ cubic inches, Blown Gas Streamliner), it bumped its own previously held record from 330 to 348.342 MPH.  The Caddy 'liner actually went 366 MPH out the back door (the 5 mile timing marker).
You might remember the previous story on MotorMavens, regarding the Spectre Performance 341 Challenge in the mountains of Northern Nevada. If not, click here to read about our roadtrip and check out the photos of our adventure!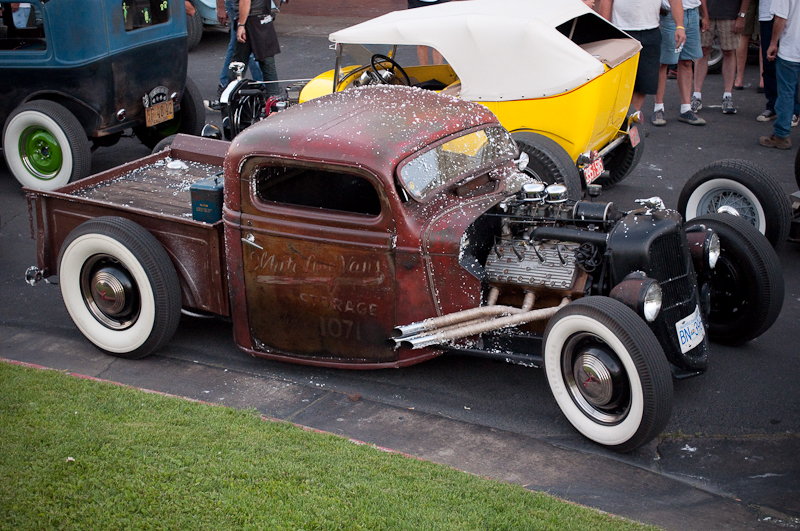 Dig this Flathead powered chop-top pickup I spotted at the Nugget Casino Cruise In.  The Cruise In is an unofficial gathering after the Salt Flats close for the day over the first few nights.  It's a Speed Week tradition and a must see. The truck was sprinkled with salt, so you know he's been out cruising around the track and pit area.
I still can't get over the exhaust setup on the old Flatheads.  Take a close look at the center exhaust port.  That is actually the exhaust port for the two inner cylinders. Wack, right?  I guess it was easier and cheaper to manufacture back in the day.  Flatheads are not known for being horsepower kings but they do have that period correct vintage look and sound. There's actually a resurgence of aftermarket speed parts for the Flatheads. I could do an entire post of just Flathead engine photos – there were that many at Speed Week.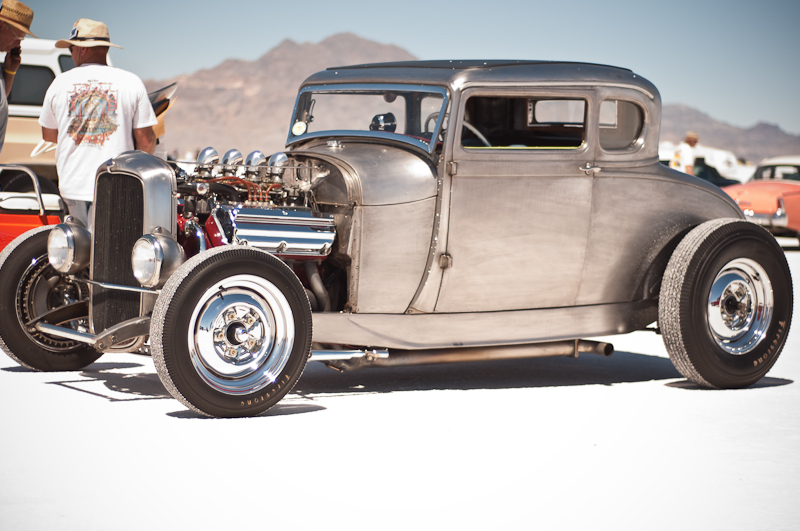 This Hemi powered Model A five window coupe was one of THE dopest hot rods at Speed Week 2010 IMO. The owner actually drove this rod all the way from Texas! You can read about his experience and see his pics in his H.A.M.B. thread HERE. Everything about this car is PERFECTO! Look at the chrome reverse steelies wrapped in old Firestone radials – the big Hemi V8 sittin' on the front rails with no cowl. Even the stance is not too high and not too low – just right for the look he's after. I personally dig unpainted cars – especially when the metal is so pristine underneath (aka no bondo).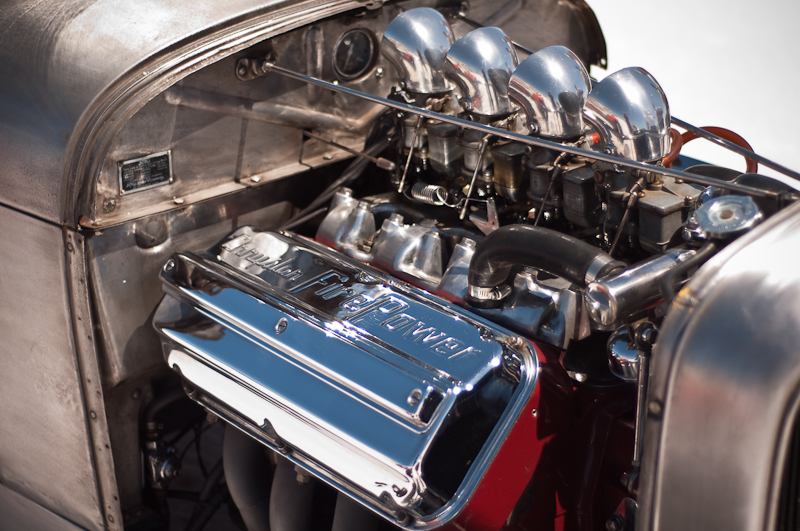 Check out the boss four Deuce carb setup with reversed venturis.  I saw most of the old rods with their carb venturi's reversed like this so as to not suck in salt chunks.  That would be no bueno!  This engine setup is the epitome of traditional hot rod style from the 50s when the Chrysler Fire Power (check out the valve covers) Hemis made their debut in the land yachts – making their big engines prime swap candidates for the old lightweight jalopies.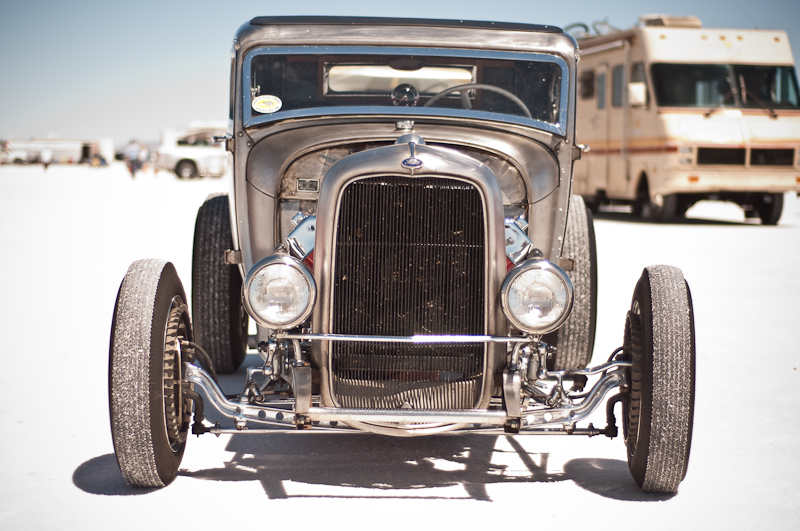 I love this front shot.  Look at the girth of the Hemi.  The valve covers extend as wide as the front end of the car.  That's the real reason the owner no longer runs the engine cowl.  I love the simple design of these open wheeled 20s and 30s Fords.  You can see all the working parts; steering arms, I beam suspension, brakes, engine, and exhaust.  It is such a raw experience owning and driving one of these hot rods.  I will own one some day.  It will be parked next to my classic Japanese car (Hakosuka, AE86, 510 or S30 – not sure which one yet).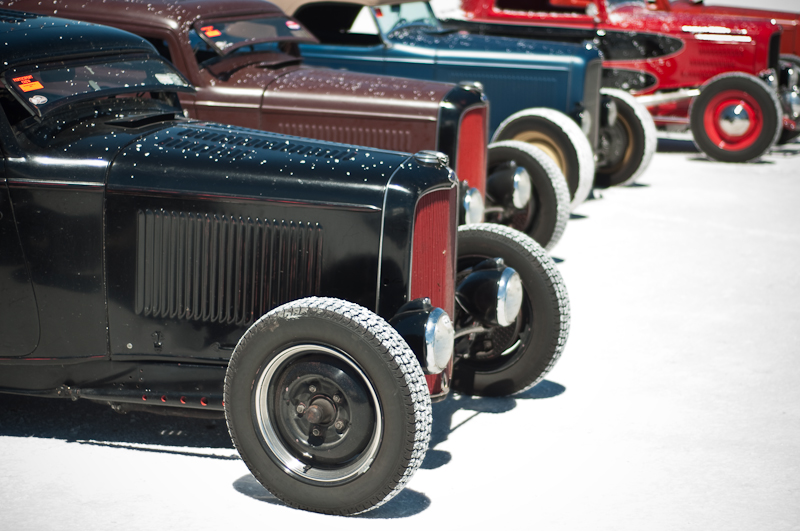 Here is a good lookin' group.  This is a line up of Deuce (1932) Coupes and Roadsters from The Rolling Bones Hot Rod Shop.  These rods made the hot rod pilgrimage all the way from New York state!  That's right!  Hard core!  These guys are well known in the hot rodding circles for having some of the best and most period correct looking machines.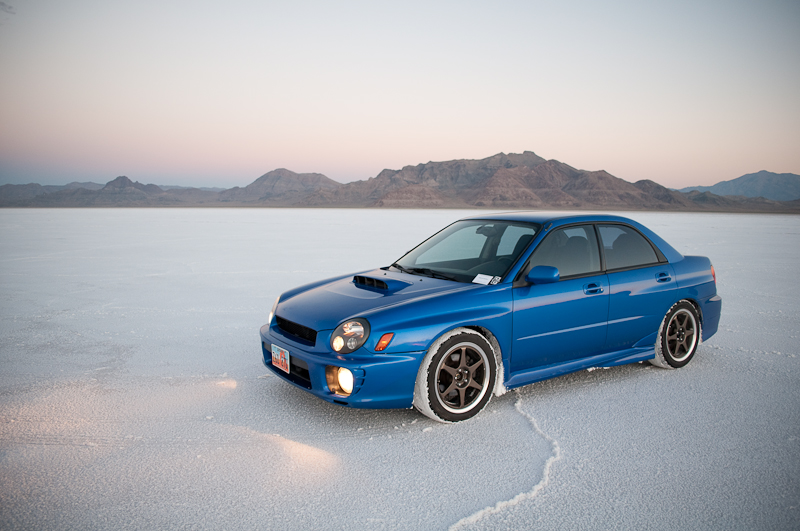 This parting shot is of my own hot rod, or Subyrod as I like to call it.  Let me point out something about the Salt Flats.  Notice that ridge (looks like a salt snake) of salt that goes under my car.  That is the natural way the salt forms.  When it rains hard enough to get standing water on the Salt Flats, as the water soaks in and evaporates, the surface of the salt forms these ridges or "crusties" as the veterans like to call it.  This means that the track must be prepared for racing.  A drag (sort of like the equipment baseball fields use to drag the infield) is used to smooth the salt by knocking down the ridges that stick up off the ground.  Remember, the track is 8 miles long (5 miles of timed track with 3 miles of "shutdown") with more miles of pit area and return roads to drag.  The SCTA shows up a week ahead of race day to setup the pits  – gotta have Port-A-Potties, drag the course, setup the trailers and cones, etc.  It's a big undertaking. Basically, like most powdery white stuff – it's addictive.
Chris Hecht