COVERAGE> Experiencing MotoGP at Laguna Seca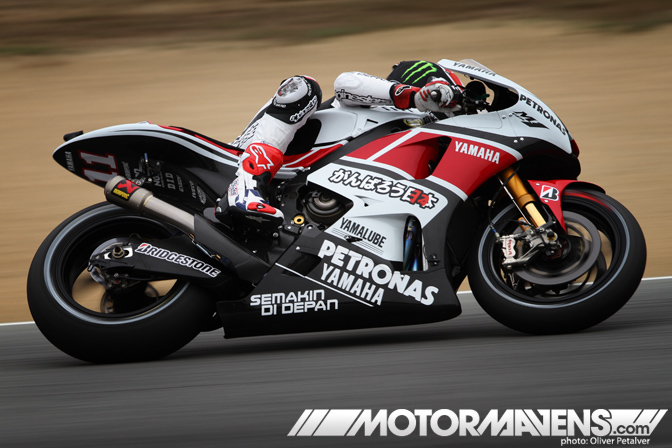 While my colleagues were in the Pacific Northwest shooting Formula D, I decided to take a road trip to Monterey, CA to shoot the world famous MotoGP race.
For those unfamiliar with MotoGP or Grand Prix motorcycle racing, it is the two-wheel equivalent of Formula One. It is an 18-race series visiting 14 countries (with only two stops in the U.S.). Now in its 63rd year, it is the oldest motorsports championship in the world. The world's best riders pilot machinery that have been crafted with the keenest of cutting-edge technology – technology which has largely benefited from the R&D budgets of the four participating manufacturers: Yamaha, Ducati, Honda, & Suzuki.
For the purposes of competing in MotoGP's premier class, the manufacturers are held within these general parameters: the engines must be 800cc, four-stroke engines and the motorcycles competing must be prototypes. As you might imagine, first-rate drivers plus high-end, super machines equate to one HELL of a ride!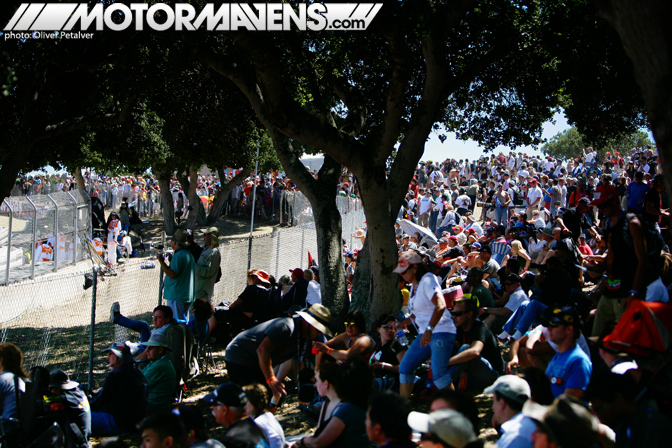 To give you an idea of the scope of this race, this past weekend alone, over 52,000 people made the trek to the beautiful hills of Mazda Raceway Laguna Seca to witness the best riders such as Valentino Rossi, Jorge Lorenzo, Casey Stoner, Nicky Hayden, Ben Spies, Dani Pedrosa, and Andrea Dovizioso. The event easily sold out and fans without a parking permit were forced to take a shuttle bus from a nearby university. Some were smart enough to camp out on the racetrack itself in tents and RVs.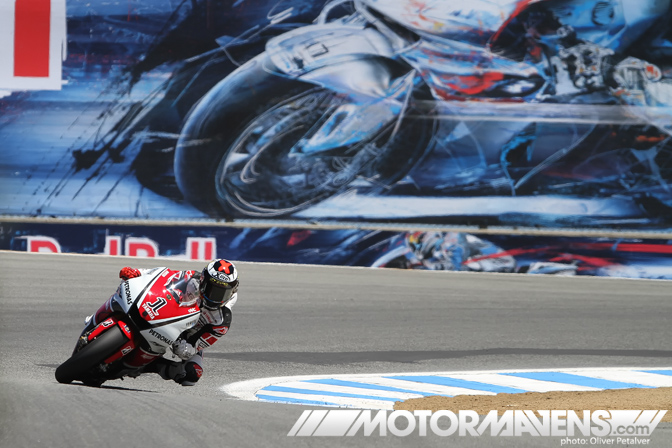 Some MotoGP fans may not recognize this bike at first glance. Rather than the typical blue, white-and-black livery of Jorge Lorenzo, race fans were treated to the Yamaha Factory Racing special 50th Anniversary red-and-white livery on his YZR-M1.
Lorenzo is the current MotoGP World Champion and at this event he blazed into pole position after sustaining a crash during practice. Apparently, he forgot to hit a switch that overrides the launch control system and, when he hit full throttle, the traction control launched him into the air. So, I repeat, he went from crash to pole position in the same day! Amazing!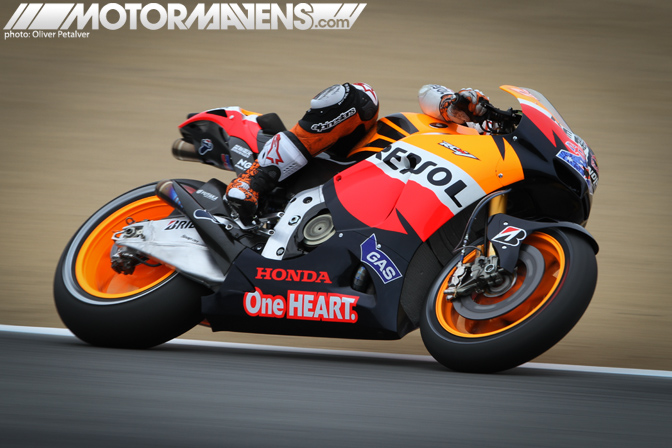 Despite Jorge Lorenzo taking pole position and the lead for a majority of the race, Australian rider Casey Stoner passed Lorenzo around Turn One on lap 27. From there Stoner turned on the afterburners and gained a huge lead – five seconds ahead of the 2nd place Lorenzo to take the win. The former World Champion will try to emulate his 2007 title-winning season on the Repsol Honda RC212V.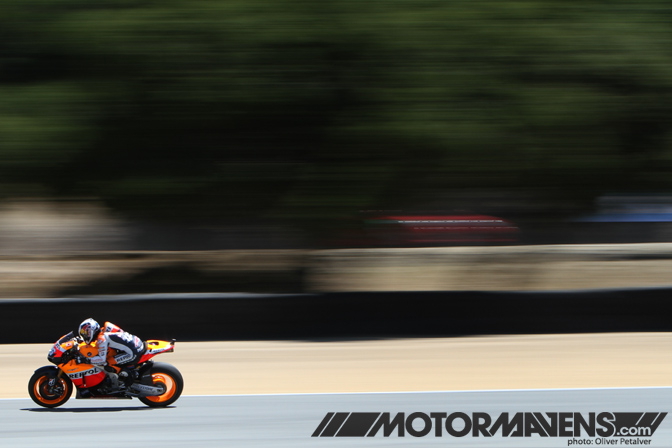 Dani Pedrosa, also on the Repsol Honda Team, retained third position in this race. The Spaniard enjoyed four victories in 2010 and was a two-time MotoGP World Championship runner-up. At this point, he is fourth in the World Championship standings.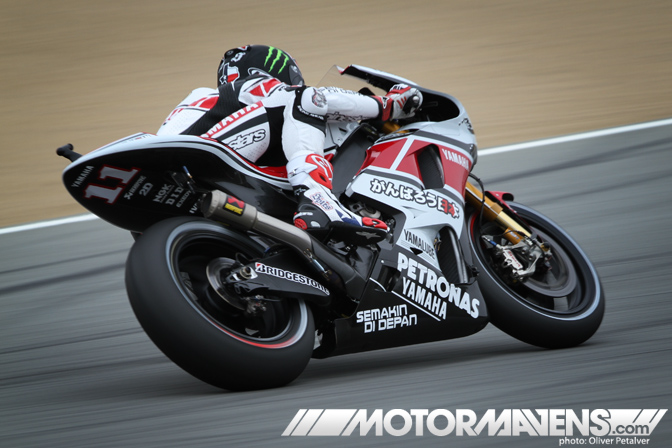 Hailing from the state of Texas, Yamaha factory rider Ben Spies occupies the seat vacated by Valentino Rossi, who left to ride for Ducati. Spies is only in his second season in MotoGP. Nicknamed "Elbowz", he scored two podiums, a pole, and 'Rookie of the Year' title – all in 2010.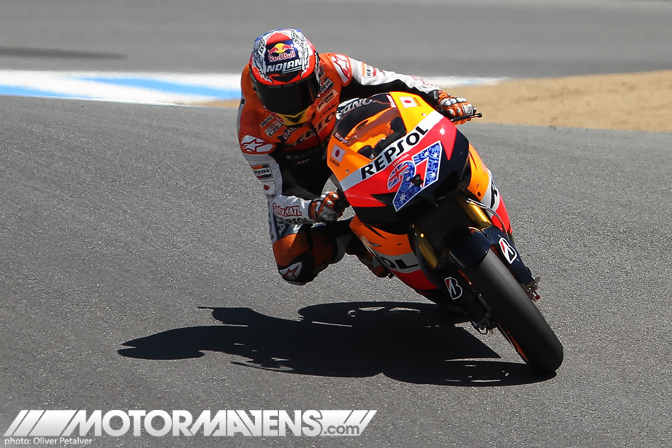 Here's another shot of Casey Stoner maneuvering around the world-famous Corkscrew.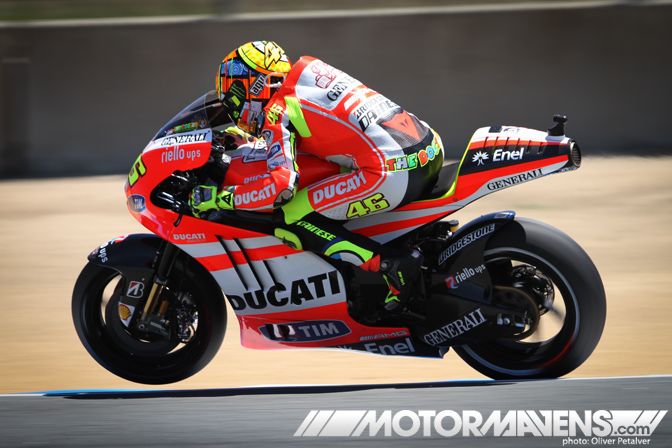 As mentioned above, seven-time MotoGP World Champion Valentino Rossi takes on 2011 with a new team, Ducati, after an illustrious career with Yamaha Racing Team for the past seven years. Early in his career, Rossi won five straight MotoGP championships from 2001-2005, and two more in 2008 and 2009. He was with Honda in 2000-2003 and Yamaha in 2004-2010 before forming an Italian partnership with the Borgo Panigale Factory Team. For an Italian racer, joining Team Ducati must be akin to returning home.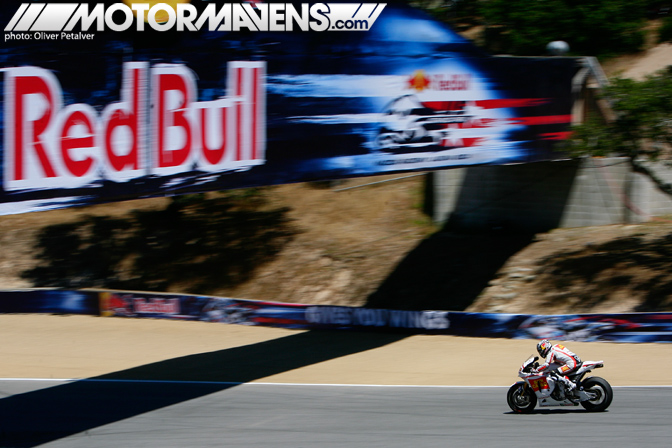 Japanese rider Hiroshi Aoyama is in his second year in the MotoGP class. His rookie year was cut short due to a back injury. He is currently teamed with former rival Marco Simoncelli on the San Carlo Honda Gresini team piloting the RCV212.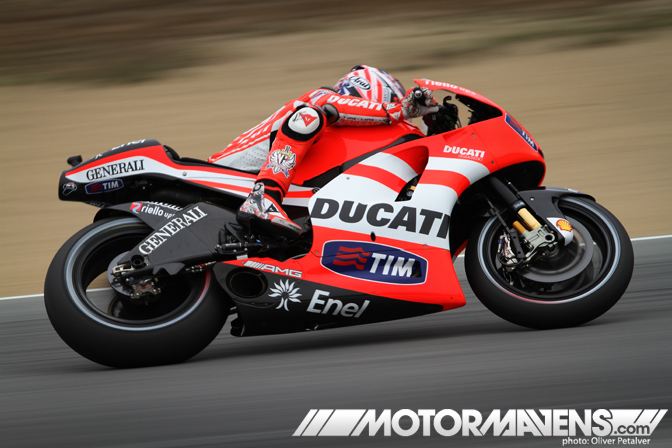 Former 2006 World Champion Nicky Hayden teams up with Valentino Rossi on the Borgo Panigale Factory Team riding the Ducati Desmosedici GP11. The "Kentucky Kid" is currently 7th in World Championship standings.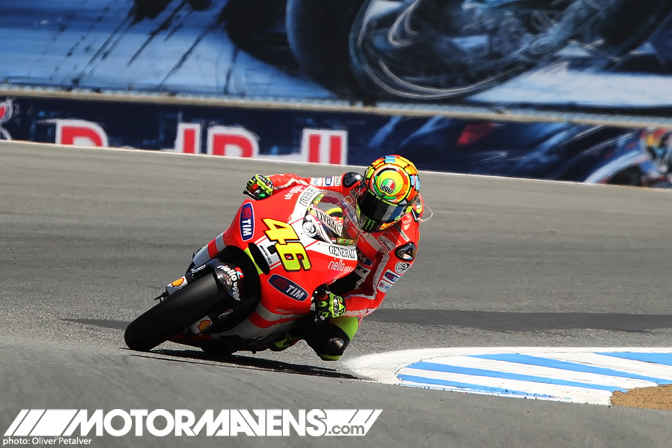 Valentino Rossi's nickname "The Doctor" has been attributed to his "cold and clinical dismantling of his opponents." Rossi has stayed with the now-famous #46 throughout his career since it was the number his father raced with in the first of his three Grand Prix career wins. If you look closely at the writing on his helmet, it says "TRIBU DEI CHIHUAHUA" meaning Tribe of the Chihuahua–in reference to his group of friends.
Ben Bostrom, piloting the LCR Honda RC212V, made his MotoGP debut at the age of 37 as a wild card. Bostrom also races for Michael Jordan Motorsports in the AMA Pro Superbike class on a Suzuki GSX-R1000.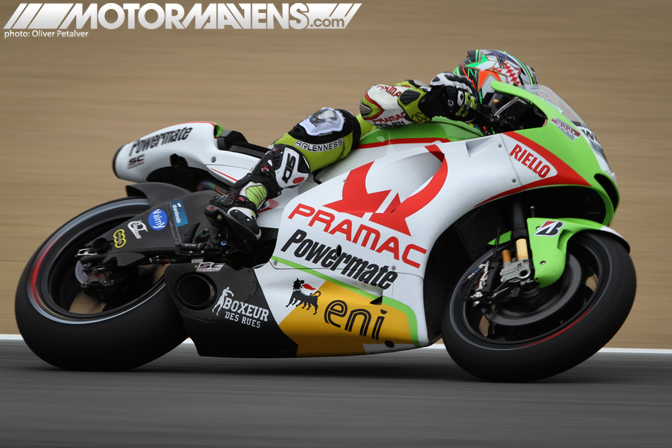 Loris Capirossi, piloting the Pramac Racing Team Ducati, is the most experienced rider on the grid entering his 22nd season of World Championship competition. His teammate, Randy de Puniet, fractured the transverse process at L3 and L4 on the right side after a fall on Turn 5 during qualifying. In short, he sustained a very painful spinal injury and was unable to continue the race.
Italian rider Marco Simoncelli, a former 250cc World Champion, is looking to climb the ranks of the premier class with the San Carlo Honda Gresini Team. Here, Simoncelli maneuvers around Turn 5.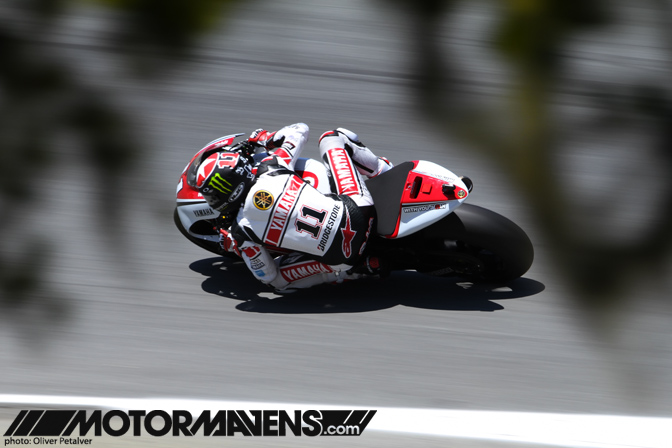 Another shot of Ben Spies maneuvering around Rainey Curve, just after the Corkscrew. Spies started on the second row of the grid in fourth position and ended up in fourth when the race finished.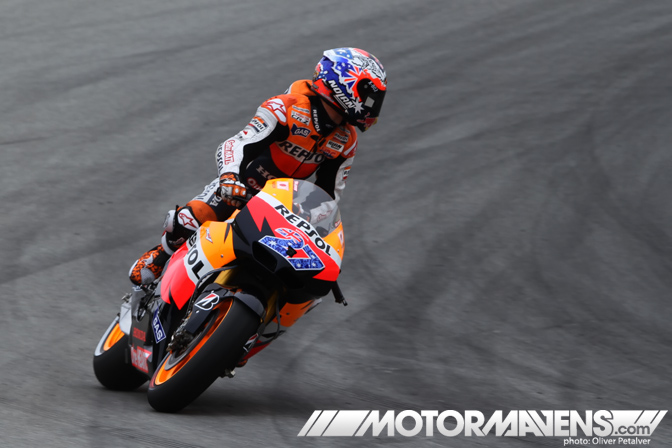 With a total of 193 points so far in the World Championship standings, Stoner can look back over his shoulder with a twenty plus point lead over Lorenzo and Dovizioso. Eight races are left with the next being in the Czech Republic on August 11. In the end, who will take the 2011 MotoGP World Championship? As they say: "There can be only one!"
For more information and updates, check out www.MotoGP.com
::Oliver Petalver