OH SNAP> The First Toyota GT86 Crash in D1GP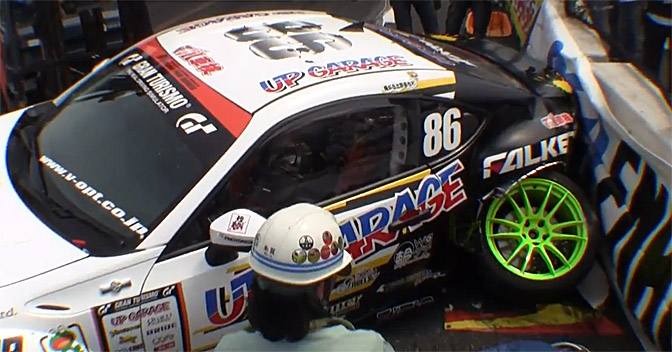 Could this be the very first Toyota GT86 that has crashed at a racing event? Everyone has been talking about the debut of the Toyota GT86 (Scion FR-S/Subaru BR-Z) in Japan's D1 Grand Prix Series. Also newsworthy is the fact that Falken Tire was making its return to D1 with this attention grabbing car, which was built by Up Garage, a chain of Japanese used parts stores.
Up Garage has been displaying its new Toyota GT86 alongside the Up Garage AE86, but instead of the traditional yellow, red, and blue Up Garage livery that all D1 fans have come to know and love, the cars have been painted black and white, with Falken Tire scallops on the side. In the driver seat is Falken driver Tetsuya Hibino, who replaced the driver that people have normally come to associate with Up Garage, Ken Maeda from AE86 drift team DP2.
We're not sure what caused the crash… was it overzealous driving from Hibino? Or was it a parts failure? The GT86 is a brand new car, so it's not as if they could have installed used parts from Up Garage! We'll have to investigate this one further. Check out the video below to see for yourself! (Thanks to our friend Chihiro Yoshimura from drift team PEAK for the link!)
:: Antonio Alvendia