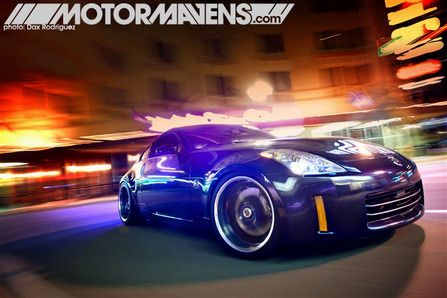 Tweet
As one of the more prolific tuning platforms on the market today, the Z33 even in stock form provides for an excellent combination of power, handling, looks, and relative value. The RWD sports coupe can be found in nearly all forms of motorsports and has particularly excelled at drifting, capturing back to back championships for Tanner Foust in 2007 and 2008.
The long awaited introduction of the 370Z has many 350Z fans scratching their heads, however, as Nissan took away the flowing lines and sleek styling in lieu of an overly edgy and incoherent design. For many of us here at Motor Mavens, the 07-08 Z still stands as arguably the best looking Z of the past generation and for fellow Maven Mike Maez, he unequivocally agrees.
Mike's take on the Z33 is one that caught our eye for a number of reasons. For one, it isn't too over the top with a flashy body kit or a wild graphics scheme. There is attention to detail with the fitment and the wheel selection, which is always a plus, but furthermore it represents a very specific paint and wheel combo that we've never seen before on the 350Z. Combined with a solid ride height, an Akebono brake setup borrowed from the aforementioned 370, and just the right amount of bolt-ons, we were convinced that this was one Z that easily takes Center Stage.
Read more...