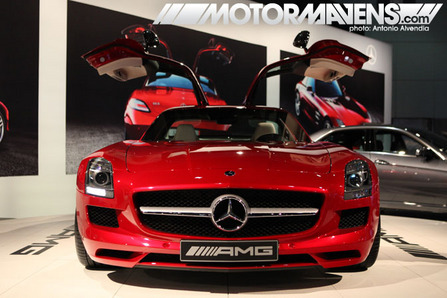 It seems that everyone and their mother were talking about the
Lexus LFA
online and at the
LA Auto Show
today. However, while walking the floor this morning, I just couldn't take my eyes off this really hot, curvy new model in the
Mercedes Benz
booth. I was overcome with the feeling of instant attraction when I spotted her from across the room, and naturally began gravitating towards her, like
Scooby Doo and Shaggy
when they're in the presence of submarine sandwiches. She was sexy and sophisticated, and she had me thinking about her all day; her initials were
SLS
.
If the car in the above photo looks familiar to you, it's because it reminds you of the most gorgeous, curvy (and rare!) Mercedes Benz collector's item from the 1950s... the
300SL Gullwing
. The red car in these photos is the
2011 Mercedes SLS AMG Gullwing Roadster
, which was the first car ever to be designed and built completely by AMG. Mercedes originally signed off on the Gullwing project with AMG way back in 2006, but the car would not be deemed ready until its pre-production mules had gone through years of secret endurance testing all over the world, including
the Green Hell itself
,
Nurburgring
's North Course. (
Nordschleife
).
Read more...
---