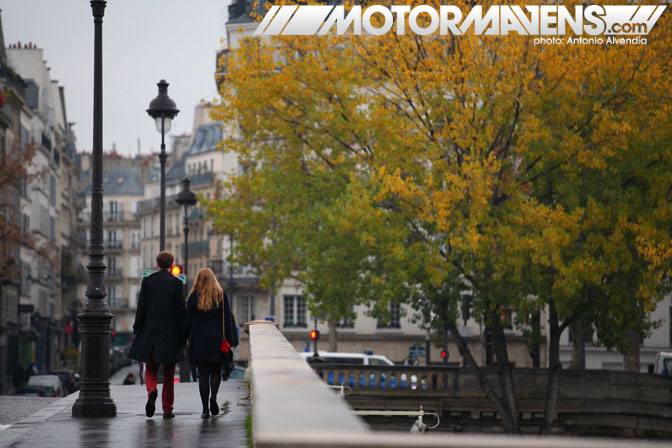 The city of Paris, France is world renown for its beauty and history. Almost everywhere you look, you'll encounter gorgeous picturesque scenes fit for a postcard. I was lucky enough to experience this in person just last week, on my very first visit to France!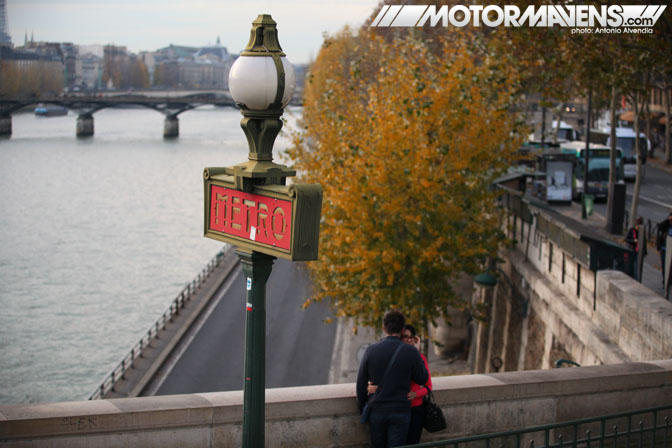 People from all over the world flock to Paris because it is well known as a city of love; a city of passion; a city of style and history.
Everyone who knows me personally knows that I have an enduring love and passion for the style and history of fine Japanese automobiles, especially those from a particular automaker – Toyota. As a driver, restorer, and collector of vintage Toyotas, I've owned something like 40 Toyota and Lexus vehicles in my lifetime, with tons and tons of rare parts and Toyota motorsports memorabilia in my private Cipher Garage Collection.
For those who also share the passion for Toyota automobiles, Toyota Motor Europe has graciously created a place for all of us to rendezvous.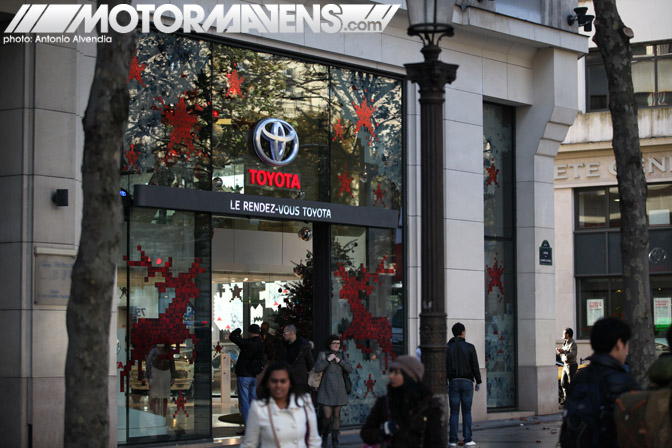 Inspired by Toyota's core values of design, quality and innovation, Le Rendez-Vous Toyota is a unique showcase of the Toyota brand in Europe. The showroom features an interactive display of Toyota's latest technology, cars and history. Located on one of the most expensive strips of real estate in the world, the Avenue des Champs-Élysées in Paris, Le Rendez-Vous Toyota has already welcomed over 11 million visitors since its opening in 1998.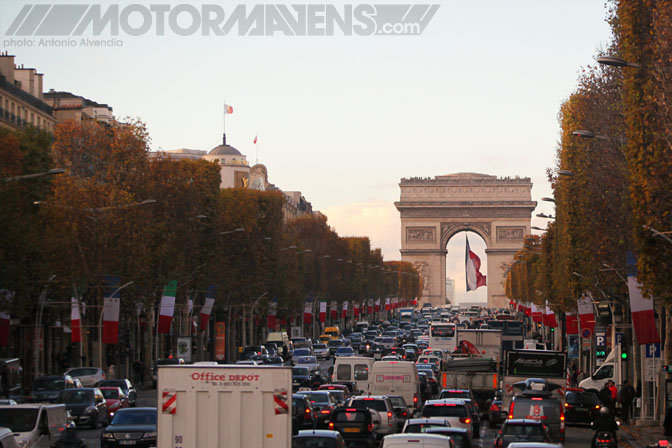 As you approach the Arc de Triomphe westbound on the Champs-Élysées from the Place de la Concorde, you will find Le Rendez-Vous Toyota on the left side, on the southeast corner of the Avenue des Champs-Élysées and Rue Quentin Bauchart.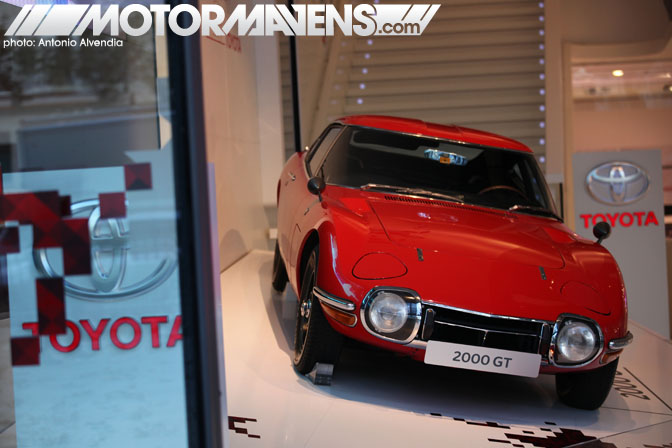 Luckily for me, my very first trip to Paris happened to coincide with Toyota Motor Europe's vintage Toyota exhibit in Le Rendez-Vous Toyota's showroom! It's true what they say… everything happens for a reason!
Looking through the front windows of Le Rendez-Vous Toyota, the first thing most people would notice is this original Toyota 2000 GT, the very first Toyota supercar.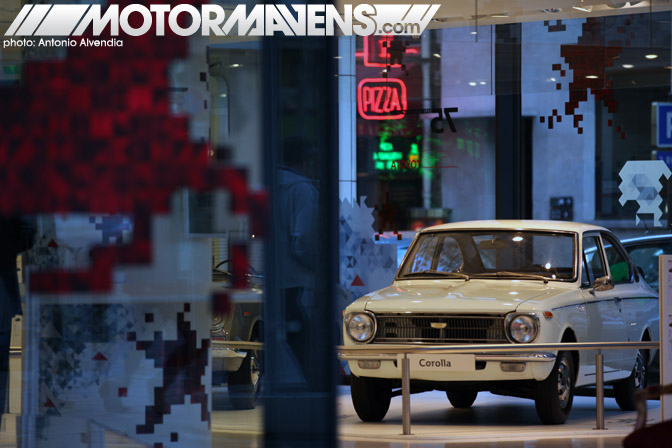 However, I'm a little different. Although I did see the 2000GT in the window display, the first thing my eyes were drawn to was the white KE17 Toyota Corolla Sprinter fastback inside the showroom! I was riding on a bus when I first noticed the Sprinter, and I completely dropped my jaw when I saw those big round, beautiful eyes looking right at me! GORGEOUS!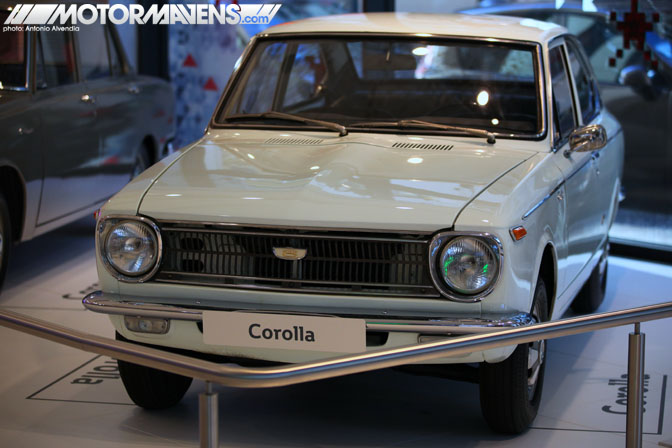 The paint and body on this Corolla Sprinter were just gorgeous. The hubcaps were perfect too! Due to the metal railing surrounding the cars, I wasn't able to open the door and take a closer look at the interior and engine bay, but I'll just trust that the interior was the same condition as the exterior. It even had the metal trim strips in the windshield rubber molding! That's sooo rare! Amazing.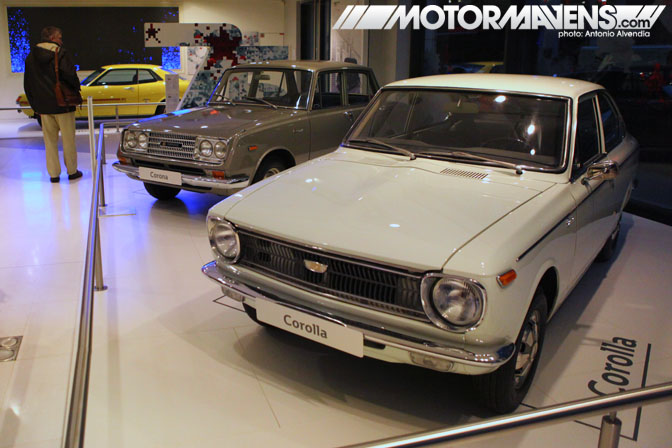 Although this gorgeous white KE17 was the main car that captured my attention in this lineup (because I owned a white Corolla Sprinter about ten years ago, and wasn't able to finish restoration because I couldn't find parts for it), there were plenty of other gorgeous classic Toyotas from the 1960s and 1970s on display.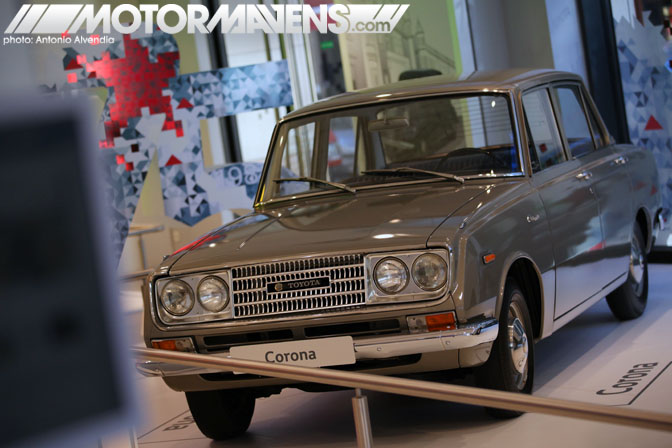 Check out the clean body lines on this RT52 Corona sedan. Notice also that the car doesn't have any rear-view mirrors! The mirrors are absent from the doors, and they aren't on the fender either! Better hope you don't need to parallel park if you're driving this thing!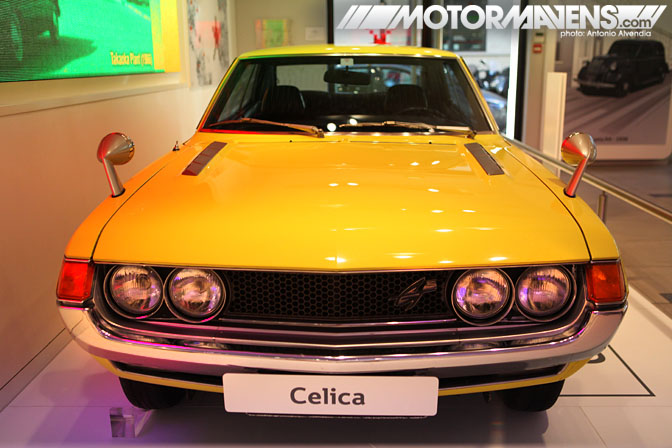 As you follow along the walkway, at the very end of the Le Rendez-Vous Toyota showroom, you will be led to this original yellow TA22 Celica GT, which was left hand drive and complete with smily bumpers, fender mirrors and original pinstripes low on the body. Beautiful!!!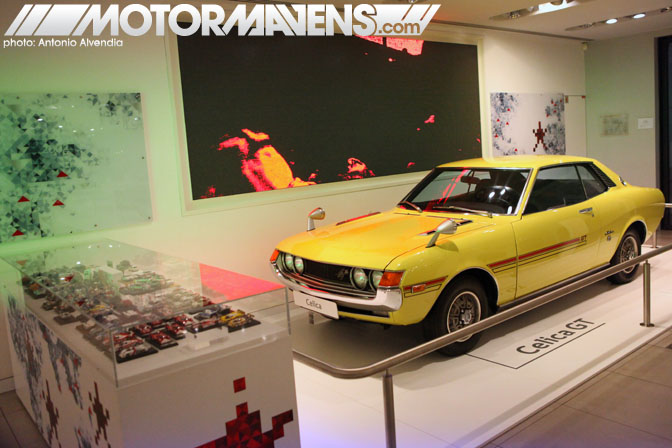 Behind the Celica was a huge television screen with looped Toyota motorsports videos on repeat. I wish I had a copy of the video to show our readers – it was an awesome mix of European WRC rally footage, random vintage circuit racing footage including Toyota's involvement in Le Mans and other events, and some vignettes showing footage of Toyota's founders, the Toyoda family in Japan.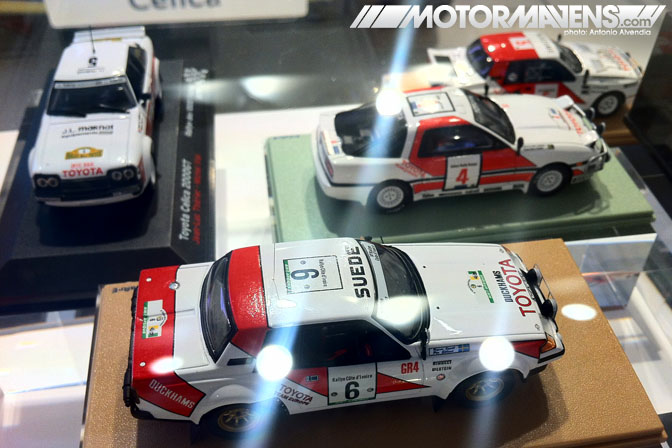 In front of the TA22 Celica was a die cast display case, featuring several different types of Toyota die cast models, including these vintage rally Celicas (and an MA70 Supra) in 1/43 scale!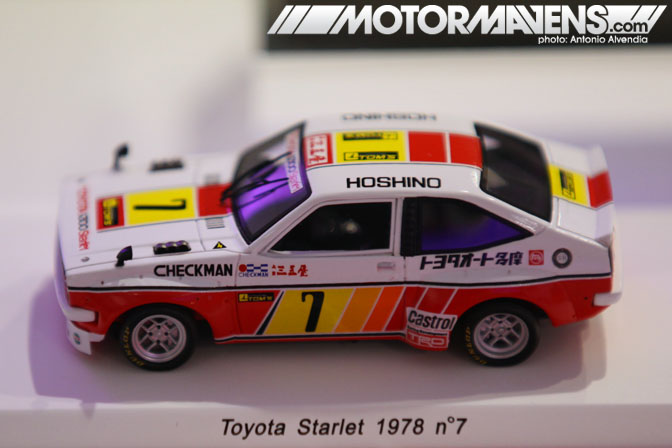 The diecast model that drew my eye the most would probably have to be this KP47 Toyota Starlet with TRD N2 flares and Japanese katakana Toyota Technocraft and Checkman Racing logos as part of the livery.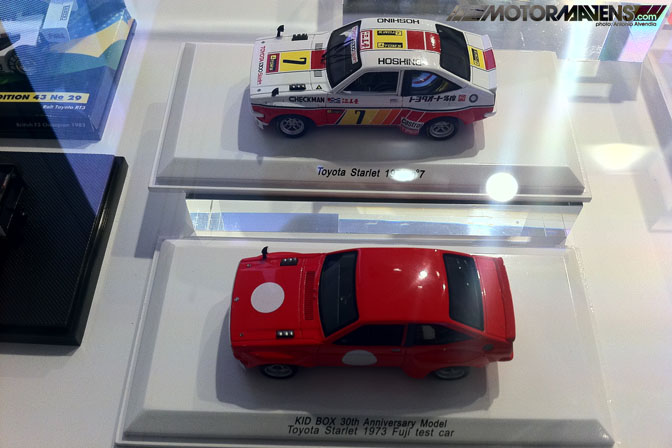 Below the Checkman Racing liveried Starlet, I also loved this red 1973 KP47 with overfender flares. According to the info on the base of the diecast, the car was a 1973 Starlet Fuji Speedway test car. Awesome!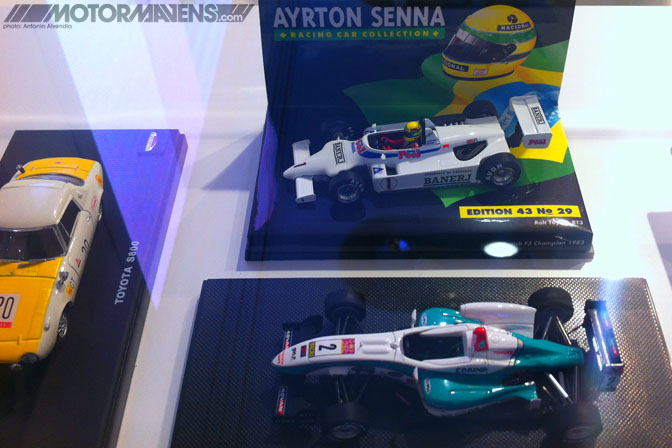 Did you know that the greatest Formula One driver of all time, Ayrton Senna da Silva, used to drive a Toyota? Back in 1983, before Senna was in Formula One, he drove a Ralt RT3 for West Surrey Racing, a British Formula 3 team based in Charlton Village, which is just outside of London, near Heathrow Airport. For more information and photos of Senna's history with WSR and the Ralt RT3 that he won the British F3 Championship with, click here to read the Driving Line story by John Brooks, in which Brooksie tells us about how he met Ayrton Senna at his local pub before Senna's rise to F1 superstardom!
I wonder what Toyota engine Senna was running in the RT3? Since he was running the car in 1983, it wouldn't be a Formula Atlantic spec 4AG engine or anything, because that motor was introduced in 1984. Could it be that the car was powered by a built up version of the Toyota 2TG DOHC Yamaha engine that came in the TA22 Celica GT and TE27 Corolla Levin? Or maybe a Toyota Technocraft/Toyota Racing Development specific race engine… the 152E perhaps?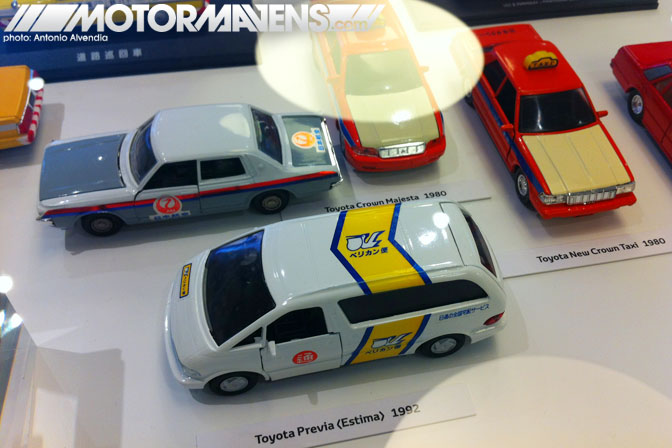 These 1/43 scale diecasts aren't super detailed, so they look as if they might be from a Japanese company called Diapet. If they are Diapets, they're super rare. Check out the Previa delivery van, and the Japan Airlines Toyota Crown, and the Crown taxis! So damn cool!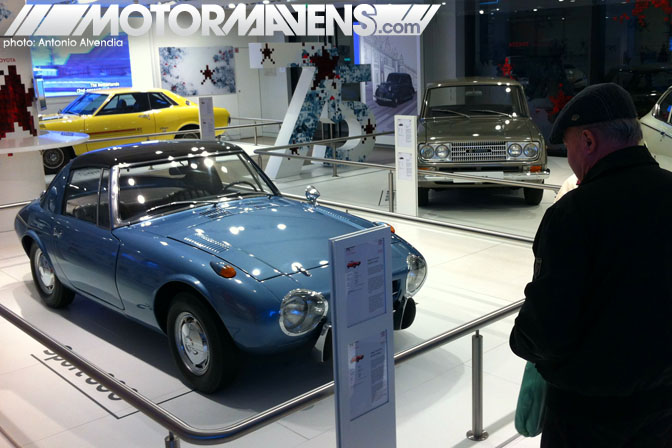 In the middle of the entire Le Rendez-Vous Toyota showroom was this Toyota Sports 800, in a grayish blue hue. The lights from the showroom made it look a bit more blue in this photo, but the color really was more gray.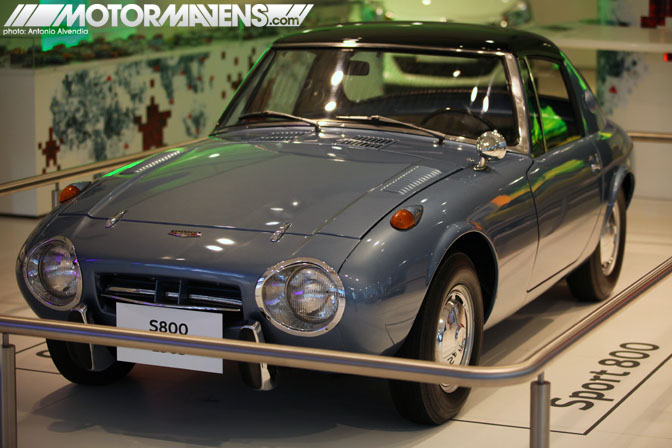 This S800 was so gorgeous and perfect!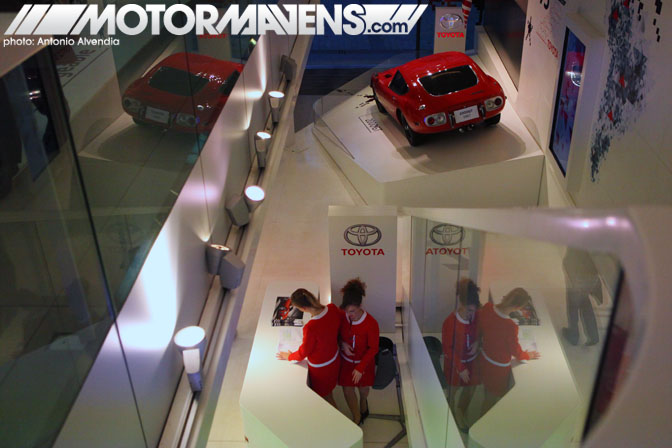 Next to the stairwell was an information stand with Toyota France product experts on staff. I spent quite some time speaking to one of the representatives, a multilingual girl from Spain named Andrea. Apparently she speaks English, French, Spanish, Basque, and a few other languages?! She spoke so many languages that she could be like a real life version of the translator C3PO from Star Wars… but she's not a robot.
Andrea was so genuinely excited and passionate about her job – it was so awesome to meet her! It's been quite a while since I've met anyone working at a Toyota dealer or showroom that outwardly displayed that much enthusiasm for the Toyota brand that I love so much.
She told me that she was very excited because she was going to be test driving one of the new European spec Toyota Corollas soon (I forget which one. Corolla Auris? Not sure…) on a racing circuit, and she couldn't wait! Sounds great – I'd love to test drive a new Toyota on a European circuit too! Especially a GT86 or 2000GT!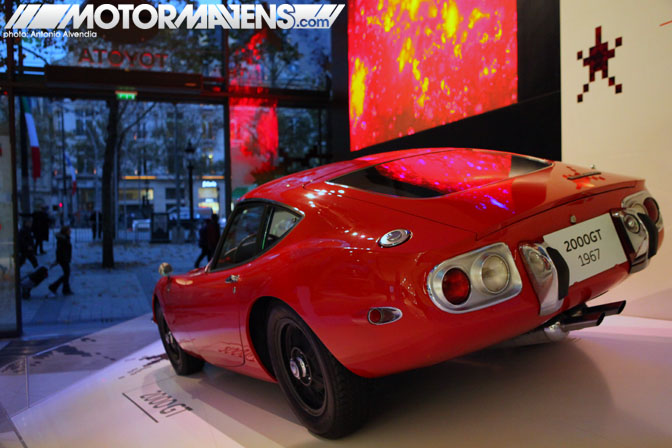 Here's a closer look at the rear end of the 2000GT, with the Champs-Elysées in the background.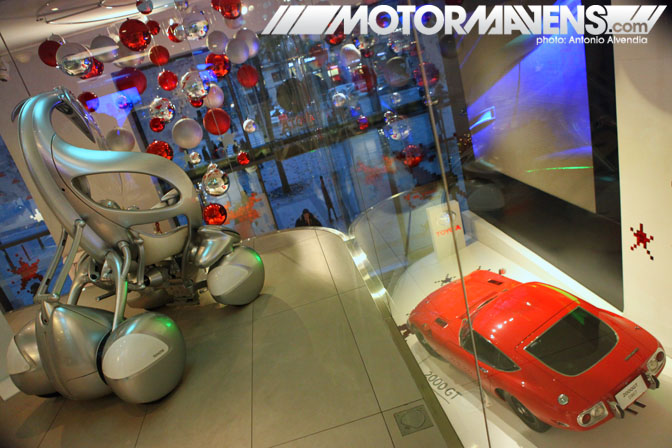 From the second story of the Le Rendez-Vous Toyota showroom, you can get a bird's eye view of the Toyota 2000GT on display, as well as get a closer look at this futuristic wheelchair seat thing made by Toyota. It looks similar to the Toyota iReal that Richard Hammond tested on on BBC's Top Gear series 12, episode 3.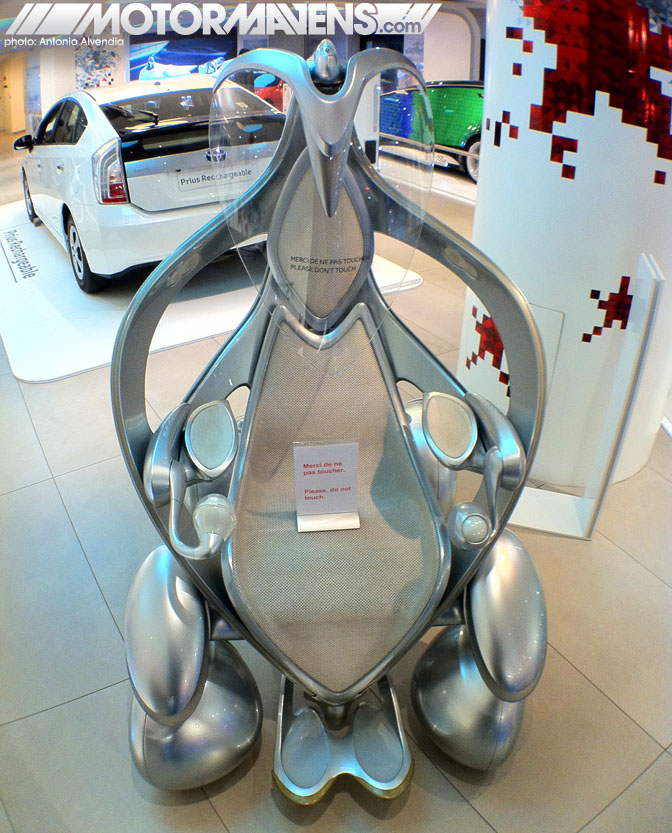 I'm still not sure exactly what it is, but here's a front view of Toyota's futuristic wheelchair seat thing.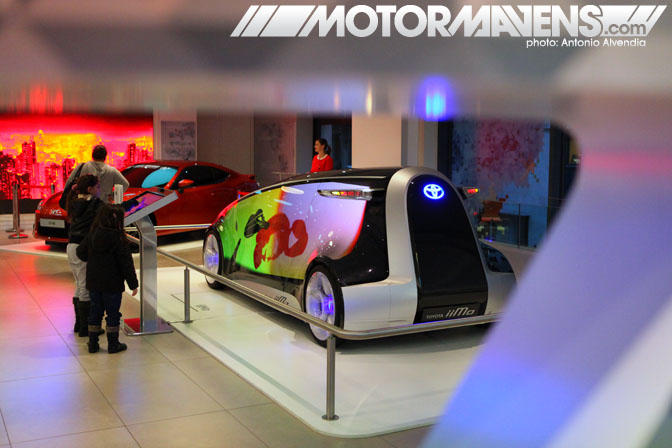 Also in the showroom, the Toyota iiMo concept vehicle. People could draw on the computer tablet at the podium, and their drawings would appear on the side of the car. If I had more time, I would have liked to try this out myself, and write @MOTORMAVENS on the side of the car or something! That sounds like a good idea… but unfortunately for me, I suffer from a very short attention span! Haha!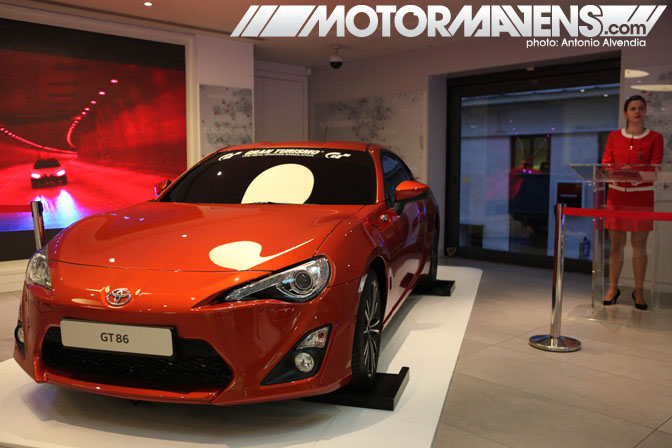 Since I didn't want to wait in line to try the iiMo graphics thing, I was immediately drawn to the Toyota GT86 on display, coated in Hot Lava paint! How cool! This was the very first actual Toyota GT86 that I had ever seen with my own eyes! All the other GT86 variants I had encountered or test driven previously were examples of Scion FR-S or Subaru BRZ.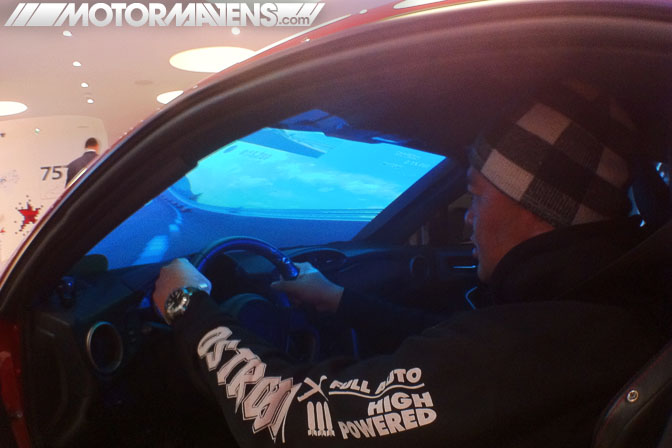 Upon closer inspection, I found out that this particular GT86 was an actual GT simulator, with the newest version of Gran Turismo hooked up to it! There was a projector inside the car, so that the Gran Turismo game was projected onto the windshield!!! Very slick.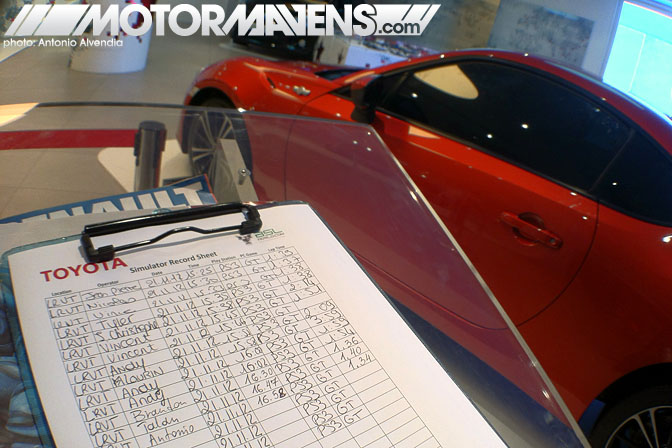 While the Gran Turismo GT86 simulator honestly did not feel like the rear car (the steering in the simulator was a lot heavier than what the real car would feel like), it appears that I did pretty well in terms of lap times!

This came as a huge surprise to me, because even though I previously worked for a big evil video game company that makes a car game, I'm not very good at playing video games. Even car games. So the fact that I had the top time of the day was quite an accomplishment for me! Maybe all the other drivers were just blind or only had one arm.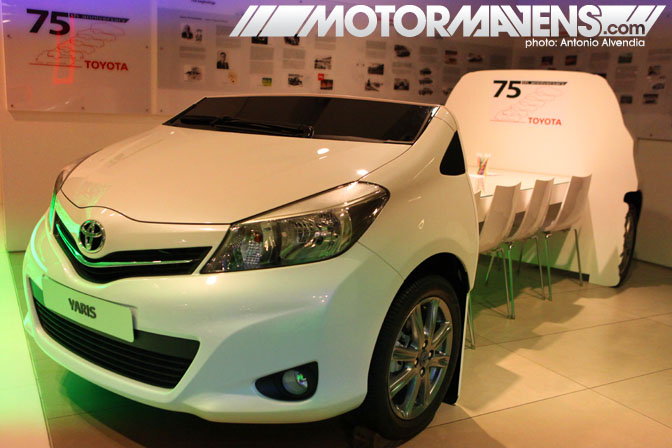 Now THIS is an efficient car with a lot of seating capacity! Look at this table, made from a Toyota Yaris! I love it.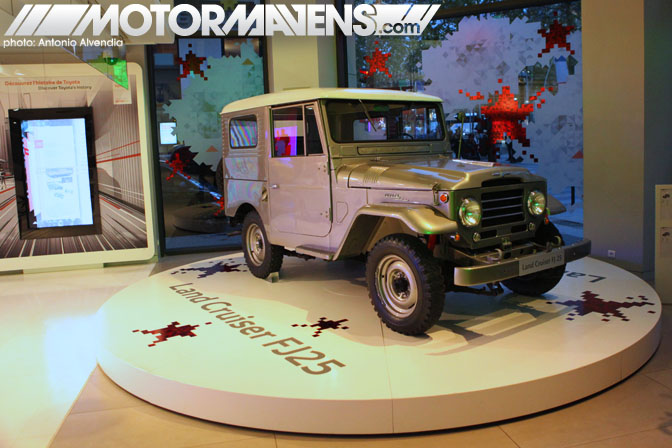 Aside from the Corolla Sprinter, the display vehicle that I loved most was this FJ25 Toyota Land Cruiser! I suppose it is not available in Europe, but the FJ40 Land Cruiser is one of my dream cars! I've been wanting one for fifteen years, but I just don't have enough space to park all the cars/trucks I want.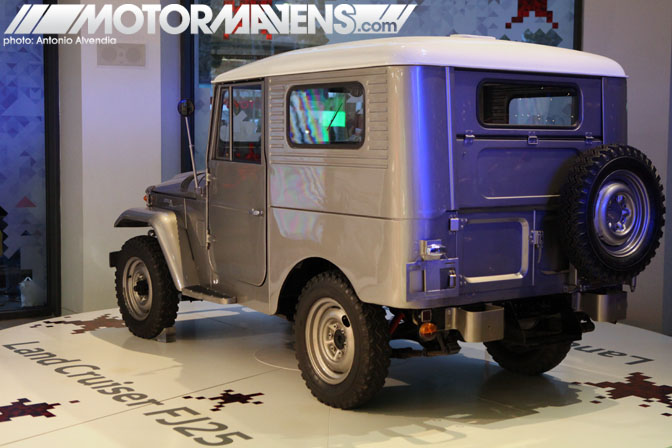 It was cool to see this FJ25 in France, although admittedly I don't know much about the differences between FJ25 and FJ40… I'm guessing the engines would be different, as well as some other minor details?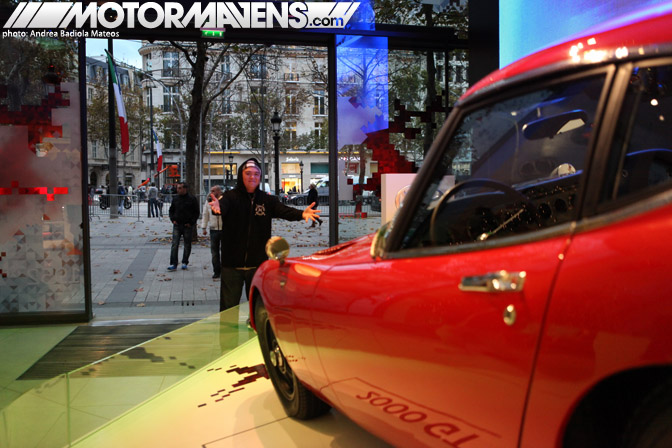 Here I am in front of the 2000GT. I was so glad to visit Le Rendezvous Toyota during my trip to Paris!!! I'm so happy that Toyota Motor Europe put this showroom together!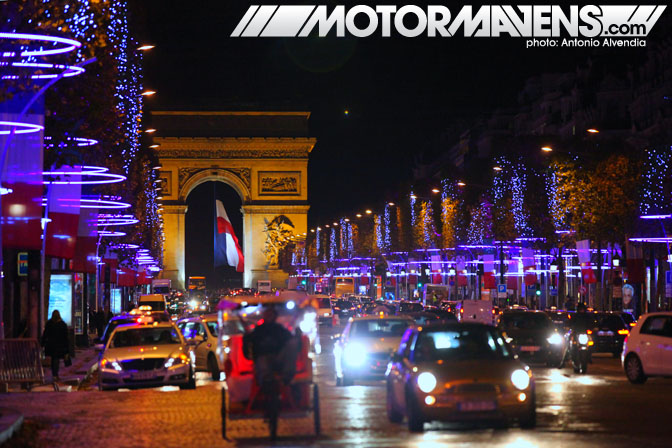 If you ever find yourself in Paris, you MUST visit Le Rendez-Vous Toyota! It's definitely worth the trip, and it's very close to the famous historical landmark, the Arc de Triomphe. Chances are, if you're visiting Paris, you'll be going to the Arc de Triomphe anyway… so while you're visiting the galleries and landmarks related to French history, stop in and rendezvous with Toyota Europe's gallery of motoring history! You won't be disappointed.
:: Antonio Alvendia
Le Rendez-Vous Toyota Official Website
Le Rendez-Vous Toyota on Facebook
1/43
,
152E
,
2000GT
,
2tg
,
Arc de Triomphe
,
Avenue des Champs-Élysées
,
Ayrton Senna
,
Ayrton Senna da Silva
,
BBC
,
British Formula 3
,
Celica
,
Celica GT
,
Champs-Elysées
,
Checkman Racing
,
Cipher Garage
,
Concept Car
,
concept vehicle
,
Corolla
,
Corona
,
daruma
,
Diapet
,
die cast
,
Driving Line
,
Formula 3
,
France
,
FRS
,
futuristic seat
,
futuristic wheelchair
,
GT86
,
homepage
,
iiMo
,
iReal
,
John Brooks
,
KE17
,
KP47
,
Le Rendez-Vous Toyota
,
Paris
,
Ralt RT3
,
Richard Hammond
,
RT52
,
Rue Quentin Bauchart
,
Scion FR-S
,
Scion FRS
,
Sprinter
,
Starlet
,
TA22
,
Top Gear
,
Toyota
,
Toyota Motor Europe
,
Toyota Motorsports
,
Toyota Technocraft
,
toyota wheelchair
,
West Surrey Racing
,
Yamaha
---