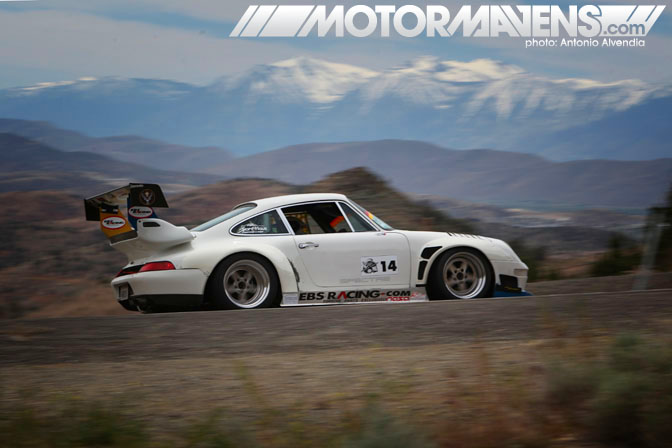 Just thirty minutes south of Reno Nevada and 40 minutes east of Lake Tahoe lies the most dangerous stretch of highway in the Sierra Nevada mountain range, and quite possibly, the entire west coast – Nevada State Route 341.
As the twisty road slices through the mountains towards the oldest city in the state of Nevada, a gold and silver mining town called Virginia City, it allures drivers with breathtaking views of the snow capped mountains in the Sierras – but this is all part of Highway 341's deadly charm.
Drivers who are tempted into gazing upon the majestic beauty of the Sierras while behind the wheel are often fooled into making fatal mistakes at high speed. Taking one's eyes off the single lane road even for just a few seconds can easily lead drivers headfirst into the rocky face of the mountain, or worse – off the treacherous cliff side, where the drop is hundreds of feet, with sharp boulders and abandoned mine shafts below.
For close to twenty years, a man named Duck Fuson has been challenging Highway 341 in a 1974 Porsche 911. This is his story.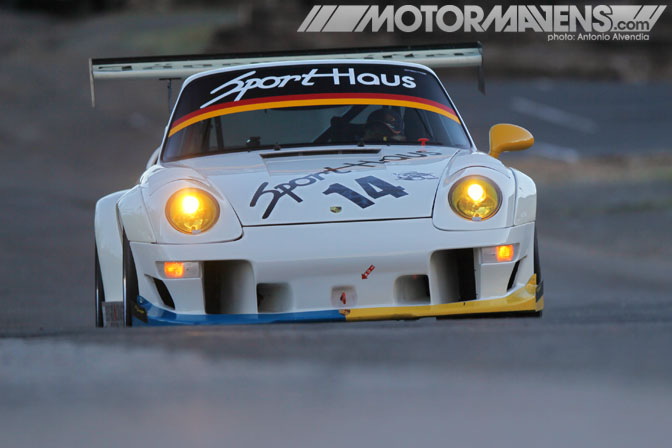 I met Duck for the first time a little over a year ago at the Spectre 341 Challenge hillclimb. As I walked through the tech inspection area on the morning of the event, my eyes were immediately drawn to his car. It certainly stood out from the pack of competition cars signed up for the event. It was lower, wider, and meaner looking than all the rest. I knew right away that whoever owned this car was serious about driving.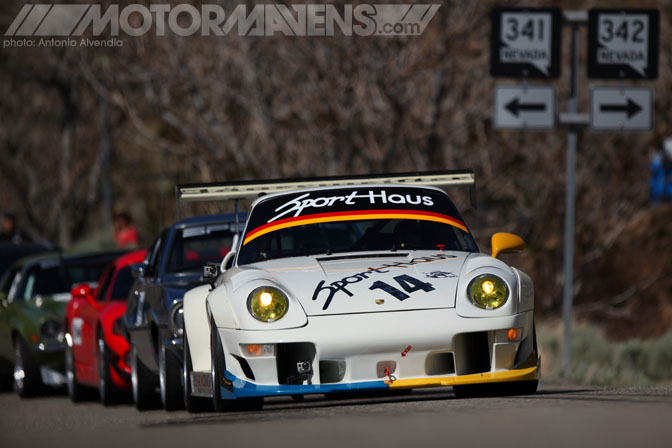 When I asked people in the paddock area who owned the car, I was pointed towards a man wearing a Nurburgring hat, who was calling out "Jager!" from the inside of his race trailer. "Damn, this guy must be nuts," I remember thinking, "He's trying to drink Jagermeister and it's only 8:00 in the morning?! And he's about to compete in a dangerous hillclimb!" As I stuck my head into the trailer to find the owner of the car, a small dog scampered right past me into the arms of a man in a vintage Porsche driving suit. It turned out that he (Duck) was the owner and driver of the mean white 911 I was admiring, and Jager was the name of his dog.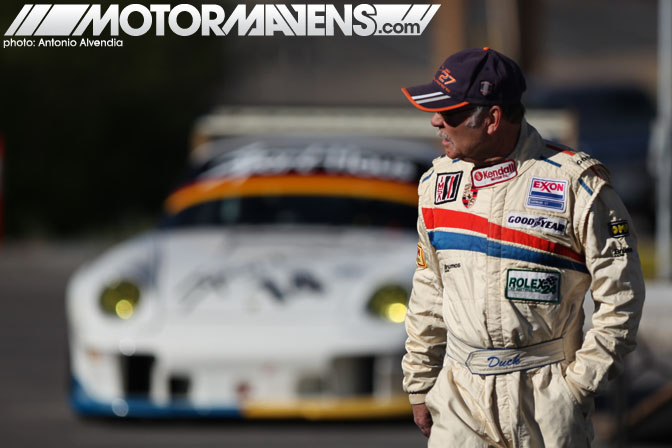 I absolutely love vintage race cars and the memorabilia that surrounds them. I immediately asked Duck about his driving suit, because it looked bad ass and made him stand apart from all the other competitors with off-the-shelf fire suits. It turns out that he was wearing an authentic Brumos Porsche fire suit. You can't just buy these suits from a catalog; Brumos Racing is a famous Porsche race team made famous by legendary racing drivers like Hurley Haywood! Duck acquired the Brumos suit from a friend who used to work at Porsche. All he had to do was trade him for a brand new set of tires – what a steal!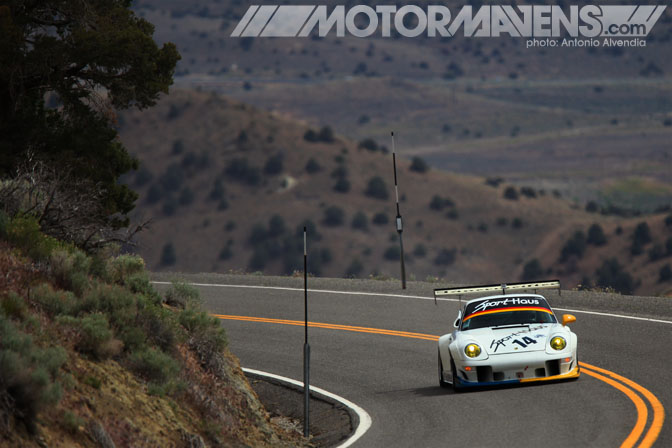 Although this event was only my second time at the Virginia City Hillclimb, Duck told me that many different groups have organized hillclimbs on Highway 341 over the years. "Back in the 90s, it used to be the Quattro Club Hillclimb, and there were a bunch of Audis in attendance," Duck explained, "The Ferrari Club also used to hold hillclimbs here, and I've driven my car with both groups."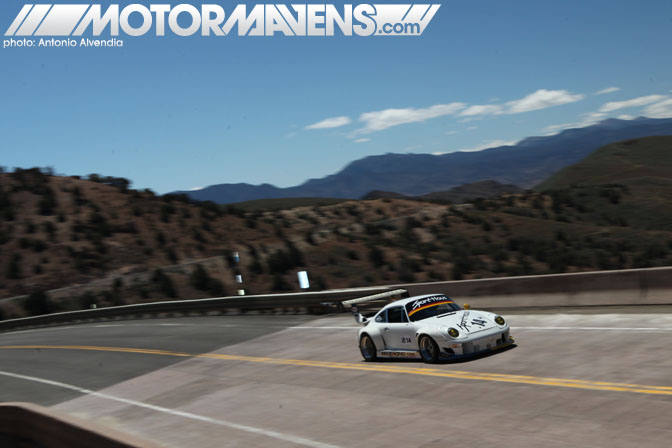 Duck has owned this particular Porsche since 1983, but this 911 wasn't the first car he modified. Back in the mid-1970s, he worked as a cam grinder for Crower Cams in San Diego, and at the time he had a built up Datsun 240Z, which he considered to be pretty tough on the street… until he had a chance encounter with a Porsche 911.
"I used to drive those freeway onramps and offramps super fast in my Z," Duck recalled, "but one day I was racing a guy in a Porsche 911, and he kicked my ass! Ever since then, I knew I had to have a Porsche." Soon after, he sold the Z and bought a 1969 Porsche 911E. It had a 3.0 liter motor and mild suspension work. "I had that 911 for a while, but I eventually sold it to buy a brand new Honda motorcycle. I regretted that decision, and kept kicking myself for selling the Porsche. So in 1983, I found this 1974 911 and I've had it ever since."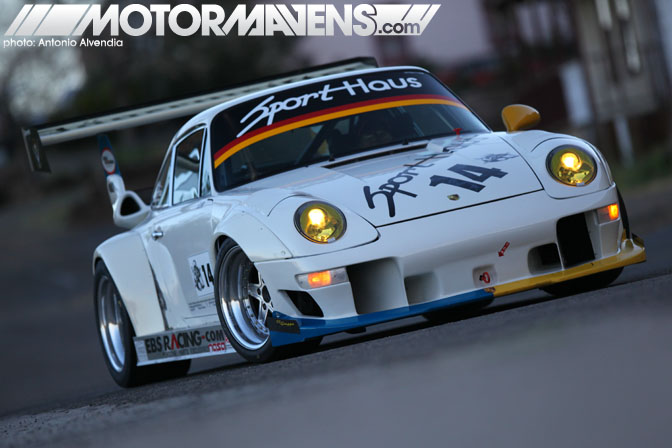 Although Duck's car is a 1974 Porsche 911, it doesn't look like a 1974, and certainly doesn't sound like one. Aside from the functionally aerodynamic front bumper, multicolored front air splitter, and huge fiberglass flares from Getty Design, Duck swapped out his classic Porsche bodywork for a newer style hood, fenders, and projector headlights from a Porsche 993. The headlights have also been covered with yellow 3M film, which give the car more of a LeMans look.
When I asked Duck about the blue and yellow accents on his front lip, mirror, and rear wing uprights, he explained that he went to one of the first F1 races at Indianapolis, and they had a Porsche Supercup race before the actual F1 race. He spotted a 911 with that blue and yellow color scheme, and he painted his car with the same colors to pay homage to that Porsche Supercup car.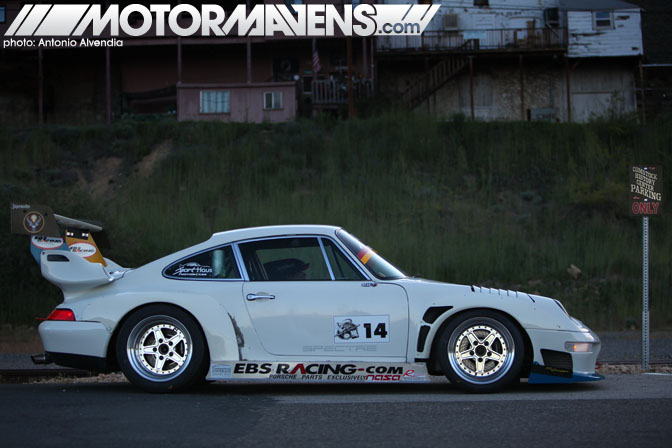 Looking at the car from the side, it's very easy to see the cross drilled rotors peeking past the bright 5-spoke wheels and aggressive aero work. Duck explains that none of the bodywork is for show – every single duct is functional as it should be.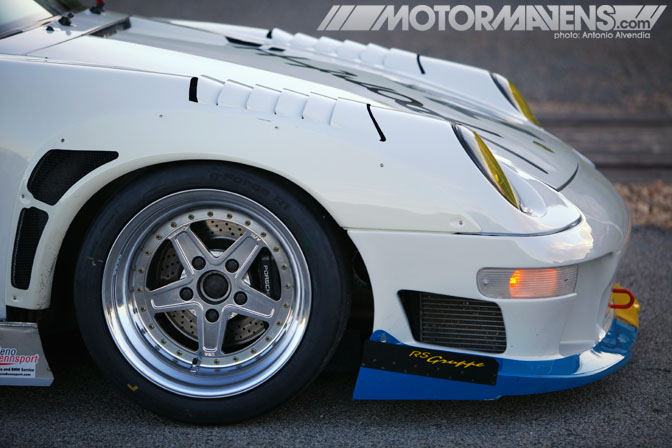 Positioned ahead of the front wheels are air inlets which direct air towards two oil coolers – one on the right and one on the left. Thanks to these dual oil coolers, the car's oil temperature stays right at 210 even if he's thrashing the car on a hot day. Peeking through the polished 17 x 10.5 Bogart front wheels are crossed drilled rotors and brake calipers from a Porsche 930 Turbo – quite an upgrade from the factory brakes of a 1974 911.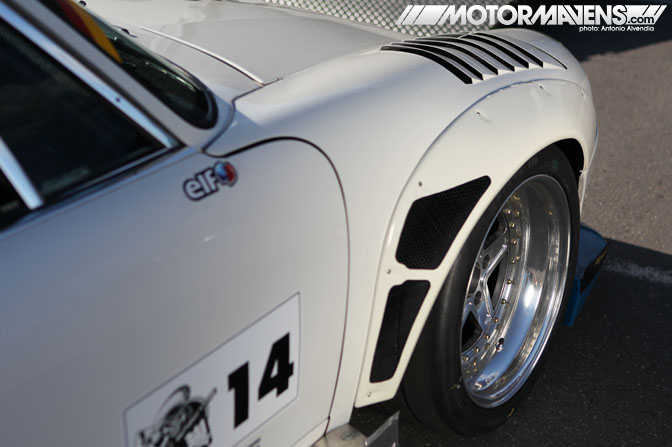 With a quick glance to the top of the front fender, your eyes are immediately drawn to the louver work, which Duck did by himself. He admits that it took him three or four attempts at making louvers before he was able to get it right, but he was finally happy with the final set. Duck also cut out air vents towards the rear of the fiberglass fenders, which assist the louvers in getting rid of air buildup behind the 245/45/17 BF Goodrich R1 tires.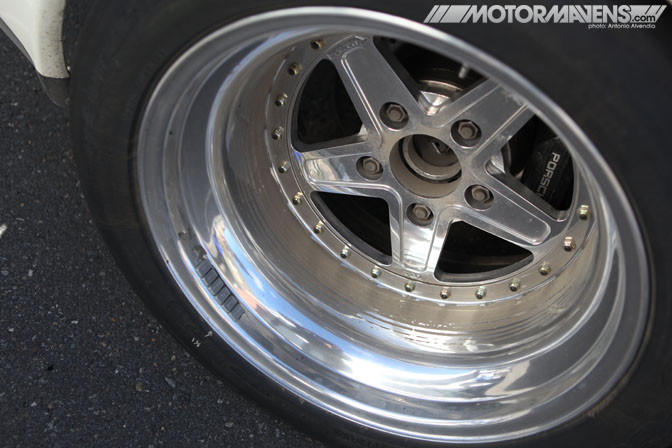 The rear Bogart wheels are a staggering 17 x 13, wrapped in 315 wide BFG R1 tires.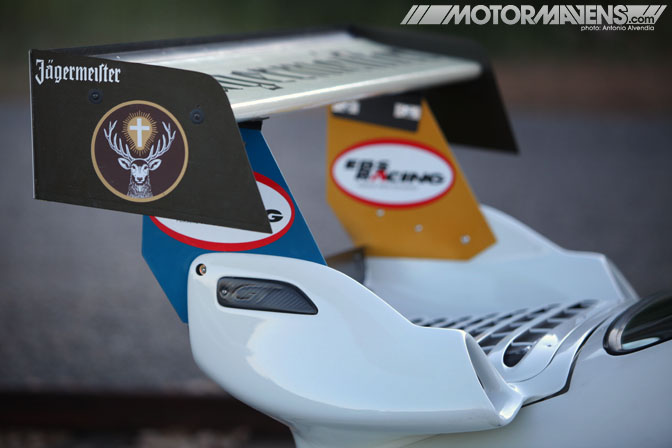 It's impossible not to notice the huge rear wing on Duck's Porsche. Duck sourced the GT2 tail base from Getty Designs, and built the blue and yellow uprights himself. A seventy inch GT racing wing sits directly above, with carbon fiber tip plates that Duck hand made, with his beloved Jagermeister logos on each end.
An up close encounter with a McLaren F1 car inspired Duck to create a Gurney flap with a vortex generator on the rear wing – small metal teeth that create vortices that clean the air and create more downforce while the car is at speed.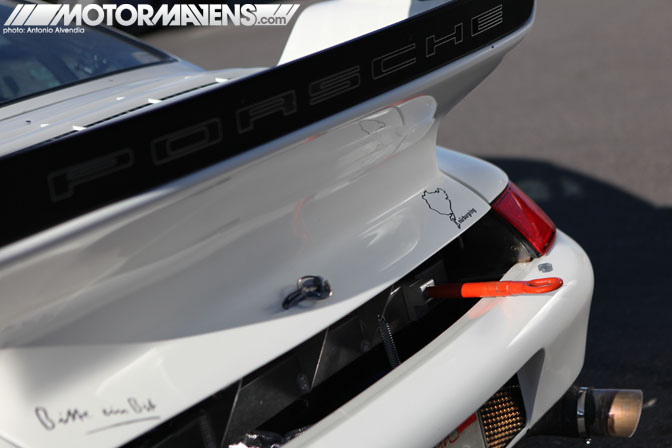 Underneath the GT2 tail base sits a pair of stickers on the rear trunk. Everyone recognizes the iconic Nurburgring logo, but on the left side is a sticker that says Bitte ein Bit; German slang for "Please, another Bitburger (beer)." Underneath the rear bumper sits a custom made 3.5 inch stainless steel exhaust that Duck built himself.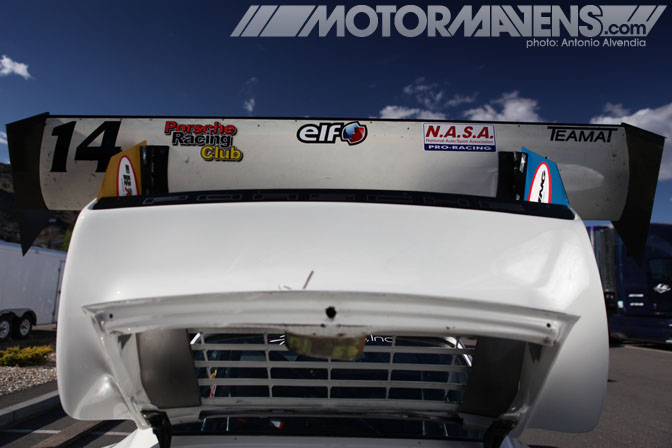 Lifting the trunk lid and enormous aluminum GT wing reveals more personality from logos hidden underneath.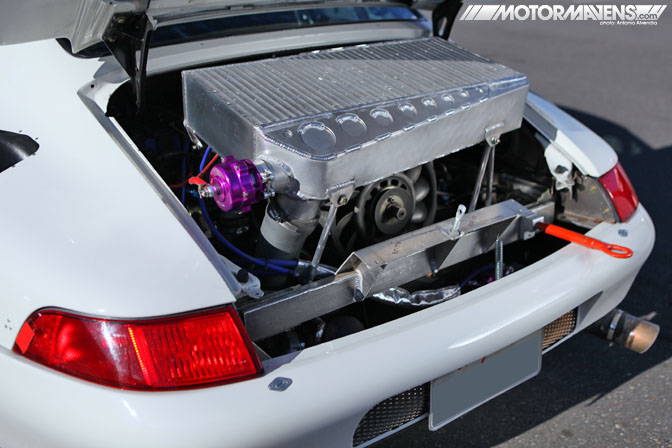 Sitting above the 3.6L engine is a huge intercooler that Duck fabricated himself, with a 50mm Tial blow off valve affixed to the left side. The engine internals feature custom 9.5:1 JE Pistons mated to Porsche forged rods with ARP rod bolts. The engine runs stock cams, but with the Haltech F9A fuel injection, the 2300lb car makes just over 500hp on 1.1 bar of boost.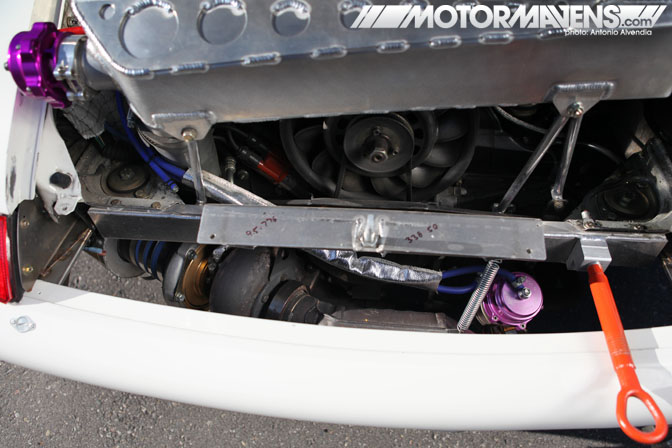 Just behind the rear bumper sits a custom spec Innovative 67mm turbo, with a purple anodized Tial wastegate on the right side, and a ported Porsche wastegate on the left.
Duck added the Tial wastegate because even with the ported factory Porsche wastegate all the way open, the car still made too much boost. He decided that he needed two wastegates, which he controls using a rare Porsche 935 boost controller.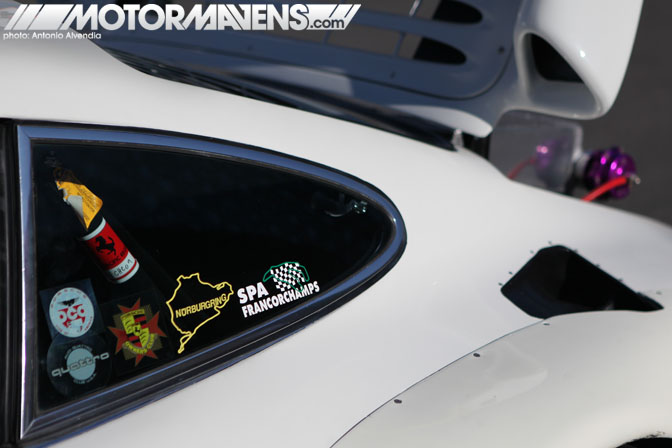 The side vent windows add further style and personality to this 911. The windows feature stickers that Duck picked up on trips to legendary European race tracks like Nurburgring, Hockenheim, and Spa-Francorchamps. Faded old tech stickers from previous hillclimbs put on by the Porsche Club of America, Quattro Club, and Ferrari Club also share space on the window and rollcage like badges of honor.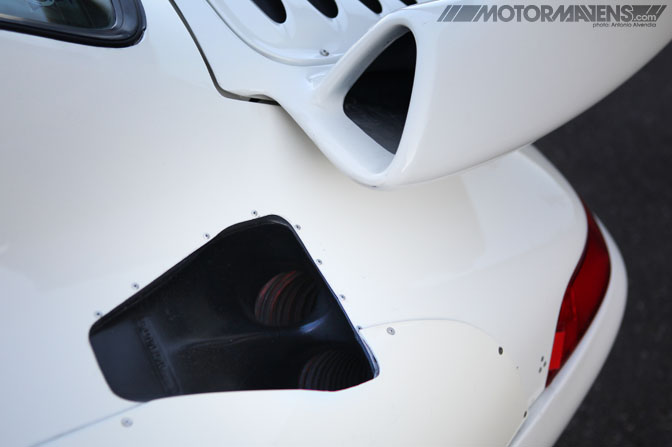 On the driver side of the car, the body of the car was cut to accomodate a NACA duct with 3inch intake hoses that feed air to the turbo through an airbox.
Duck steers his 911 with precision using a Momo 2 spoke suede covered steering wheel, with factory VDO gauges mounted up to a carbon fiber trim plate. His factory Porsche VDO tachometer was customized by a shop called North Hollywood Speedometer so that the redline sits at the 12:00 position and is easier to see at a glance. The VDO boost gauge was modified so it reads 1.5 bar instead of 1 bar or 2 bar.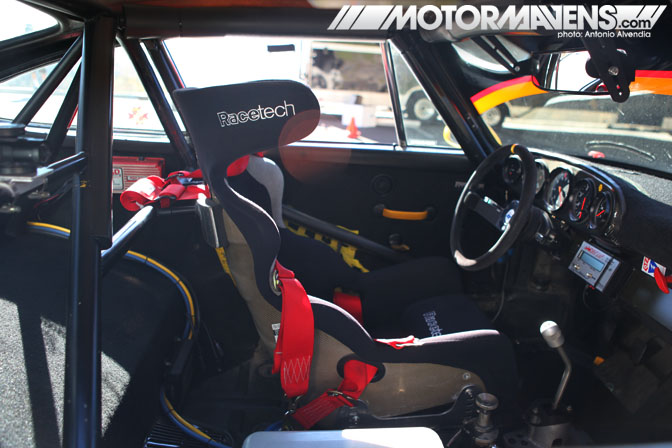 Inside the cockpit are 3 inch Sabelt camlock seatbelts mounted to an 8 point NASA spec rollcage that Duck welded himself, and a Racetech carbon kevlar seat with integrated head restraints. A Momo DTM shift knob sits atop a 4speed short shifter, and the big dial on the floor next to the shifter is actually an old school boost controller from a Porsche 935. The silver box mounted just below the customized VDO gauges on the dash is a Hotlap lap timer, and there's also an MSD 6AL ignition amp mounted just behind the rollcage's main hoop.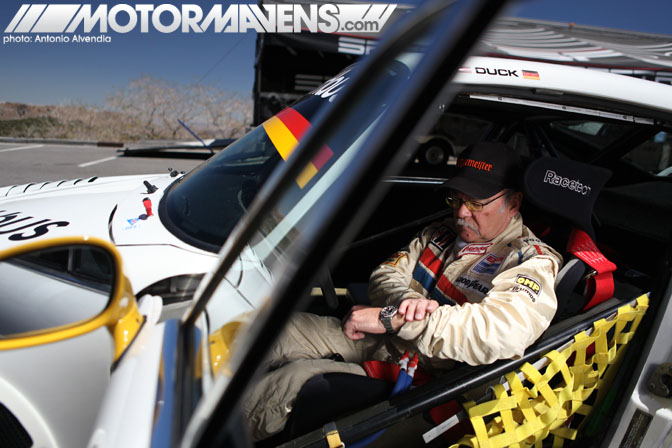 Duck spent so much time answering my endless battery of questions about his car, he was almost late to the start line! Just as he was strapping in, he pulled back his Brumos Porsche suit to check the time. "Wait! One more photo!" I yelled.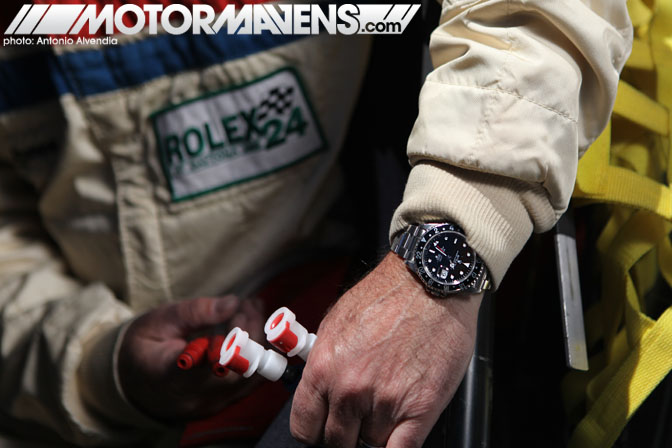 All my friends know that I appreciate a fine timepiece. I had to grab a shot of Duck's first generation Rolex GMT Master, framed nicely with the Rolex 24 patch in the background.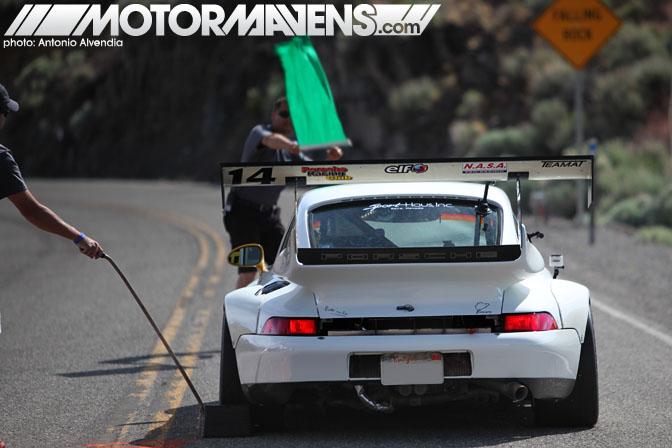 As Duck drove off to the starting grid, I jumped into my rental car and arrived at the uphill starting line just in time to see this monster 911 launch past the starting flag and rocket up the hill. So bad ass.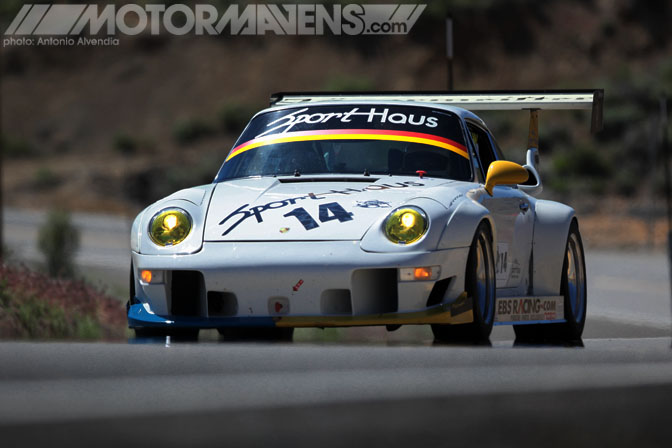 On his next run, I decided to camp out in one of the ditches along the roadside, hoping that Duck (or one of the other competitors) wouldn't go off course and hit me! The weather kept changing all day during the hillclimb, with small pockets of sunlight eventually peeking through the dark, cloudy skies earlier in the day. As Duck powered his way up the hill, you could hear the 911's throaty exhaust note and air whooshing as he passed.
Custom made aluminum sideskirts prevent the air passing over the fenders from going underneath the car; this air channel preserves the vaccuum under the car for maximum downforce. There's also an aerodynamic undertray mounted under the front of the car, which goes back past the front axle and helps direct air underneath the car.
When I asked Duck why he's running a single mirror, he explained, "I have another mirror. I just didn't feel like putting it on. Plus, there's less drag now."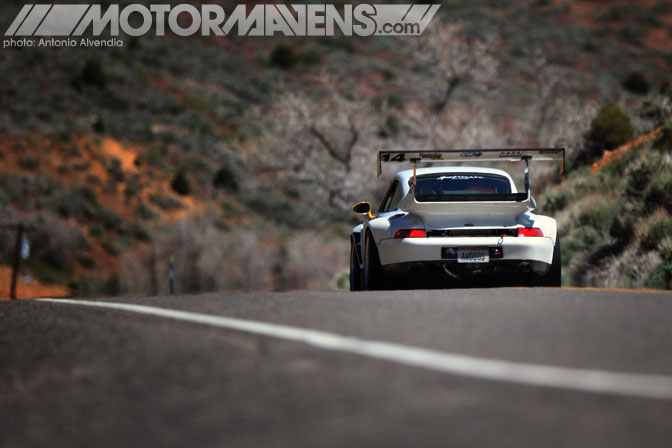 This widebody 1974 911 with a 993 facelift maneuvers the twisty mountain roads with agility thanks to Bilstein Porsche RS-R coilovers with Eibach ERS springs and a Tarett Engineering swaybar. Many of the car's rubber bushings have also been replaced with heim joints for maximum stiffness and handling response.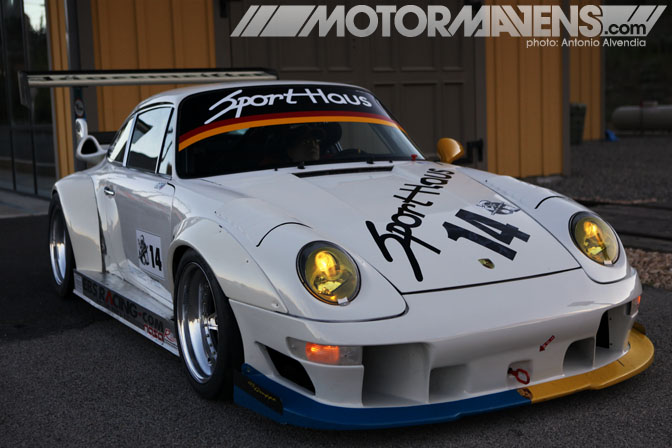 Duck has owned this particular Porsche 911 for thirty years, and has been using it for hillclimbs for close to twenty years. When asked if he was finally happy with his car's performance, he answered, "You know, modifying a car is a never ending process. There's always a way to make it better or faster." He explained that for the next evolution of his car, he'll be adding a bigger turbo, bigger wheels and wider tires to accomodate more horsepower. Just like his 911 never stops evolving, Duck never stops pushing his own limits. No wonder he's the local hillclimb hero.
:: Antonio Alvendia
911
,
911E
,
930 Turbo
,
993
,
aerodynamic
,
aerodynamics
,
BF Goodrich
,
BF Goodrich R1
,
BFG R1
,
Bilstein
,
blow off valve
,
Bogart
,
Bogart wheels
,
Brumos Porsche
,
cross drilled rotors
,
Crower Cams
,
Duck Fuson
,
Eibach
,
ERS
,
F1
,
F9A
,
Ferrari Club
,
Getty Design
,
GMT Master
,
Gurney flap
,
Haltech
,
Highway 341
,
Hillclimb
,
homepage
,
Hurley Haywood
,
Indianapolis
,
Jagermeister
,
JE Pistons
,
Le Mans
,
NACA duct
,
Nevada State Route 341
,
North Hollywood Speedometer
,
oil cooler
,
Porsche
,
Porsche Club of America
,
Porsche Supercup
,
Quattro Club
,
Rolex
,
RSR
,
Sierra Nevada
,
Spectre 341 Challenge
,
Spectre 341Challenge
,
Tarett Engineering
,
Tial
,
Virginia City
,
wastegate
---