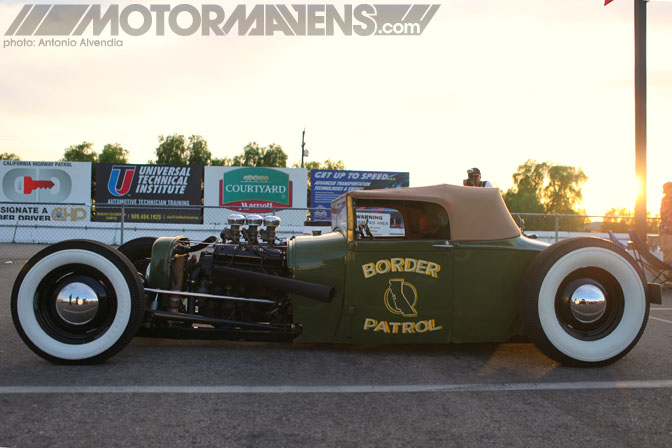 It's no secret that one of my favorite car events to attend every year is the annual Mooneyes Christmas Party at Irwindale Speedway. When I first began posting up stories and photos from Mooneyes and related hot rod events on MotorMavens in the past, and I think some of our readers were sort of confused. I know, I know… this isn't the sort of content that people might normally expect from a media outlet that normally covers things related to Japanese car culture and motorsports. However, we're making efforts to expand out of our normal comfort zones… because from drifting to road racing to hot rods to European cars to exotics… there's a common denominator that binds all of us as car guys together… we are passionate about cars!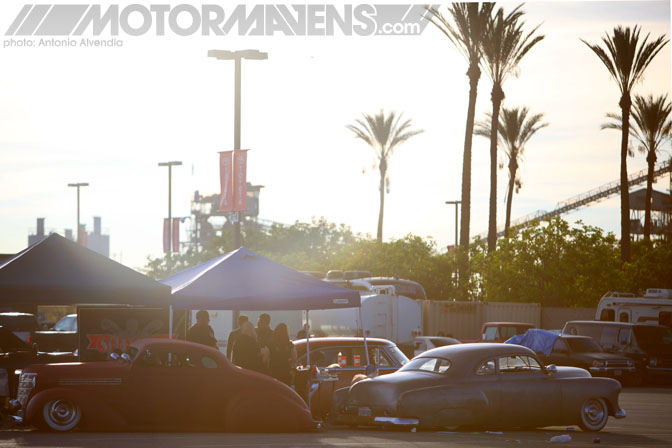 We've lightly touched on the MotorMavens passion principle in previous stories, but we'll be seeing more of this in the future, as we spotlight cars that people are passionate about! I know I'm intensely passionate about the cars in my collection, and you are too. Although some of us might not come from hot rod or kustom car backgrounds, we can definitely appreciate and respect the automotive passion that the owners of these cars have put into their cars; it seeps into and affects every bit of a person's life. It really IS a lifestyle – a person's love for cars and the culture that surrounds them really does affect every bit of their lives, if they do it right. This goes out to the real gearheads! This goes out to the people that live this stuff day in and day out, because THAT is what it's all about. This isn't just a hobby for us – this is what we build our lives around, and we wouldn't have it any other way.
Anyway, enough of my rambling… on to the photos!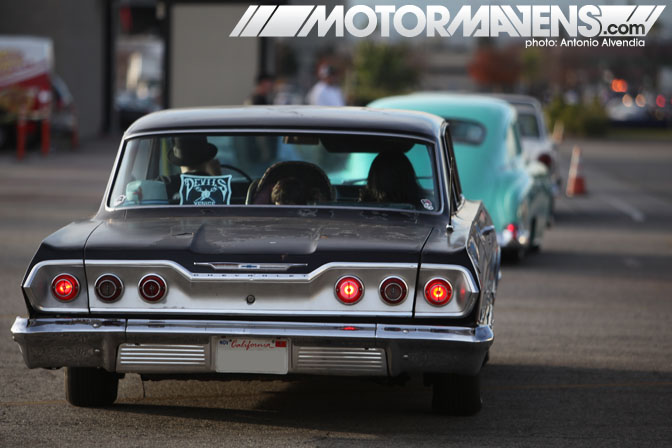 In my previous post from this year's Mooneyes Christmas Party, I thought this Impala was a six-fo… but I stand corrected. This is a 1963 Impala from the Devils car crew! Someone please school me on the differences between 1963 and 1964 models, because I don't have an issue of Lowrider Magazine handy, and I haven't watched Boyz N The Hood in a long time!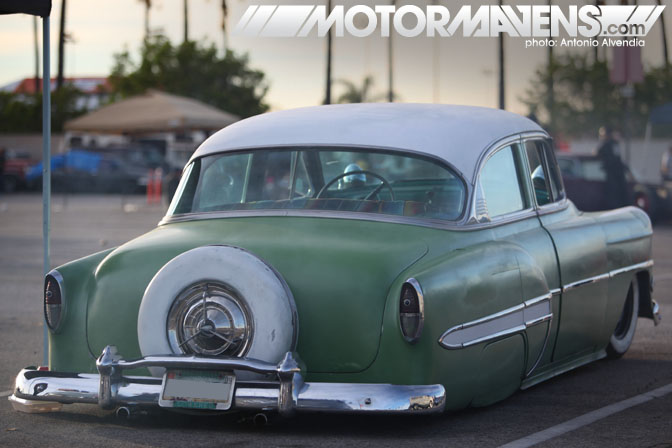 I have no idea what kind of car this is. All I know is it's green and it's LOWWWWWW.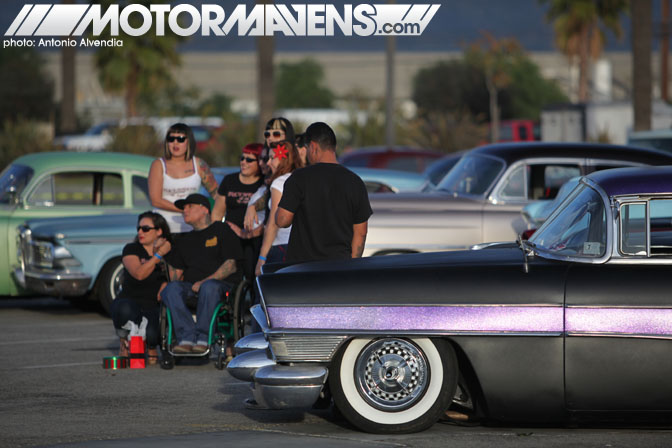 One thing that's cool about the Mooneyes Christmas Party is the fact that it's very chill and very casual. It's kind of like a big tailgate party with interesting cars and a bunch of homies chillin out and taking photos. See, I even caught a group of friends taking a classic "with the homies" photo!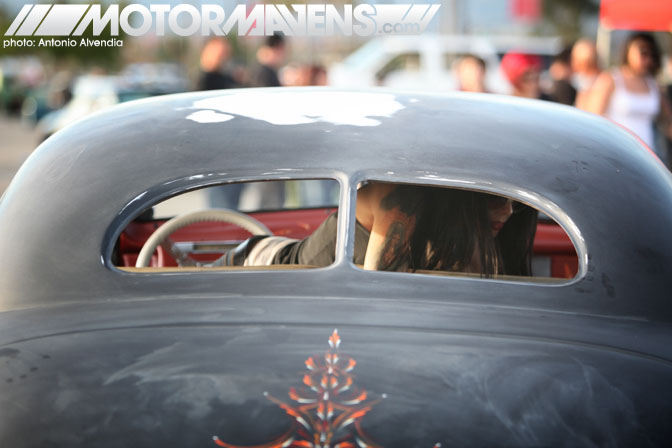 The back seat of cars is sometimes more interesting than the front! This is Sonja from Sunbelt Customs, getting something from the back of her car… that she built. Respect!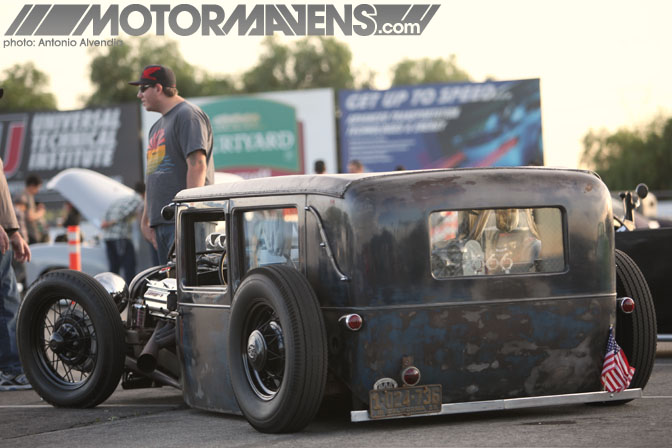 Again, I don't know a damn thing about this ridiculously low hot rod… but it looks like it won't even clear the orange road reflectors on the road! Where on Earth can one drive this thing?! Who cares! We love low cars of all sorts!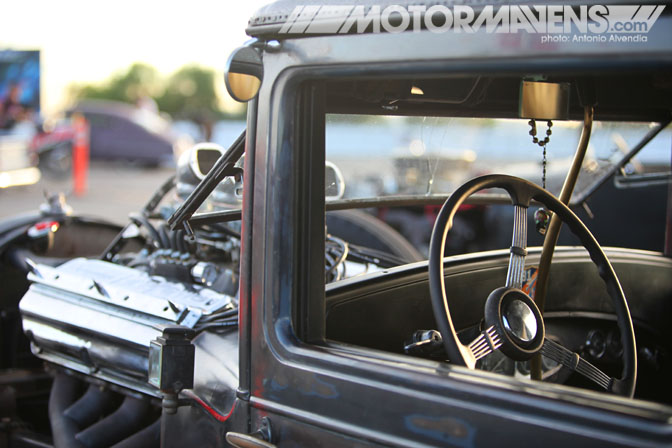 Here's a closer look at the slammed hot rod, with a steering wheel that looks very similar to an OEM American version of a Nardi Classic 360. Check out the super tall shifter though! Oh, and it has a rosary hanging from the rearview mirror… I wonder if this thing gets driven to church? I'm guessing… probably not.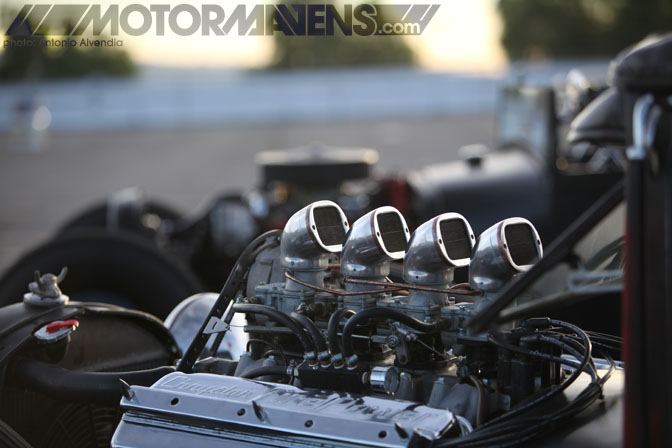 A closer inspection of the engine bay will reveal that the car is Chrysler powered. Check out these backward facing air horns for the carbs! I suppose there would be too much air pressure if the air horns were turned around? Does anyone have a clue as to why the air horns are facing backwards like this? Is it just a style thing or what?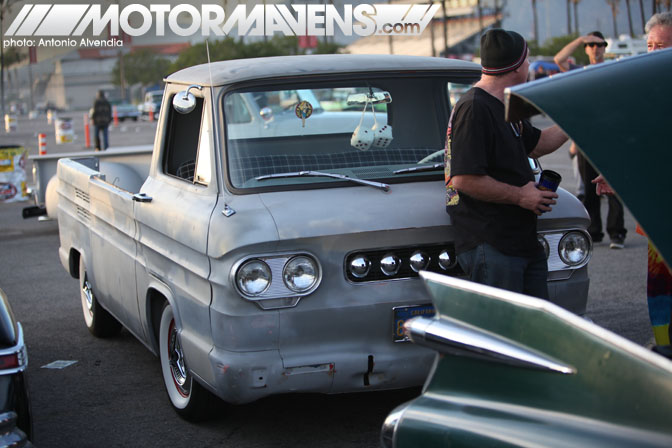 Speaking of style, I love the look of these old kinds of trucks and vans. Again, not a clue as to what it is. I just dig the body lines of it. Is it possibly and old Ford or an old Dodge? Looks somewhat similar to those A100 vans. It would be even cooler once it's painted and has wider wheels!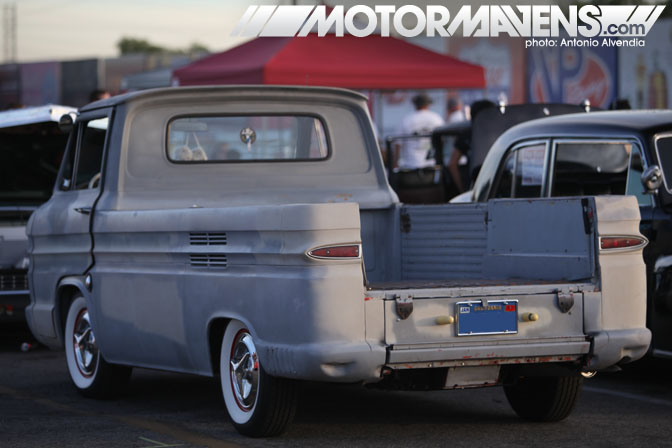 Check out the back of the truck… just looking at this, I'm honestly not sure what's customized and what's original. It looks interesting though… I wish I got a closer look at it, but I had to get through the entire show to shoot photos, as the sunlight was fading quickly!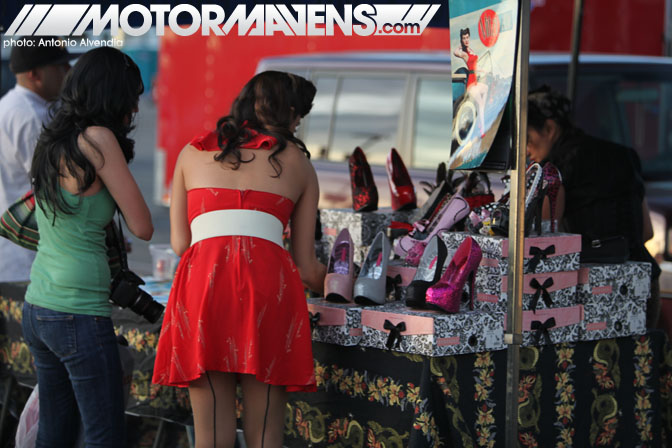 One interesting thing about Mooneyes that you probably won't see at drift days or racetrack events… there were plenty of dressed up women buying high heel shoes! Pretty cool packaging, and the ladies seemed to love this booth.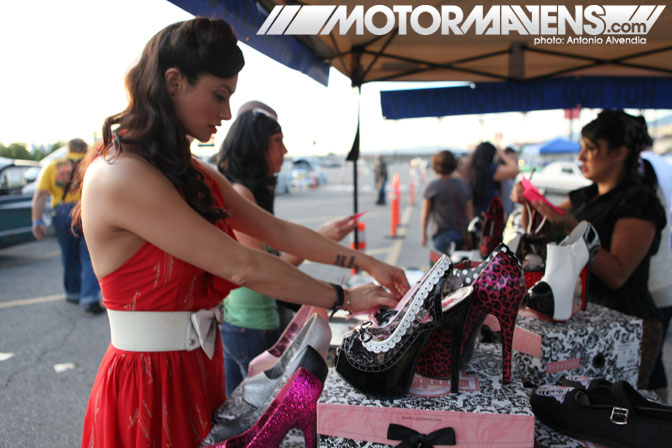 I walked up a bit closer, so it wouldn't be like I was taking "rearview creeper" style photos of unsuspecting women, and the pinup girl in the red dress came up and gave me a hug! Turns out it was none other than Yolee, a new friend who I met through my boy Brian. She gets props from us because she has proven to be super down… more than most girls you meet. She has even come to visit the apartment more times than some of the girls I've been very close with for years! I won't name any names, though… *cough*Falken*girls*Joyce*Eri*Liz*cough*cough*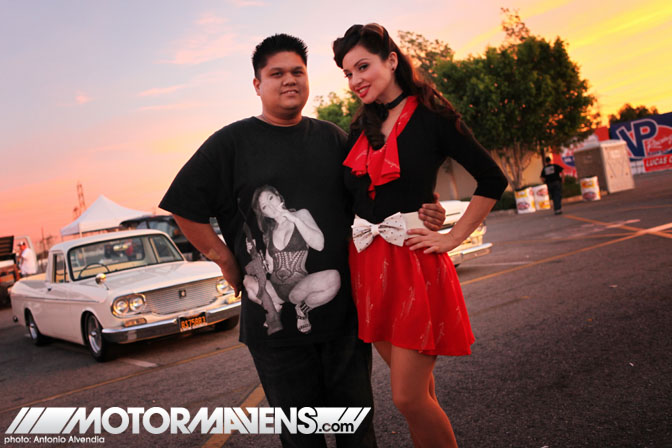 I'm not sure what's more rare about this photo… the amazing colors of the Southern Cali sunset, as captured through my Canon 5DMK2; or maybe it's the super clean, right-hand-drive 1964 Toyopet Crown Masterline (truck) from Mooneyes Yokohama that's parked in the background; or maybe it's the fact that my boy Brian is wearing an old school original print run Joyce Lex "Sinful Things" rifle shirt with super down-ass Yolee right next to him. She brings hardcover art books with naked chicks in them over to the crib, and she's even into the same type of hip hop as we are! Dope.
Check this one out! What catches your eye first?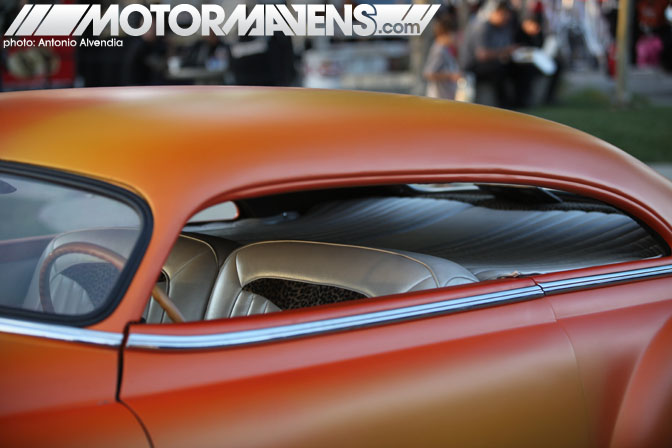 Look at the detailed interior under this choptop… having a cover for the back seats is actually very cool! I've seen this done on roadsters before (obviously), but never on a choptop such as this. Very cool! I hope this gives people some ideas!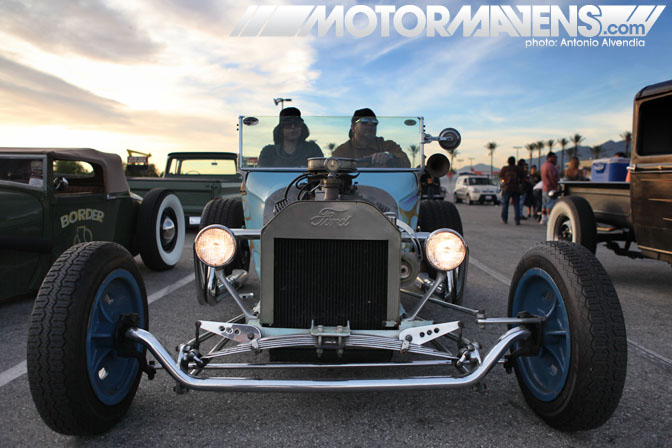 Now that's what I'm sayin! Check out this traditional Ford hot rod from the Cavaliers car crew out of Long Beach CA. The Cavaliers are an old school car crew with a lot of history. Keep an eye on MotorMavens for more from the Cavaliers!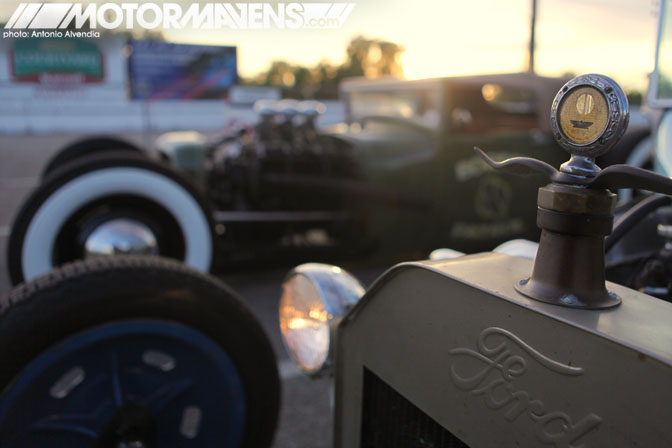 Here's a closer detail shot of the cool front emblem on the Ford, with one of my favorite traditional hot rods EVER in the background…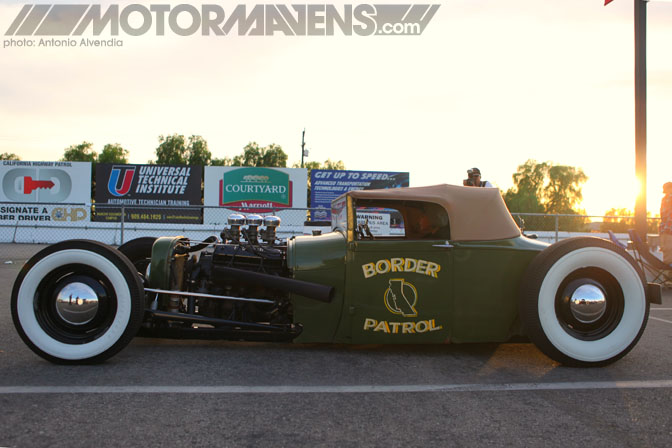 Here it is. This, in my opinion, is one of the coolest looking traditional hot rods I've ever laid eyes on. This car was at our first-ever Mass Appeal car show, and was parked right next to the MotorMavens booth, attracting A TON of attention!
This super sick slammed 1934 "Border Patrol" roadster is owned by Tony of the Cavaliers. We'll see a lot more of this car on the site in the near future!
Check out this quick shot of Tony's interior – it has been fashionably painted olive green, just like the exterior… and I think the tan soft top looks PERFECT on it!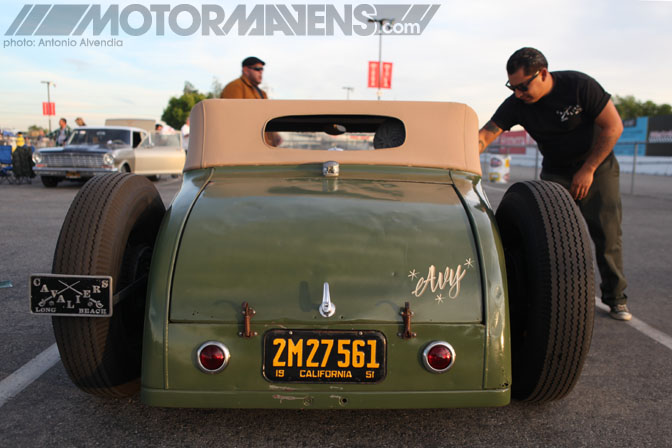 Here's a rear shot of the Border Patrol roadster. Super, super dope! Look at how the top of the fenders are actually lower than the tops of the wheels!!! I LOVE THIS CAR!!!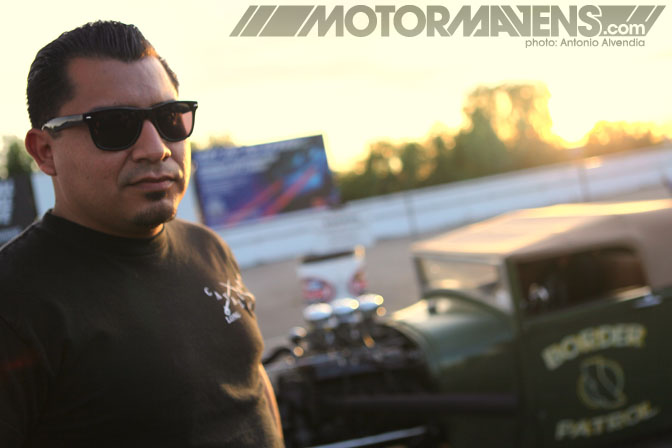 Here's a shot of Tony, the owner of the car. I'll be honest and tell the truth real quick, even if it means pissing some people off. Before I was enlightened on the subject, I used to think hot rods were something that were driven by old, white-haired war veterans with cargo shorts, long white socks, New Balance sneakers, Hawaiian shirts, and USS Enterprise trucker caps. Sheesh… was I ever wrong about that.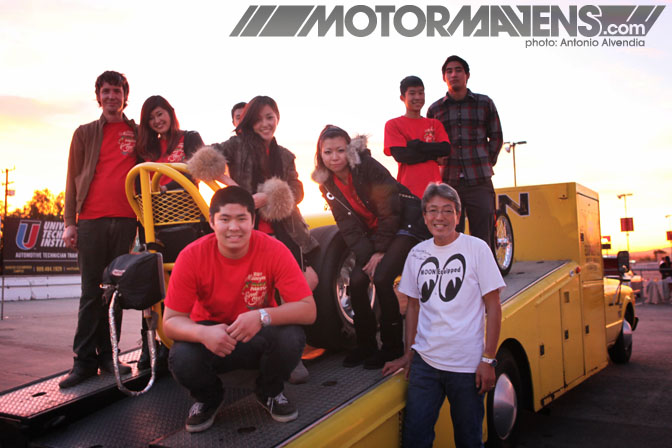 As the sun set over Irwindale, I found the head of Mooneyes Japan (Shige) and his staff gathered around his transporter, loading up one of their cars.
It might be surprising to some… but many people don't know that one of the coolest hot rod lifestyle events in Southern California is actually run by… Japanese people?!
Click here for more photos and stories related to Mooneyes and Hot Rods on MOTORMAVENS!
:: Antonio Alvendia
---