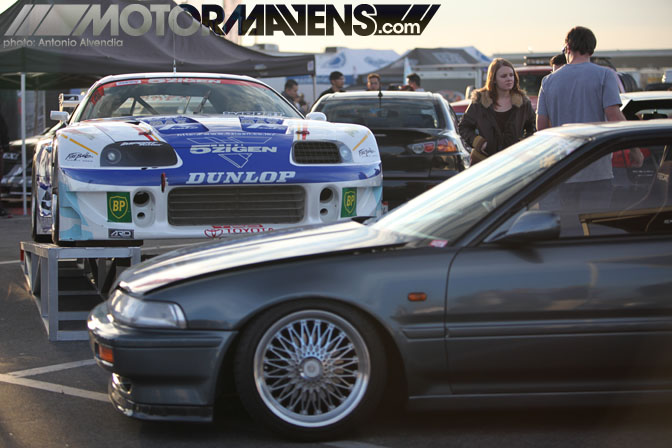 When most people think of the term car culture, they immediately (and possibly unconsciously) picture particular types of cars in their minds – cars that fit their own personal spectrum of interest. That is car culture's dirty little secret – it can be extremely balkanized, or broken up into little niches and peer groups.
If you're into muscle cars, then screw those four bangers. If you're into rotary powered vehicles, then screw those pistons! If you're into road racing and time attack, then screw drifting. If you're into Formula One, well, screw everybody. If you've been around car culture for any length of time, you know exactly what I'm talking about. You also probably know that not everyone feels this way. As we get a bit older and experience some of the great aspects of other car cultures, more and more of us are discovering that we're all the same under the hood – we're all just car guys.
In the middle of 2009 when we started MotorMavens, we established the site on a basic principle – that everyone's voice is validated by their passion for the cars and car culture because the one thing that brings the entire spectrum of car culture together is passion. We call it the "passion principle." Wherever you find some mind blowing interpretation of the automobile and the lifestyle that revolves around it, you also find some passionate person wrenching away – usually with a ton of pride and satisfaction in his/her accomplishments but very little money to show for it.  That's exactly what the MotorMavens Crew searches for; we look for that passion in every possible niche of car culture so that we can broadcast it loud and clear to everyone when we find it.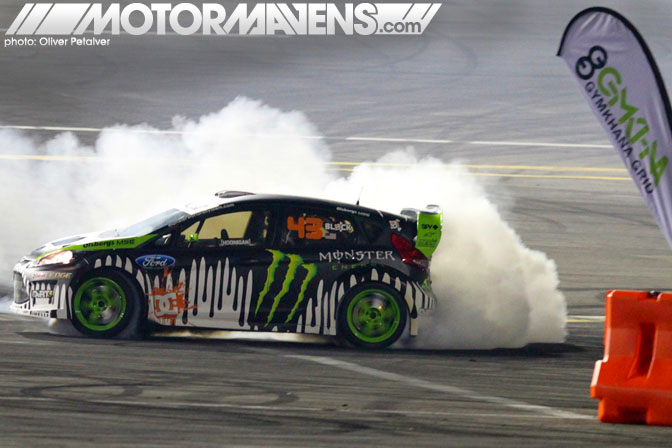 So, what does all of this have to do with the Mass Appeal Show? It's simple. When Ken Block and the Gymkhana Grid team approached us to produce a car show at their Ken Block Invitational, we already knew that it would need to be different than what most people might expect. We knew our car show would need to represent the driving principles of MotorMavens… the car show would have to be multi-car-cultural; reflecting the wide spectrum of car culture that we love so much. It would have to have mass appeal – get it?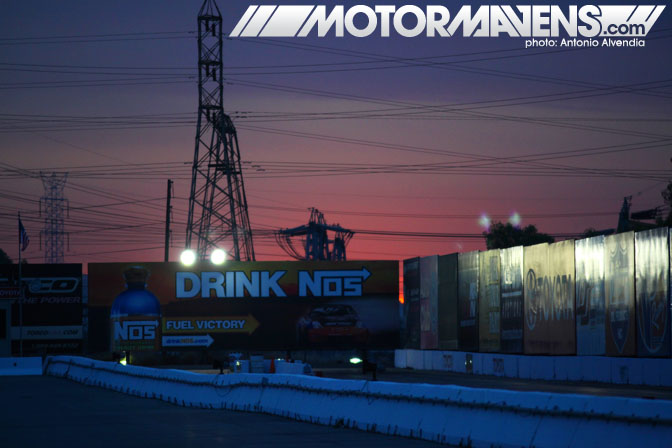 Our core team of MotorMavens have been extremely busy, putting together and promoting this show every day since we finalized our deal with Gymkhana Grid (roughly one month ago). This means that we were out and about EVERY SINGLE DAY, broken into street teams, promoting and reaching out to all the stylish car owners we could find! We were even promoting Mass Appeal on Thanksgiving Day… and on Black Friday, instead of lining up to buy things super cheap, we were out at the DC Shoes stores, delivering event flyers and talking to DC shoppers about the event.
On the night before Mass Appeal and The Ken Block Invitational, we didn't get back from buying supplies and stuff until about 2am… but we had to be at the track at 6:30am to set up. Ughhh. So this is what Irwindale Speedway looked like at 6:30am as the sun was coming up.
Since the official hotel of Irwindale Speedway didn't honor the special Irwindale rate that was advertised, we just booked rooms at another hotel across the street, which was actually a lot nicer and more modern inside. Here's a low quality 3am cellphone photo of the room that Justin Shreeve, Tamer Omran, and Joe Ayala shared… they were up late promoting the show online, posting things on Facebook, Twitter, etc… and answering text messages from car owners that were emailing last minute questions about the show.
In this pic, Justin is showing me some artwork from a new MotorMavens shirt that we're going to produce in the near future…
Here's what my room looked like right before we checked out at 6am. Unfortunately for me, I didn't even get a chance to enjoy the super comfortable bed! I was up all night preparing. Sigh…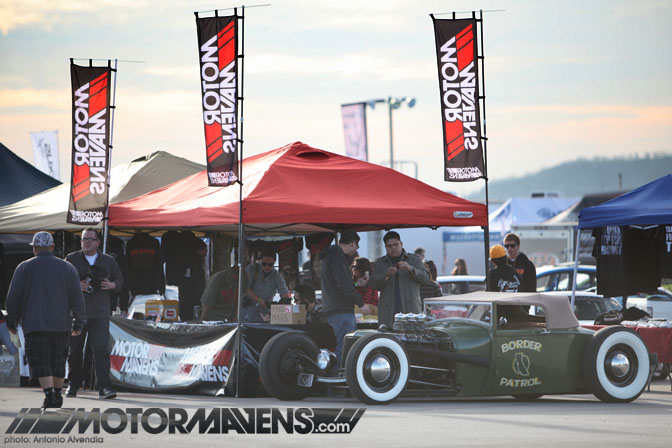 It was all worth it, though. Mass Appeal was fun! This was the MotorMavens merchandise booth at the show, where we were distributing stickers and copies of Japanese Nostalgic Car Magazine.
We also re-released a few classic Cipher Garage shirt designs – The Demon Camber/Shakotan Slam/Hippari Tire/Tsuraichi shirt that I designed back in 2006, when most people didn't even know what I was talking about… and we also brought back the signature SSR Mk-3/Cipher Garage shirt!
The entire crew and I were very excited (and honored) that my friend Tony from The Cavaliers brought his bad ass Border Patrol 1934 roadster out to the show! His super low, STREET DRIVEN roadster was easily one of my favorite cars in attendance at Mass Appeal.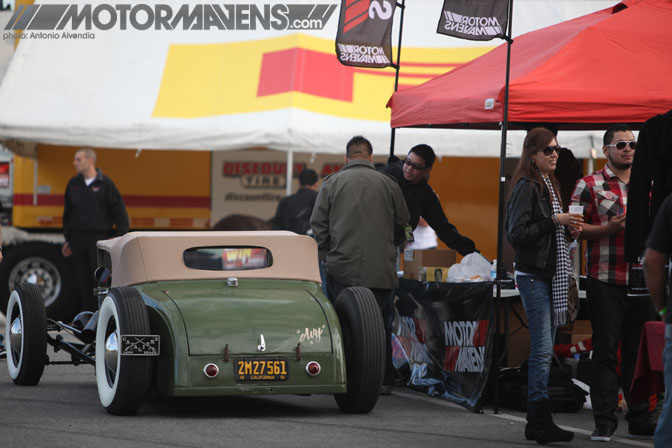 Here's another shot of Tony's super sick roadster. Look at how the tops of the period correct whitewalls actually sit higher than the body of the car!!! Tony's roadster has the most AMAZING style… definitely keep an eye out for more on this car on MotorMavens very soon!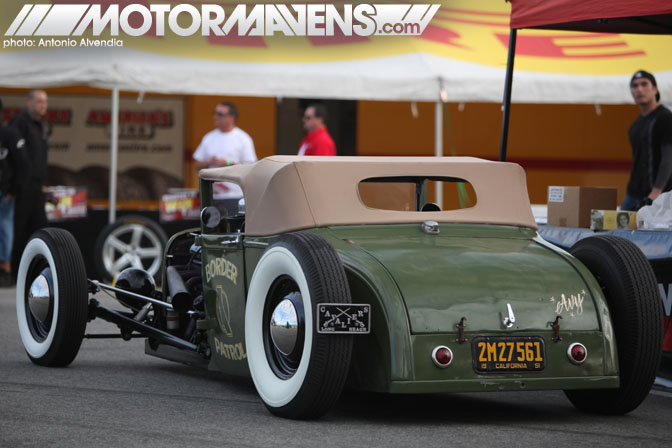 Just another close up… daaamn!!! Look at the details on this AMAZING piece of automotive art! Look at how low the body sits! Look at how clean those whitewalls are! The gloss black wheels?! The Cavaliers emblem behind the rear wheel! The period correct black-and-yellow license plate! The Border Patrol logos lettered onto the doors! The color combination of the army green, yellow, black, white, and tan… so perfect. I lust after this car.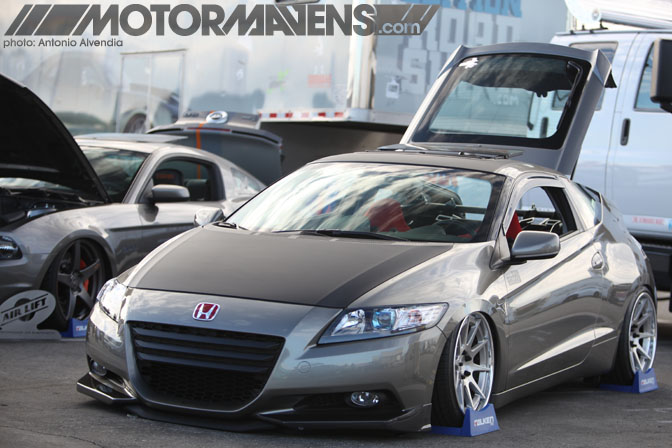 Walking around the SEMA Show and the LA Auto Show, one of the new platform cars that had me jocking the most was the Fortune/Tjin Edition Honda CRZ. Out of all the CRZs that were built for the American Honda booth at SEMA, this particular CRZ wins the MotorMavens award for streetcar style.
I love the metallic brown paint color, contrasted with red seats inside and the red Honda badge – subtle and clean, just how I like it. At first, I was running my fingers over the super clean dry carbon hood, thinking, "damn, this hood is pretty straight, for carbon fiber!" However, it wasn't carbon fiber. The hood was actually wrapped with material from Wraptivo, the new company to come out under the Meguiar's/3M brand. Pretty interesting, right?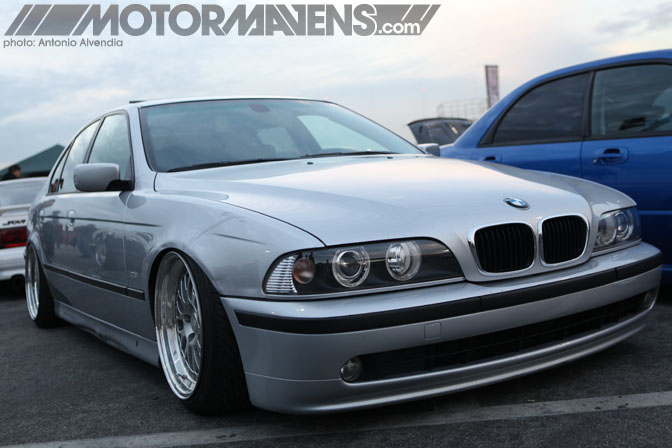 Some people drive their cars around town at tall ride heights and only slam their cars when they're parked, but Northern California native Pavel Kostyurin defeats all those people by driving his slammed 5 series BMW E39 on the street every day all day. He doesn't raise it just to make life easier… his car is on COILOVERS, not air suspension! This is how his car sits, and this is how he drives it. Now THAT is the epitome of low car lifestyle, and for that, he deserves praise. Much respect, Pavel!
At the show, Pavel told me that one of the baffles in his gas tank broke on the day before Mass Appeal, but he didn't want to miss the show, so he drove it down anyway and stopped for gas EIGHT TIMES on the way down to LA! He drove his super slammed E39 over 800 miles round trip just for Mass Appeal, and according to him, it was totally worth it. Incredible.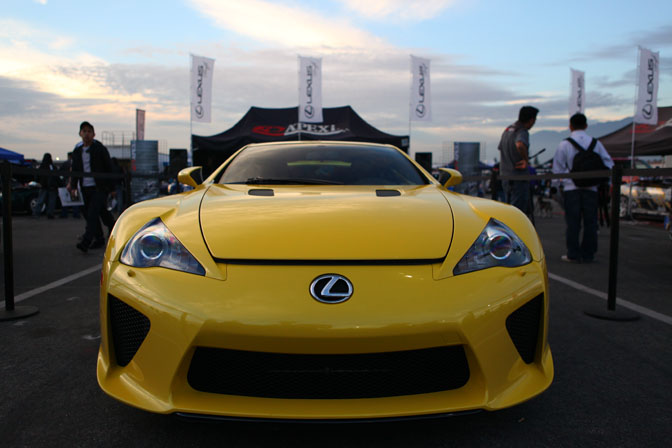 Since our Mass Appeal show was supposed to represent many aspects of car culture that have been featured on the MotorMavens site, how could we not have a Lexus LF-A at our show? (Remember the infamous "Lexus LF-A fanboy" video that we shot when we first started the site? That video got us a lot of notoriety on the internet, as well as a phone call from Lexus corporate… oops!)
Anyway, we were extremely honored to have corporate people from Lexus in attendance, and just could not believe that we would actually have a Lexus LF-A on display at our very first car show! So gorgeous, and such an honor.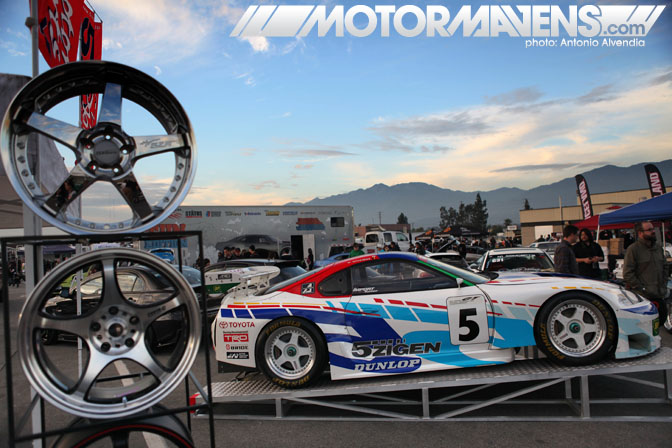 From one Toyota/Lexus supercar to another… one of the cars I was definitely most excited about was 5Zigen's JGTC JZA80 Supra race car. This is not a showcar with a widebody kit and graphics… this is an actual TRD/5Zigen JZA80 Supra that raced in the Japan Grand Touring Championship, driven by Mark Goossens.
Look at the intensive aero front bumper and fenders – all of that air ducting is very functional, as are the single lug wheels and everything about this Supra. It was such an honor to have a JGTC car at Mass Appeal! I couldn't believe it!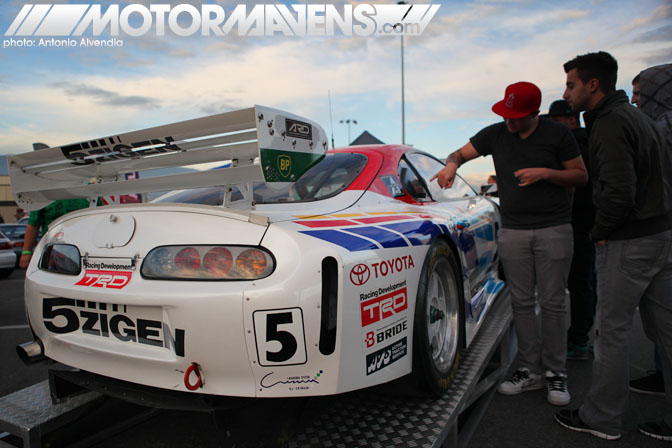 It's all about the details! From the very functional ARD wheels, to the 5Zigen Fireball exhaust, to whatever interesting detail that this fan is pointing out inside the car! Amazing.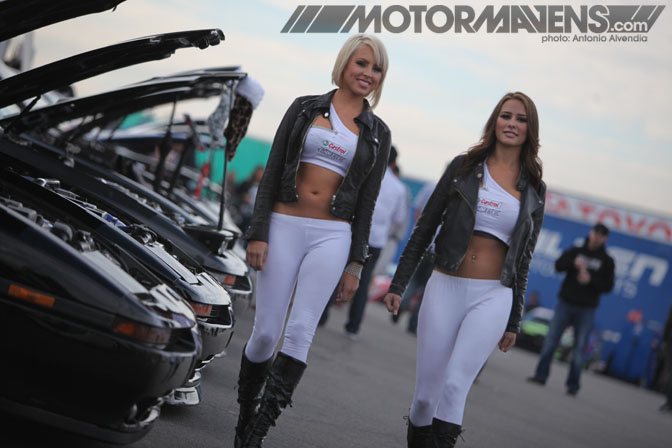 Continuing with the Japanese supercar theme, we had a ton of Supras make their way to Mass Appeal! We were very excited to park all the awesome MA70, JZA70, and JZA80 Supras front and center! I like the contrast between the first Supra up front with the OEM front chin spoiler, and the Supra next to it, which is rocking the Bomex front lip.
The Supra guys also had some of the most interesting hood props! Now that I think of it, I wish I took a photo of them… but I got distracted by the Castrol Edge girls, who were smiling in my direction, so I had to snap this pic of Mariah and her friend.
Big thanks to Supra Nick Stonawski and the rest of the Supra crew for being part of our event!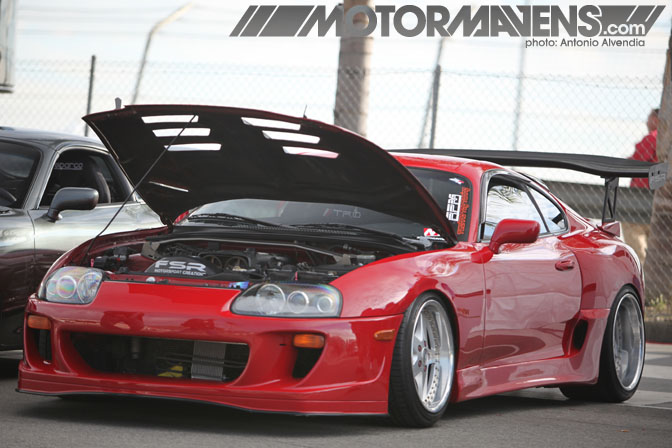 Daaaamn! Just before we move on from all this Supra goodness, I absolutely NEED to show you this red JZA80 widebody with period correct fat lip Work Equip wheels filing the fenders! AMAZING, isn't it?! This gorgeous beast not only looks amazing, it also sounds incredible. It has individual throttle bodies on a naturally aspirated 2JZGE engine! Yes, that's right… it's not turbocharged, this Supra is running a 2JZ ALL MOTOR. More on this Supra soon!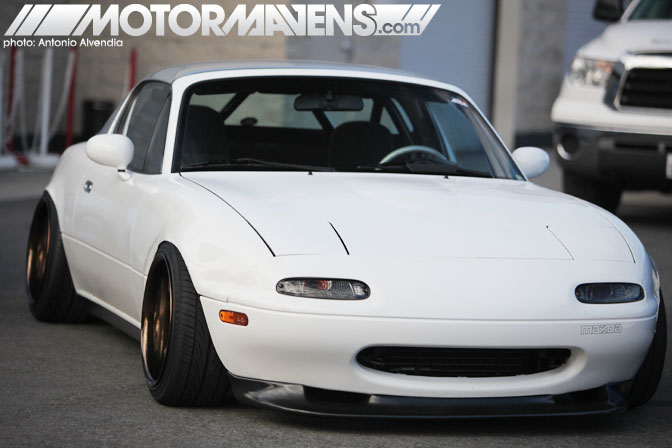 Okay – the show wasn't just a bunch of Supras! There were so many incredible cars at Mass Appeal 1, than we'll need to break up our photos into several updates! This NA6 Miata looked awesome with those super fat lip Work wheels, with anodized brown lips?! Oh hell!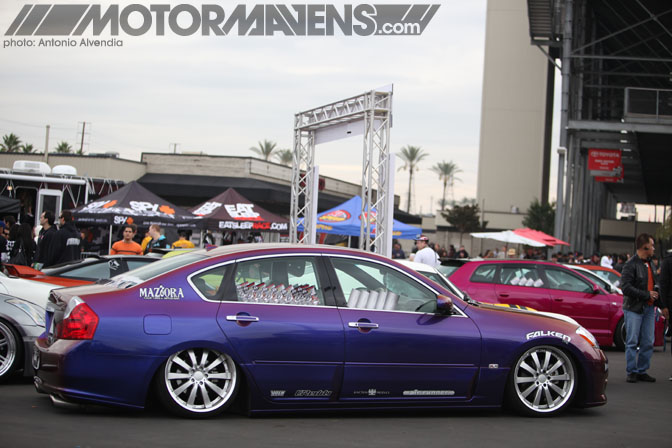 Walking towards the grandstands, we had even more cars parked in their own little section, repping Traffik, the new event series in 2011 that is being produced by the same guys that did the Remix shows. We'll definitely keep everyone updated with news from this new event series… but for now, check out David Huang's crazy Maziora painted Infiniti M35, slammed with Air Runner suspension.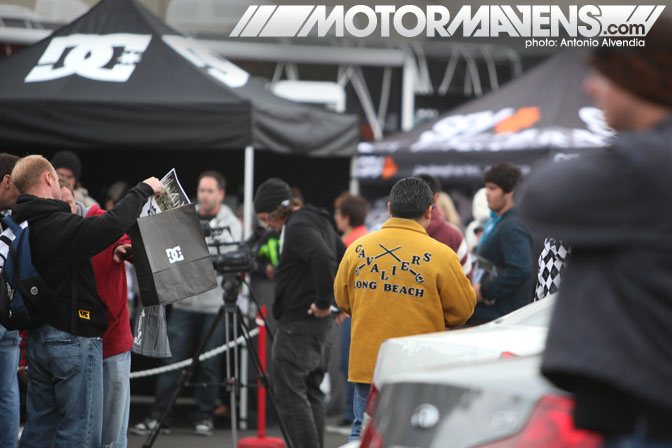 The "Vendor Chalet" next to the Irwindale grandstands was packed with booths from Ken Block's sponsors, like DC Shoes, Monster Energy drink, Spy Sunglasses and things like that. I hear they were giving out lots of cool goodies like sunglasses and stuff like that, but I didn't get anything, so I have no idea what they looked like.
Check out that stylish vintage jacket… that's Tony from the Cavaliers, walking around the DC area… Tony told me that even though he owns a traditional hot rod, he still loves Ken Block's gymkhana videos, so he was stoked to come out to his event and bring his car.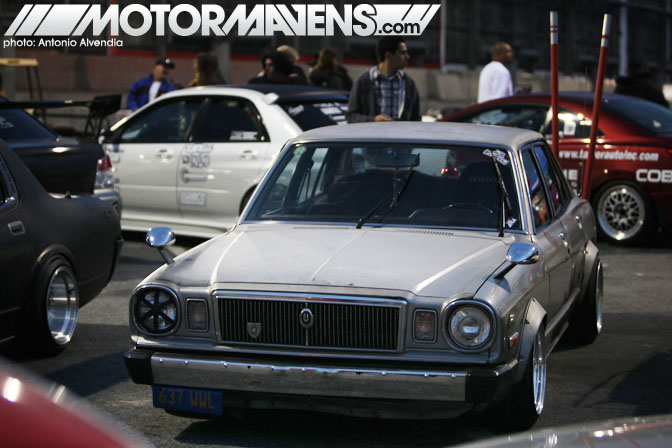 Staying true to MotorMavens style, our Mass Appeal show couldn't be complete without a Bosozoku Alley, where we had some of the freshest old school Japanese cars in attendance, like Lloyd's MX32 Cressida, sporting bolt-on overfenders and some mean takeyari pipes out the back!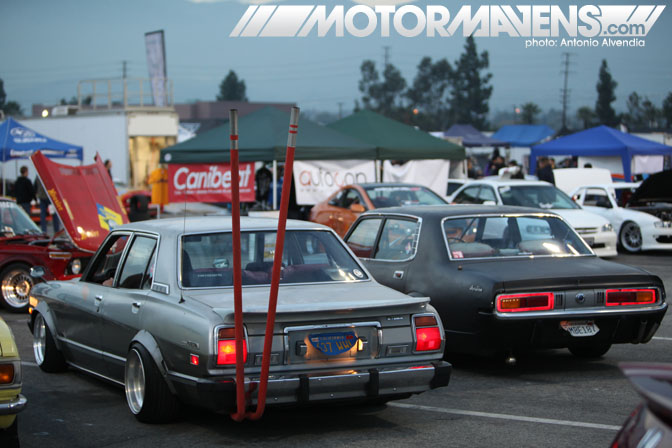 Here's a rear shot of the Bosozoku Alley, which shows more detail on the Cressida's rear end. By the way, does anyone recognize the black car on the right? It appeared in a previous story on MotorMavens, and also in the UK magazine Max Power.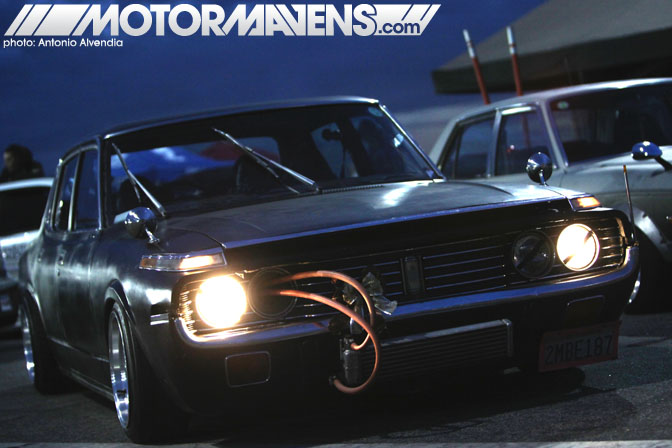 Here's the front of the car – it's Irik Farnacio's kujira Crown! This right hand drive Toyota Crown is nicknamed "whale" or kujira by Japanese people because it's big and bulky… perfect for slamming down to the ground and rocking bosozoku style.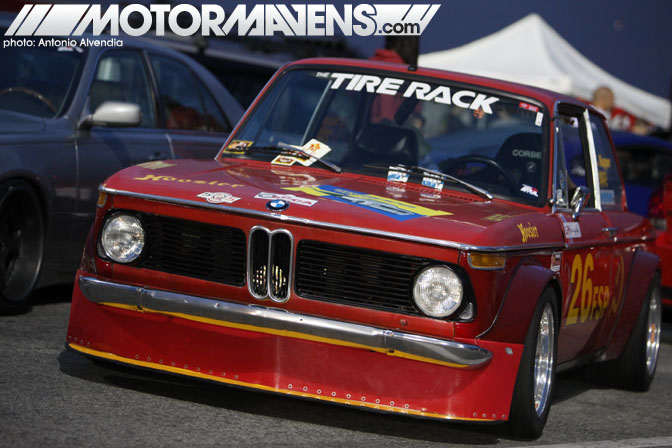 If bosozoku cars were popular in Europe, I wonder if this BMW 2002 would be a good start? It has some of the same elements to it; it's definitely low, with bolt-on flares and front lip spoiler, and it has wide wheels! However, this KGB Racing BMW 2002 owned by Steve Kupper is actually an SCCA autocross car. When I first got hooked on cars and driving, it was at San Francisco Region SCCA autocross events. Steve's 2002 is definitely a good example of a stylish autocross car, which runs in the SCCA F Street Prepared class. I'm so thankful that he brought his car all the way down from the Bay Area for the Mass Appeal show! Steve is an awesome driver, so this car should actually have been in the gymkhana competition, not in the car show! There's always a next time, I suppose…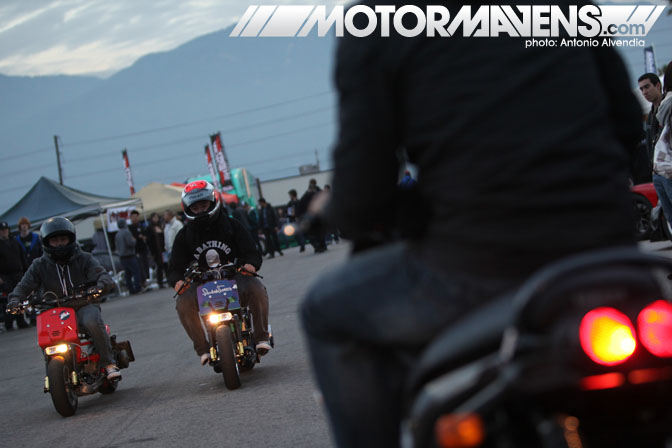 Even though they aren't cars, customized scooters are definitely a new and popular aspect of "motoring culture" in Southern California. The Standard Functions crew has some of the best Honda Ruckus and Yamaha scooters out there, so we were glad these guys came out to show off their bad ass custom Rucks and stuff! I don't know too much about scooters, but I'm definitely interested in getting one. Damn, I want everything. Sheesh.
We'll end this first installment of the Mass Appeal coverage with a rear shot of this Infiniti G35. Let's say it together… "Daaaaaaaaaaaaaaaaaaamnnnnnnnn!" We definitely need to show you more detail on this G, and all the other amazing cars at the very first MotorMavens Mass Appeal car show.
We'd like to thank everyone who made it out to the show, and everyone who helped us put this together!!! We won't forget! For all of those who were unable to make it, your loss – we wish you could have been there. Don't sleep on MotorMavens or Mass Appeal!
Keep it locked on MotorMavens for more photos from Mass Appeal soon!
:: Antonio Alvendia
2002
,
5Zigen
,
Antonio Alvendia
,
autocross
,
BMW
,
bosozoku
,
Castrol
,
Cavaliers
,
Cressida
,
crown
,
CRZ
,
E39
,
Fortune
,
G35
,
gymkhana grid
,
homepage
,
Honda
,
hot rod
,
Infiniti
,
Integra
,
Irwindale
,
JZA80
,
Ken Block
,
Lexus
,
LF-A
,
LFA
,
mass appeal
,
Mazda
,
Miata
,
MotorMavens
,
MX32
,
NA6
,
Pavel Kostyurin
,
Ruckus
,
SCCA
,
scooters
,
SFR SCCA
,
Steve Kupper
,
Supra
,
Tjin Edition
,
Toyota
,
work wheels
,
Wraptivo
---