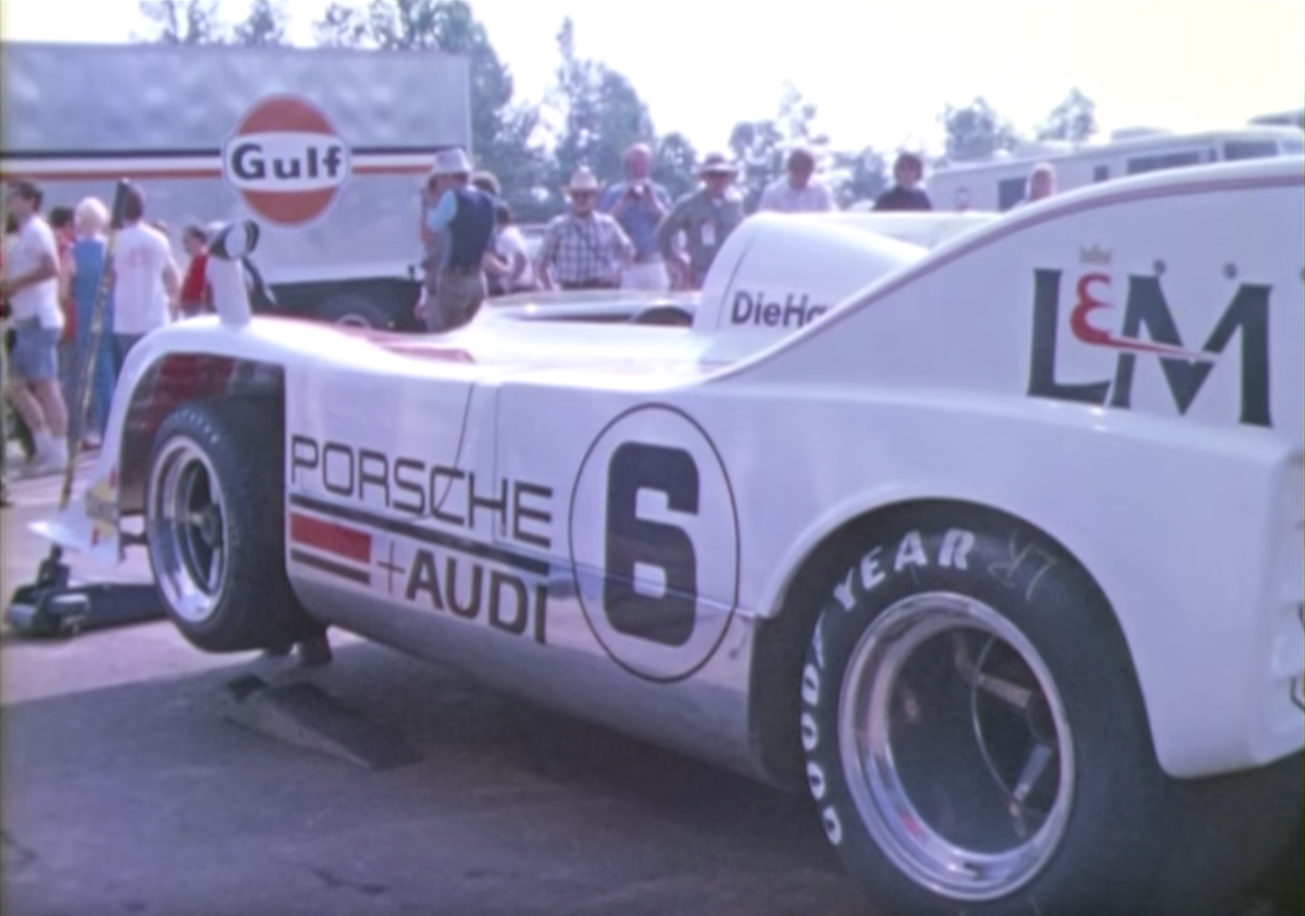 As the amazing style elements of vintage racing become more and more popular with younger motorsport fans around the world (partially thanks to movies like Ford Vs Ferrari, Rush, Senna, and others), it has become very obvious that most younger motorsport die-hards need to do some searching to learn about the glory days of old.
The Canadian-American Challenge Cup started out as a race series for Group 7 sports cars with unlimited engine modification ability – that's right. No engine rules! The original series held two races in Canada (Can) and four races in the United States of America (Am) from 1966 to 1974.
I've been lucky enough to see Can-Am cars in person a few times, but to this day, I haven't had the opportunity to shoot actual Can-Am race cars in action. That is a situation I'm looking to change as soon as I can.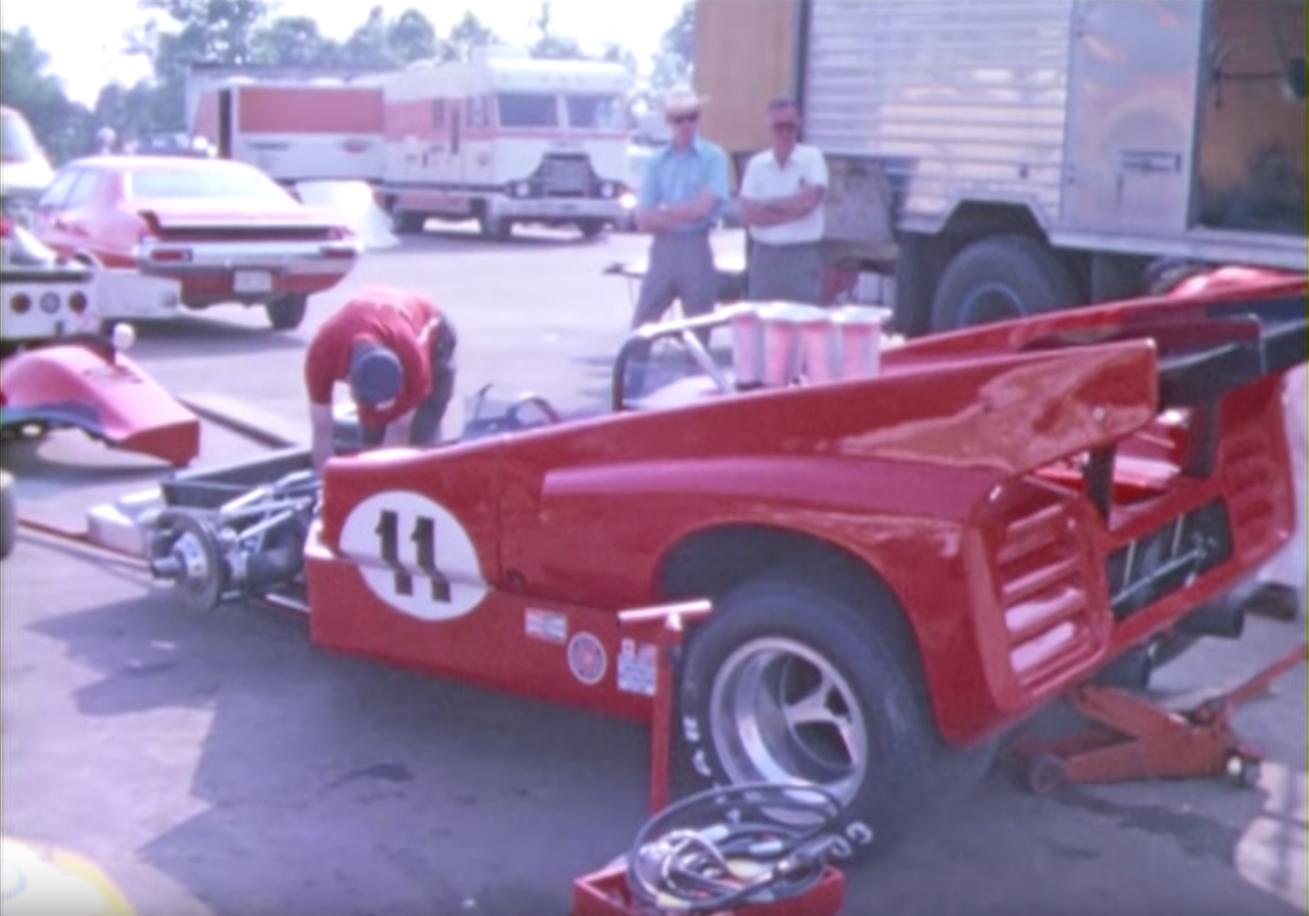 These Can-Am cars look amazing! I love everything about them – the aero bodywork, the vintage graphics, the huge engines with big velocity stacks mounted right behind the driver's head, and most of all, THE WHEELS. Oh, the wheels!
While scrolling Facebook, I stumbled upon this old 8mm video shot by veteran motorsport photographer Gordon Jolley at Road Atlanta in Braselton GA way back on July 9, 1972. I'll embed it above this text.
I've never actually had the pleasure of meeting Gordon Jolley in person, but I know his name since I've been seeing it in the photo credits of Grassroots Motorsports Magazine for well over a decade now, and I also have been a contributing photographer to GRM for several years.
The video above might be short, but it's jam packed with awesome scenery and a look at the lifestyle and environment of the period! It's like a time warp to Road Atlanta in the 1970s! Oh, if only time travel were possible!
Since so many cool scenes flash by super quickly in the video, I decided to screen capture some of my favorite ones for other motorsport fans to gawk at and take in, I'll post them below. Enjoy!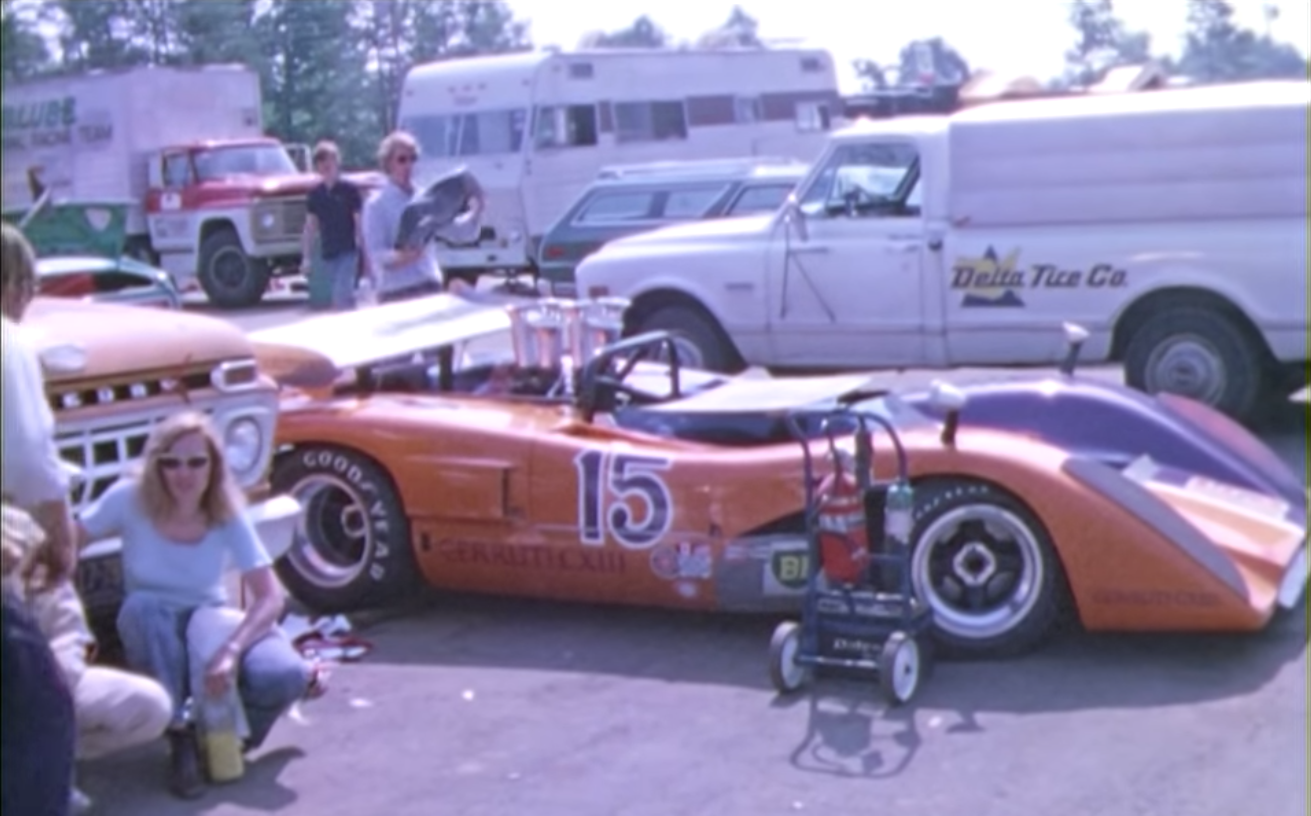 In this photo, I really dig the huge velocity stacks sticking out of the Cerruti McLaren M8C Can-Am car driven by Bill Wonder, but also all the Ford and Chevy support vehicles in the back. I would absolutely love to own one of those classic Chevy ramp trucks one day!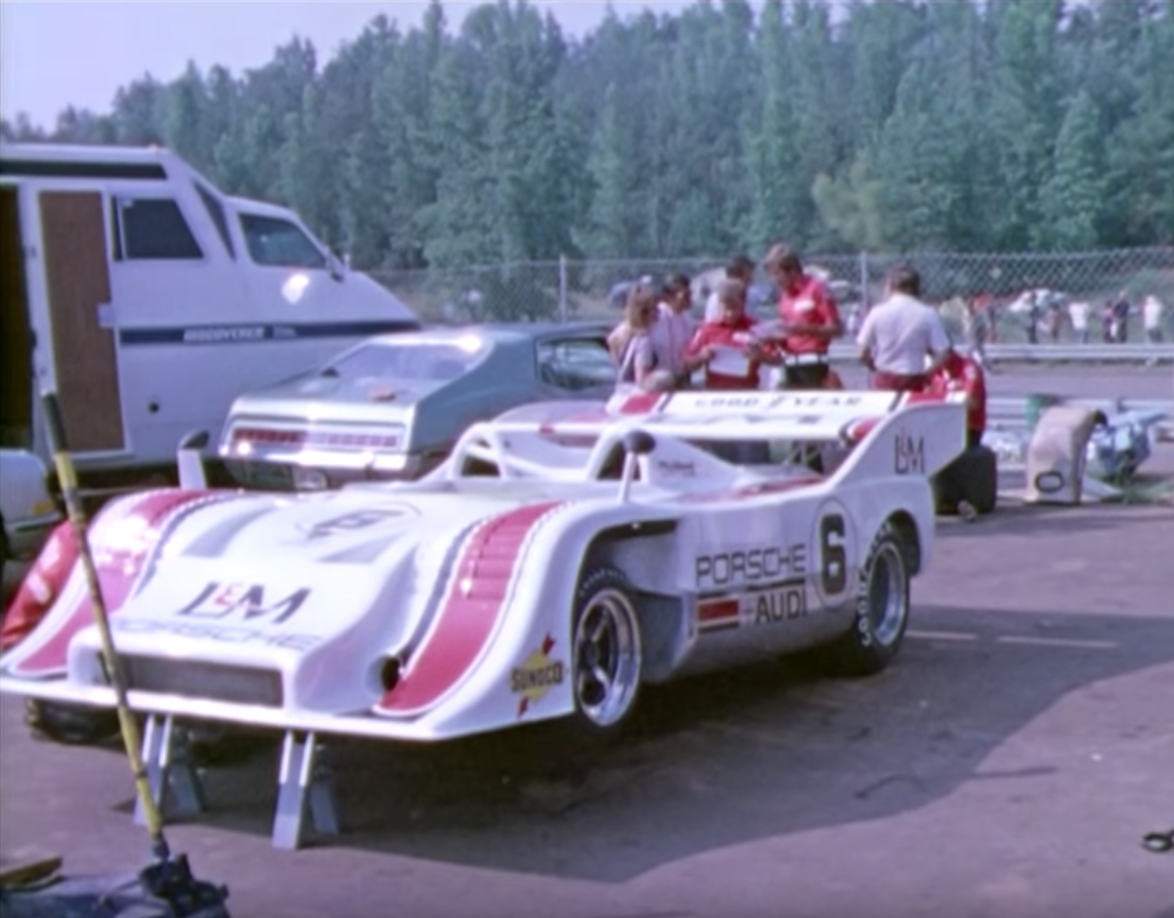 Check out Penske Racing's Porsche 917/10 with the L&M Porsche + Audi livery sitting in the paddock. The wheels look super cool – like vintage inspiration for the Work Equip 01.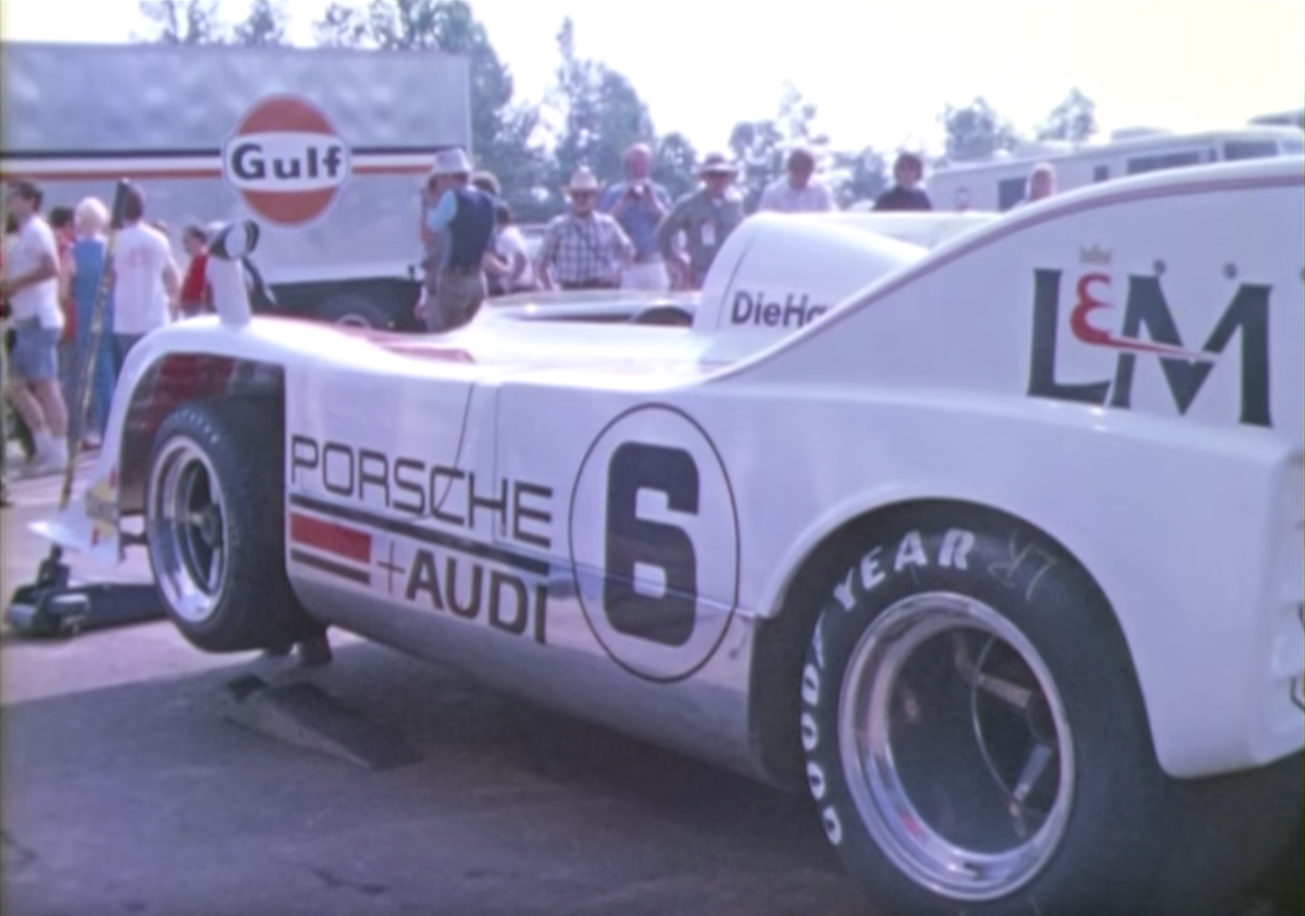 Love this shot of Mark Donohue's 917. You don't often see Porsche and Audi logos on the same race car!
Apparently, even though the Number 6 is painted on the car, the Penske team called it "the three car" because when the team received this 917/10 from Porsche, it had the factory serial number 917/10-003 on it.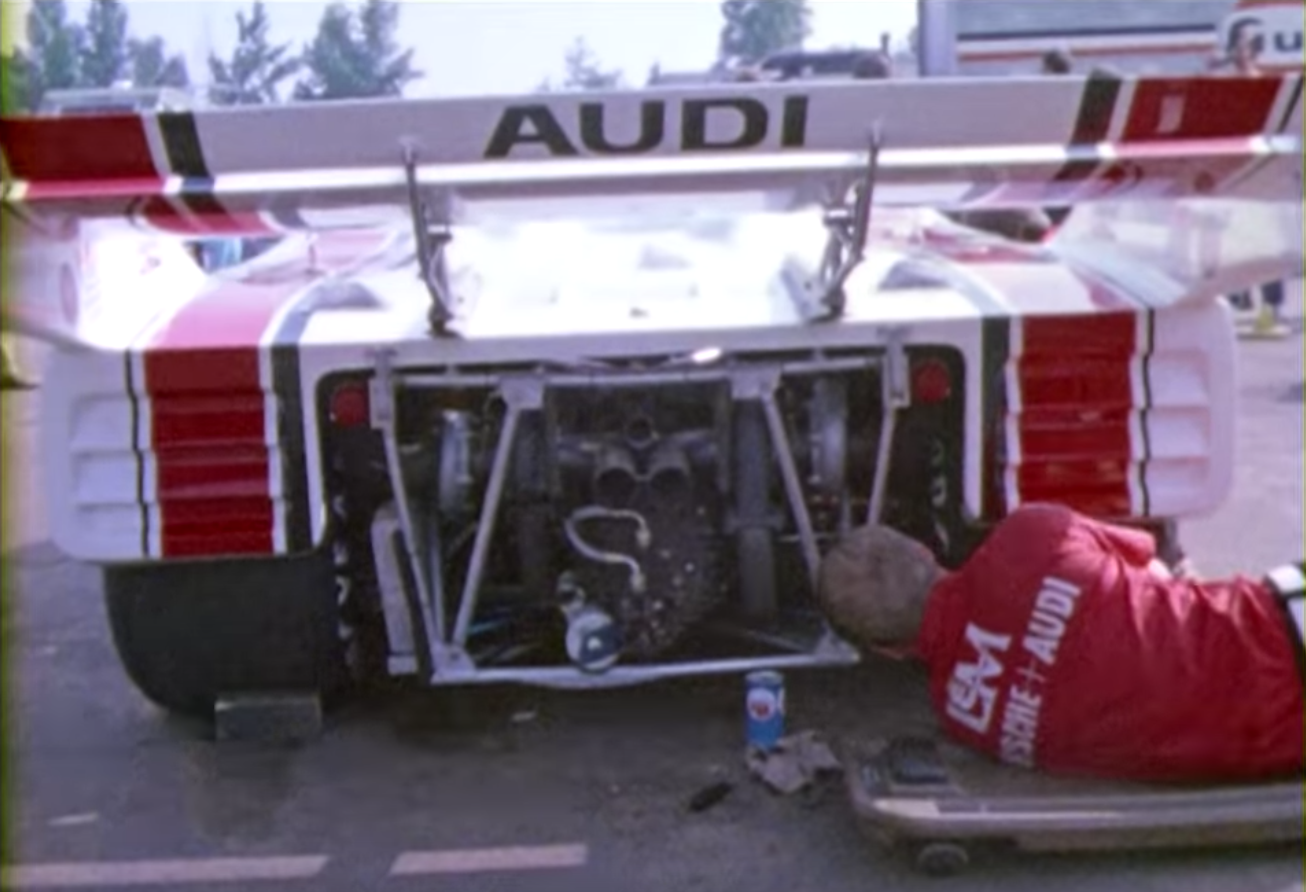 Look at the turbos and center exit exhaust on the rear end of the L&M Porsche + Audi Can-Am car. This thing must have spit some awesome flames!
You can learn a lot more about this car by reading this story on the Car Guy Chronicles website.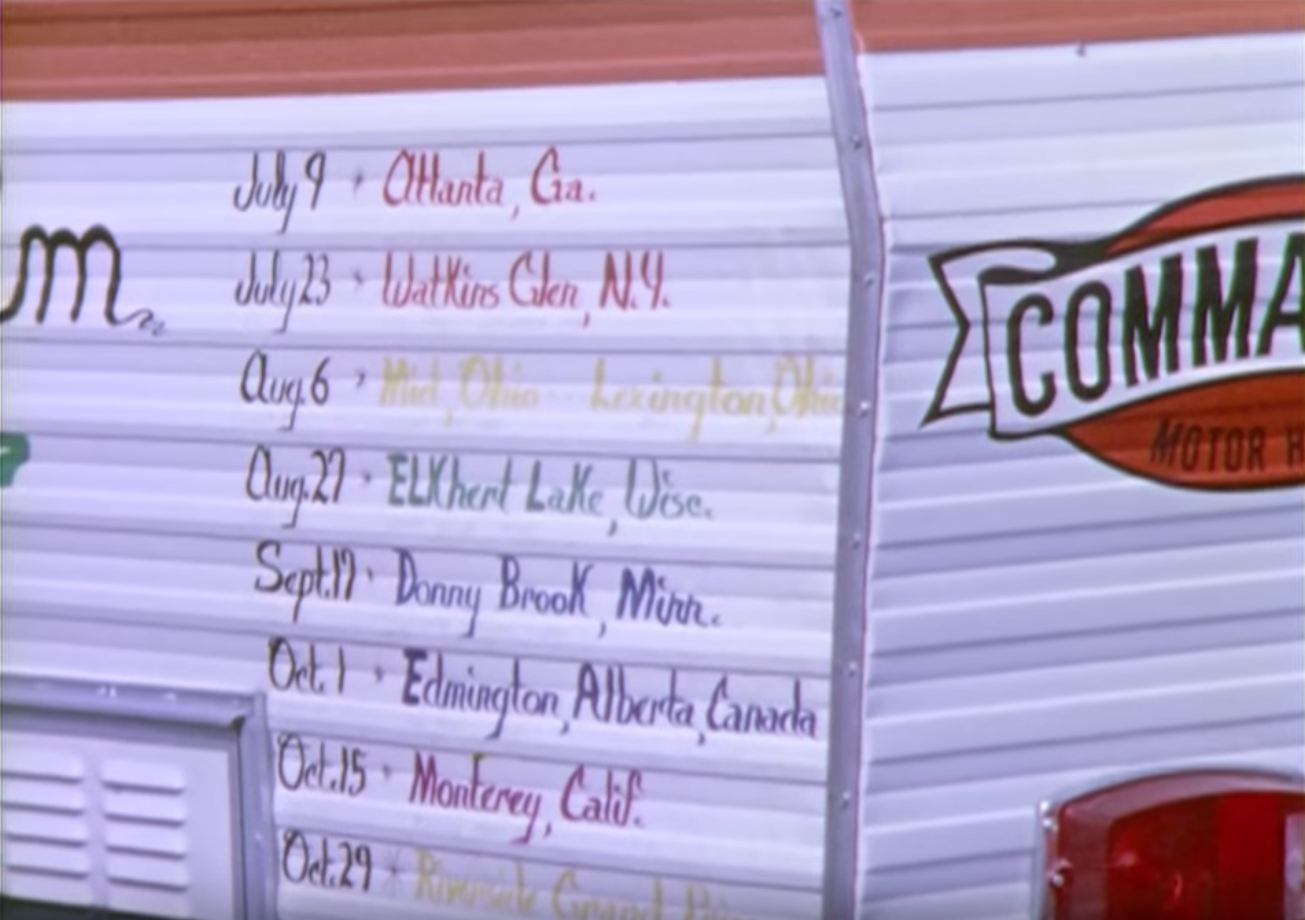 The 1972 Can-Am racing calendar, painted on the back of a Commander Motor Home. So cool.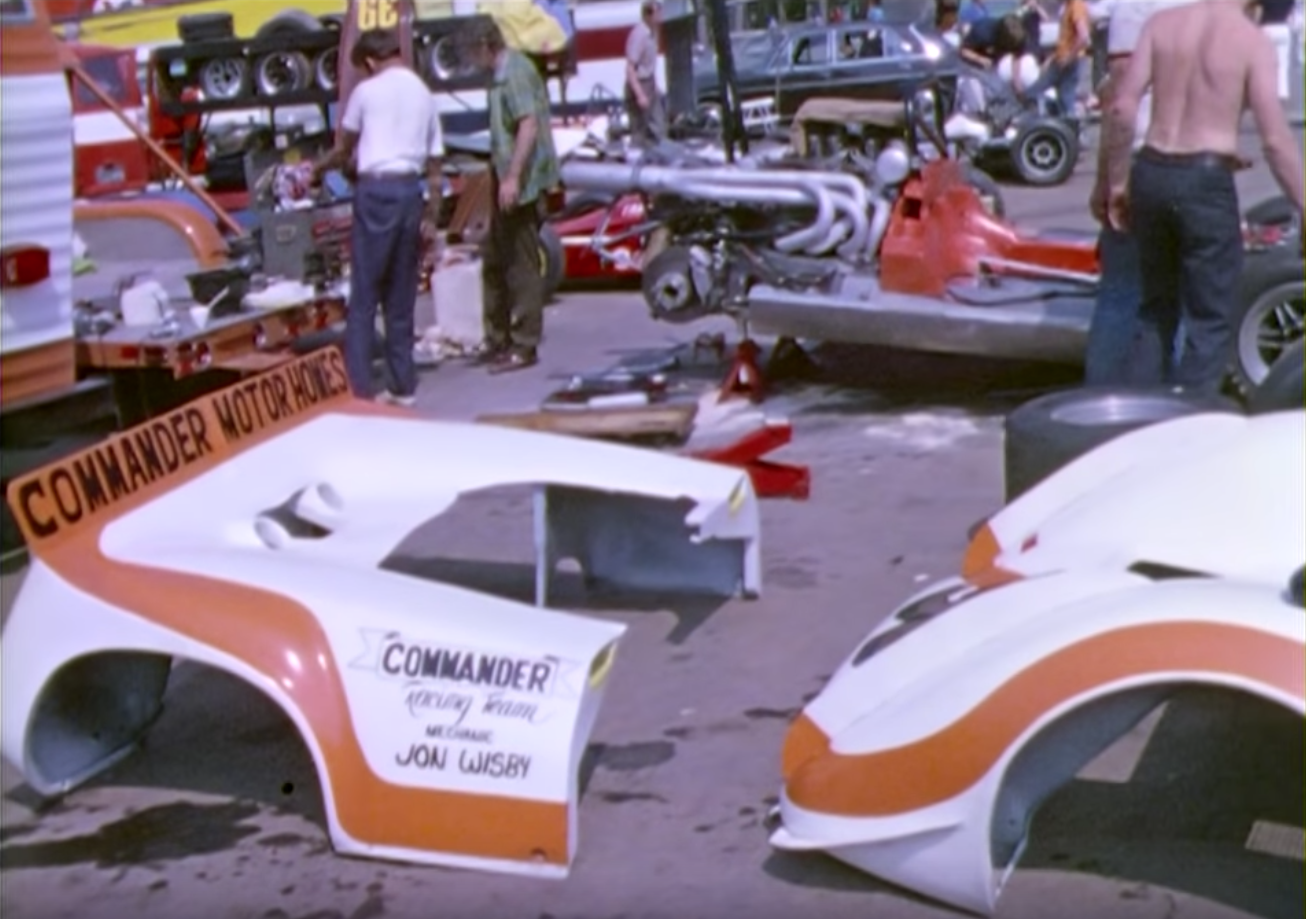 Commander Motor Homes also ran a car in the series. Several years ago, I took photos of another one of the Commander Motor Homes Can-Am cars at another event, here.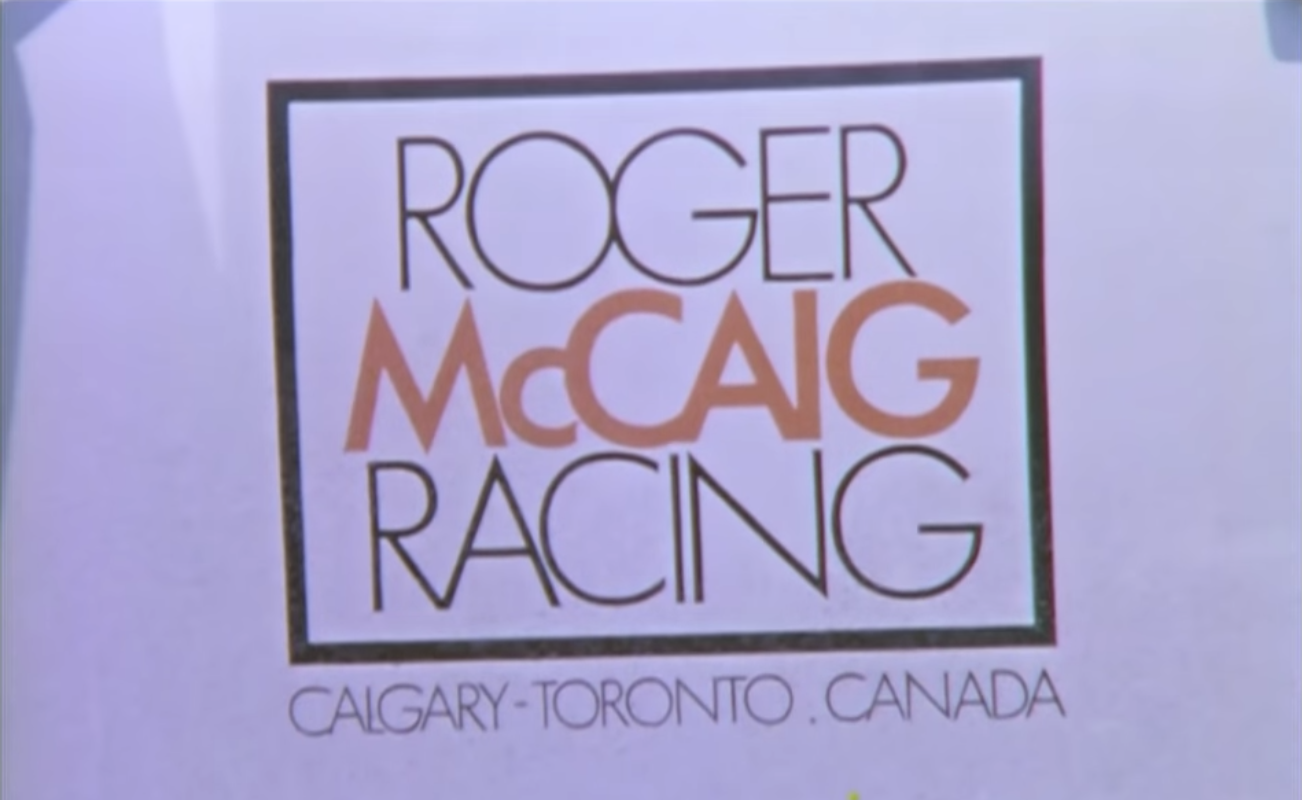 I really dig the typefaces and tight kerning of this Roger McCaig Racing logo – it has that midcentury modern style. If you're a designer, can you guess which font this is?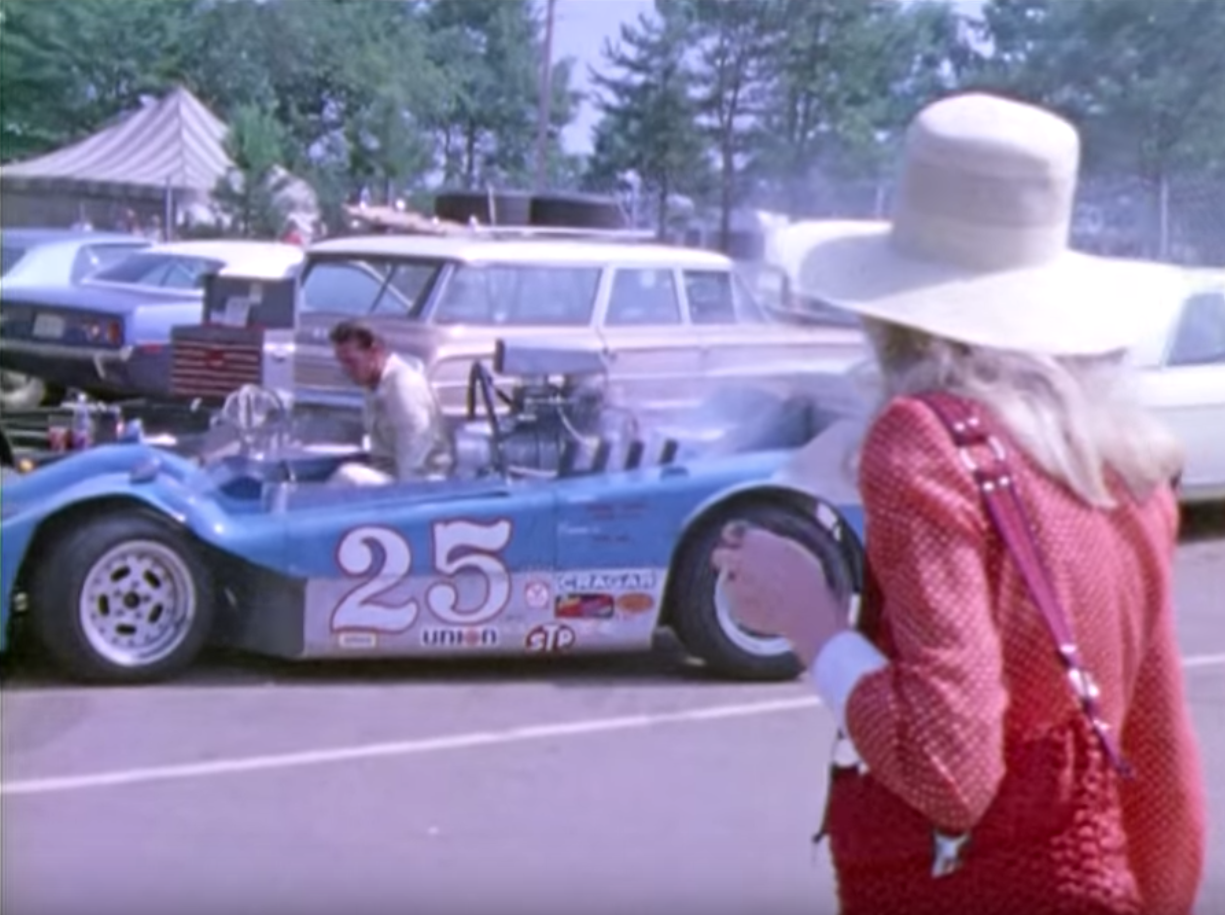 Gotta love how Gordon Jolley has plenty of scenes in his video that show some of the ladies walking around the pit area. This one is a bit more reserved than some of the others, haha. Respect, Mr. Jolley!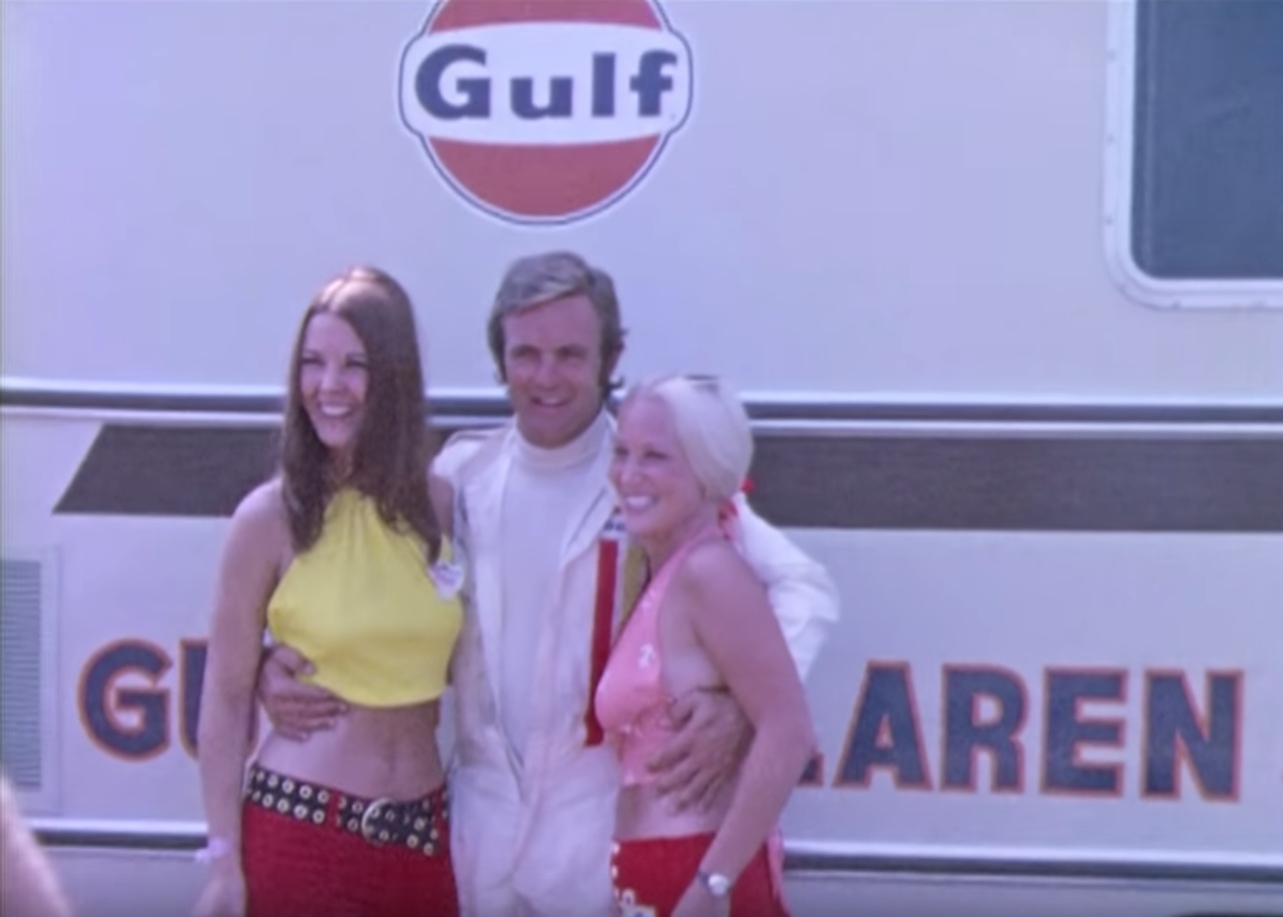 These ladies don't look like they're models – they look as if they were just spectators or fans of the Gulf McLaren team.
How cool would it be to us a time machine to time warp back to this period, but with modern camera equipment? I would love to shoot thousands of photos at vintage races like this… keep on dreaming, buddy.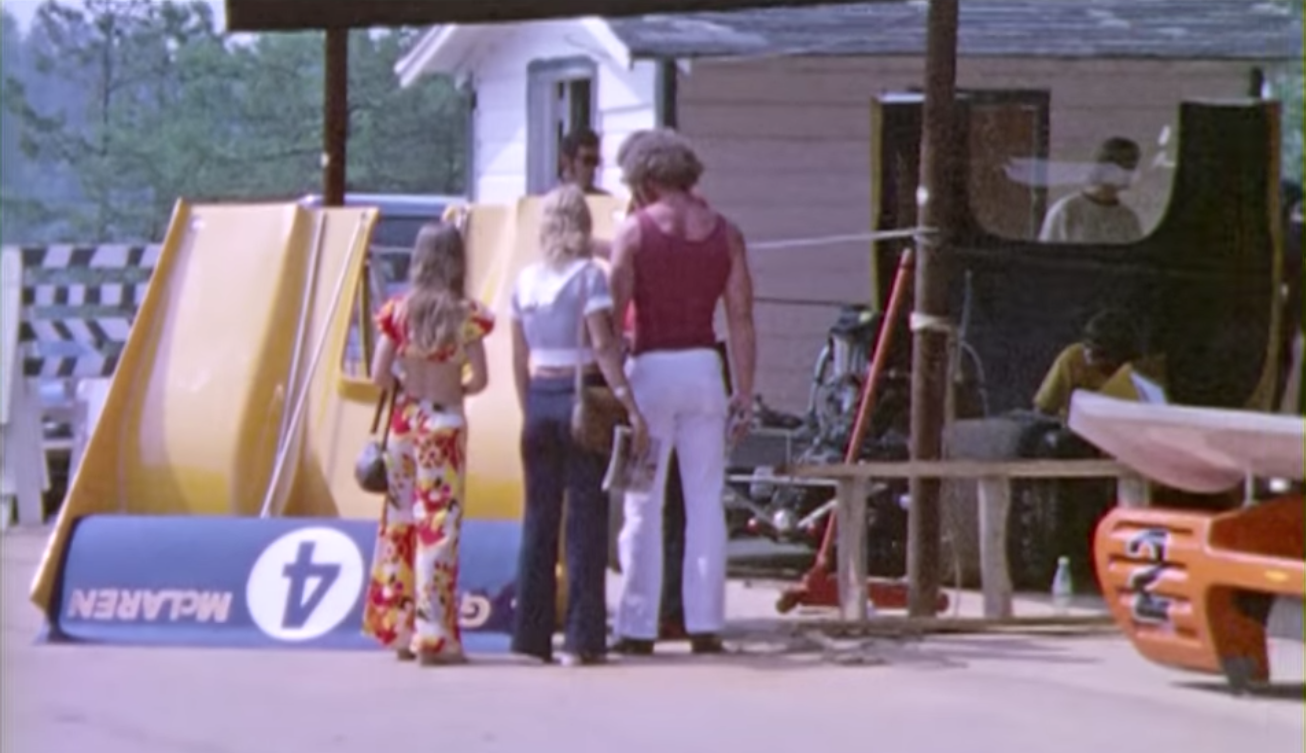 More scenes from the Gulf McLaren paddock.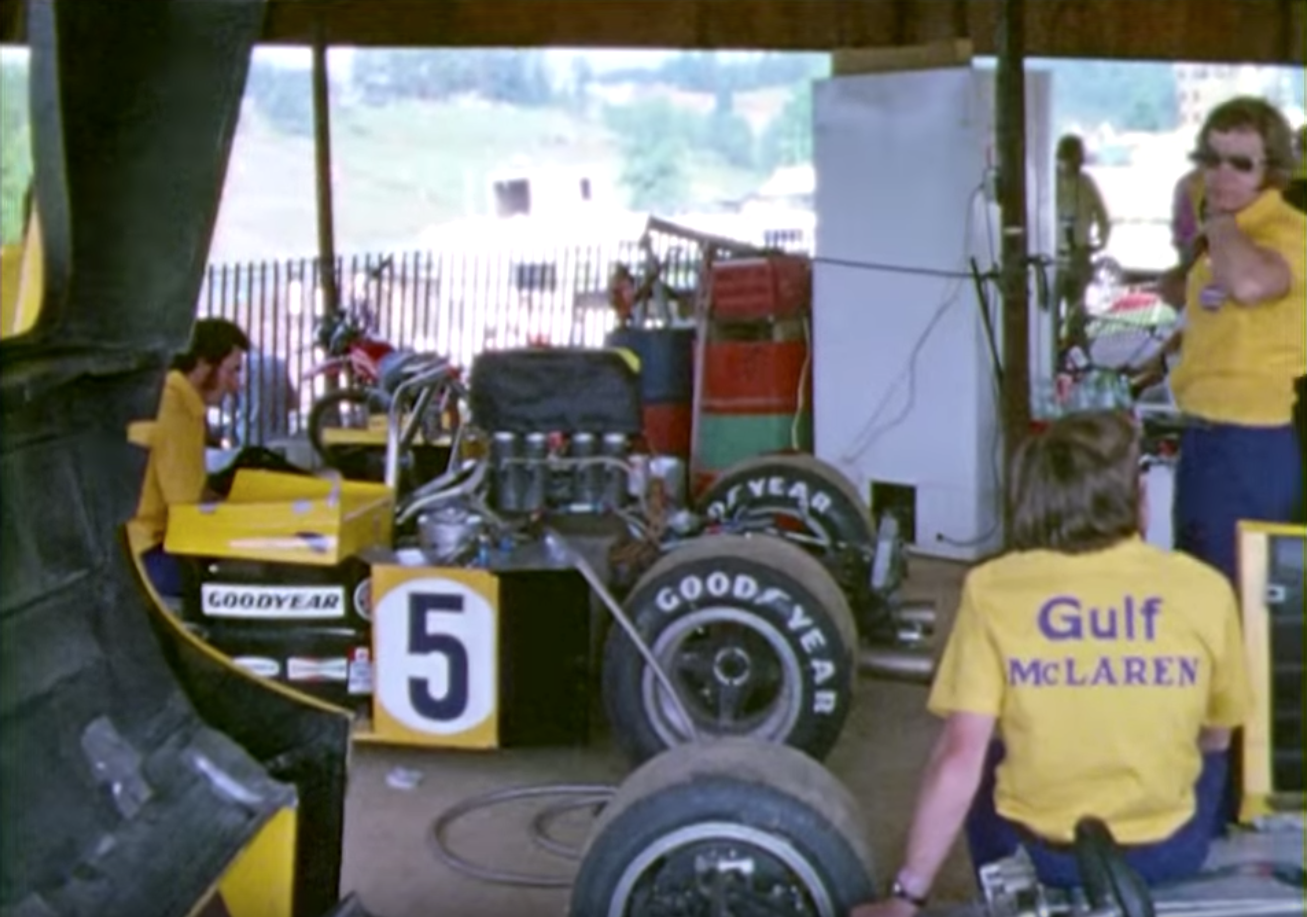 All the vintage pit team wear that the Gulf McLaren crew wore looks so cool. It's great that the team principals had the foresight to build consistency in their team uniforms and race car livery. Again, this is the designer part of my brain speaking.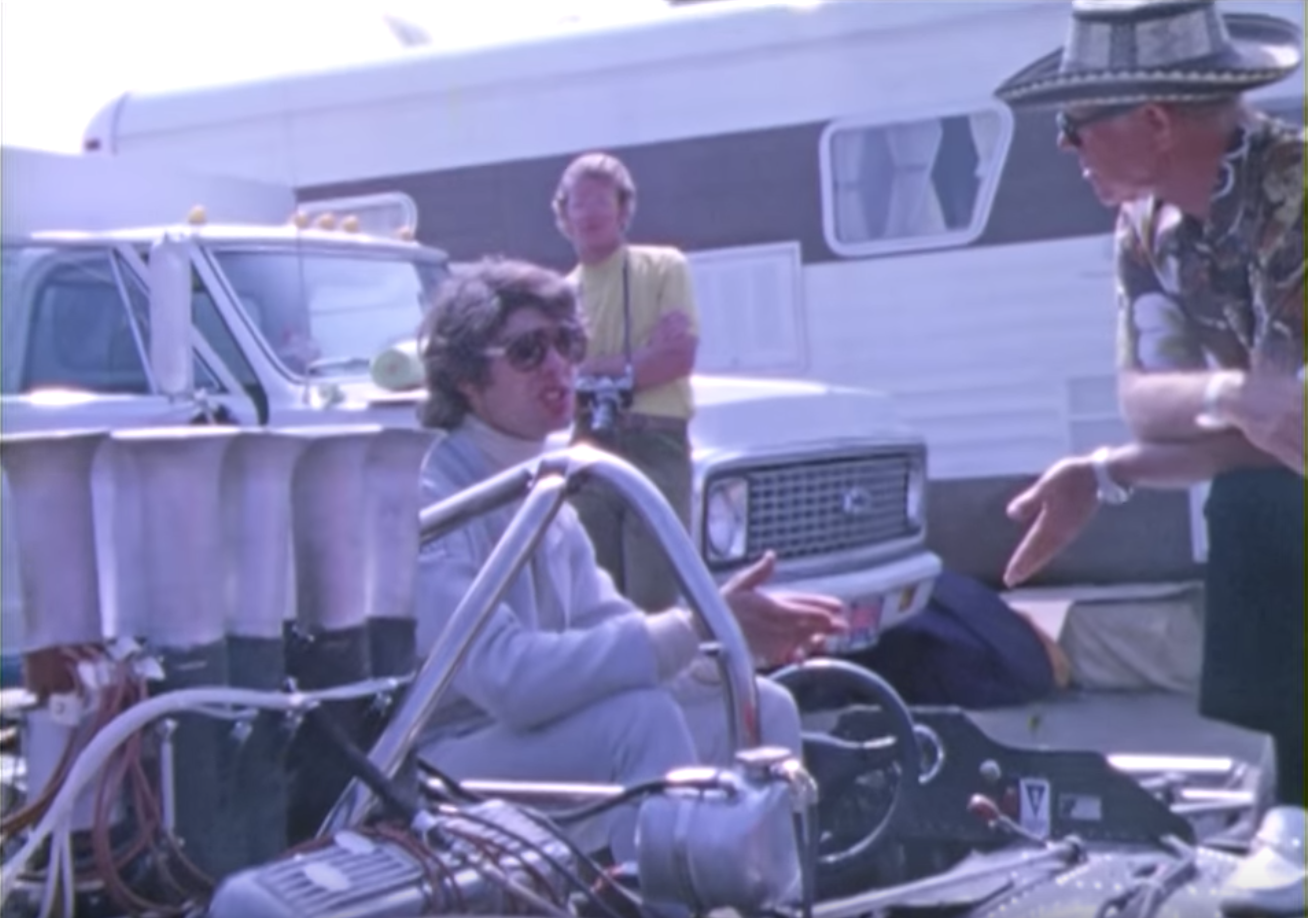 Look at those stacks! The 1970-ish Chevy C20 support truck in the back looks cool too.
According to my good friend and automotive PR legend Dean Case, the driver pictured in this scene is François Cevert, driving the McLaren M8F. François Cevert was a French racing driver who drove in Formula One as part of the Tyrell team, alongside F1 World Champion Jackie Stewart. Sadly, François died racing the very next year with a violent crash at Watkins Glen, which was re-enacted in the 2013 motion picture, Rush.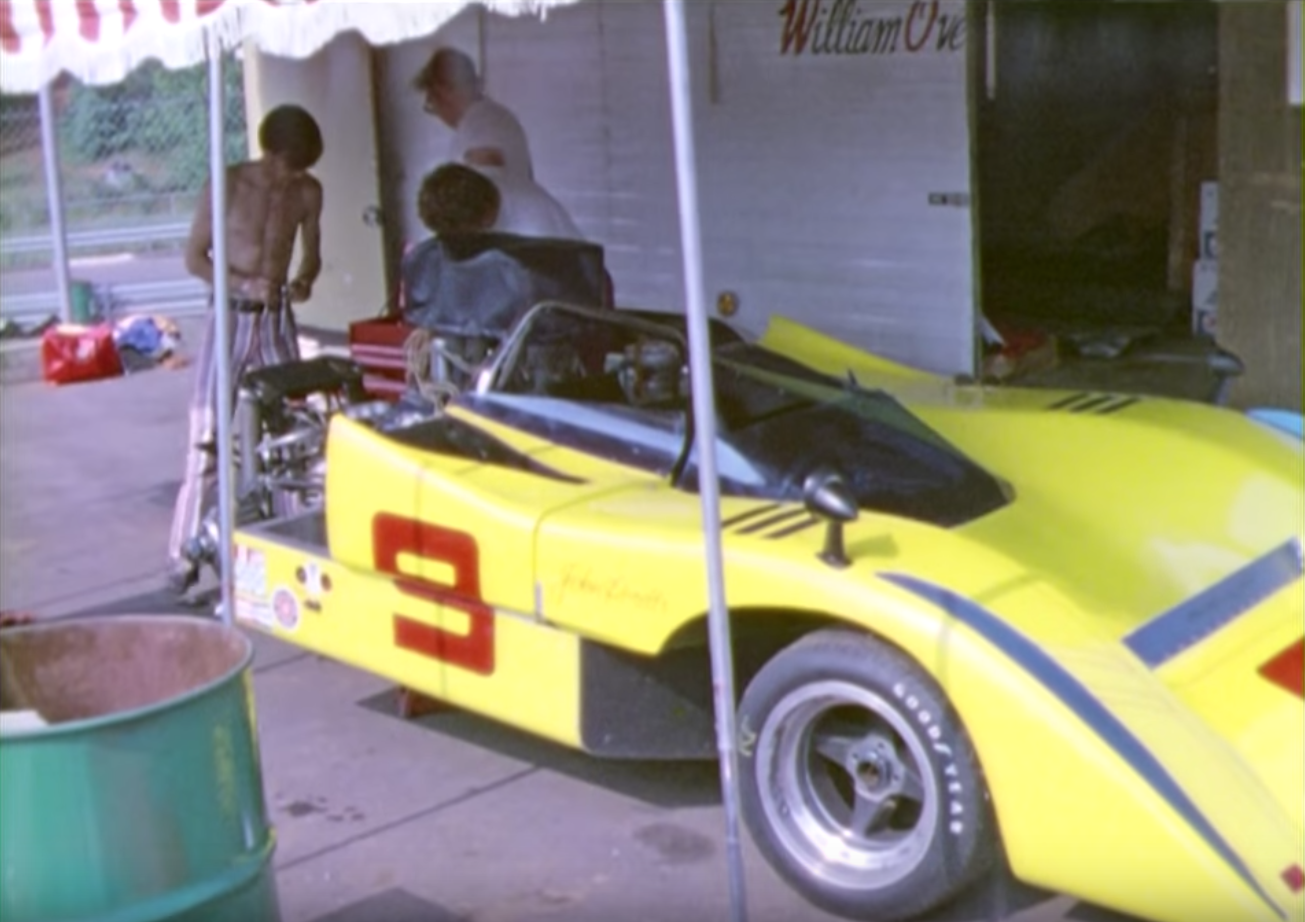 I would love to know who actually made these wheels. I see them on old McLaren Can-Am cars like this McLaren M8A, but don't know the actual brand. I really love the way they look because I own a set of vintage monoblock 4-spoke wheels that looks just like these! They're mounted up to one of my AE86s.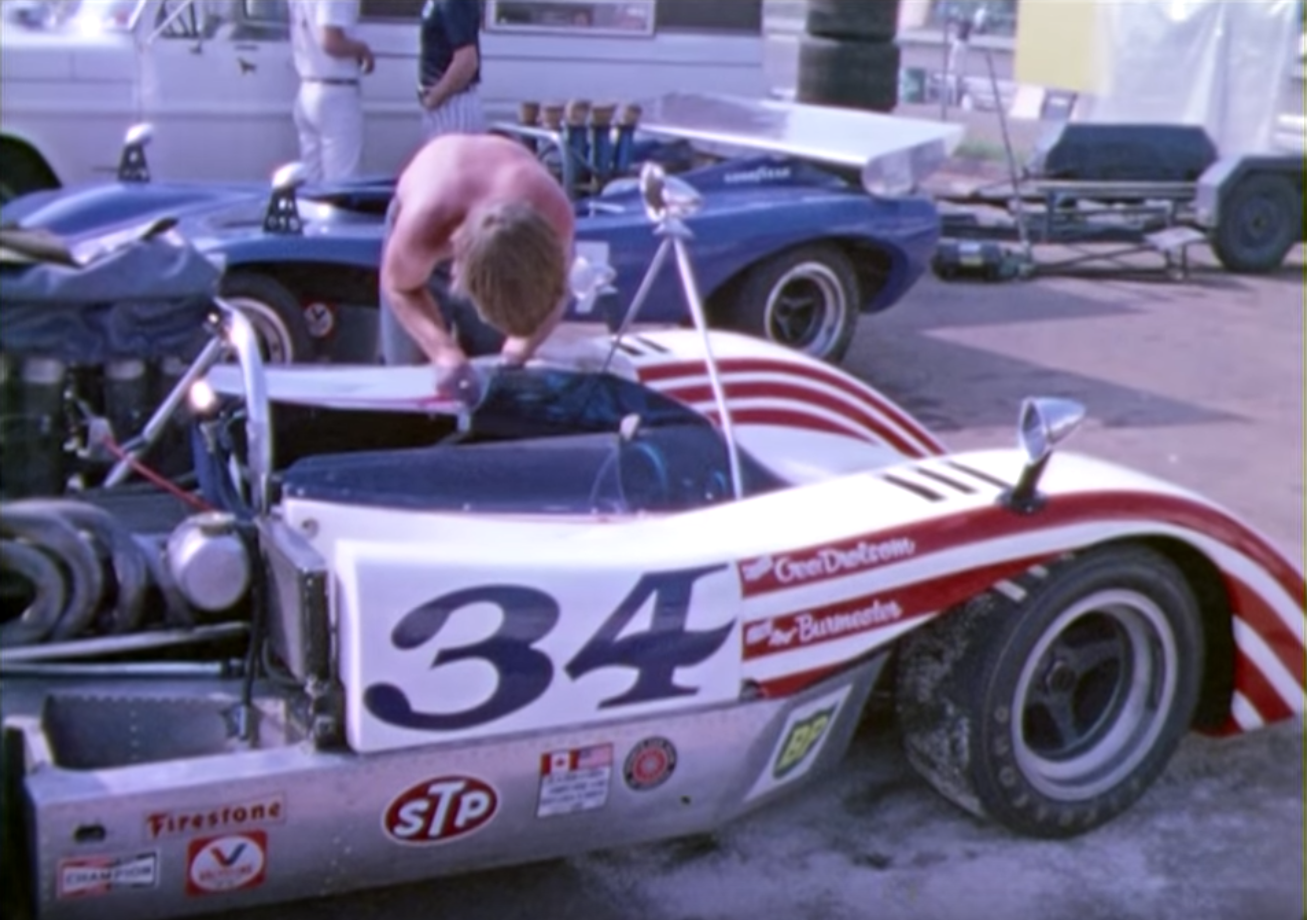 Again, same wheels… but look at the rocker panel! It looks like the side of a WW2 aircraft!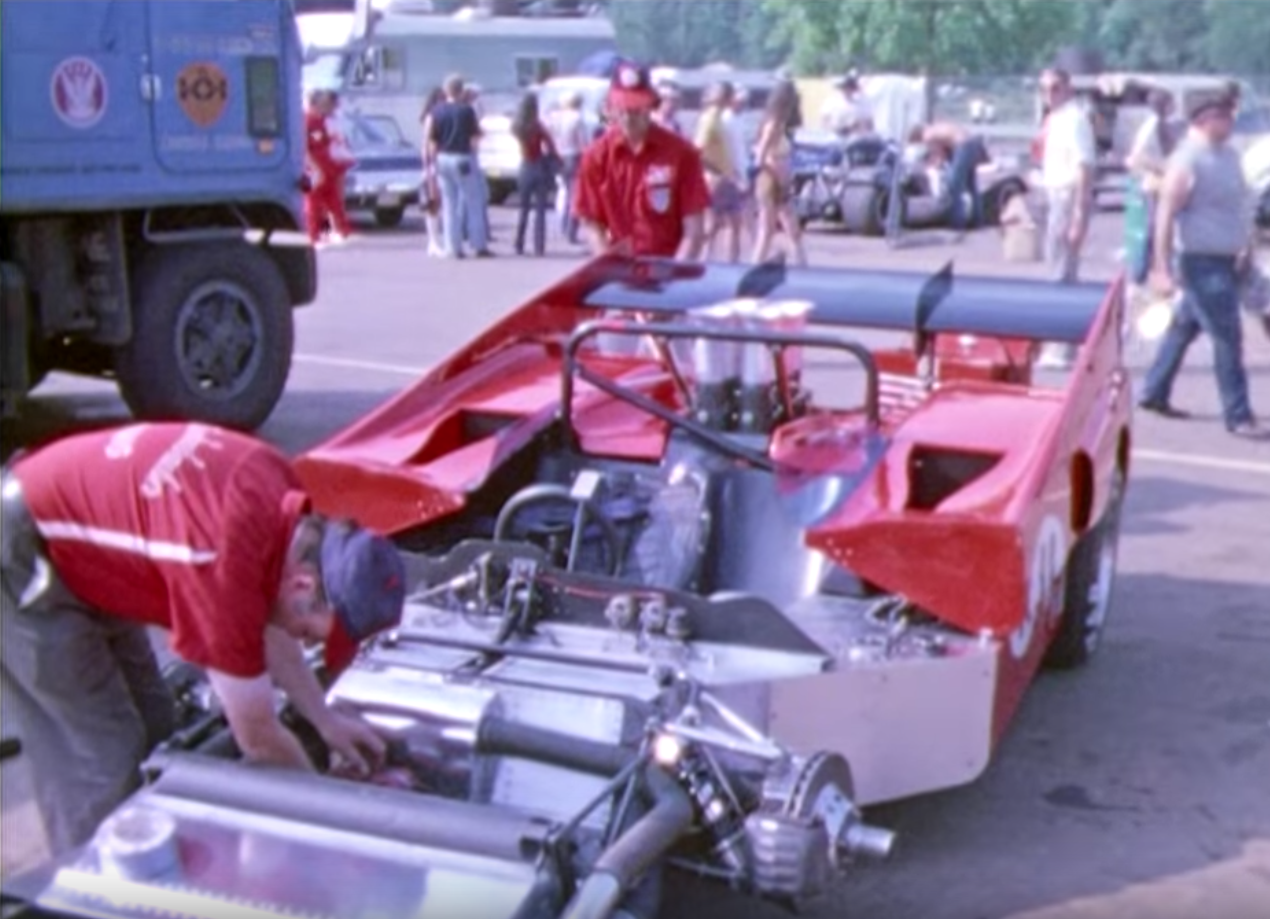 Red is always a favorite color for a race car, especially this McLaren M8F.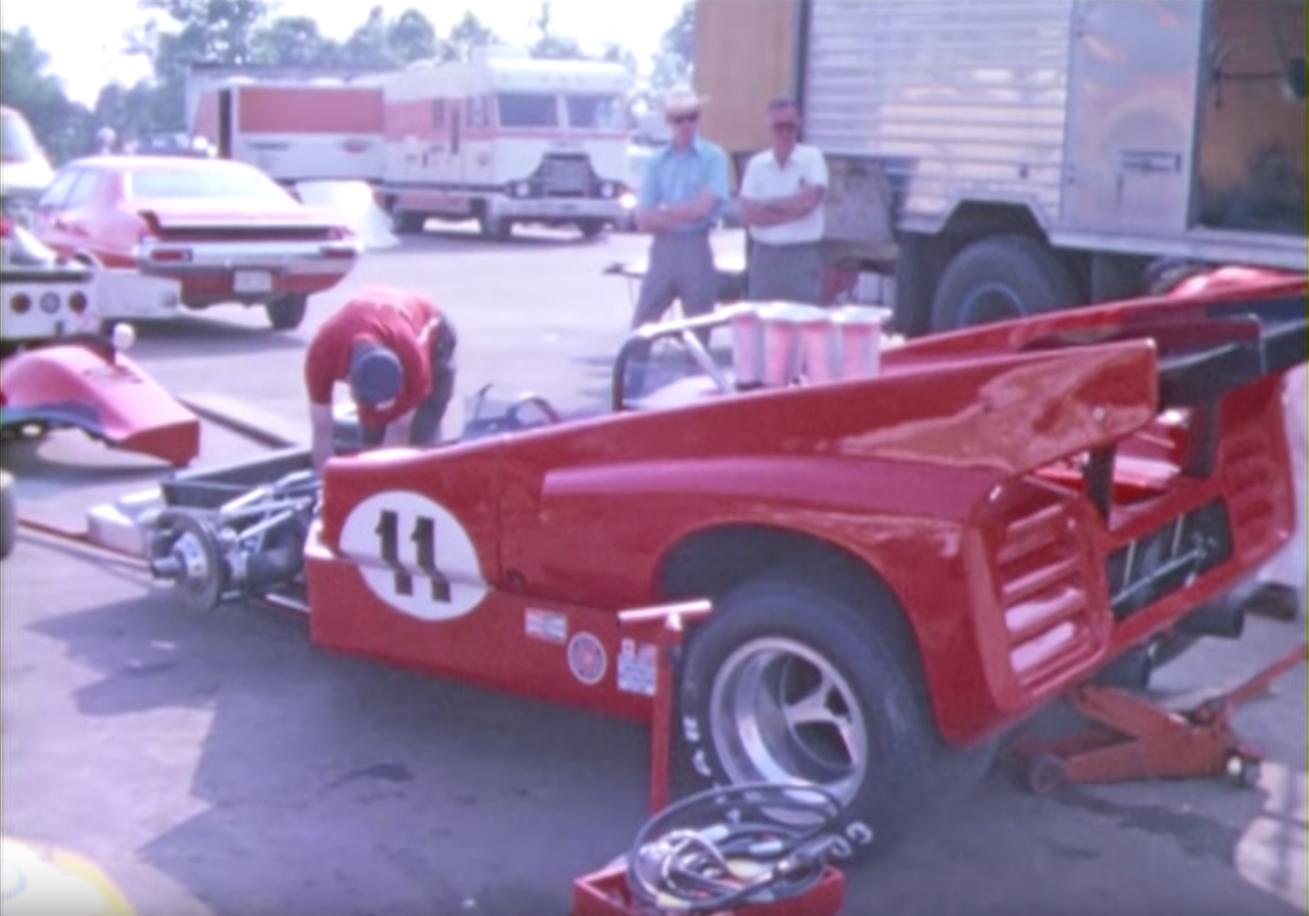 This car looks so amazing!!!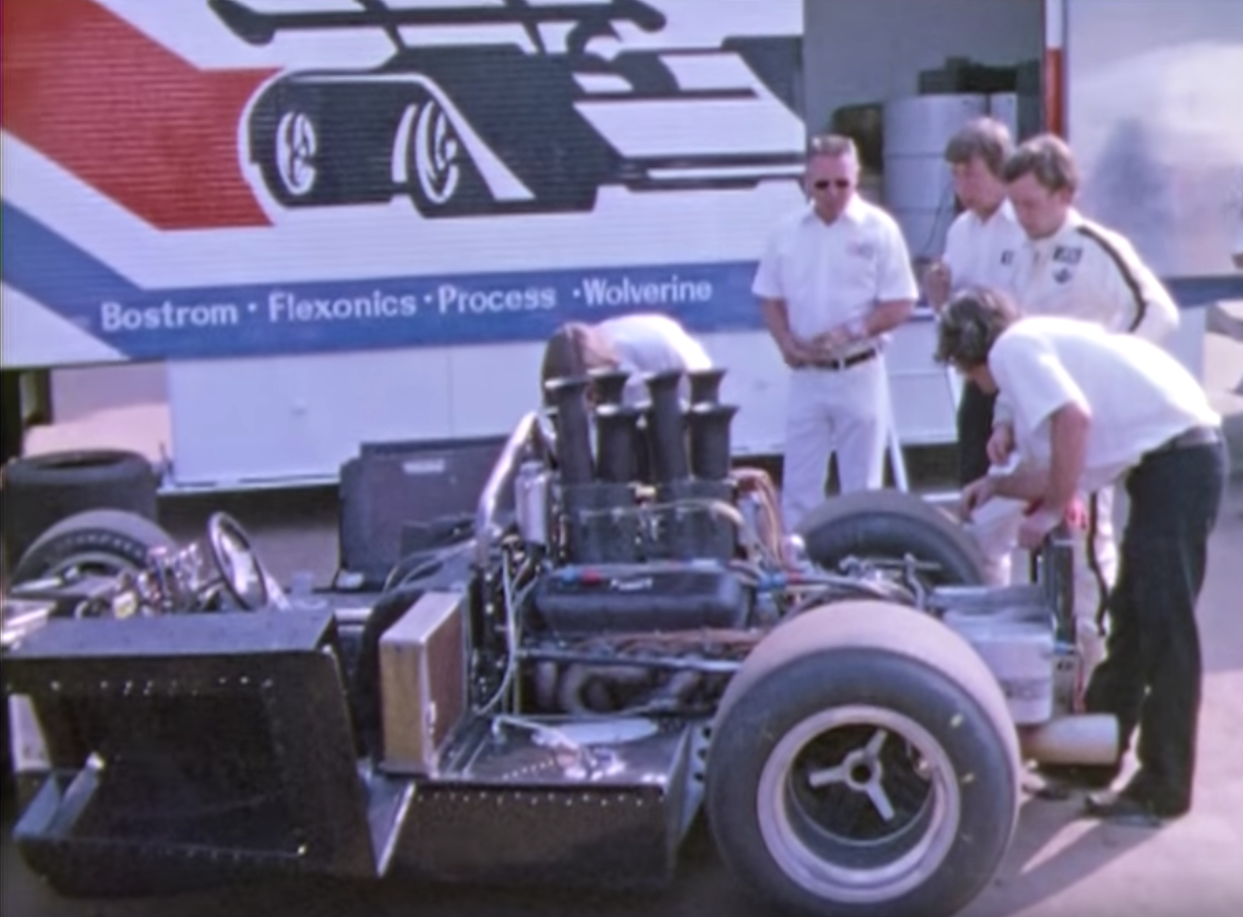 Not sure what kind of car this is. I'll have to do some digging.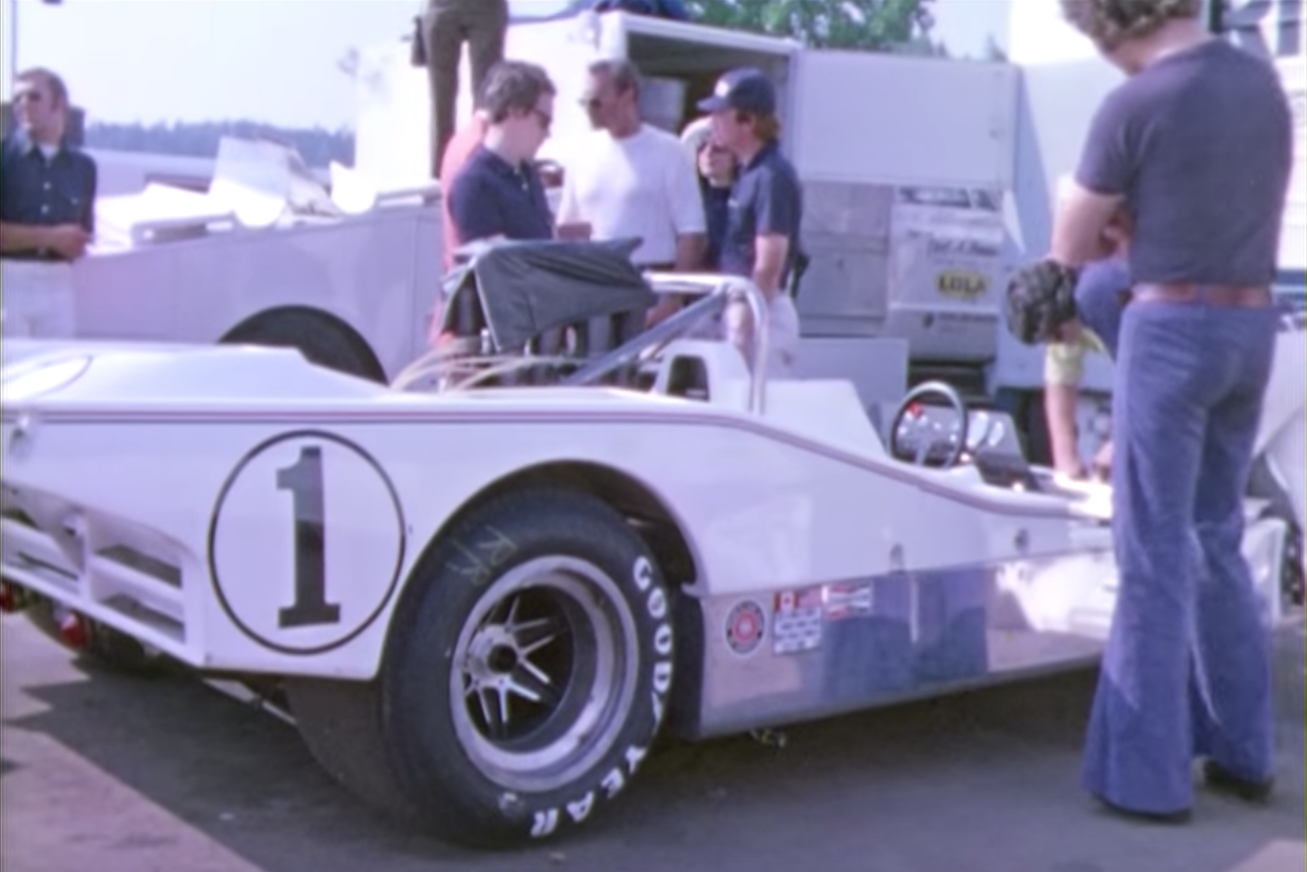 So cool. According to my good friend and automotive PR legend Dean Case, this is a 1972 Lola T310 that was driven by David Hobbs. These wheels look like a cross between Longchamp XR4 and a deep dish version of Enkei RPF1.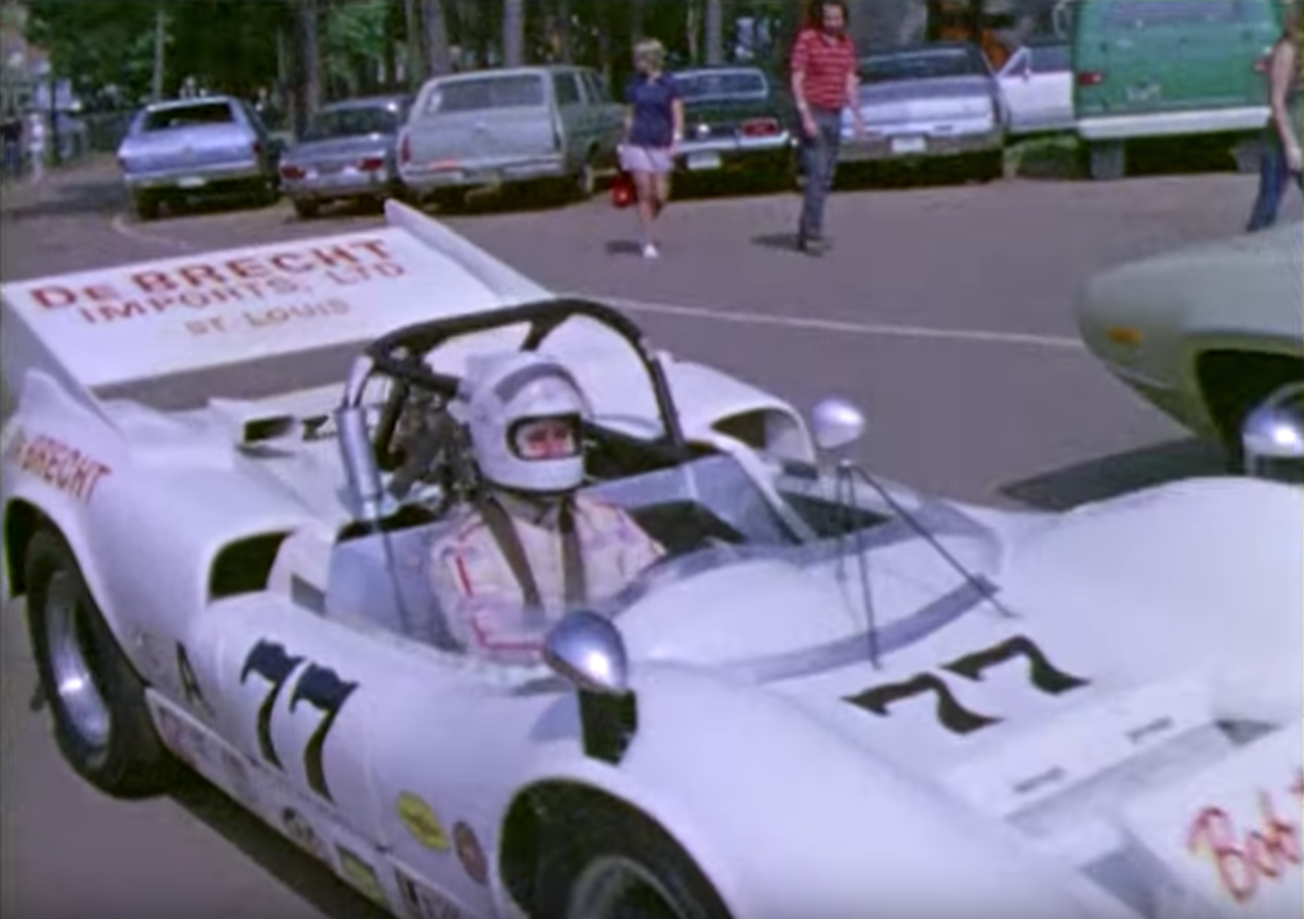 Look at how the three rearview mirrors are mounted to the car!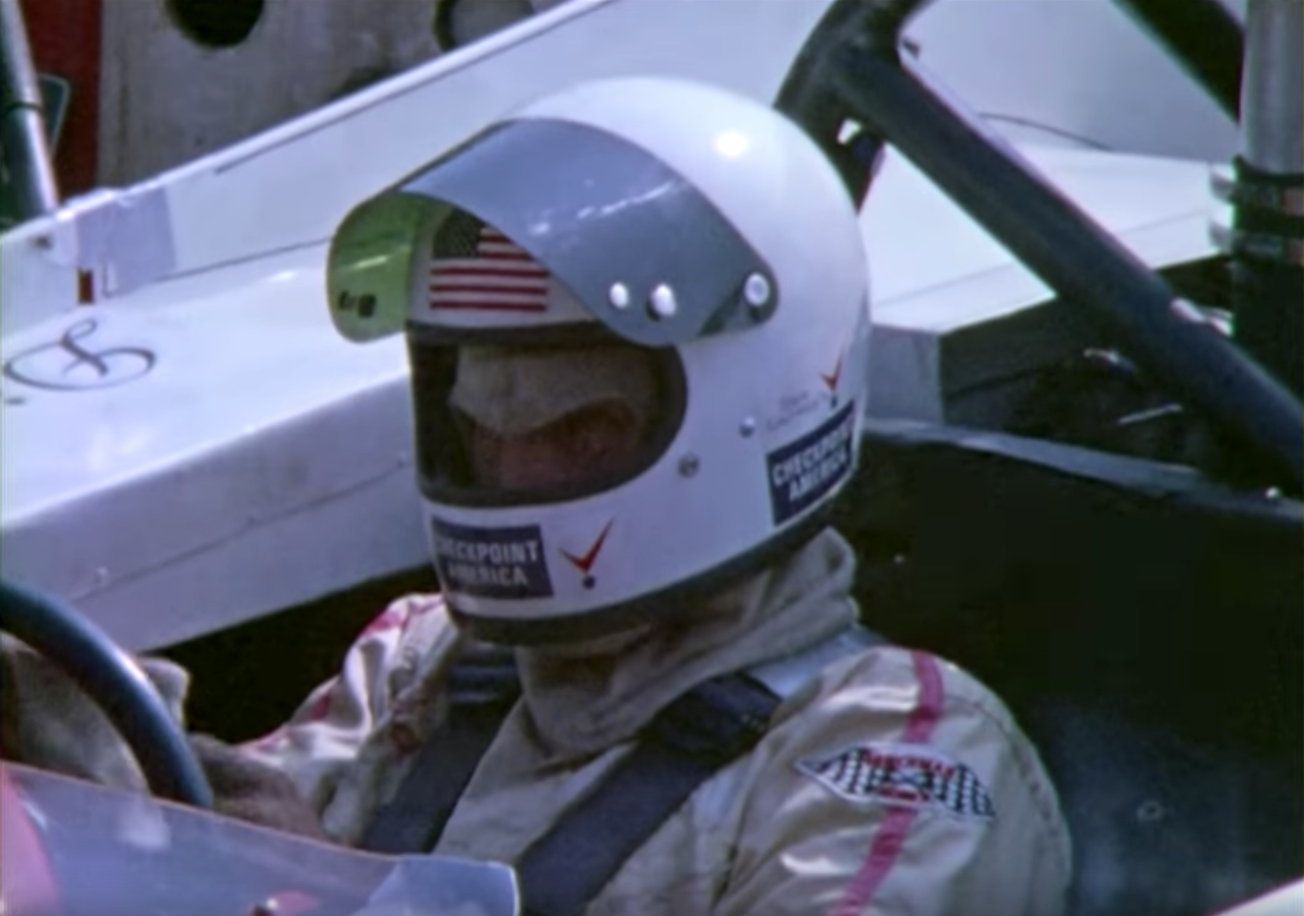 Racing helmet technology has certainly come a long way. Looks kind of like a Lego man.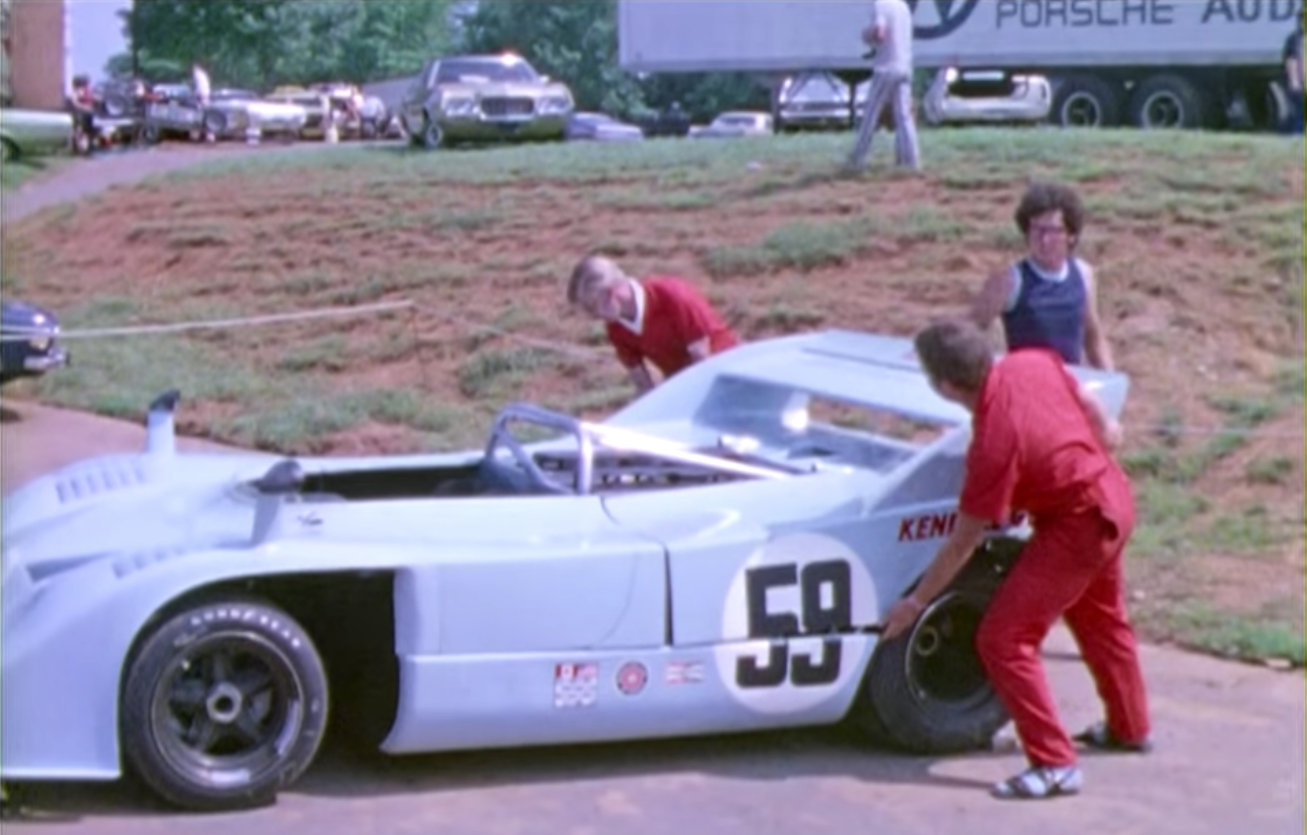 Looking at this Kendall GT-1 sponsored Brumos Porsche 917/10 that was driven by Peter Gregg… the fenders look interesting. The top vents and rear air reliefs look similar to the fender style that time attack and Super GT cars still use to this day.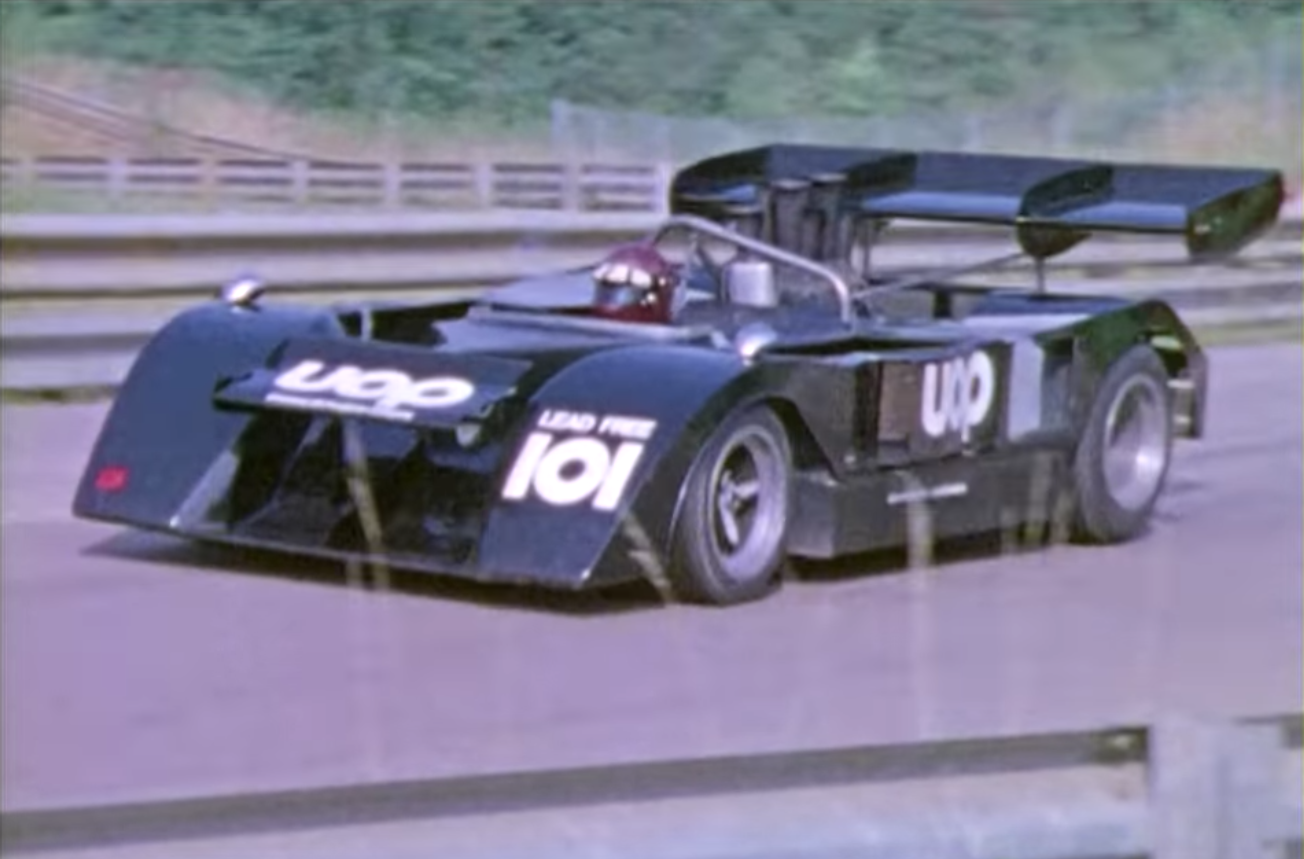 This UOP sponsored Shadow MkIII that was driven by Jackie Oliver from the UK, with a monstrous Chevy/Chaparral 8100cc V8 engine. Sadly, the car didn't finish the race because the monster engine blew up.
Upon searching the internet, I stumbled upon several websites with detailed info about the series, like this one here. If you know of any other learning resources or content related to Can-Am, I'd really love to hear from you!
Even better, if you know of an upcoming Can-Am race, PLEASE leave a comment and let me know about it! Thanks in advance, and hope you enjoyed this video and the screen captures!
:: Antonio Alvendia
Instagram: @AntonioSureshot • @MOTORMAVENS
MotorMavens on Facebook  •  MotorMavens on YouTube
www.antoniosureshot.com
MORE CAN-AM CARS ON MOTORMAVENS

1972
,
Bill Wonder
,
Brumos
,
Can-Am
,
Canadian-American Challenge Cup
,
Cerruti
,
Chaparral
,
chevrolet
,
Chevy
,
Classic Motorsports
,
Commander Motor Homes
,
David Hobbs
,
Dean Case
,
François Cevert
,
Gordon Jolley
,
Grassroots Motorsports
,
Grassroots Motorsports Magazine
,
Group 7
,
Gulf McLaren
,
HMSA
,
homepage
,
Jackie Oliver
,
jackie stewart
,
L&M Porsche + Audi
,
Lola T310
,
Mark Donohue
,
McLaren
,
McLaren M8A
,
McLaren M8C
,
McLaren M8F
,
Penske Racing
,
Peter Gregg
,
Porsche 917
,
Porsche 917-10
,
Road Atlanta
,
Roger McCaig Racing
,
Rush
,
Shadow MkIII
,
Tyrell
,
Vintage Motorsports
,
Watkins Glen
---