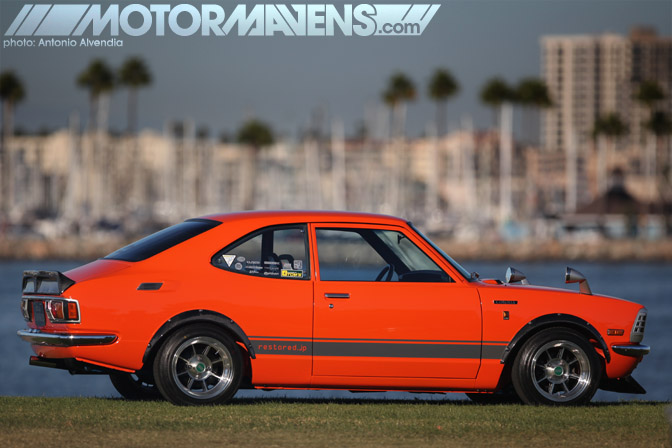 Every year, one of my favorite events to attend in Southern California is the annual Japanese Classic Car Show in Long Beach. JCCS is like a big reunion of old school friends, surrounded by the finest pre-1990s vehicles made in Japan. The water surrounding the iconic Queen Mary cruise ship and the Downtown Long Beach skyline is a perfect backdrop for Skylines, 510s, Zs, Celicas, Corollas, Starlets, Land Cruisers, RX7s, RX3s, Civics and all sorts of other interesting Japanese old school cars!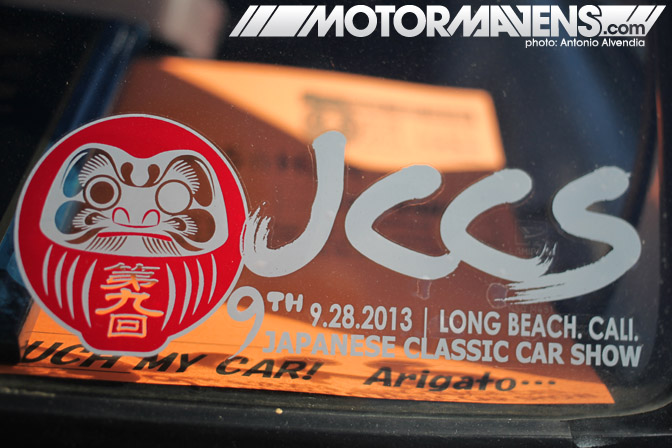 The Japanese Classic Car Show, founded by Koji and Terry Yamaguchi, has been running for 9 years strong now, and it keeps getting better every year. I remember the first year of JCCS, and I can't believe it has been nearly a decade since the inaugural event!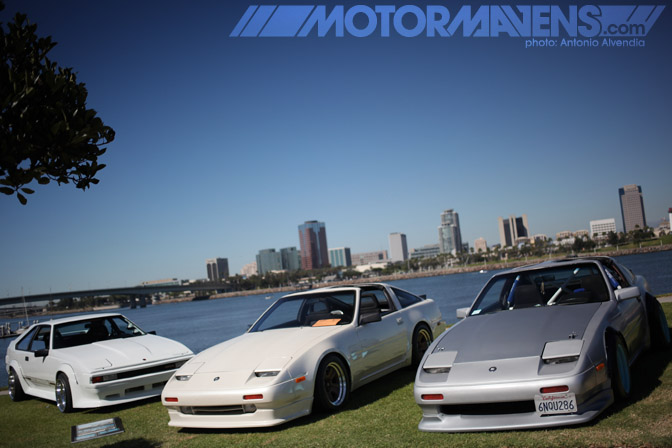 On the west side of the parking area, I noticed some nice Z31 Nissan 300ZXs and this white JZA60 Celica Supra.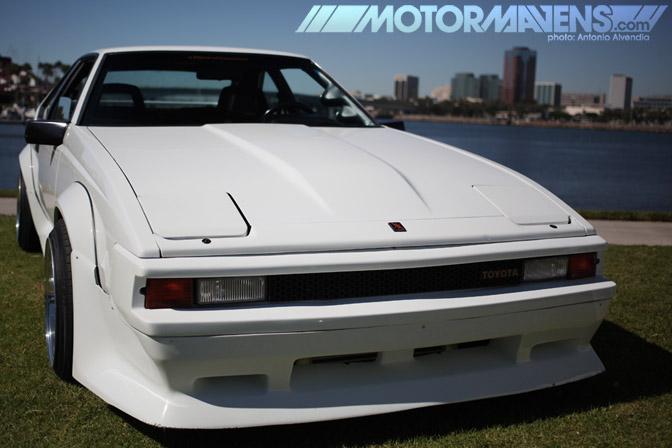 This JZA60 Celica Supra belongs to my good friend Javier Paramo. It's actually a 1982 Celica Supra that Javier has owned for around 15 years. This car started life as a red MA60 Celica Supra with a 5MGE engine in it. Javier eventually swapped it with a 6M engine, then blew the motor while racing a friend on the 10 freeway. He eventually stacked enough pennies to afford a 2JZGTE, and swapped it into the car about 10 years ago. Since then, the car has been reliable, but there were still many things on the car that needed rebuilding and upgrading – namely the paint and body, and interior work as well.
Javier put the Supra build on hold for a few years, and said goodbye to his former life of dodging the police at the street races so that he could enroll in the police academy and become an actual police officer. After he achieved his goal of becoming a cop, he put his focus back on his original Supra (while picking up a bunch of other cars as well) and finally finished it.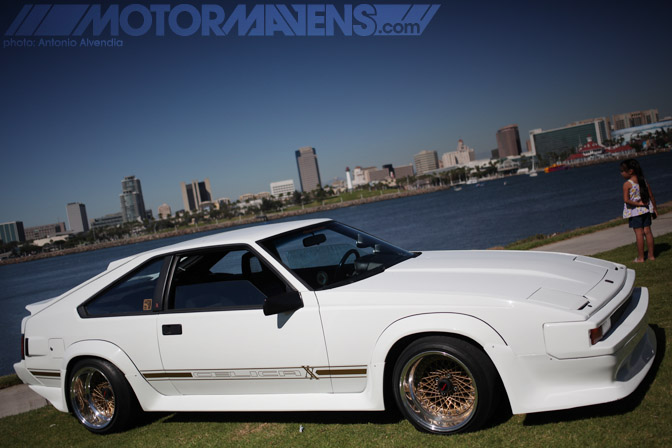 Before he was a puerco, Jav used to cut vinyl stickers. It was obviously easy for him to put cool graphics on his car, so he copied the Japanese Celica XX  logos and applied them to the side of his car in gold to match his super deep lip Epsilon wheels. Javier had so many Epsilon wheels over the years, but he finally put together a set that fits the car perfectly. Jav's Dos Equis Celica Supra somehow got the attention of certain magazine editors, and his car was featured by Import Tuner Magazine last year! Congrats on finally finishing the project, Jav!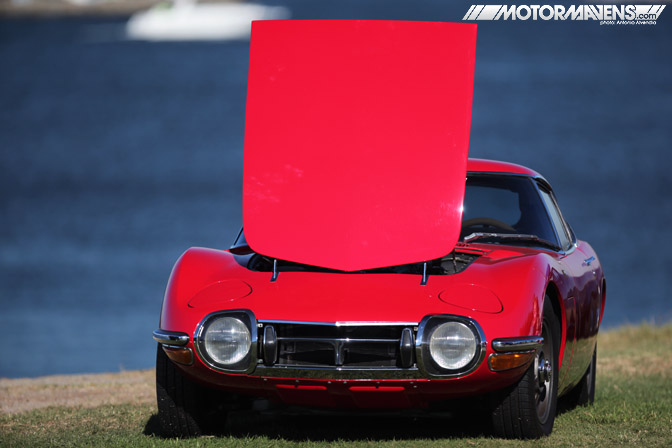 Before the Supra came the MF10 2000GT – Toyota's first supercar.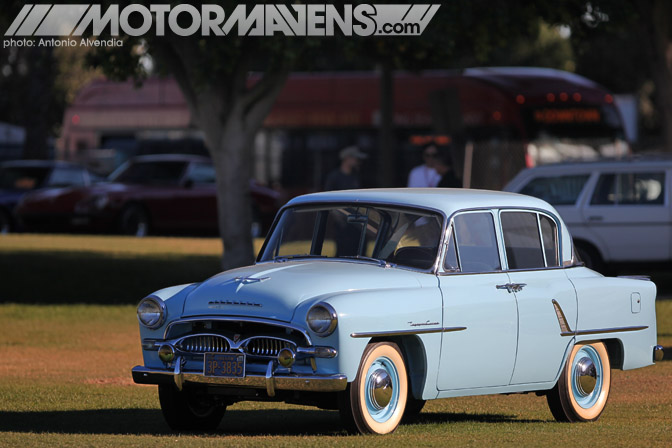 Check out this old school 1950s Toyopet Crown. Which classic American car do you think it resembles?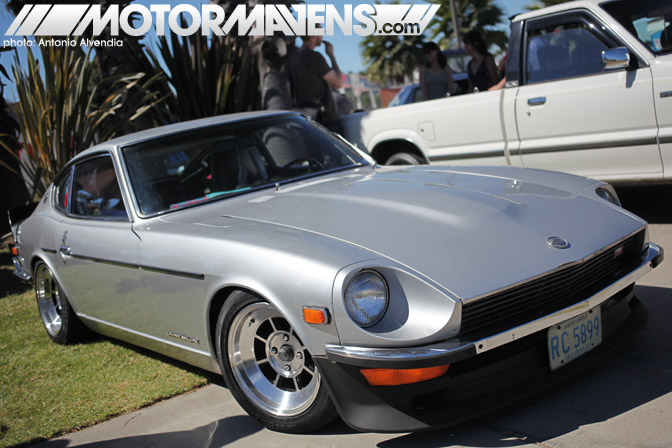 I also spotted this super low Datsun 240Z with Hayashi Street wheels and Illinois license plates. To be honest, I didn't walk up close enough to see if the wheels were actual Hayashi Streets or the fake copies made by Rota. Or wait… maybe I should say "authentic duplicate replica wheels made by Rota" because they had some campaign against other companies who supposedly began producing "fake copies of Rota wheels" even though almost all their wheels are replicas of other popular wheel designs. LMAO! Hilarious.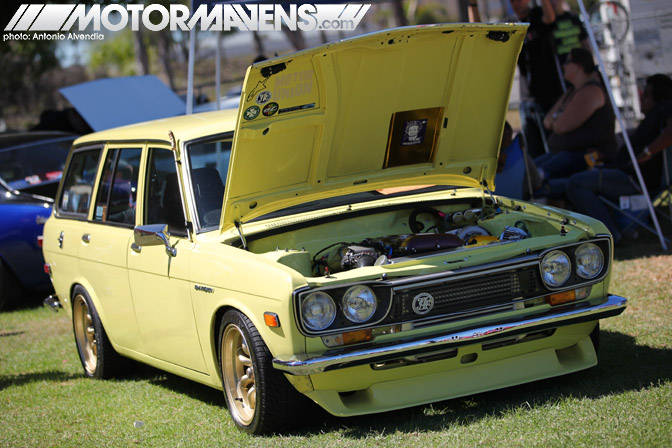 I love the color on this Datsun 510 wagon. Owned by John Ross from San Diego, this nickel and dime actually has a newer motor stuffed under the hood – and SR20DET engine from a newer S-chassis Nissan, and Bluebird headlights and front grill. Being that this 510 hails from San Diego, it would be cool if it had some 5 And A Dime stickers on the car. (Maybe there are some?) In case you didn't already know, 5 And A Dime is a popular clothing shop in Downtown San Diego's Gaslamp District, on the corner of 8th Street and G Street. The owner of the shop, Jay Huggins, is also a car enthusiast, and is the organizer of the annual Motor Union meet in San Diego.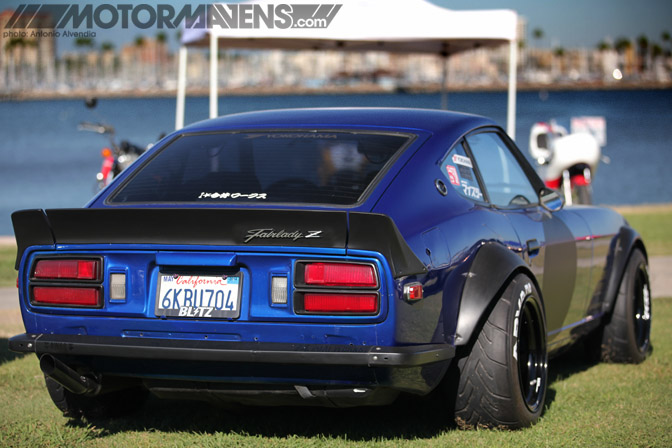 Famed Hot Wheels designer Jun Imai has a thing for classic Datsuns. Last year, he brought his Datsun 510 wagon to the show, but this year he debuted his 240Z, which looks almost like a modern day rendition of the infamous Devil Z of Wangan Midnight anime/manga fame. I dig the meaty Advan tires on the Work CR01 wheels.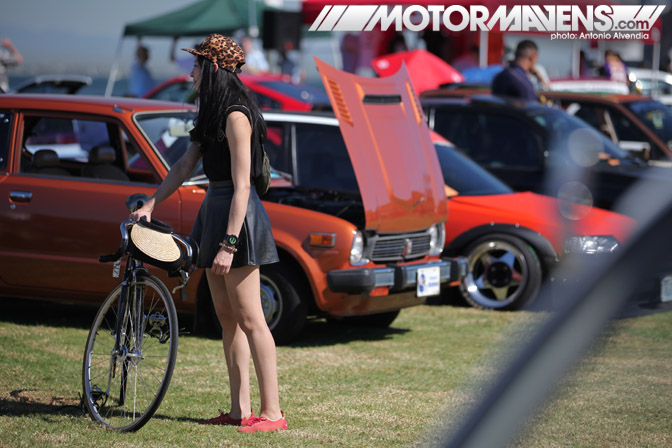 While walking through the grassy area looking at cars, I noticed a couple people walking their fixed gear bikes through the cars. Have Japanese classic cars replaced Volvo station wagons as the hipster vehicle of choice? Maybe, if the cars were large enough… like a Cressida, Corolla, or 510 station wagon. If they used a small car like a Starlet or a Celica, where would they put the roof racks for their bikes? (This was a joke, hipster friends. Please don't put roof racks on old school Celicas and Corollas in an attempt to show me that it CAN be done.)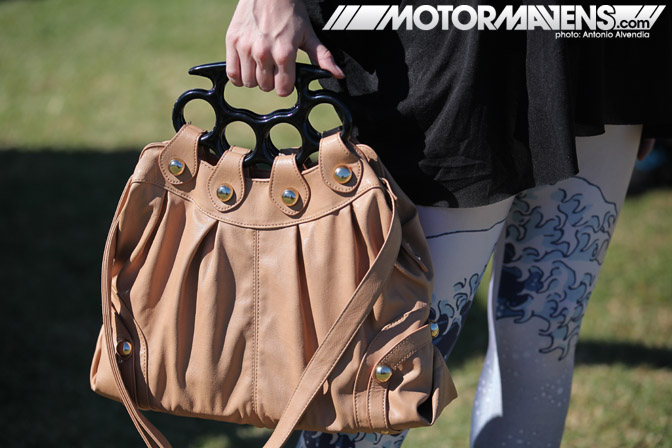 Since I've successfully gone off topic again to ramble about something completely non relevant to Japanese Classic Cars, check out this stylish girl's bag, with handles shaped like brass knuckles. I know it's completely irrelevant to the subject of vintage Japanese cars, except for the fact that this bag is an expression of her personal style, just like accessories on a classic Japanese car.
And if you look closely, she's wearing leggings with the famous "Great Wave" print by the legendary Japanese artist Hokusai. This design is perhaps one of the most famous pieces (in the Western world, at least) of Japanese folk art – it was used as inspiration for surfing lifestyle brand Quiksilver's logo, and it was also used for a limited run of carbon fiber Toyota AE86 and Nissan S-chassis hoods from Origin Lab around the 2004 timeframe. Awesome. Successfully transitioned back into automotive talk. Haha!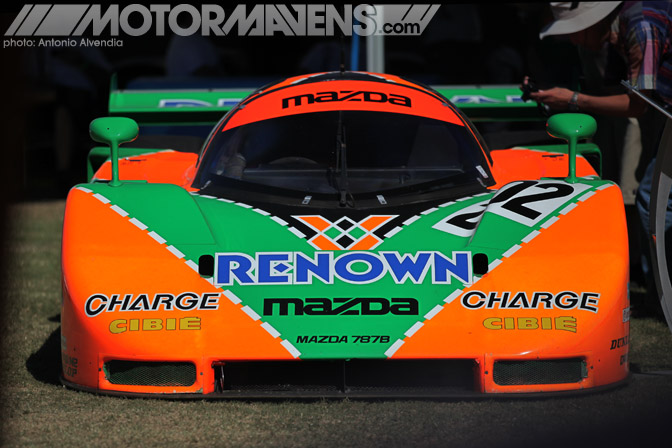 There were a TON of amazing examples of classic Mazdas at the show, but I just didn't get a chance to shoot them all. Honestly, I didn't even see all the cars at JCCS because I kept bumping into old friends that I haven't spoken to in years. One of the coolest Mazdas at the show was undoubtedly the Renown 787B race car. Almost all Japanese car fans know this livery, because this car was renown (pun partially intended) from its famous win at LeMans in 1991.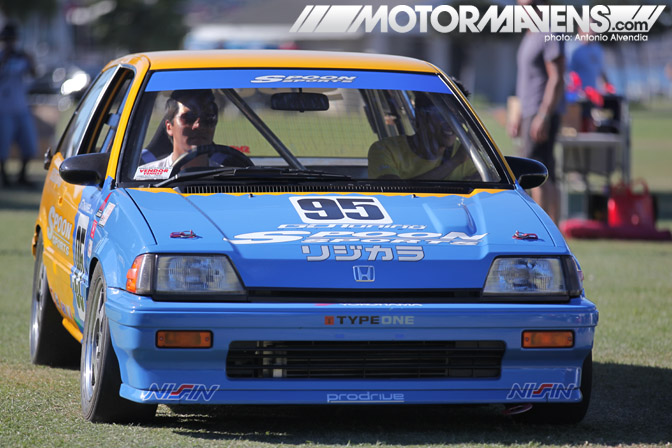 Perhaps one of the most jawdropping cars that I saw at JCCS (there were tons, I assure you) was the legendary Spoon Sports E-AT Honda Civic. This was THE actual car that Spoon president Tatsuru Ichishima used to build the reputation of his brand. This Honda Civic E-AT was the first Civic to enter the Japan Touring Car Championship, and sparked a ton of fanfare within the Honda community. Nowadays Spoon Sports is one of the most popular and well regarded Japanese tuning brands… and it all started with this car.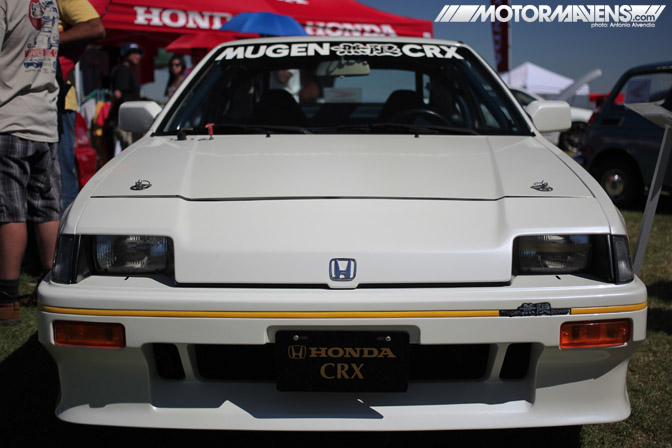 Yet another jawdropping Honda… the actual Mugen CR-X used as a development mule for Mugen Power parts! We'll show more photos and details of this car on MotorMavens very soon!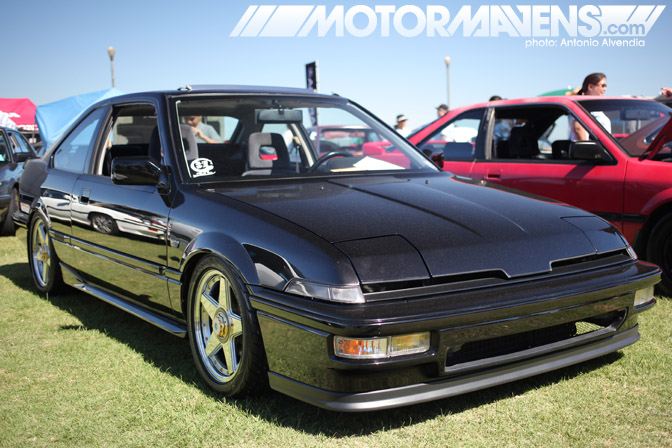 About 13 years ago, I met Ernie Uy at a car show. He had a black first generation Acura Integra on display, and it was super super clean. I was so happy to see that it still is clean. This is the exact same car that I first saw thirteen years ago. He has owned this thing forever, and loved it since day one. This is what real love and dedication is all about.
See, Ernie is not one of those internet bandwagon jumpers that "builds" a car in less than a year, gets it featured by magazines and whored out on the internet, then sells it for a profit so that he can buy a different car and begin the process all over again. For this, he gets my utmost respect. Dedication and loyalty are things that I value very much in life. Ernie has exhibited dedication and loyalty to his car, and that needs to be commended.
He exercised restraint and didn't fall for the short lived trends like most Filipino car builders; things like brightly colored vinyl interior, pearl sparkle paint, and aftermarket bolt on fender flares and F1 style carbon fiber mirrors. This is why his car is a refreshing gem that stands apart from the crowd today.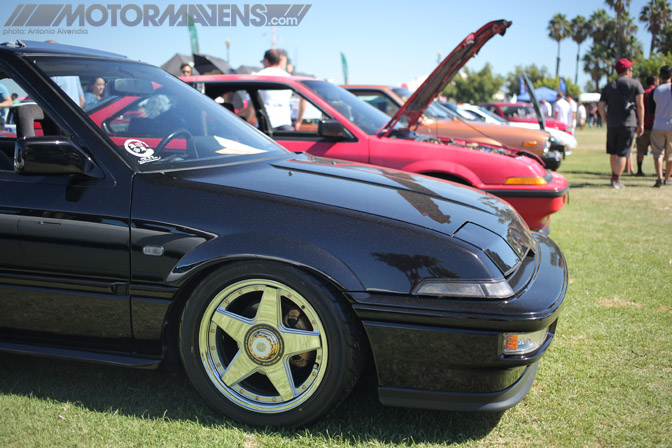 While Ernie's Integra doesn't have the widest, most aggressive wheels on it, his wheels are period correct for the era in which his car was popular – the late 1980s and early 1990s. It's sitting on some chrome Bang Vecs Type II wheels, which were pretty popular in San Gabriel Valley at the time…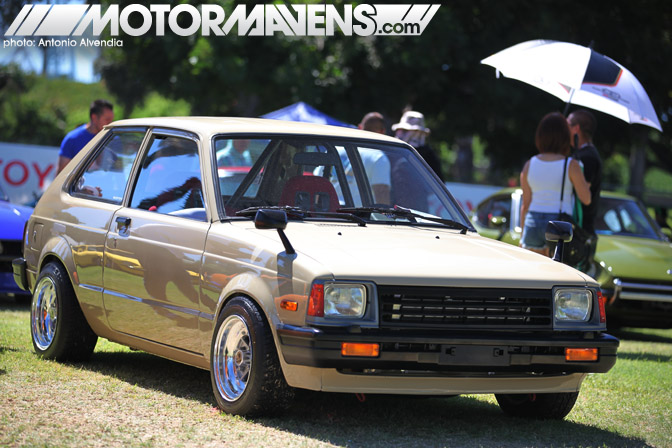 While we're on the subject of exercising restraint when building a car so that it will retain its clean original body lines and stand the test of time… This KP61 Toyota Starlet had to be one of my favorite Starlets at JCCS this year – and I'm not normally a fan of the kouki Starlets (1983/1984 body type like this one). I love a lot about this car; from the color to the Japanese short bumpers, to the era appropriate fender mirrors, to the drop, to the SSR Mk-II wheels used on the car.
It would be even better if it had 1980s TRD racing seats instead of the 1990s version seats that are in the car, but hell. Now I'm just nitpicking a gorgeous car (I am such a jerk!). Those red TRD Sports seats are in mint condition, and they're rare and expensive as hell. I hope the owner of this car buys a Supra so he can put these seats in the Supra, and he can put some old school seats like a Tom's Racing Darth Vader seat in the Starlet! That would be amazing!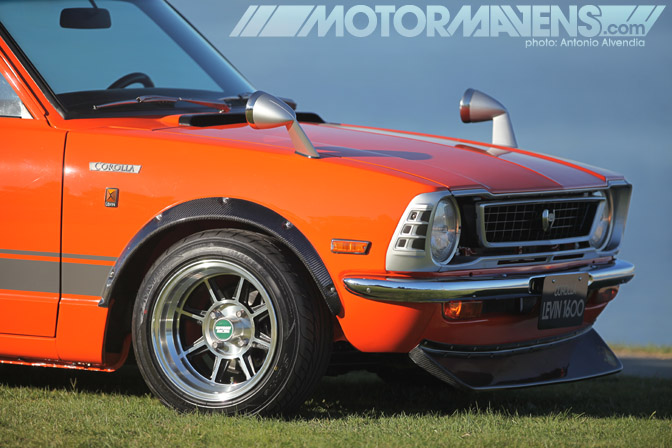 As seen in this story's headline photo, Patrick Ng's 1974 TE27 Corolla Levin is probably the best example of restored TE27 in California. He always likes to change up the car slightly, so he added carbon fiber flares, front chin spoiler, and rear wing from Restored as well as some Hayashi Street wheels. Patrick is devoted to this car, and it shows.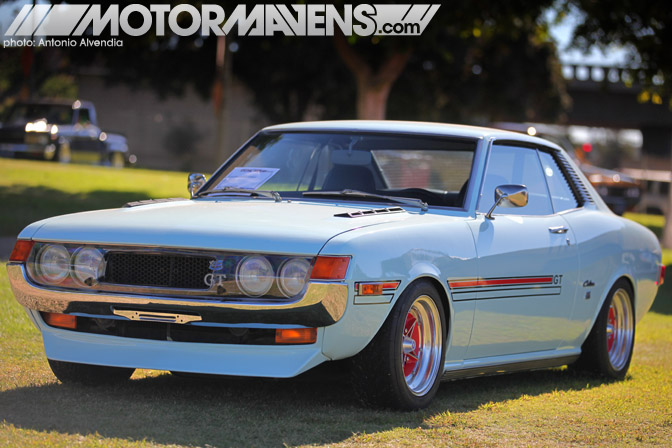 Speaking of pure style, one of my favorite examples of RA21/TA22 Toyota Celica belonged to Kirk Hubbard from Hawaii. Kirk lives in the Aloha state, but travels to California frequently for work. (What an awesome life!)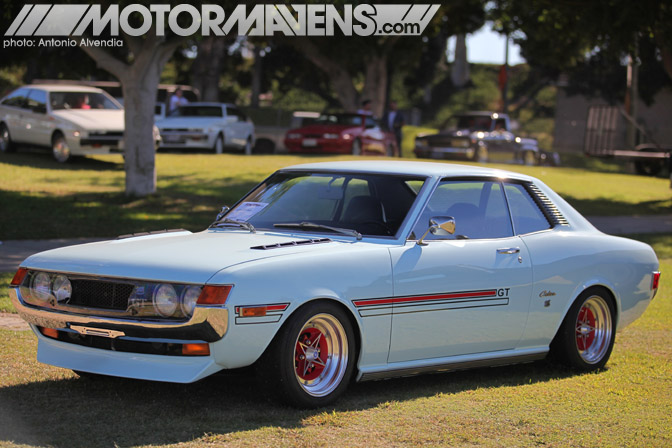 I absolutely love everything about this car, from the color to the GT stripes on the side, to the clear headlight cover to the WHEELS!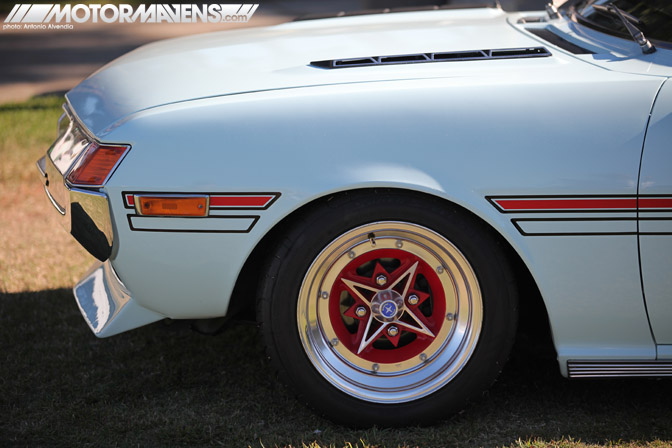 Here's a close look at the incredible looking red Techno Phantom wheels and the perfectly matching GT stripes.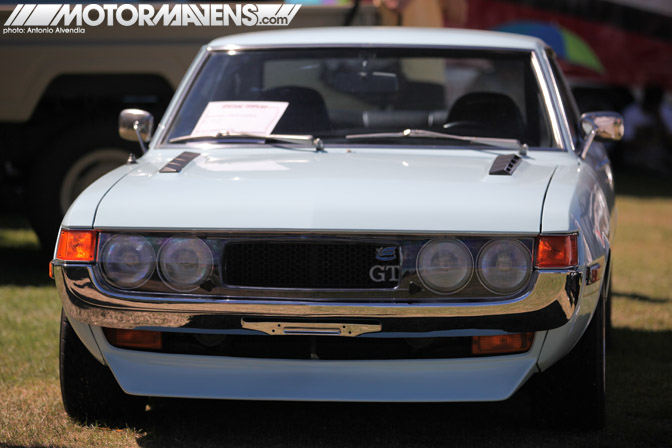 The clear plastic headlight cover is super super incredibly rare. It looks AMAZING on a Celica!!! We'll be posting more photos from JCCS on the site and on our social media feeds, so stay tuned and stay connected!
:: Antonio Alvendia
2000GT
,
300ZX
,
5 And A Dime
,
510
,
787B
,
Advan
,
Antonio Alvendia
,
bluebird
,
Celica
,
Celica Supra
,
Celica XX
,
Civic
,
Corolla
,
Corolla SR5
,
crown
,
daruma
,
Datsun
,
Devil Z
,
E-AT
,
Epsilon wheels
,
Hayashi
,
Hayashi Racing
,
Hayashi Street
,
Hokusai
,
Honda
,
Hot Wheels
,
Import Tuner
,
Japan Touring Car Championship
,
Japanese Classic Car Show
,
Javier Paramo
,
JCCS
,
Jun Imai
,
Kirk Hubbard
,
KP61
,
Lemans
,
Levin
,
Mazda
,
MF10
,
Motor Union
,
Mugen
,
Mugen Power
,
Nissan
,
Patrick Ng
,
RA20
,
RA21
,
Renown
,
Robby Caballes
,
S30
,
Spoon Sports
,
SR20DET
,
Starlet
,
Supra
,
TA22
,
Tatsuru Ichishima
,
TE27
,
Tom's Racing
,
Toyopet
,
Toyota
,
TRD
,
wagon
,
wangan midnight
,
Work CR01
,
Z31
---