From this video on the new REAR WHEEL DRIVE Lamborghini Gallardo LP 550-2, we understand what Lamborghini's legendary former test driver Valentino Balboni meant when he told us last week, "It's a beautiful life behind the wheel of a Lamborghini."  Balboni said he didn't even know the rear-driver was in the cards when the company's engineers started requesting sessions with him, where they would ask him to describe in detail how iconic Lamborghinis like the Countach and Miura handled. Amazing.
::Jeff Yip
---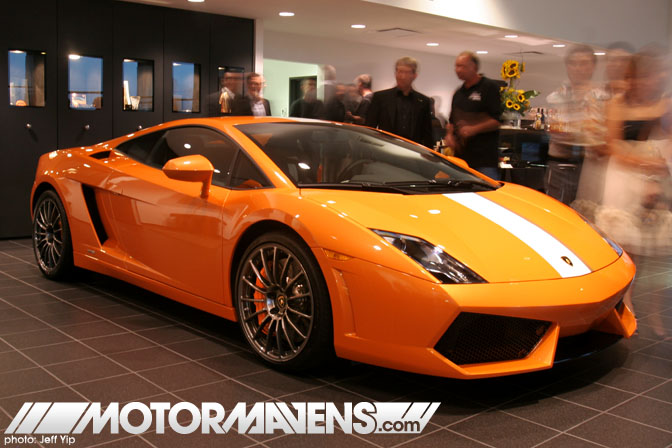 You don't have to have a Harvard MBA to realize that "
more"
is the four-letter word that drives the exotic supercar market.
More power. More speed. More sex appeal. More exclusivity. And, let's get real: when folks slide into the driver's seat of an exotic, many of them wind up needing more room -- for their egos.
So what's up with the latest-and-greatest Lamborghini Gallardo?
As its numeric designation indicates, the new 550-horsepower
LP 550-2 Valentino Balboni
gives up 10 ponies to the reigning mainstream model, the Gallardo LP 560-4. (Lucky you, if you're in a tax bracket where a $233,000 car is mainsteam.) The 550-2 takes a couple tenths longer to sprint from zero to 62 mph (3.9 seconds vs. 3.7). The Baboni Gallardo even comes up short in the top speed department: 199 mph vs. a hair under 202 for the 560-4.
If this all sounds, well,
backward
, no one at Lamborghini will argue with you. If fact Valentino Balboni himself is the first to agree, because the car that bears his name
is
about going back -- to basics. Basic, in this case, being rear-wheel-drive like the Countach and Miura.
Read more...
---