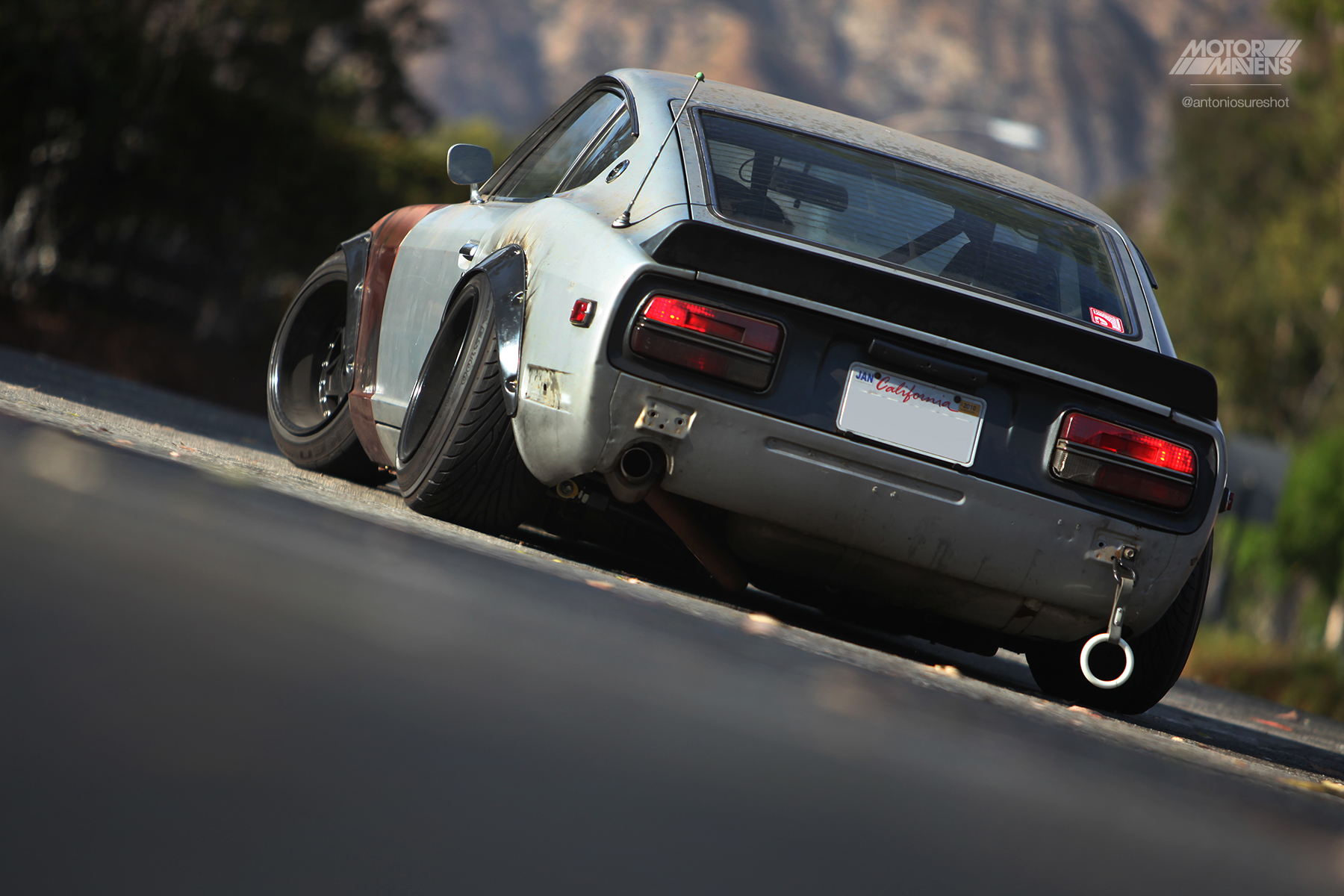 Last weekend at the Japanese Classic Car Show, the Showa car lovers that gathered in Irvine California for this year's event were treated to a sensory overload of Japanese nostalgic cars of all sorts – from Skylines to Corollas to rotaries to Hondas to Datsuns… Oh, the Datsuns!
There were so many cars from Datsun/Nissan lineage represented at this year's JCCS, it was hard to focus on them all. Everything from Japanese style G-nose S30s to US market 240Zs were in abundance at the event this year, but there was one Z in particular that had a certain combination of presence and shock value. I just knew I had to feature it on our site… but there was just one problem. The car (and its owner) live in San Jose, California. And they would both be returning to the Bay Area on the morning after the show.
I had to figure out how (and where) to somehow shoot the car before it went back to San Jose – and I knew I didn't want to do one of those "on the grass" photo shoots after the show, because I think photos of cars on the grass are cliche, unimaginative and overdone… especially since there were 236790 photographers from different magazines doing the same photo shoot on different spots on the grass after JCCS.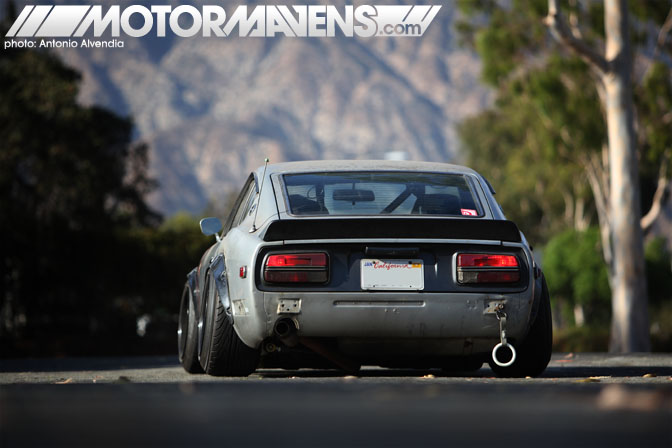 The owner of this shakotan (super low down) boogiemonster is Yuta Akaishi. Let's pronounce it together. His first name is Yuta, pronounced like "Utah" and his last name is pronounced "Aka-ishi." I was first drawn to this amazing 240Z because it is just so damn low… it's mind boggling, seriously! The car may be showing its age with the presence of surface rust and dents here and there, but hell… to me, it's just a sign that this car lived a full life. It's kind of like battlescars on a seasoned fighter – they actually ADD to the look.
Encountering Yuta's 1973 S30 on the street is like meeting a veteran cage fighter in a dark alley; its metallic skin is bruised and weathered, but it stands confident and aggressive, making other Zs cower in fear as it approaches. Its stance is nothing short of perfect. Yuta may be only twenty years young, but he can certainly teach "veteran Z owners" a thing or two about making a 240Z look good. It's all about the stance. That's step one. And Yuta's definitely got that one covered.
Even though the car has made its way to a Motor Mavens "Center Stage" feature so early in its career, Yuta's 240Z is far from finished. In fact, he only purchased it (from his friend Henry Nguyen) and began building it up a mere FIVE months ago. Rather than go on and on about how impressive this Z looks even in its early stages, I think we should put Yuta in the spotlight a little bit so he can describe the car in his own words…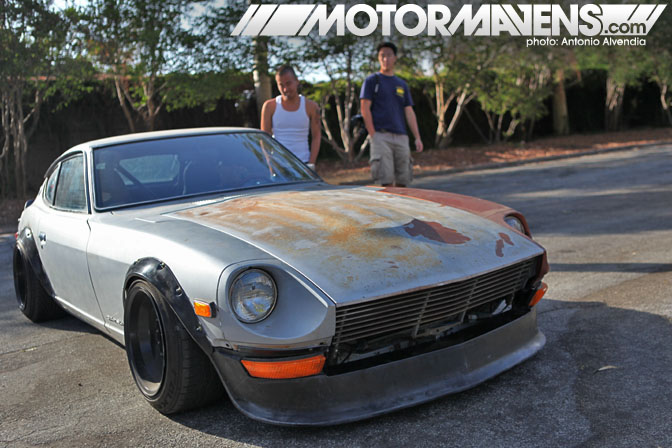 :::::::::::::::::::::::::::::::::::::::::::::::::::::::::::::::::::::::::::::::::::::>
A little basic history on myself – I'm Yuta Akaishi and I am currently 20 years old. I have loved machines since I was just a child, and for the past ten years or so my life has been completely consumed by cars. I bought my first copy of AutoWorks (a popular Japanese magazine that focused on older cars) back in 2001 when I was 12 years old. Prior to that, I read Super Street and saved up money to get a subscription to Sport Compact Car, which in my opinion is still the best magazine the US has ever seen (24.99 is quite a bit of saved-up change for a 10 year old).
I bought my first S13 when I was 15 years old, and got my first job around the same time, while I spent the summer in Japan with my family. We would visit every year, and as much as I would have liked to hang out with my cousins, instead I found a job at Yamazaki Bread Factory in Chiba Minato, and at the end of that summer, I bought my first set of coilovers (KTS to be exact). I would say my cars have been the center of my life, but that would be incorrect because as cheesy as it sounds, my life IS my cars. As soon as I turned 18, it has just been a blur of working – everything from construction to a valet at a hotel to working on cars and driving. I have owned a few cars since the first S13 – like an MX73 Cressida, a TE31 Corolla, an EK Civic, two other S13s, and now this 240Z.
One day, I plan on taking this Z, which I have fallen in love with, back to Japan and live out there. I have always loved aggressive car styling. I kind of built this 240Z like I would have built an S13 – make it as low as possible, buy the widest wheels I could find, and MAKE it all fit.
As far as inspiration goes, I grew up reading Autoworks Magazine and my family is from Chiba-ken, so I guess my style is a mix of the street drifting cars and bosozoku machines out there… that is, if I had to put a label on my style.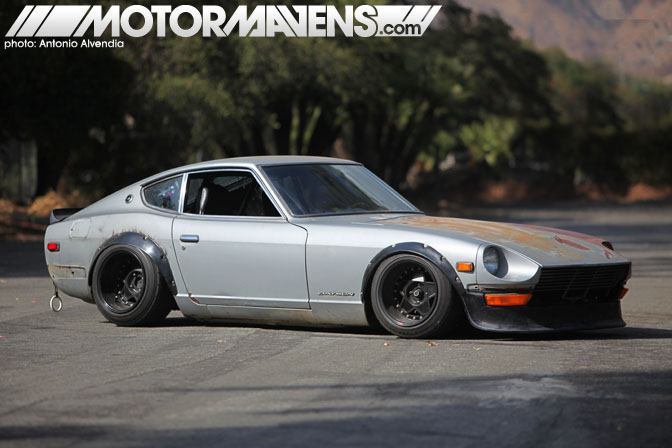 So let's talk about my S30Z. I actually bought the car from my friend Henry bone stock about 5 or 6 months ago. He found it in Millbrae, ridiculously clean, all original with only 63,000 miles on the odometer. A couple months later, he found another Z with more miles – that car's interior was not as clean, but the exterior was in better shape, and it had triple Weber carbs. He offered to sell the first car to me, so I jumped on the opportunity. At the time, I was driving an EK Civic hatchback that was great in terms of gas mileage and very capable in the mountains since I kinda got into it and built the suspension quite a bit. I liked driving my Civic, but the car itself just didn't do it for me…
I couldn't just stare at the Civic and appreciate the beauty of the machine like I could with an S13 or a Z.
Needless to say I no longer own the Civic. I began researching the aftermarket options for the Z immediately after purchasing it, and I came to see that everything available for it was very "functional," catering to the overall majority of Z owners. All the 240Z coilovers available in the US would not go low enough for what I wanted.
For the car to be REALLY low, I would have to droop the springs excessively and I had no idea if I would be left with any travel. At first I tried using S13 coilovers. I cut the lower brackets to fit over the stock shock tubes, but to my dismay they wouldn't go low enough, and I was left with less than an inch of travel at the height I was aiming for. I then started looking at different coilovers; ones meant for Miata, S2000, etc. I settled on coilovers meant for the Integra DC2. I drove out to the East Bay to pick up a used set of Function Forms, and figured I would use them as a guinea pig to see how compatible they would be with the car. They actually worked great. I went ahead and welded the lower brackets to the shock tubes in a similar fashion as I did with the S13 coilovers, except this time I would adjust pre load and ride height independently. To be honest, I was not expecting much from these coilovers, but for the time being I am quite satisfied. They ride well, very smooth, but don't allow for excessive travel nor are they bouncy.
Other than that, the rest of the modifications are readily available bolt-ons. I purchased the front/rear lower control arms, tension rods, roll center adjusters and camber plates from Techno Toy Tuning. The tie rods and the roll bar are from ZCC (the roll bar is a replica of the old OS Giken model.)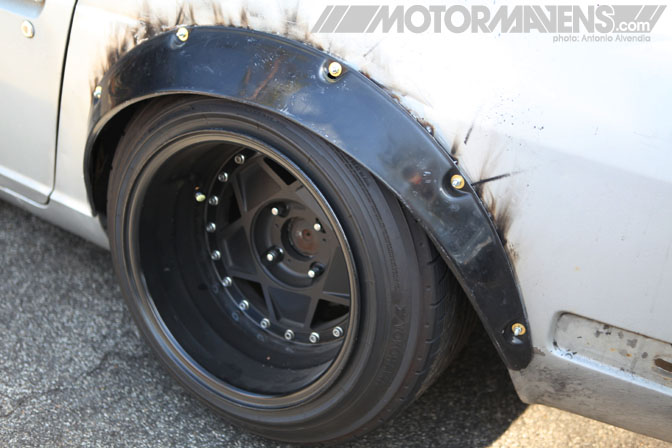 The wheels I'm using on the Z are old Hayashi Racing 505s that I bought from a friend. The rear wheels (in the photo) are sized 15x11J – 30 and they have Yokohama ES100 225/25/15 tires mounted on them. Yeah, the weld marks are still visible on my rear quarter panels, but at least the hardware for my overfender flares are new!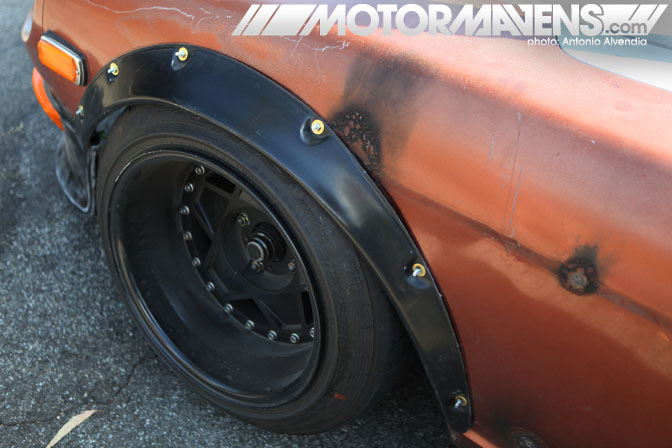 My wheels up front are 15x10J – 10 offset and they required 15mm wheel spacers (Project Kics) to clear the tie rods. The tires mounted on the front are 205/50/15 (Azenis RT615). To be honest, most of the modifications I've done and the true reason for all the adjustable arms is to fit these wheels. I was also set on running nothing wider than these replica 240ZG flares from Motorsport Auto.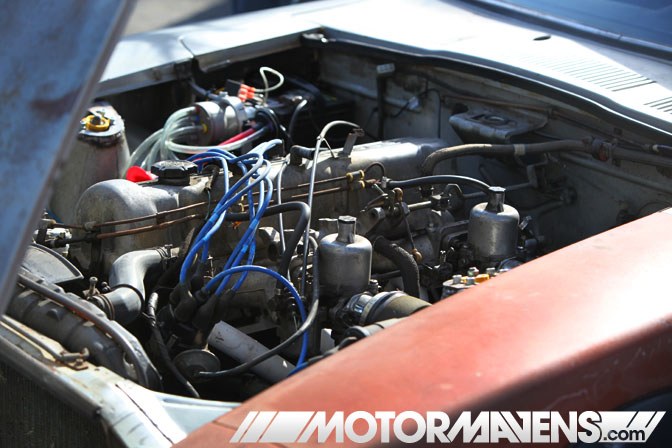 Okay, don't laugh. Well actually, it's okay if you laugh. As for my engine, it's still an all stock L24 engine at the moment, except for the early model stock SU carburetors, which prompted the removal of all the emissions related components too.  I also added a header which is all f*cked up now. The exhaust is something I just welded up out of random 2.5″ piping that I had laying around.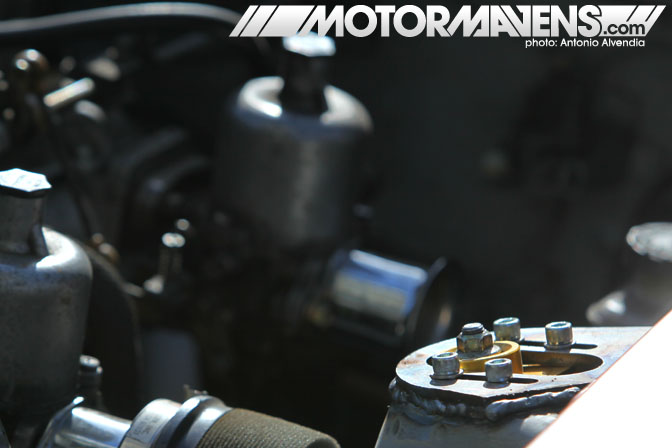 My strut tops were replaced with steel camber plates from T3 cause they were cheap. Yeah, I know it's a really ugly weld. I messed up on that, because it was the first time I tried welding with gas. I borrowed the welder from my friend, and when I started using it, I messed up and forgot to turn on the gas!!! I'm going to grind it all down and reweld it, but I haven't gotten around to it yet.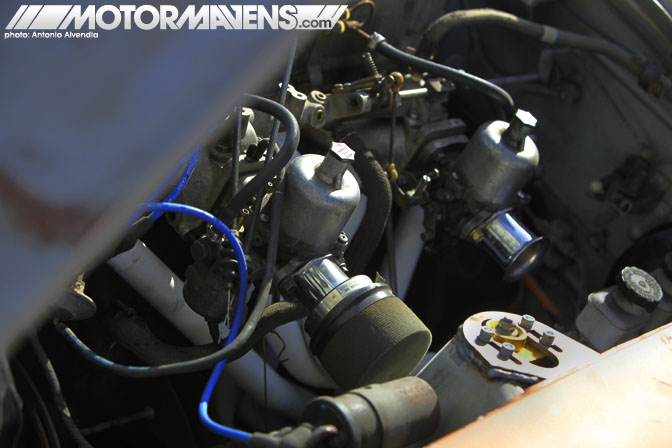 You may be wondering why only one of my SU carbs has an air filter on it. These were actually filters that I adapted from a VW bug – I just cut the filter and then clamped it back on to the air horn… but one of them fell off. I need to fix that. But I'm planning an engine swap anyway.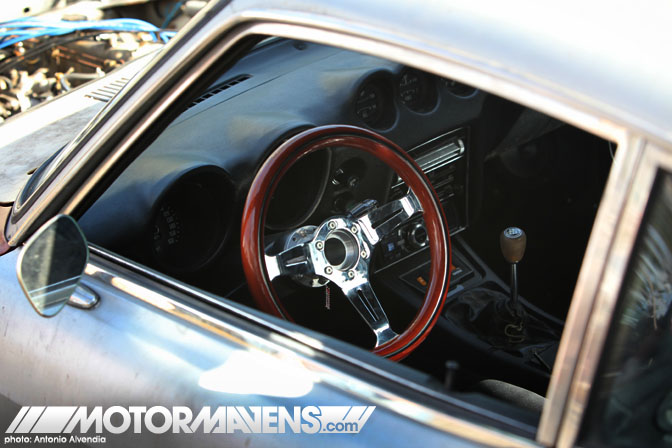 Inside the car itself it's all relatively simple.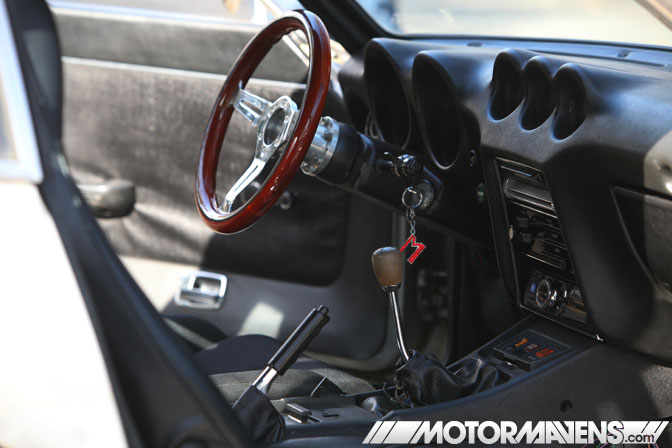 The steering wheel was purchased from Works Aero, and I modified a Grant hub to work with the 6 bolt Momo pattern as I could not find a hub short enough to work with my hub extender. I insisted on using that hub extender because I just love the way it looks.
:: Yuta Akaishi
:::::::::::::::::::::::::::::::::::::::::::::::::::::::::::::::::::::::::::::::::::::::::::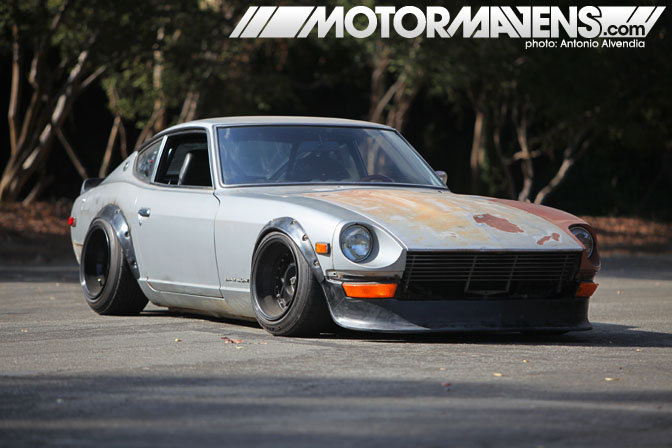 There you have it. Cars like Yuta's 240Z are the reason why I have chosen to follow automotive culture around the world. This is exactly what I love about street car culture. It's so personal and so expressive. I absolutely LOVE how low this Z is! It must be difficult as hell driving this thing around. I'm sure Yuta scrapes road reflectors on the daily, and speedbumps? Forget it.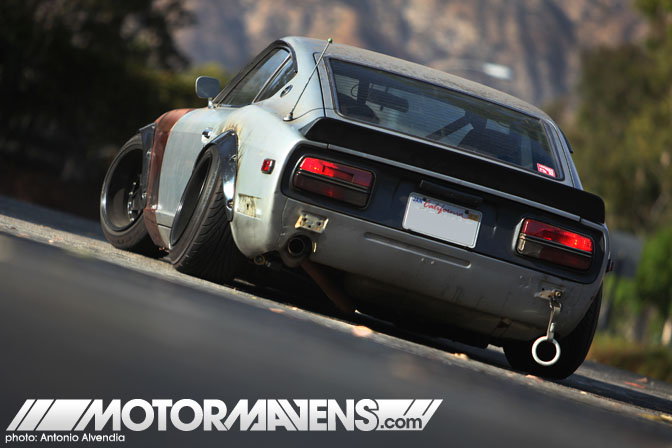 I realize that aggressive stance, stretched tires, and camber aren't for everyone, and that's fine. However, there's just something so undeniably PURE and RAW about Yuta's shakotan S30… it's inspiring without trying to be. Everything from the ridiculously low ride height to the perfect fit of the Hayashis to the raw patina of the 240Z shell to the Motorsport Auto ZG wing and flares to the tsurikawa (subway train handle) hanging onto where the rear bumper bracket should be.
Yuta's S30 might not have shiny paint and a perfect body, but in my opinion, it sure has a damn near perfect SOUL. To me, this Z is the embodiment of what a pure Japanese street car should be. It has so much heart, and so much soul… I wish more cars these days were like that.
Thanks, Yuta, for bringing us back to the essence.
:: Antonio Alvendia
---