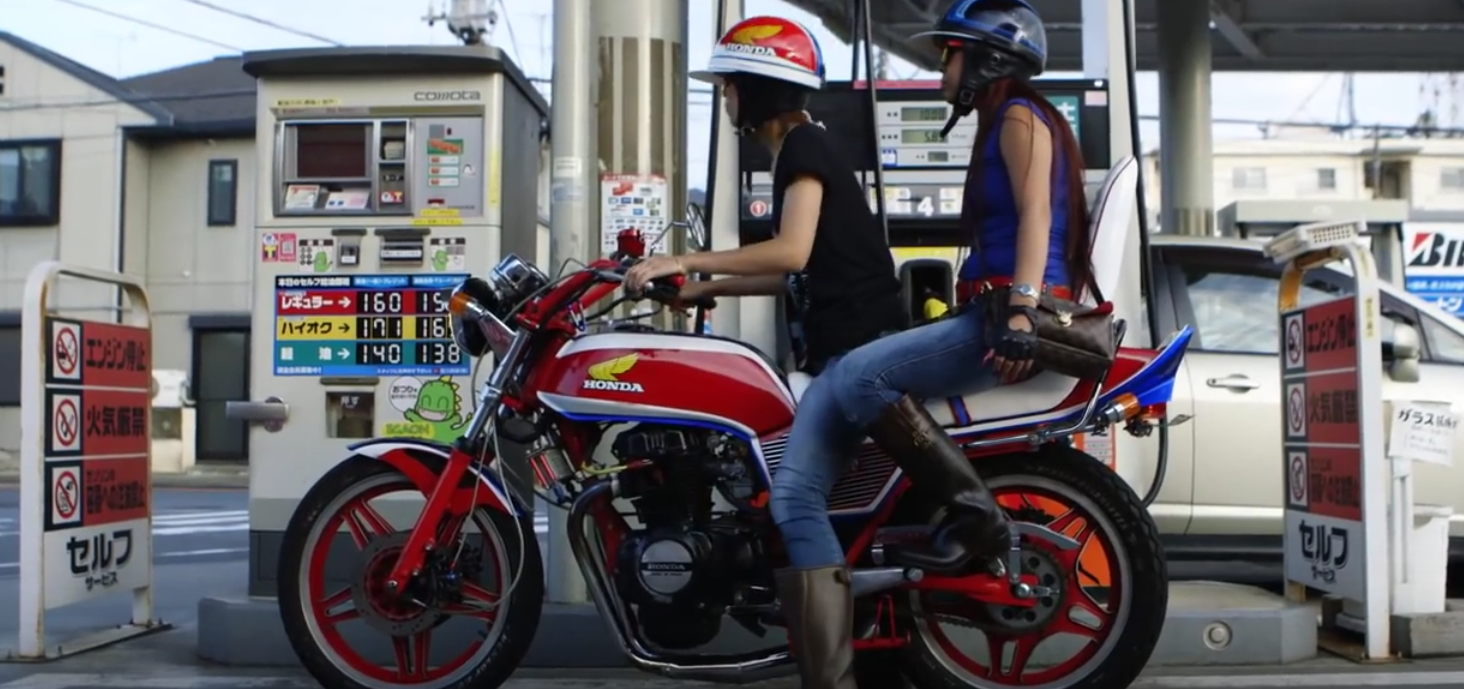 Okay, so this isn't really a car feature or event coverage, but many of our readers who also follow the culture surrounding Japanese shakotan streetcar style will also be familiar with the term bosozoku.
The word bōsōzoku is also applied to motorcycle subculture with an interest in motorcycle customizing, often illegal, and making noise by removing the mufflers on their vehicles so that more noise is produced. These bōsōzoku groups sometimes ride not wearing motorcycle helmets, also engage in dangerous or reckless driving, such as weaving in traffic, and running red lights. Another activity is speeding in city streets, not usually for street racing but more for thrills. With many bikes involved, the leading one is driven by the leader, who is responsible for the event and is not allowed to be overtaken. Japanese police call them Maru-Sō, and dispatch a police vehicle to trail any groups of bikes to prevent any possible incidents, which can include riding very slowly through suburbs at speeds of 5–10 mph, creating a loud disturbance and waving imperial Japanese flags, to start fights which can include weapons such as wooden swords, metal pipes, baseball bats and Molotov cocktails. These bōsōzoku gangs are generally composed of people under the legal adult age, which in Japan is 20 years old.
They were first seen in the 1950s as the Japanese automobile industry expanded rapidly. The precursors to the bōsōzoku were known as kaminari zoku ("Thunder Tribe"), urban motorcyclist more akin to the British rockers. Many, if not most, bōsōzoku members came from a lower socioeconomic class and may have used the motorcycle gang activities as a way to express disaffection and dissatisfaction with Japanese mainstream society.
In the 1980s and 1990s, bōsōzoku would often embark on massed rides, in which up to 100 bikers would cruise together slowly en masse down an expressway or major highway. The motorcyclists would run toll booths without stopping and would ignore police attempts to detain them. New Year's Eve was a popular occasion for the massed rides. The bikers would sometimes smash the cars and threaten or beat up any motorists or bystanders who got in the way or expressed disapproval with the bikers' behavior. Participation in the gangs peaked at 42,510 members in 1982.
In 2004, the Japanese government passed a revised road traffic law which gave the police more power to arrest bikers riding recklessly in groups. With increased arrests and prosecutions, bōsōzoku participation went into decline. As of 2010, police reported that the new trend among bōsōzoku was to ride together in much smaller groups and to ride scooters instead of heavily modified motorcycles. Aichi prefecture was reported to have the highest number of riders, followed by Tokyo, Osaka, Ibaraki, and Fukuoka.
I was surprised when watching this video – the attitudes of these females are extremely "non traditional Japanese" from what I've experienced on 10 or so trips I've taken to Japan. These ladies are so gangster!!! Especially in the clip where one of the girls talks about following and beating up this guy who beat up her boyfriend! Damn, it sounds like a real life version of the 1989 movie Black Rain with Michael Douglas and Andy Garcia! Mind you, the girl in this clip was pretty also! Definitely not what one might expect when you think of a female in a motorcycle gang.
Bōsōzoku are known to modify their motorcycles in peculiar and often showy ways. A typical customized bōsōzoku bike usually consists of an average Japanese road bike that appears to combine elements of an American chopper style bike and a British cafe racer, for example: over-sized fairings like those found on cafe racers, raised handle bars like those on a chopper. Loud paint schemes on the fenders or the gas tanks with motifs such as flames or kamikaze style "rising sun" designs are also quite common. The bikes will often be adorned with stickers and/or flags depicting the gang's symbol or logo. There are also marked regional differences in motorcycle modifications. For example, Ibaraki bōsōzoku are known to modify their motorcycles in an extensively colorful, flashy way. They will often have three or four over-sized fairings in a tower like way in a motorcycle painted in bright yellow or pink with Christmas light–like adornments.
Bōsōzoku style customizations have been adopted by many Japanese lowdown/shakotan street car owners as well. They add wide bodykits and huge wings, resembling the Group 5 "Special Production Cars" of the 1970s.
Anyway, I hope you enjoy this little glimpse into Japanese bike (and car) culture!
:: Antonio Alvendia
---