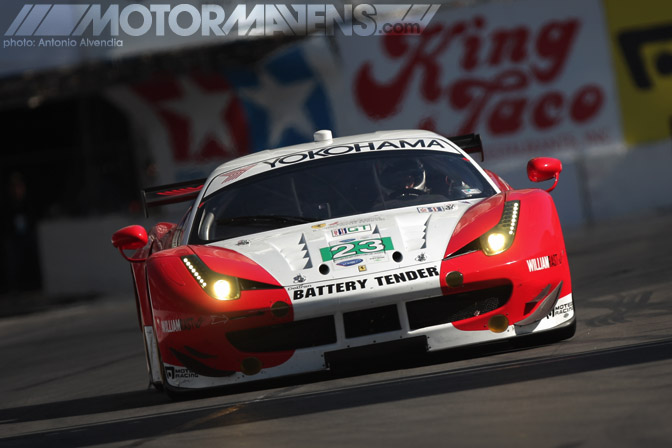 The Toyota Grand Prix of Long Beach kicked off this morning with the American LeMans cars circling the track. At 7:30AM, the pleasant sound of birds chirping was interrupted by an even better sound – a symphony of exhaust notes produced by the thirty three competition cars of the ALMS Series. All the people in the neighboring apartments definitely woke up to the sound of screaming engines if they weren't awake already!
The Streets of Long Beach get transformed into a race track about 2 months before the annual Long Beach Grand Prix and as it gets closer to race day you can almost feel the excitement in the air. This will be the last year in which the ALMS will be running as a stand alone series, merging with Grand Am racing in 2014, and ultimately becoming the United SportsCar Racing Series.
If you get a chance to see ALMS racing this season, I urge you to go out and get out to the racetrack!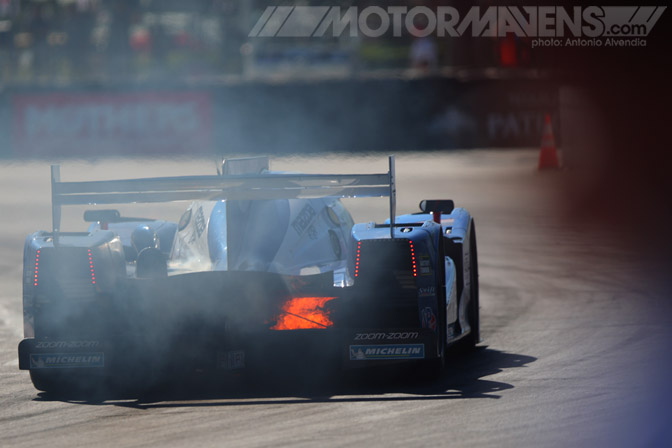 This morning, right before ALMS practice ended, the engine of the Dyson Racing Lola B12/60 started smoking right as it approached Turn 9, and as it passed under the Firestone bridge, I noticed these flames erupting from the rear of the car! Our friend Rex Torres told us it was caused by an injector O-ring! Man, such bad luck…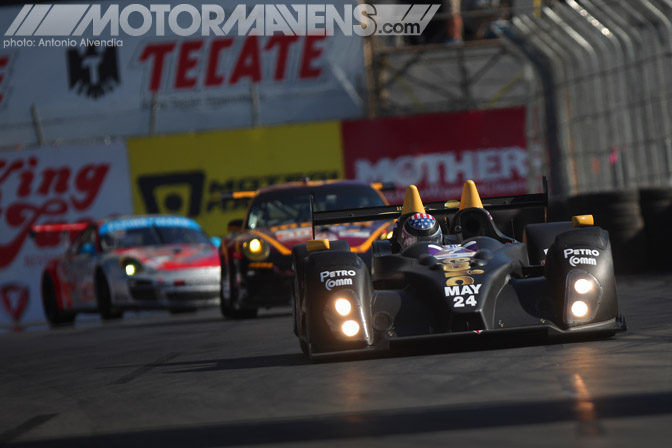 The GT class has to be one of the most interesting to watch because there are so many different manufacturers competing with essentially a race modified street car! The class consists of car manufacturers from Ferrari to BMW to Chevrolet all competing at the same time as the GTC, P1, P2, and PC classes, which are a group of various cars from Porsche GT3 Cup cars to Prototype racecars.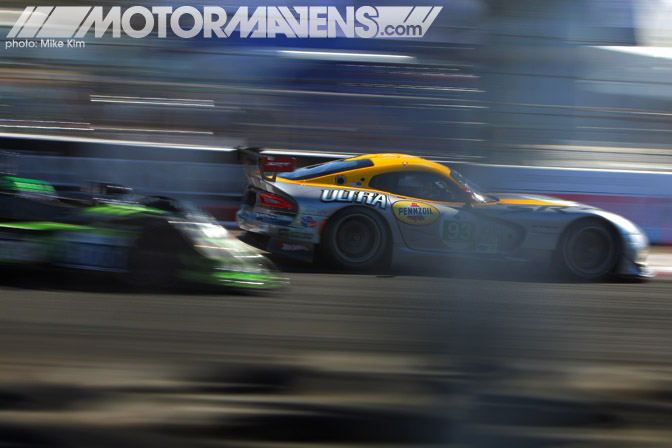 This yellow topped SRT Viper GTS-R is being driven by Jonathan Bomarito from Monterey CA and Kuno Wittmer from Montreal QC. Both of the Vipers sound pretty mean out on the track!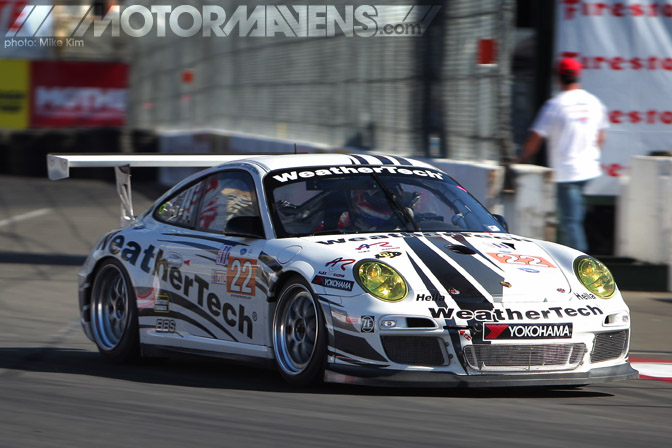 This Weathertech Alex Job Racing Porsche 911 is being driven by Cooper MacNeil and and Jeroen Bleekemolen. Everyone at MotorMavens LOVES Weathertech. We were invited to the Weathertech party at SEMA, and it was seriously one of the best parties we attended all week! (And we attended at least 10-12 parties that week!) They had awesome entertainment and an amazing seafood buffet with mountains of jumbo prawns and tuna sashimi! Oh, and Weathertech makes awesome weatherproof floormats too!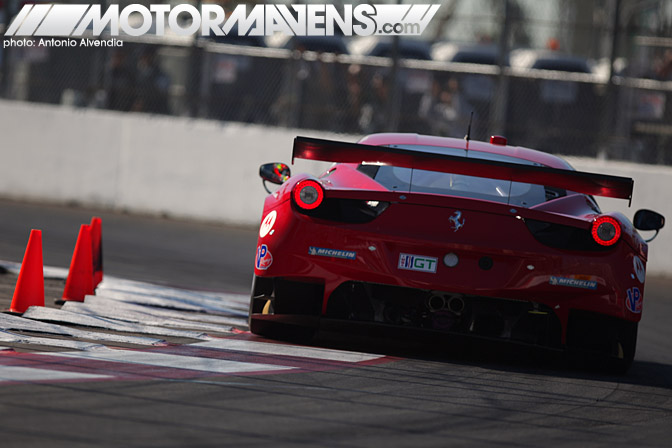 The two Ferrari 458 Italias competing this year are clad in more traditional colors than last years Tequila Patron Liveries. They look REAL good this way! This 458 is being campaigned by Risi Competizione, North America's leading Ferrari GT team, privately owned and managed by Giuseppe Risi. The Houston-based team has competed with the Ferrari 458 Italia GT in the GT class of both the ALMS and Grand-Am series.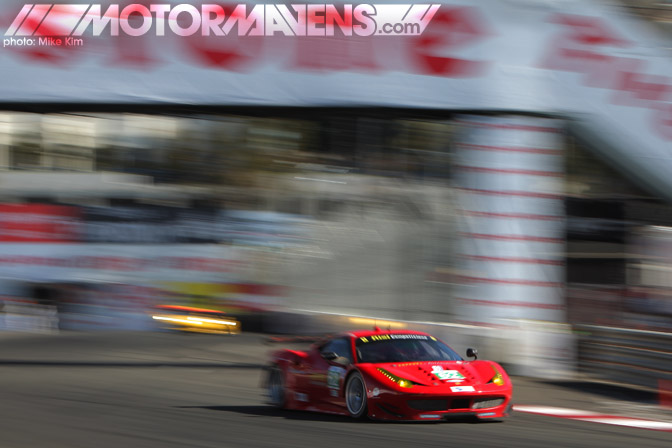 Here's a slow pan from Mike Kim, which helps to illustrate the speed of the 458 Italia as it rockets through Turns 9, 10, and 11. If only the photo could capture the SOUND!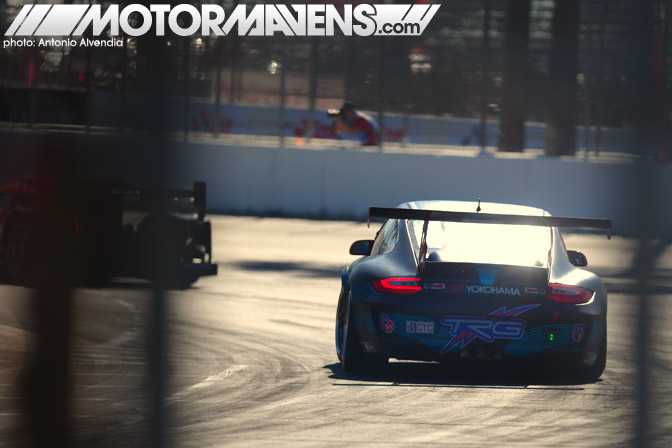 Through the break in the fences, I captured a rear shot of this TRG Porsche 911 heading into the sun. I'll have to check it out closer in the pits.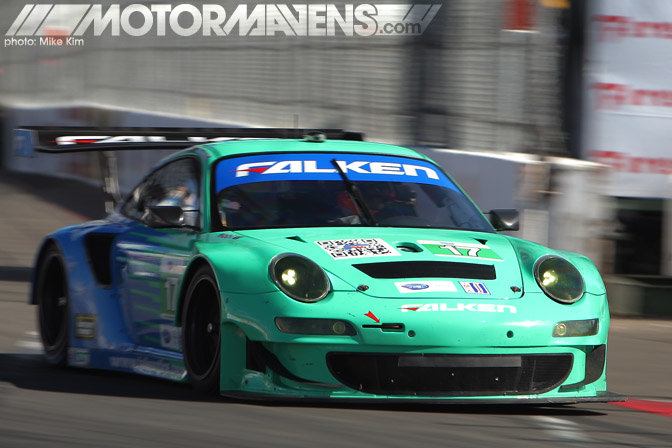 Everyone who follows Falken Tire on Facebook has seen this 911 GT3 RSR, which is being driven by Wolf Henzler and Bryan Sellers. This is probably one of the most publicized cars in the ALMS Series!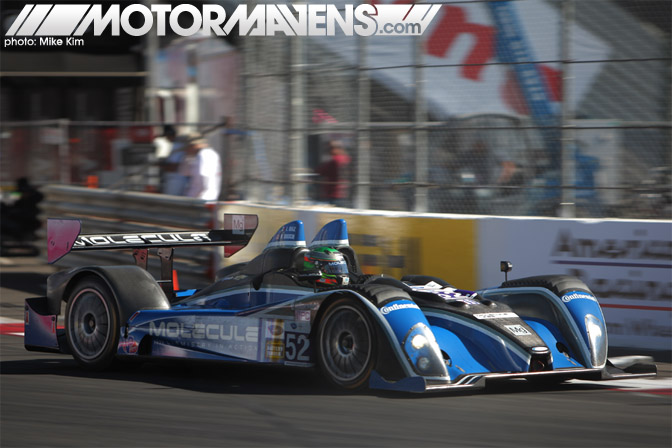 This #52 ORECA FLM09 prototype car driven by Luis Diaz posted a 1:34.763, the best lap of the session in the PC class!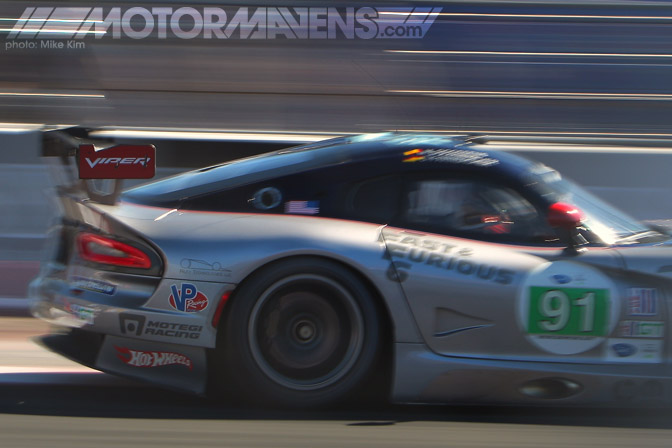 We'll end this installment of Long Beach ALMS coverage with a rear panning shot of this SRT Motorsports Viper GTS-R with a Fast & Furious 6 sticker on the door. Ironically enough, the car is being driven by a certain Dominic Toretto… oh wait, I mean Dominik Farnbacher… and Marc Goossens.
I guess we better get back to the track now… there are more cars for us to shoot!
:: Antonio Alvendia
PS: Just a tip: If you're going to attend the LBGP this year, eat before you get to the track. Mike and I just spent $36 for two turkey legs and 2 drinks, and it was HELLA not worth it.
911
,
Alex Job Racing
,
ALMS
,
American LeMans
,
Antonio Alvendia
,
Dominik Farnbacher
,
Dyson Racing
,
Fast & Furious 6
,
FLM09
,
Giuseppe Risi
,
homepage
,
Long Beach Grand Prix
,
Luis Diaz
,
Marc Goossens.
,
Mazda
,
Mazdaspeed
,
Mike Kim
,
ORECA
,
Porsche
,
Rex Torres
,
Risi Competizione
,
SRT Motorsports
,
Streets of Long Beach
,
Toyota Grand Prix of Long Beach
,
United SportsCar Racing Series
,
Weathertech
---