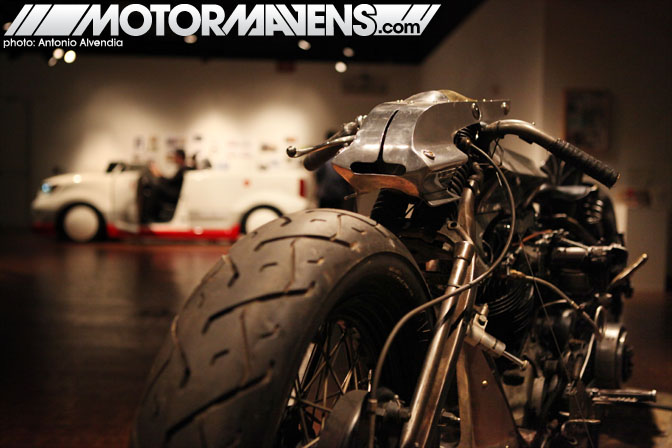 As part of its continuing "Salon Pop" series, Giant Robot and the Japanese American National Museum (JANM) in Little Tokyo (Downtown Los Angeles) unveiled the concept exhibition, Zen Garage, developed in collaboration between the JANM and Eric Nakamura, founder of Giant Robot. If you're unfamiliar with Giant Robot, let me give you a 10,000 ft level overview.
Giant Robot is a brand that started out as a magazine devoted to art and the cooler aspects of Asian-American pop culture. Even though I personally am not extremely well versed in the world of art, Giant Robot is an inspiration to me, because it started in 1994 without any kind of budget or corporate backing (much like the MotorMavens website). Since then, Giant Robot has grown as a brand and as a movement – Giant Robot Magazine can now be found in major bookstores; there are Giant Robot stores in San Francisco and Los Angeles; there's even a GR/Eats restaurant in West LA! I remain fascinated by homegrown brands that have blown up organically and become success stories, and this is why Giant Robot's involvement in Zen Garage was interesting to me.
On top of all that, I think it's pretty interesting for an exhibit like this to exist within the walls of the Japanese American National Museum. We're talking about an museum that isn't even purposefully focused on cars. The JANM focuses on the experience of Japanese people in America, from World War II internment camp relics to artwork by Mike Shinoda of rock band Linkin Park… they don't normally focus on cars or car culture, so having the JANM recognize these cars and motorcycles as art… is a pretty big deal in my opinion.
I was able to attend the exhibit's opening night, but due to heavy Los Angeles traffic, I only made it for the last thirty minutes of the show. Armed only with my camera and one lens, I quickly walked through the exhibit space and grabbed these photos in short order.
The industrial, barbaric looking motorcycle above is as much of an art sculpture as it is a motorcycle. It's called the Spike, and is the brainchild of motorcycle artist/fabricator Shinya Kimura. We'll talk more about Kimura and the Spike motorcycle later – stay tuned!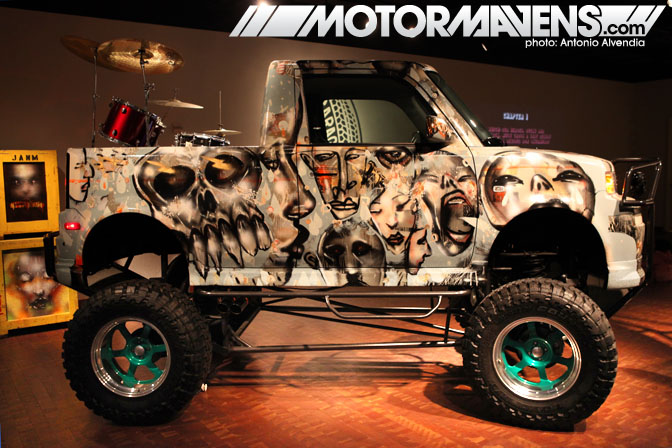 Apparently, this first generation Scion xB "monster truck" is not vinyl wrapped. I was surprised when I found this out! I thought the designs were just printed out on vinyl, but Eric Nakamura from Giant Robot told me that it was actually spray painted by hand… using spraycans! This xB was developed by the handiwork of David Choe, a pop culture artist that got his start with spraycans and graffiti.
The monster truck concept is really different, and I think the fabricators did an excellent job putting this Monster xB together. According to Eric, this original David Choe-painted monster xB is worth more than all of the other vehicles in the Zen Garage exhibit combined! When I asked why, he explained, "there are original smaller scale David Choe paintings that cost something like $200,000 now. Just imagine – he painted this entire xB, and this car is a lot bigger than those other paintings!"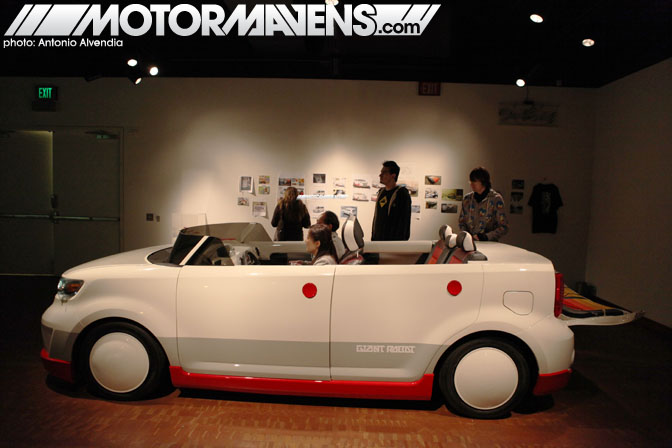 Speaking of Scion xBs, here's a photo of the second-generation Scion xB in the exhibit that was built as a collaboration between Eric Nakamura of Giant Robot and Len Higa of Oni Motorworks. Dubbed the Super Famicom Car, the entire project was built as an homage to retro videogames that Eric and Len enjoyed when they were kids.
See those red Nintendo-style buttons on the doors? Yup, that's how you open the doors – and the doors also make different video game sounds! Also notice the Mooneyes moon discs that have been either painted or powdercoated to match the rest of the car? The retro-videogame project theme was planned and executed perfectly!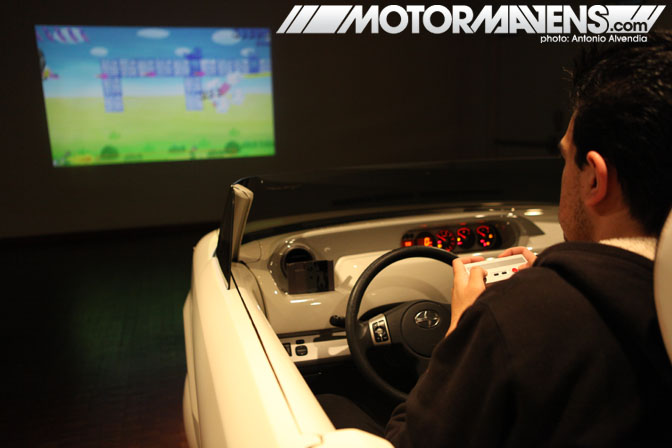 The car's interior featured video game controllers, which allowed passengers to play the custom coded video game projected on the wall – Return of the Quack.
While most people were enthralled by the video game, I couldn't help but notice the chop-top windshield, which was even curved! It looked incredibly cool. Asking Len about it, he explained that it was fabricated out of cast acrylic; he heated up with a silkscreen heater and then formed it by hand, with the help of friends Gary Castillo and Ben Schwartz. (Yes, we're talking about the same Ben Schwartz who was a professional Formula D driver just a few years ago.)
The Super Famicom Scion xB gives new meaning to the term projector beam headlights. Inside the OEM headlight location sits a video projector that shoots the image of the video game on the wall. Also notice the video game cartridge in the grill?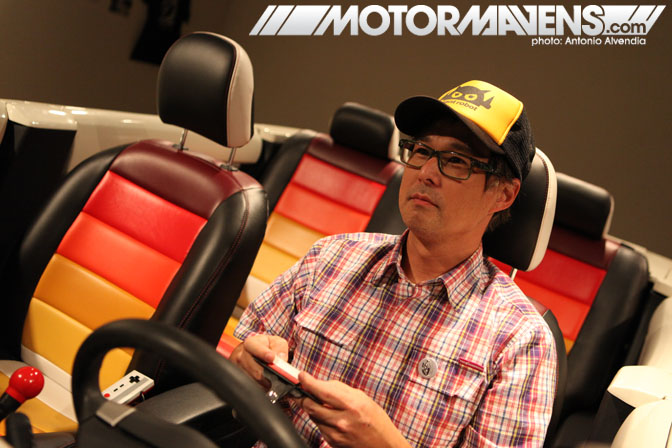 This is Giant Robot founder/publisher Eric Nakamura, taking a moment to play Return of the Quack.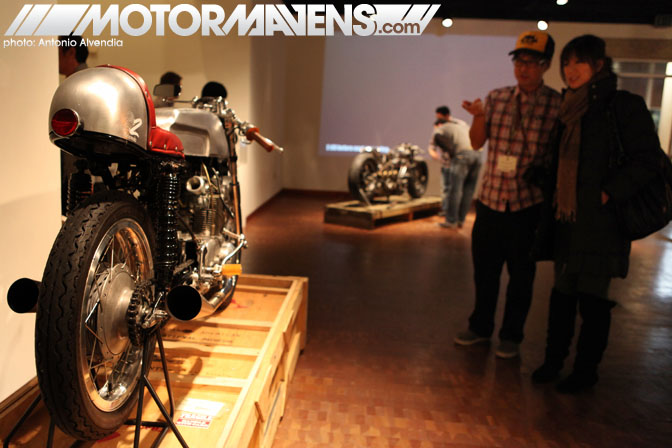 Since it was opening night after all, Eric also took the time to walk with individual friends, providing some insight to the different things on display at Zen Garage, like Len Higa's O2 Motorworks Honda CB77 cafe racer bike.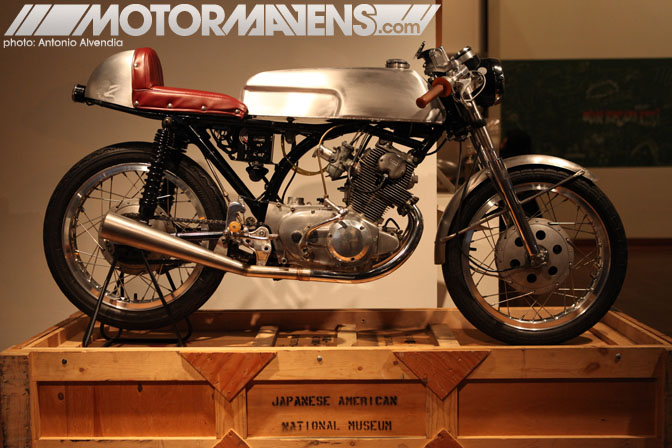 Here's the side view of Len's 1961 Honda CB77 "Superhawk," which is powered by a 305cc Honda engine with high performance cams installed. According to Len, he bought the bike sometime in 2007, and worked on it in his spare time. The bike wasn't in a finished state until 2009, although it constantly evolves.
In order to get it to the look it has now, he had to sandblast the frame, cut off a bunch of useless OEM tabs and weld in mounts for the seat and gas tank. Len says that he used .063 aluminum to make the gas tank and the seat from scratch, including the body-line bends on the tank! The fact that people can form super clean bends and curves into flat pieces of aluminum sheeting just baffles my mind. It looks so cool, it really makes me want to learn how to weld! Len explained that he built the rounded aluminum tail section as well, and had the upholstery on the seat custom stitched up to match.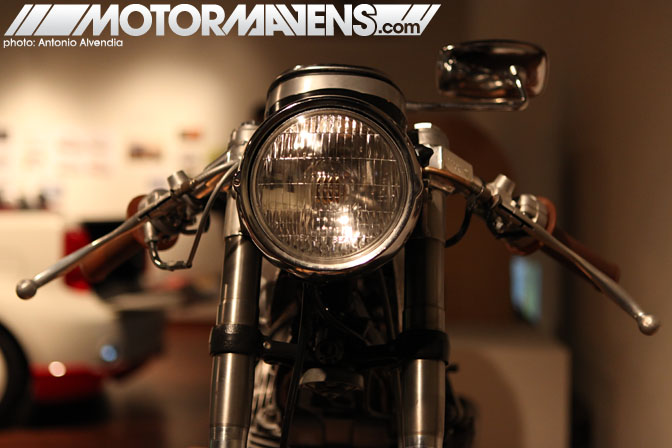 To clean up the look of the bike, Len installed vintage Magura clip-on handlebars, which attach to the front forks. Most people probably wouldn't be able to tell, but the front headlight is actually smaller than the OEM 6.5″ light because Len wanted the bike to look lighter and more streamlined. Len sourced a 5.25″ headlamp from another Honda bike at a salvage yard, and custom formed the headlight brackets out of aluminum.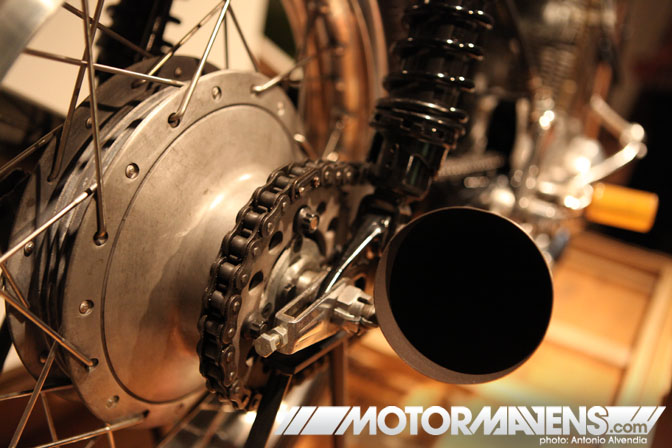 What we're looking at here is the OEM drum brake hub, attached to Akront shouldered rims, laced with stainless steel spokes. I just love the vintage mechanical look of the entire bike.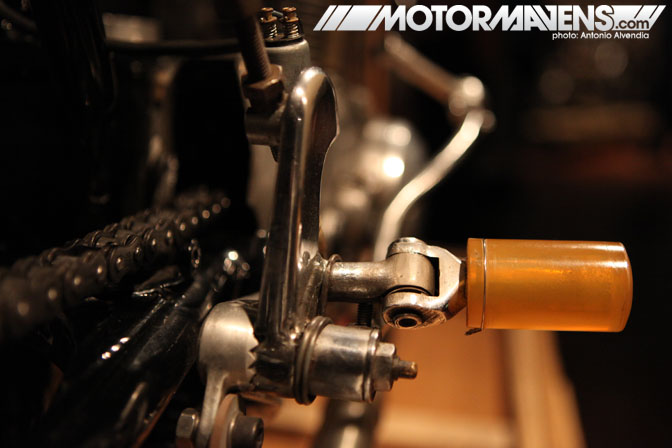 This photo shows the riding peg cover, which was fabricated out of cast urethane, instead of the normal black rubber piece that covers the metal peg.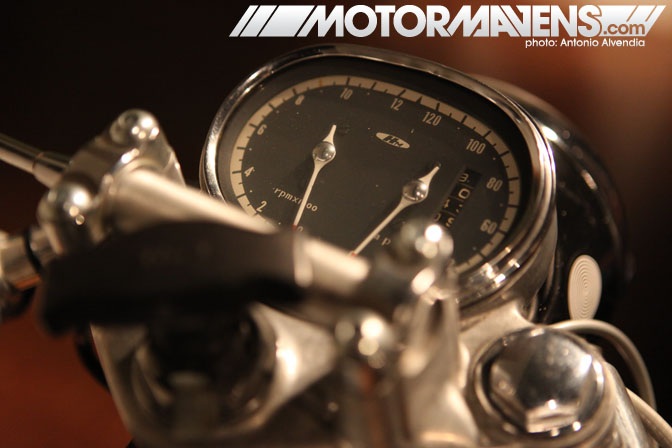 Now THIS is a trip. This is the OEM Honda gauge cluster, which features a tachometer and a speedometer in the same unit. However, this particular tach/speedo combo is different than most of the ones we see –  the tach runs clockwise like normal, but check out the speedo! The speedometer runs counterclockwise as part of the same gauge! Pretty crazy!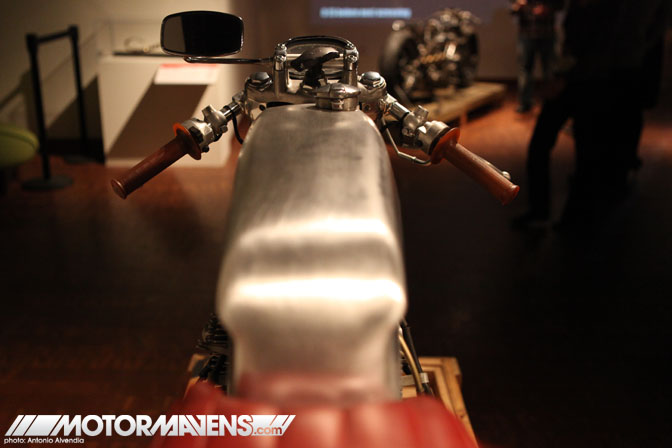 Here's a rear view of the custom made gas tank, showing the curvature of the metal. Also notice the vintage British gas cap on the tank, which dresses up the formed aluminum tank. The downward slanted handlebars have NOS (new old stock) Magura grips, which is period correct from the 1970s.
The rear view mirror was found at a salvage yard; it had to be cut, bent, and rethreaded so that it would thread right into the round aluminum bar stock, and could be clamped onto the existing handlebar location.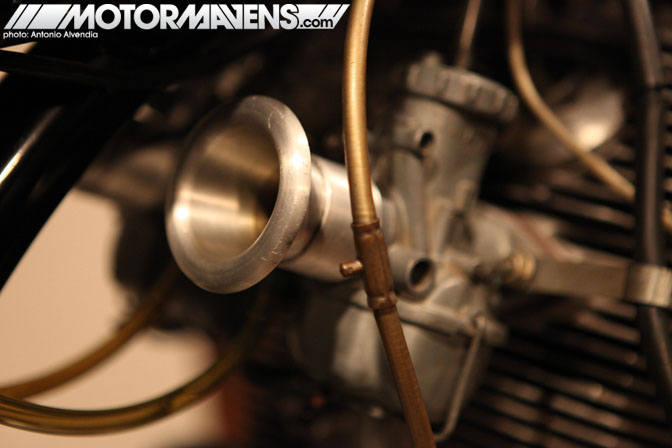 The engine has dual 27mm Keihin carburetors, which have round slides that open when throttle is applied (instead of normal throttle flaps). Slide carbs are typically more responsive the traditional "flap" carbs. In fact, Keihin FCR slide carbs are very popular for usage on naturally aspirated engines such as Toyota 4AGs and Honda B16s.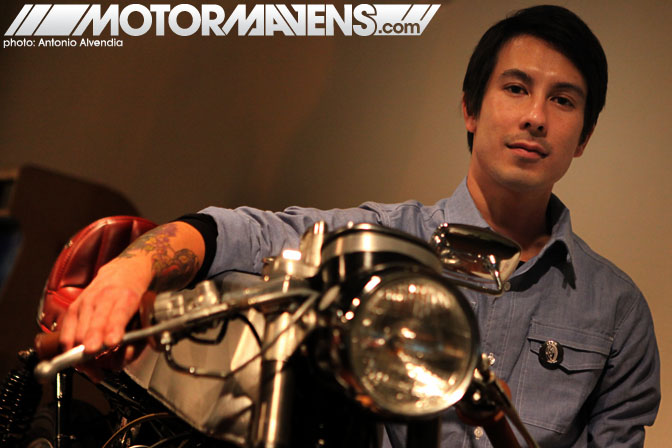 This is the fabricator that's responsible for building the 1961 CB77 Superhawk, and owner of Oni Motorworks – Len Higa. Prior to building motorcycles, Len amassed experience working on concept cars, learning from the older Italian and Argentinian metal craftsmen and fabricators on his team. Even before that, he worked at Apex'i USA as part of the team that worked on the Apex'i D1 Grand Prix competition FD3S Mazda Rx7 driven by Yoichi Imamura and the Apex'i drag Civic.
While the Zen Garage exhibit opened on December 30th, it runs until February 13th 2011. If you live in Southern California, I highly encourage you to get over to Little Tokyo before Valentine's Day to check out Zen Garage at the Japanese American National Museum! While you're there, stop in at Bowls LA and get some ramen at Daikokuya or Orochon! You'll be glad you did.
:: Antonio Alvendia
Zen Garage at the Japanese American National Museum
Giant Robot
O2 Motorworks
---