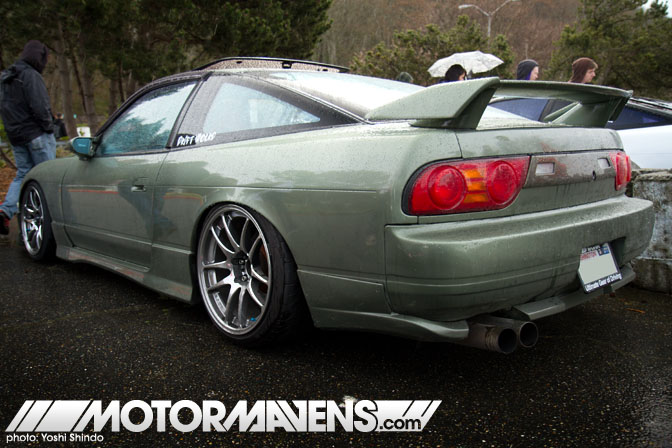 It's hit or miss, in Seattle, in the early Spring. Some days the sun is out and shining – some days, something resembling a monsoon could turn the parking lots into lakes. Even though it's only warmed up to nearly 55 degrees outside, Seattle-ites treat it like mid-Summer. That's what we are accustomed to here in the Northwest. Still, every year, toward the end of March, rain or shine, the Northwest Nissans' Golden Gardens Meet is always a huge success.
This year, unfortunately, it was a bit wet with the sun only barely shining though the thin veil of overcast clouds later in the day. Weather aside, this year was just as packed as previous years with three main lots filling up. The parking overflowed along the street for at least a half mile. I could tell it was going to be a meet well worth checking out!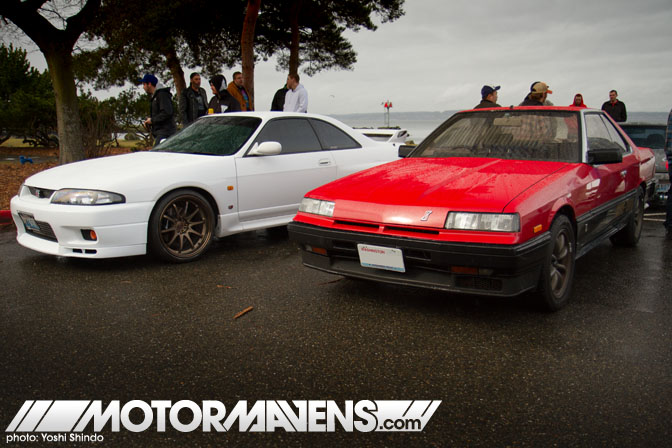 These two beauties above were my favorite cars at the whole meet – and I'm not saying that just because they are Nissan Skylines. These are just pristine examples of what Skylines are all about. The white Skyline R33 is a GTR that is putting down almost 800hp to the wheels! The red and black Skyline is a DR30 RS. It's said that there are only about ten of these in the US, so I'd say that makes this particular Skyline quite rare. This color combo only comes in the RS model which is powered by the FJ20ET which, when stock, is not intercooled and makes around 205HP.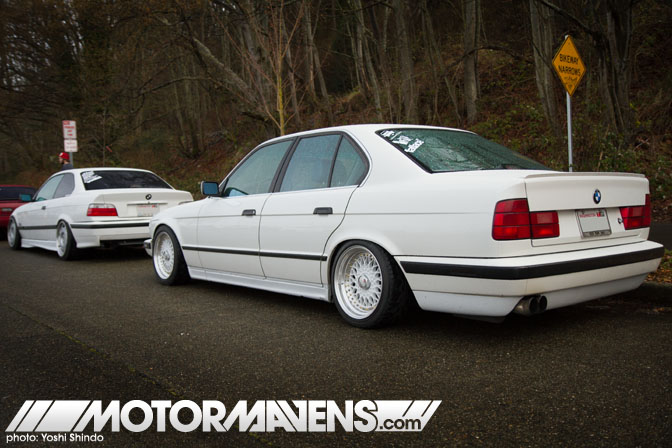 Golden Gardens is a well-known local hangout and public park in this area. It sits along the Puget Sound next to Shilshole Bay and is one of the few public beaches in the area that actually has sand. Most of the waterfront around Washington is composed almost entirely of sticks and stones so, even without a meet scheduled, you can imagine that this particular beach is amazingly busy on nice (and not so nice) days.
When a meet is planned here, with a following as big as Nissan has, you know that other makes will come out to enjoy the import vibe as well. All are welcome, of course, just so long as the general rules of the meet and common courtesy are followed. Maybe it's odd to say but, at this Nissan-hosted event, there are lots of non-Nissans rolling around.
Yoshi Shindo and I went on a trek during the day, walking through the multiple parking lots – even strolling down the road to see the extra cars that couldn't find spots in the main lot. During our leisurely stroll, these two beauties stuck out like sore thumbs – but that's not a bad thing. In the line of multicolored Nissans and other randoms, these two white beacons of light caught our eyes immediately . Ricky Snyder's low BMW 3-series E36 is in front, sitting on some saw blades, and the not-to-be out-done BMW 5-series E34, owned by Kent Chan, is sitting quite nicely as well. Definitely, two of my favorite non-Nissan cars at the meet.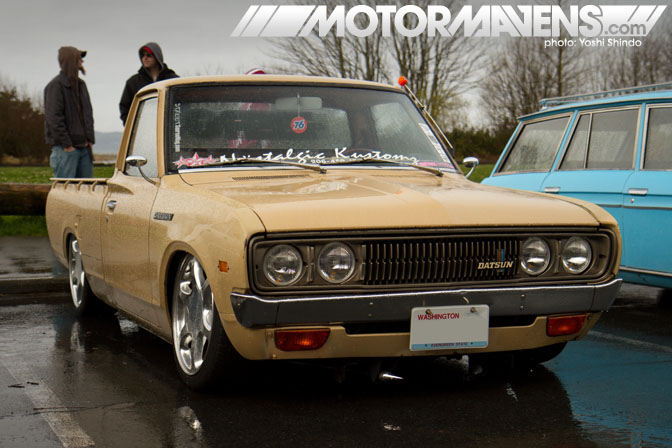 You can't have a Nissan meet without Datsuns – you just can't. And why would you want to, with so many memorable cars that Datsun made as a precursor to adopting the Nissan marque! There were lots of Datsun 510s of course, as well as Z cars, and few Datsun 620 pickups. I will always love Datsun 620 (Bullet-side) pickup trucks – since my parents had a couple when I was growing up. This particular one was very straight and it looked like it might be original as well. It's not very often that you see a clean 620 that hasn't been restored. Very nice indeed!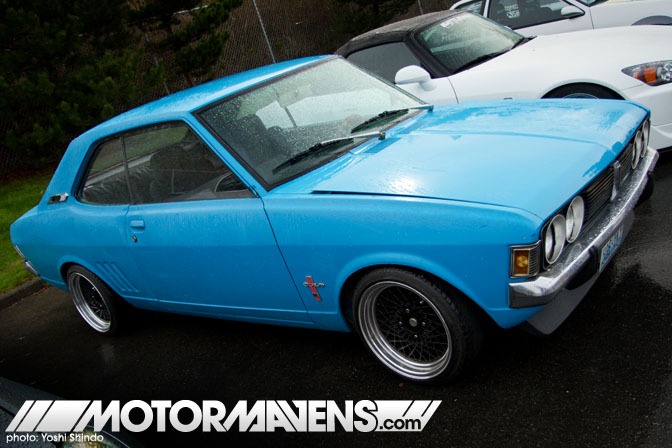 Here is something you don't see everyday. It's a first gen Mitsubishi Galant, otherwise known as a Dodge Colt. At first glance, I almost mistook it for an early 70s Corolla. I'll admit, I'm not a huge "old school" buff, so you'll have to excuse me if that's what I thought when I was walking by. It was an honest mistake. Good thing I took a closer look, because I love the lines of this car along with the mesh wheels that fill the arches with ease.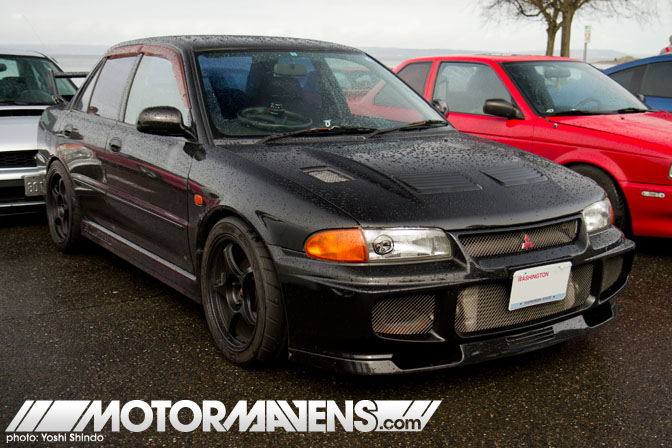 This jewel is Formula D driver Nikolay Konstantinov's daily driver. It's a Mitsubishi Lancer Evo 3. I cannot get over how aggressive this little firecracker looks – from the huge front bumper to the intimidating rear wing. Nikolay "rallies" his way to work (and everywhere else) each day; turning heads in this little right-hand drive, grip monster.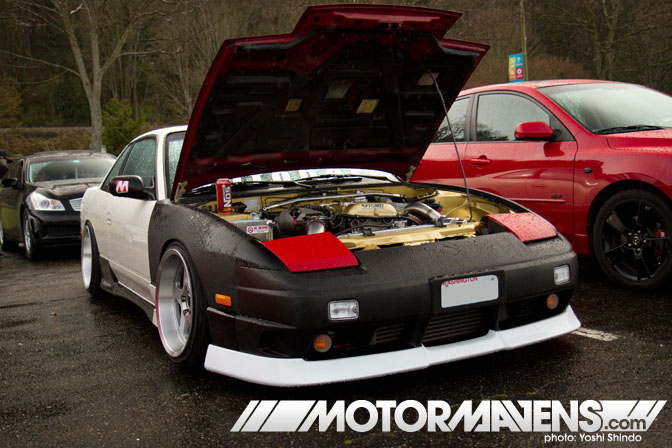 Oh my! This harlequin Nissan 240SX Coupe is the brain-child of Siam Chautavipat. He just got it running the day before the meet with the help of Garage Autohero. His car is sporting the Kouki 180SX Type-X body kit that is normally seen on the hatchbacks. We'll see if his car pulls it off after it gets painted but, as of right now, it's looking pretty promising. His SR is no slouch either. Don't be fazed by the gold engine bay – this SR20DET pumps out a little over 400HP; not bad for a street 240.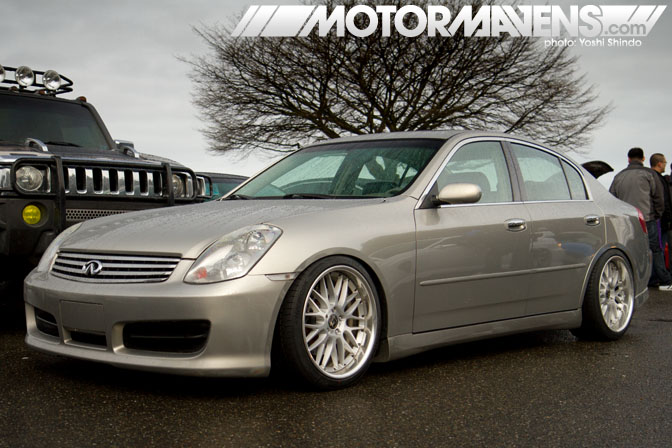 It's usually hard to get full shots of a car during a busy meet. There are usually tons of people walking around, ruining shots or wandering by. It has to be tough for some photographers but, luckily, the MotorMavens Crew runs strong. If needed, we will run crowd control and ask people to halt or wait a sec while Yoshi takes his pictures.
This particular photo was hard to get since Ernie Ventenilla parked his Infiniti G35x pretty much in the center of the lot where most of the traffic was concentrated. As we were attempting to clear the area, we were met with a little hostility – but it's all for the art! This happens more than you might imagine.
This particular time, as I was trying to clear the area for the picture, a young man looked at me incredulously as if he was asking why was I trying to get a picture of Ernie's car when a myriad of other randomly slammed imports were driving through the lot. I guess he was more interested in some of the more gaudy bling driving by. Maybe it's not for some, but I enjoy the classic and simple styling of a luxury car. This G35x actually has one-off prototype coilovers, so it's not very common to see one of these lowered with wheels that are flush. Nice job Ernie!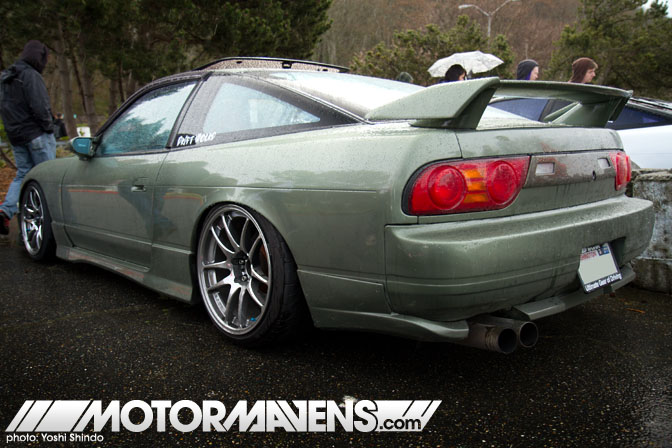 I mentioned above that the 180SX Type-X aero is not usually seen on a coupe but here is where it belongs. This is Levon Bagdasaryan's beautiful 180SX replica; it's always a crowd favorite. Many pictures were taken throughout the day of his low slung drifter.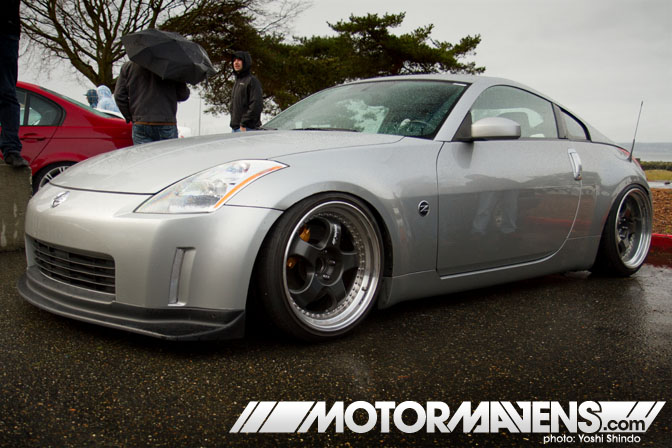 Zach Dunn's Nissan 350Z may look like a nice clean example of a stock car on some rad wheels but it's a beast of a machine. Sporting the Greddy twin turbo kit, along with modifications from the pistons to the valves, this rocket puts down 550HP! Nasty on the street, that's for sure. Although I like the car as it is now, Zach is looking to put on a bit more flare with a Vertex lip kit. Cant wait to see it!
Walking down the back lot, Yoshi and I were scoping out cool cars to snap and, about halfway down the parking lot, we saw this blue shark with shiny wheels poking out of a stall. This Nissan 240SX Zenki S14 is owned by Matt Watson and sits on polished Weds Kranze Cerberus wheels. It's cars like Matt's that remind me that you don't need a crazy body kit to stand out or look cool – he's doing it all with a touch of class.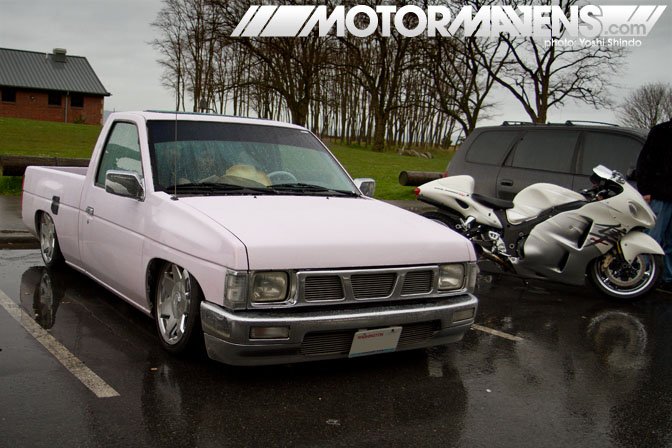 Gettin' low in the lot was this Nissan Hardbody, owned by Jaisy Khammungkhune – riding on Cadillac rims. There were a few Nissan trucks there, some super slammed on bags, but this lavender one really caught our attention as we passed. I have never personally owned a truck but I think it would be a sweet project to get into.
There weren't very many AE86's in attendance – but, of course, why would there be at a Nissan meet? However, I'm glad Vance Sakado showed up in his Kouki AE86 with his signature hood and flared arches. It's not all show either; hiding under the hood is a 4ag with ITBs (individual throttle bodies). I love the sound of ITBs on a Corolla; it's actually louder than the exhaust most of the time!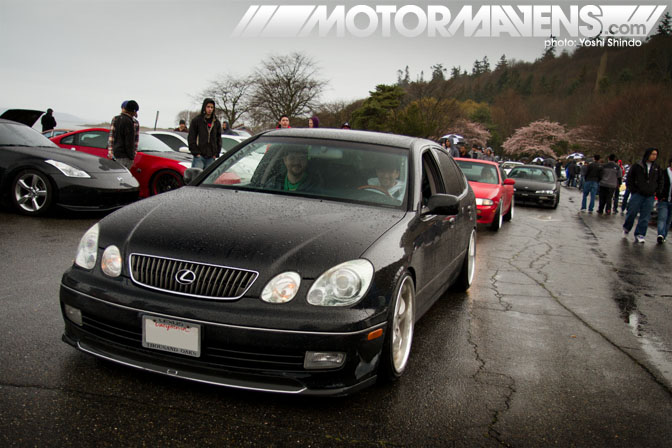 Can you believe this Lexus GS300 came all the way from California to come to the Golden Gardens Meet?! Yeah, neither do I. Evan Schoups is a recent transplant to Washington from California and he brought with him his GS300 – flush with 19 inch AME Shallen CXs. This daily driven VIP car is always low with JIC coilovers – no bags here!
Once again, the Golden Gardens Meet satisfied the masses and pushed those with nearly completed projects to rush them to completion in order to attend. Maybe next year the weather will be nicer but it doesn't really matter – we all love cars and camaraderie enough to brave the weather. If you are ever in the area, near the end of march, make it a point to come!
For the Children
::Lucas Perez
Photos by:
Yoshi Shindo
180SX
,
240SX
,
AE86
,
AME Shallen CX
,
BMW
,
bulletside
,
Cadillac
,
Datsun
,
Datsun 510
,
Datsun 620
,
Dodge Colt
,
E34
,
E36
,
ernie ventillia
,
Evan Schoups
,
Garage Autohero
,
Golden Gardens Meet
,
GReddy
,
GTR
,
homepage
,
Infiniti G35x
,
infinity g35x
,
Jaisy Khammungkhune
,
JIC
,
Kent Chan
,
Kouki 180SX
,
levon bagdasaryan
,
lexus gs300
,
Lucas
,
matt watson
,
Mitsubishi Galant
,
Mitsubishi Lancer EVO 3
,
nikola
,
Nissan
,
Nissan 240SX
,
Nissan hardbody
,
Northwest Nissans
,
Onevia
,
r33 gtr
,
Ricky Snyder
,
S14
,
Seattle
,
siam chautavipat
,
Skyline
,
SR20DET
,
Toyota
,
travis cuykendall
,
Vance Sakado
,
Vertex
,
VIP
,
Weds Kranze
,
Yoshi Shindo
,
Zach Dunn
,
Zenki S14
---