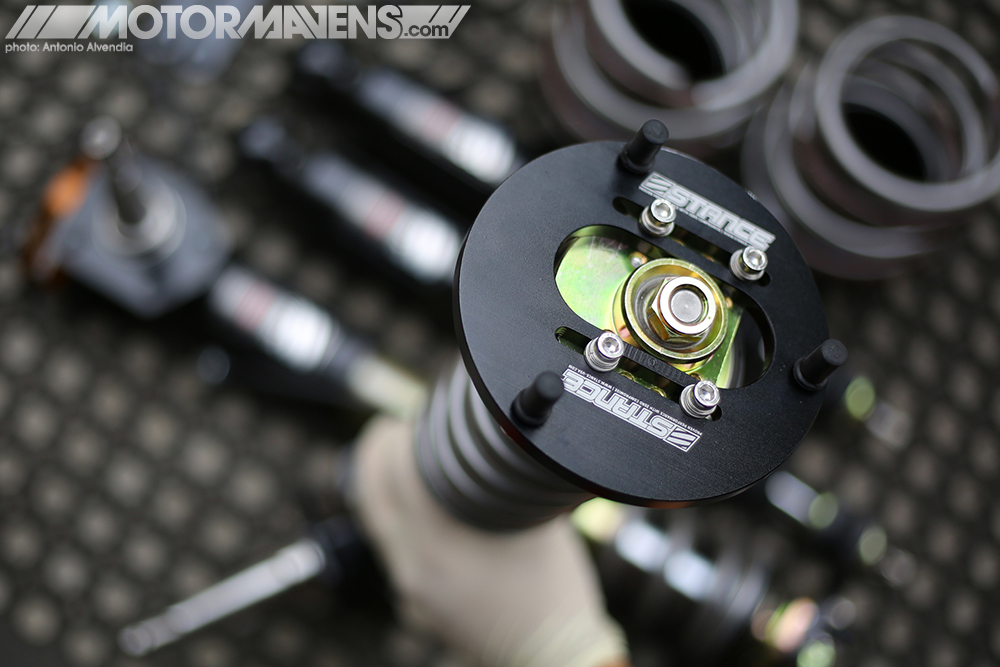 I've tried tons of different suspension setups on my AE86s over the years, and I've come to realize something… I love inverted monotube coilovers.
The Super Sport is Stance Suspension's flagship line of coilovers. Oversize diameter inverted monotube shocks allow large pistons for ultimate performance and response. 15-way adjustable damping allows the driver to tune the shocks for any conditions and handling characteristics. With huge range of adjustment that can be felt and seen, it offers serious performance for all levels of drivers. Super Sport coilovers are built with highest quality materials and tolerances to ensure durability and performance.
A few months back when I started collecting parts for my new Project AE86, I began shopping for coilovers for the car. I am extremely picky about brands and build quality, especially when it comes to suspension! Obviously, I want my AE86 to sit low, but I also need it to handle well.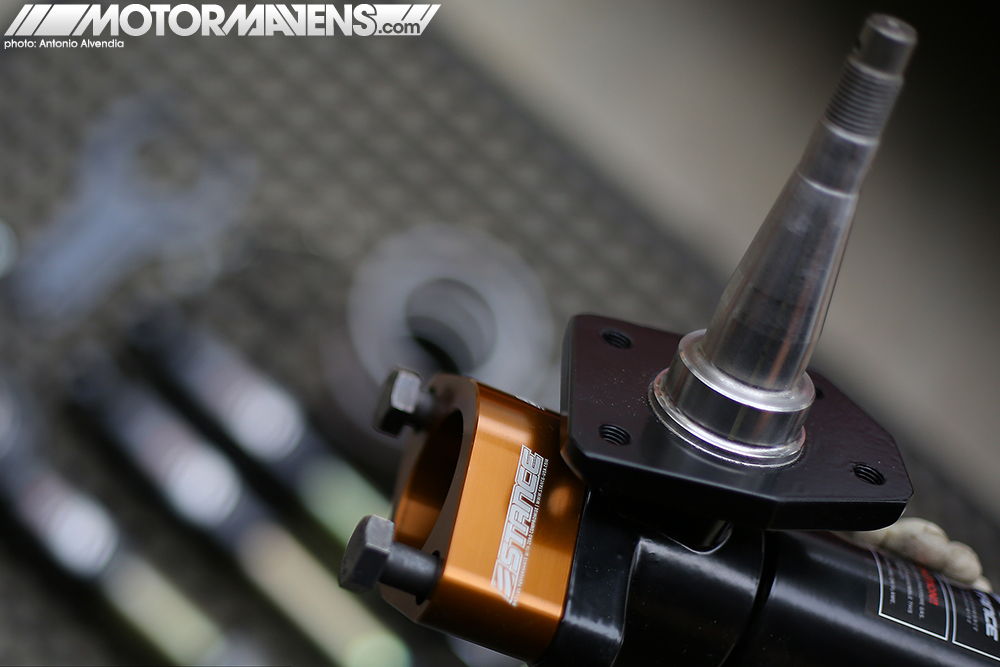 I decided on a set of Stance Super Sport coilovers because they come with spindles for the AE86 and use an inverted mono-tube strut, which is double the width of normal coil-over strut shafts (45mm versus typical 20mm).
Features:
15-Way Damping Adjustable
Adjustable Camber Uppermount
Pillowball Uppermount
Cold Wound Linear Spring
Inverted Monotube Shocks
Dustboot
Aluminum Collars & Upper Mounts
Height Adjustable Lower Bracket
Spring Rates:
8k/6k
I currently have a set of inverted mono-tube coil-overs in my zenki (1985 AE86) and a set of normal coil-overs in my kouki (1986 AE86), and the difference in driving feel is huge. I'm no professional driver, but I have been driving AE86s since the late 1990s, so I'm pretty in tune with my cars. I might not be a Formula D pro, but even I can tell the difference when I'm driving the cars on the street. I even let my friend Robby from RSPEC Auto test drive both cars, and he agreed – the zenki (with inverted monotube coilovers) handled way better than the kouki did with its normal coilover setup. Inverted mono-tube dampers for the win.
These coil-overs also include roll center adjusters for restoring the lower control arms' factory geometry. A pair of these alone usually cost about $120 when you buy them from an aftermarket suspension company, but they come included in the Stance coil-over kit for the AE86. I dig it.
Another thing worth mentioning – these coilovers also come with a collar that holds your brake line. This is pretty cool in my opinion, because many of the other suspension setups I've used over the years do not include such an item. Instead, you just had to ziptie the brake line to the coilover strut, which looks kind of ghetto in the grand scheme of things, but I suppose those types of things are just commonplace fixes for AE86 owners. Good looking out to Stance USA for being thoughtful enough to include something as simple (yet cool) as this brake line bracket!
It's no secret – I'm definitely a fan of these coils! Next thing I'll want to do is upgrade to the Swift Spring option for these coilovers. The factory Stance springs are just fine I suppose, but I hear nothing but good things about Swift. I'll have to try them out!
:: Antonio Alvendia
Instagram: @antoniosureshot
www.antoniosureshot.com
MORE AE86 content on MOTORMAVENS
Stance SuperSport Coilovers on Stance USA Official Website
---