We're long, long overdue for posting this photo (and a lot more) from this year's Japanese Classic Car Association New Year's Meeting in Tokyo. We received this photo from an Australian-on-holiday named Ian Hancock, who is a die hard fan of Japanese nostalgic cars, and the owner of a Datsun Sunny himself.
I know that Skylines, Bluebirds, and Sunnies like this one were prime racetrack adversaries for the TE27 (and KE20) Toyota Corollas that I love so much, so the Toyota Motorsports fan in me should force me to boo a car like this, but I just can't. How could you NOT like this car? I think it looks incredibly awesome – from the works overfenders to the fender mounted aero mirrors, the simple, boxy front chin spoiler, the FRP headlight covers (With vents! Cool!), and the vintage racing livery, which I absolutely LOVE! Why can't people learn to make their race cars as cool looking as this one? I just don't get it! Oh, and let's not forget the wheels… oh hell no, we can't miss out on the wheels!
A closer look and a skilled eye will tell you that these wheels look like Campagnolos, but they're not Italian. (more…)
---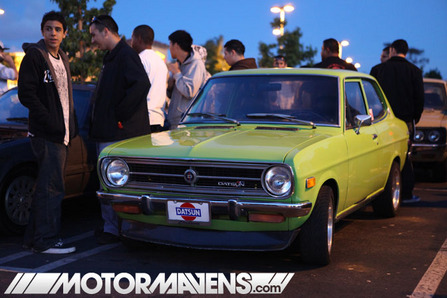 There's a popular SoCal meeting place that attracts all sorts of car nuts at the Torrance In & Out Burger on Crenshaw just north of the PCH. The parking lot is big enough to hold several little meets and everything from classic V-Dubs to American muscle shows up. Recently some members of Ratsun.net and Japanese Nostalgic Car forums have put the call out to old school Japanese cars to meet here on the first Friday of every month, and owners turned out en masse. This sublime Datsun 1200 is just one example of the kind of cars that rolled up.
Read more...
---