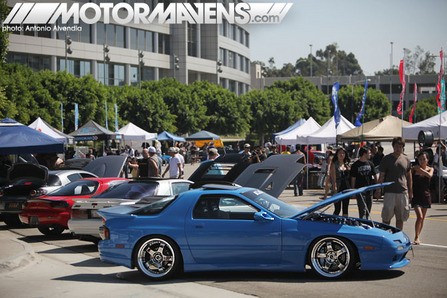 This past Saturday at Mazda Headquarters in Irvine CA, rotary engined fans from all over the nation gathered at the annual Sevenstock Rotary Festival. I saw cars with license plates from a variety of different states there; it was cool to see how hardcore and dedicated many of these rotary owners were! I used to own a white FC3S RX7 (NA) for a little while before I bought my first AE86, and I loved it. I can definitely see where these rotary guys get their enthusiasm from.
In fact, one of the dedicated RX7 owners in attendance was our own
Calvin Wan
, who flew down to LA with his wife just for one day because they scored some super cheap plane tickets to Orange County for only $29 on Southwest! After picking them up at the airport, we went to eat dim sum at Capital Seafood in Irvine before heading to the show. I suppose the entire day had a "rotary theme" because Calvin noticed that even the plates that our dim sum was served in were round and triangular in shape, just like the rotor inside a 13B. Crazy.
Read more...
---