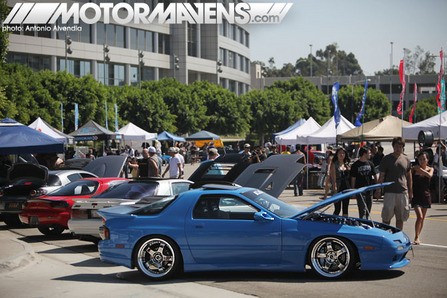 This past Saturday at Mazda Headquarters in Irvine CA, rotary engined fans from all over the nation gathered at the annual Sevenstock Rotary Festival. I saw cars with license plates from a variety of different states there; it was cool to see how hardcore and dedicated many of these rotary owners were! I used to own a white FC3S RX7 (NA) for a little while before I bought my first AE86, and I loved it. I can definitely see where these rotary guys get their enthusiasm from.
In fact, one of the dedicated RX7 owners in attendance was our own Calvin Wan, who flew down to LA with his wife just for one day because they scored some super cheap plane tickets to Orange County for only $29 on Southwest! After picking them up at the airport, we went to eat dim sum at Capital Seafood in Irvine before heading to the show. I suppose the entire day had a "rotary theme" because Calvin noticed that even the plates that our dim sum was served in were round and triangular in shape, just like the rotor inside a 13B. Crazy.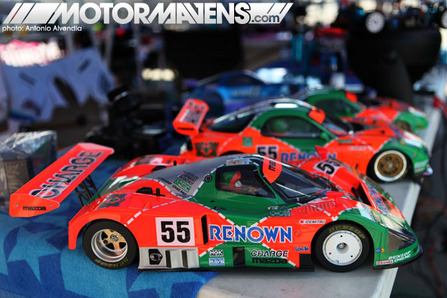 Once we got to the show, the very first things that caught my eye in the parking lot were these Renown Mazda liveried RC cars, which looked awesome. I don't really mess with RC cars much, but I think these ones look pretty damn cool. I love that livery! I wish more people would go to the trouble of making cool liveries for the professional race cars they build, instead of just sticking a bunch of BS stickers on.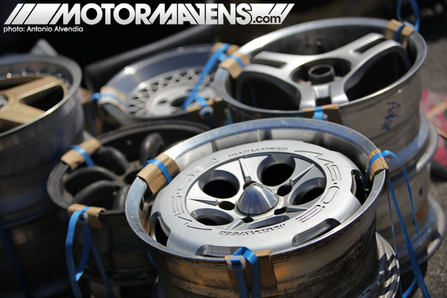 Perhaps the next thing that caught my eye was the fact that some of the vendors were selling used wheels, like these super cool and rare Mazdaspeed MS02 wheels right here. I absolutely LOVE these wheels. I'm not sure if they were ever available in a good size and offset, but I just think the faces look sooooo cool.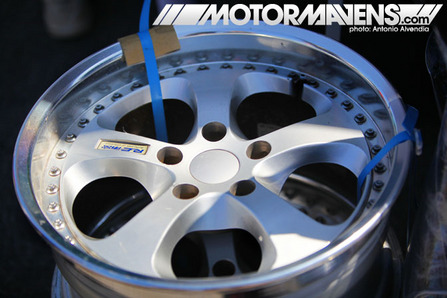 Some other cool wheels for the rotary car collector – RE Amemiya wheels. I remember seeing these wheels on the RE Super G FD3S RX7 back in the 1990s. Man, I've loved FDs for a long, long time. The body styling of the FD3S is just so gorgeous.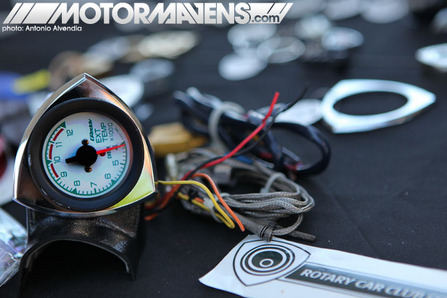 These rotary shaped bezels for your gauge pods may or may not be your style, but I bet you these would sell like crazy in Puerto Rico! You gotta give it up for these rotary heads… they make rotary shaped everything!
I'm surprised they didn't have rotary shaped brownies and cookies on sale at the show, or lemonade with rotary shaped ice cubes. Now I bet someone will make rotary ice cube trays based off my idea, and make a million dollars, and not even give me a buck. I see how it is.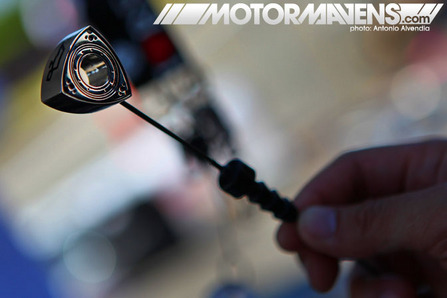 How about a rotary shaped engine oil dipstick? See? Told you they make rotary shaped everything. Man, this makes me think that we Toyota owners need to try harder. How about making die cast 4AG engines at the end of a dipstick for AE86 and MR2 owners? (On second hand, it will never work because most 86 owners are such lowballers nowadays. Oh well.)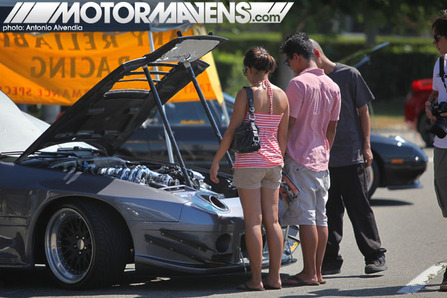 There were tons of crazily built up RX7s in attendance of course, which meant that there were a lot of scenes like this going on at the event – people standing in front of engine bays, just staring. I wonder if that couple standing in front of the RX7s planned to have perfectly matching outfits, or if that was just a kewinkydink.
Sneaking up behind them and walking into the frame, ruining the shot is our good buddy Peter Tarach, the new Editor in Chief of Modified Magazine. For more photos from the show, make sure to look for their event coverage at the bookstore in a couple months.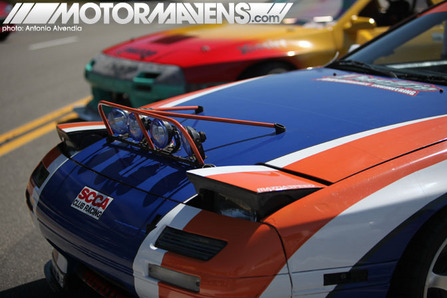 The customized rally light bars on this Denver Broncos hued FC3S looked pretty interesting. It would be awesome to see an FC with lights blazing jumping through the forest or something! Hell yeah. This isn't a rally car though – the owners of the FC (sorry guys, I didn't get business cards from you, so I don't remember your names) told me they run this car at Buttonwillow and Big Willow frequently.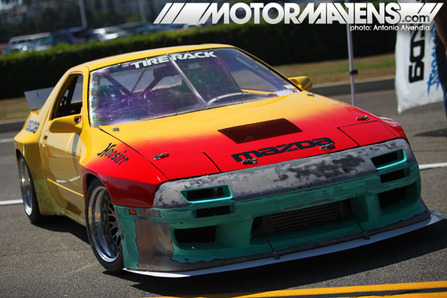 No, this isn't a Garage Boso car, although you might think it would be because of the paint scheme. This widebody FC3S looks like it can probably kill people at the track. I'd love to see it in action.
It would be pretty crazy if they put a big black vinyl marijuana leaf on the hood, or maybe a vinyl print of Bob Marley's face on the hood. Or the Lion of Judah. Jah! Rastafari! This FC looks like it could take out any bloodclot that gets in its way.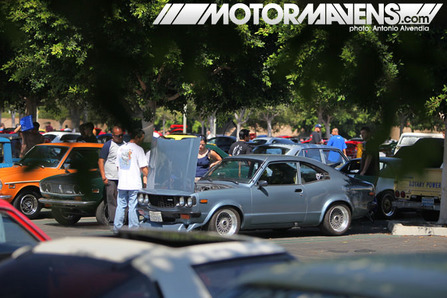 There were seriously a LOT of rotaries in attendance at the show. Too many to shoot photos of them all! I tended to like the old school section the most, although I didn't think there were that many old school cars in attendance, compared to what will probably show up at JCCS next weekend.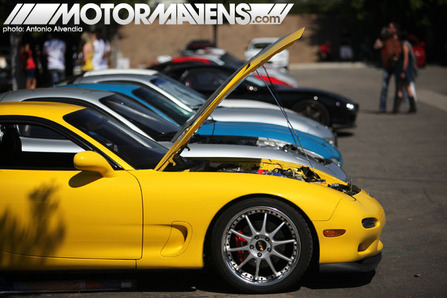 There were a bunch of FD3S RX7s there too! There were way too many to look at, so I basically just walked around and shot pics of whatever cars caught my eye… and if you know me at all, you'll know that the cars that catch MY eye are always the ones with awesome wheels and stance.
This yellow FC looked really clean, and it was sitting on these Blitz Technospeed Z1 wheels, which I haven't seen used on a car in YEARS. Maybe the owner is going for the late 1990s period-correct look on his car? If so, that's cool, cause these wheels were certainly popular back then.
If I owned a yellow FD though, I'd definitely want to rock some super wide white TE37s. Or white Regamaster Evos. Something cool and white; I love white wheels on yellow cars. No question.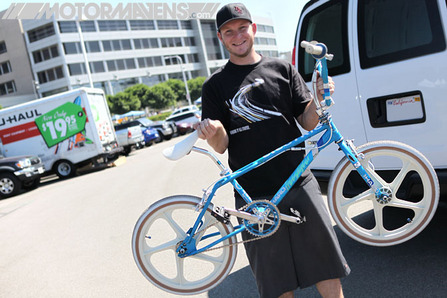 While walking through the parking lot, Calvin and Lea and I ran into our friend Justin Pawlak. He and the Bergenholtz Bros brought their Mazda RX8 R3 Formula D competition car out to Sevenstock for everyone to see up close.
I've already seen their 20B turbo RX8 though, so I was more curious about JTP's new (old) BMX bike. Calvin saw the big H on the front of the bike, and asked "What's that, a Huffy?" and Justin got all pissed and defensive, responding with a "Hell no! It's a Haro something something! This bike is worth like $1500!" hahahahaha I dunno if Calvin was serious or just clowning with Justin, but it's basically like going up to Taka Aono and pointing at his RS Watanabe Type R wheels and saying "hey, I like your Konig Rewinds." LOLLLLLLLLLLL
I thought it was funny, so I made Justin hold his bike up and show it off. JTP and the Bergenholtz bros are all about BMX bikes nowadays. And some guy that chills with the Gardella Racing crew can get ridiculous air with his BMX bike; I saw him doing it at Formula D Long Beach and Atlanta. So sick. I was actually pretty damn amazed at how much air that guy could get with his bike, and he wasn't even using a ramp or anything. Just jumping hurdles and trash cans, like he was in a Mario Brothers game.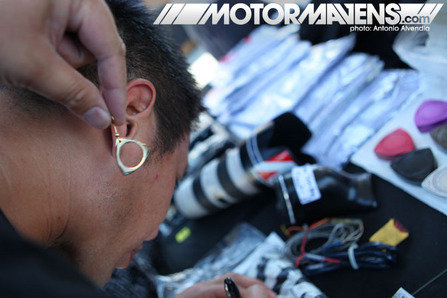 Speaking of Calvin, when we were at one of the vendor tables, Calvin was writing down someone's contact info, and I noticed that the vendor was even selling rotary earrings. I bet all the Puerto Rican honeys at the Pan Am Nationals in the east coast would be buying these with no doubt!
But while Calvin wasn't looking, I thought I'd hold a pair up to his ears and put the picture on the internet.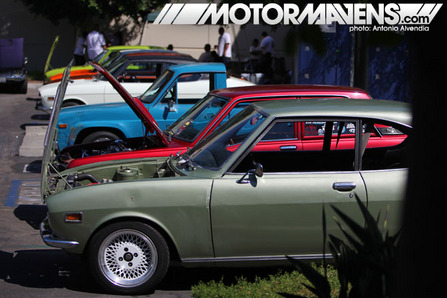 Lurking amongst the trees at Sevenstock, I spotted this really cool green color on an RX2. I like it – it's kind of olive greenish, but metallic, which I thought was pretty cool. And it's sitting on Enkei 92 wheels, which we used to see at yards all the time in the 1990s, but now they're actually becoming a pretty sought after wheel. I've heard of Honda guys selling Enkei 92 wheels for over $1000, which is probably way more expensive than the selling price when they were brand new!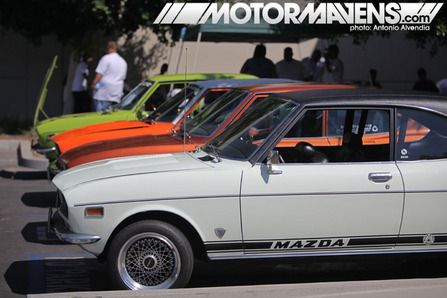 I loved this row of super clean RX2s, especially the ones with the old school Mazda stripe on the bottom, which give the cars an even cooler, more vintage look. This white one is sitting on Epsilon mesh wheels, which were also super popular in the 1980s, along with the Enkei mesh.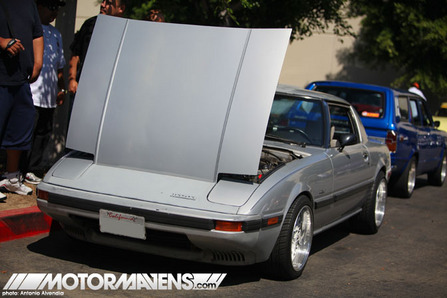 This has got to be one of the best stanced SA22C or FB RX7s I've ever seen. I think I saw this car at last year's JCCS show, but I'm not sure if it's the same car. It reminds me of Kyle Mohan's old FB that he was drifting at Drift Days back around 2003.
I think this car would look absolutely awesome with an aggressive raked front chin spoiler, rear wraparound tail, and a slightly lower drop… but those are just my ideas for an awesome first gen RX7. I'm sure the owner has plans of his own. These old school RX7s look so awesome if they're done right, I love em.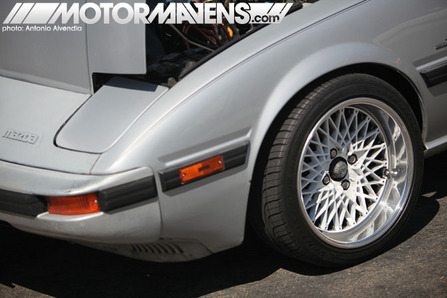 This kouki FB/SA22C in particular looks pretty awesome sitting on these SSR Reverse Mesh wheels.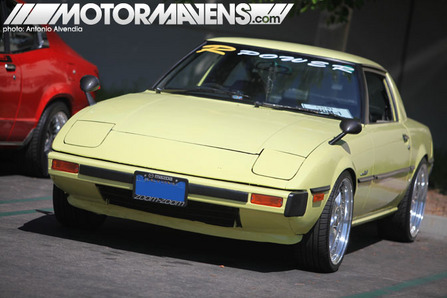 Nice! I dig the fender mirrors on this first gen RX7… but look closer! It might be an actual SA22C. Notice that the car not only has fender mirrors, but it also has the old school zenki metal bumpers (see the FB above for the newer style kouki bumpers) and it's right hand drive!
Such an awesome car. Is it sitting on 17s though? Those wheels look humongous on this old car, but I didn't get a chance to walk up close and examine the wheel/tire specs. The car has a really nice stance, but just imagine how sick it would look if it were sitting on some 14 inch CREAM colored SSR Mark IIIs or gunmetal RS Watanabes. GORGEOUS.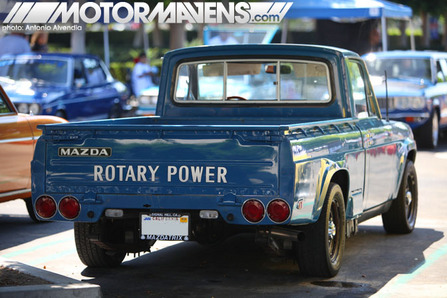 There were lots of Rotary Pickups (RXPU) in attendance at Sevenstock – I was really surprised because these trucks are so rare! This blue one was my favorite of the RXPUs for sure, because of the cleanliness and style in which it was modified. Man, that thing looks so awesome. Wouldn't it be so dope to have an RXPU, RX2, RX3, and SA22C in your garage?! Damn it, that would be so bad ass! Especially if the colors were matching!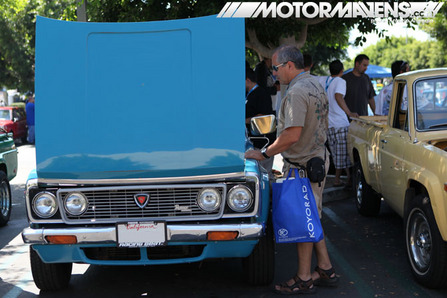 This is a different RXPU, but here's a shot from the front, for those who may be unfamiliar with what the Rotary Pickup looks like from the front. So cool.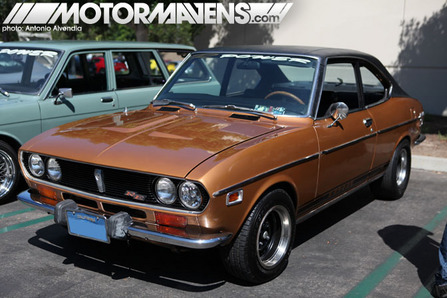 This particular RX2 totally stood out to me… not because of the penny colored paint…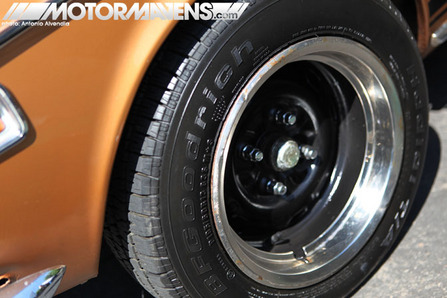 … but because the owner of this car had some banded steels on his RX2! These are RX2 factory steel wheels that were cut off in the center and widened by welding a new outer barrel onto them. I think it looks really cool! Great idea – Props to the owner of this car for doing this!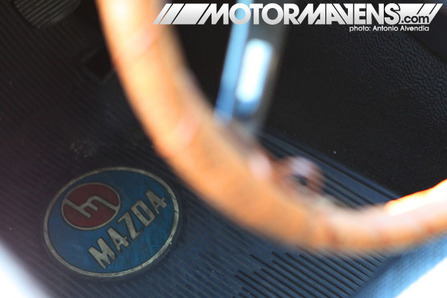 If I owned an RX2 or RX3, I would definitely die for a set of these vintage rubber Mazda floormats! So sick. I bet most of the showgoers just walked right by and didn't even notice these. OMG, awesome.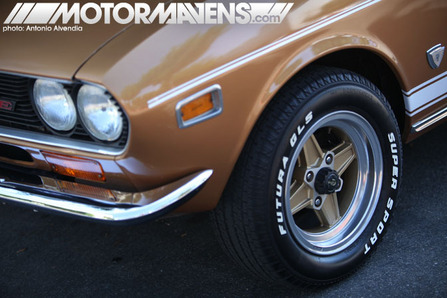 Walking around the show further, I noticed this RX2 with these super clean looking Hayashi wheels! I have never ever seen a set of these Hayashis so clean in my entire life. I don't know if these were new "old stock" (NOS) or just refurbished… but I think they were most likely NOS, because they have super clean centercaps on them too.
I used to have these wheels on one of my AE86s, but mine were dirty because I found them in a junkyard for $25 each, and I spray painted them black to match my SSR XR4 blackracer wheels with the black lips. Man, seeing these Hayashis on this RX2 really, really impressed me. This might be my favorite RX2 from the show yesterday.
I don't remember what the actual name of these wheels were though… I think my mind is filling up with too much drifting content, that I can't remember all the old school car stuff I used to know, dammit! Are these Hayashi Street IIs? Or maybe Hayashi Perrier IIs? I know they're not Hayashi Commands…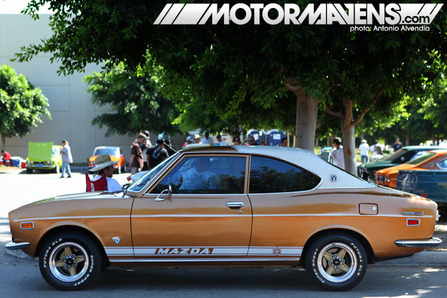 Here's the side view of this super period correct, freakin AWESOME looking RX2. I love the white letters on the tire sidewalls too – they perfectly match the look of this car. Damn it, this looks so good I wanna sock someone.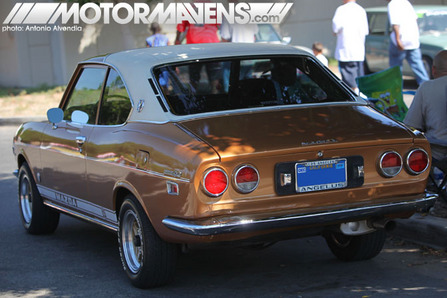 So gorgeous and clean, and with an original 1970s blue California plate too. The ragtop look isn't my style at all, but it is definitely period correct on this car. I'm not sure though… were these types of ragtop roofs factory original from Mazda? Or aftermarket?
Because if they were aftermarket, why on Earth would someone choose to apply fabric on TOP of their paint?!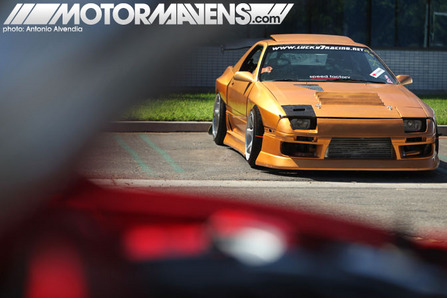 I'll close off this Sevenstock photo viewing session with this FC3S RX7 drift car from Lucky 7 Racing. We've seen this car on Motor Mavens before – it was in our All Star Bash coverage. Yesterday though, it looked better than I had ever seen it, with a new uncracked aggressive aero kit, and super aggressive wheels.
I have A LOT more photos from Sevenstock on Saturday! However, right about now, I need to go take even more photos and burn in the Southern Cali sun. There's a huge Lexus event going on at Irwindale right now – from what I hear, it's the Lexus version of Sevenstock, so I'm going to have to take a look.
Keep checking back with MOTOR MAVENS for the best photos from Sevenstock! Now it's time for me to make like a newborn and head out…
::Antonio Alvendia
12A
,
13B
,
2009 Sevenstock
,
Antonio Alvendia
,
Bergenholtz Racing
,
Calvin Wan
,
FB
,
FC3S
,
FD3S
,
Justin Pawlak
,
Mazda
,
R100
,
RX2
,
RX3
,
RX7
,
RX8
,
SA22C
---