---
---
---
---
---
---
---
---
---
---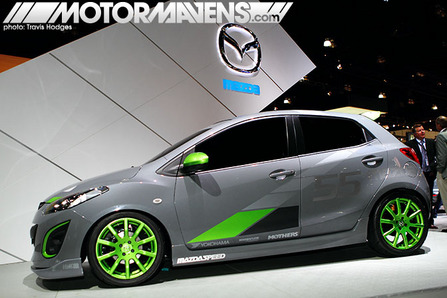 After being exposed to the curvy sexiness of the
Mercedes SLS AMG Gullwing
, the cutting-edge science and incredible power of the
Audi e-Tron
, and the crisp, German-engineered precision of the
Porsche Boxster Spyder
, I'm sure some of you are thinking "The Mazda 2?!" Well, yeah...that's right. We said it - the Mazda 2.
Sure, the 2 might seem like a let-down compared to supercars like the LFA and the SLS but, let's keep it real, how many of you have the solid-gold wheelbarrow filled with diamonds and rubies that they're asking as a down payment for one of those America's Next Top Model magnets? It's like buying a Picasso. You just can't nail it up on your living room wall (perish the thought!). No. Protocol requires that you buy a freakin' museum to display it. Do you have a museum? I didn't think so.
So, being the Motor Mavens that we are, we figured we'd throw in a "real" car to talk you guys in off the ledge. We believe (in the immortal words of the bard, R. Kelly) that you can fly - but we figured you might just want to drive first.
Read more...
---