For those of you unaware of the North Carolina/Tennessee hidden treasure called
Deals Gap
(also known as
Tail of the Dragon
), prepare yourself to be hit with some knowledge. Deals Gap has become an international sensation for car and motorcycle enthusiasts. What you
won't
find up there is
anything
. There is literally, and I mean literally,
absolutely nothing
in the surrounding area. That is unless you like camping/hiking/ or antiquing
(where is that roll eyes smiley at? LOL!)
) What you
will
find is miles of curvy mountain roads and plenty of rally rental car roads. Who's feeling me?
That said, the
Tail of the Dragon
is an 11-mile stretch of two lane road in Tennessee and is said to have 318 curves - and one very large cliff face to launch off! The speed limit is 30mph and there are Tennessee Troopers there to graciously remind you. They are quite nice when they hand you a ticket and, after nine tickets (hand delivered) that Saturday, I am very qualified to testify to their manners.
Read more...
---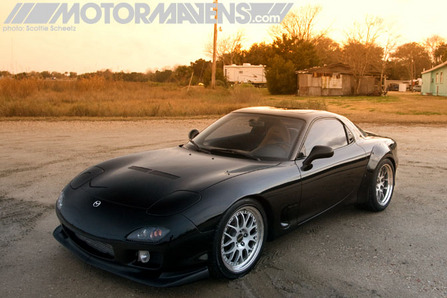 It was a sleepy Saturday morning in Florida with a dreadfully overcast sky. Florida gave us what it is known for at this time of year - rain, and a whole lot of it. It didn't stop until late afternoon, with dismal skies and a hazy mist hanging overhead even after the downpour stopped. Even with the weather in "doom and gloom" mode, when I saw
David Hayes
' black Mazda RX7, I was simply stunned. As it drove through the city streets, you could just see all the heads turning to watch it weave through traffic. If only they knew the journey this car took to get here.
The story of David's FD3S RX7 starts way back in 1994. He is the original owner of this black beauty - he took it right off the showroom floor. And since he's the only owner of this car, he actually knows everything that has gone into the car and everything it has been through. Here's a little mind blower to start us off. With the exception of the Pettit rear flares and 99 spec front end, the car's paint is as completely original as the owner.
I was no stranger to the story of David's epic tale, as I have been following it since the beginning. All the details of his journey are logged in the
RX7club.com
forum. If you decide to look it up, be prepared to invest a few days of reading - it's a long story and completely surreal. In fact, his story seems even more surreal than reading his daily updates in the 7club forum thread when you actually get the chance to hear him tell it. But, since you probably won't get that chance, I'll tell it. I promise I'll keep it short. Well, as short as I possibly can with a story like this one.
Read more...
---
I flew out to L.A. this week to spend Christmas with my family, which gave me the opportunity to meet up with Antonio Alvendia and Edward Uche for the first time.  Of course cars were a topic covered quite a bit as the night went on and RX7 project cars were brought to light…  This of course brought on the discussion of dream builds and this video I am posting now.  I honestly can not give you a solid figure of how many times I have watched this video ever since it was posted on Youtube.  I would guess Edward couldn't give you a guesstimate either.
What I can tell you is the car was built by Trial Tuning Spirit.  The FD3S has a 3 rotor swap, running ITBs and and a slew of custom parts all done to make it a beast of a track car.  Just listen to the beautiful music it makes – who wouldn't want this in their garage???
I must say though.  On my wedding day, I want a car much like this waiting for me at the end of the ceremony to take us away.  Hopefully, rotors will be tied behind the car on rope to drag down the street behind us.
:: Scottie Scheetz
PS: Below is the car's spec sheet, posted in Janglish (gotta keep it legit!) by the original poster of the video. (gamikoulas@hcn.zaq.ne.jp) (more…)
---