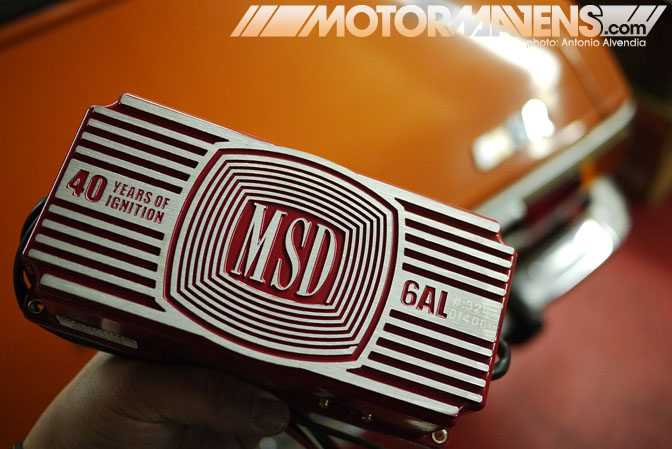 It's no secret that I and the rest of the MotorMavens Crew have a certain affinity for old school cars; especially cars from the 1960s and 1970s. When it comes to modifying a car from this era, I personally find it extremely important to retain the car's old school look and personality. After all, the retro character is what I like most about a nostalgic car!
For those interested in making tasteful upgrades to their vintage vehicles in a period correct fashion, the ignition experts from MSD have released a limited edition retro redux version of their popular MSD 6AL ignition amplifier to celebrate the company's 40th Anniversary! This 40th Anniversary 6AL amp features all the spark amplification power and features of their current 6AL model, but has the vintage MSD logo from 1970 on the outer casing. COOOOOOOOOOOOOOOOOOL. (more…)
---
Things have been extremely busy for the Motor Mavens Crew over the past two weeks. We've been turning our attention to some general "housecleaning" operations and important meetings to plan for future expansion of the site. Unfortunately, these things were extremely time sensitive and had to take priority over website updates for the past week. Pretty wack, I know. We should be back to our usual schedule after this; thanks for being patient and for your continual support!
We have some cool features to post this month, but before we get into all that, I wanted to turn your attention to the 808 state for a bit. This past weekend, many of my friends from Hawaii's island of Oahu got together for an Old School Toyota meet. People might not realize it, but there are lots and lots of really amazing cars in Hawaii. All the local braddahs over there have much love for vintage Japanese cars.
Just look at how many clean TE27s came out to the meet! I'm drooling over two especially… a particular blue 1973 1600SR and a clean orange 1973 1600SR. More on these cars in the near future!
Props to Justindabull for his video work. Justin is really, really young (still in high school?), but he's been hanging out with all the old school Toyota guys in Hawaii for years, because his dad, Mike, has owned some pretty awesome vintage Toyotas. Good job Justin! And congrats on getting your video featured on MotorMavens! Can't wait to see you all again!
Shoots!
:: Antonio Alvendia
---