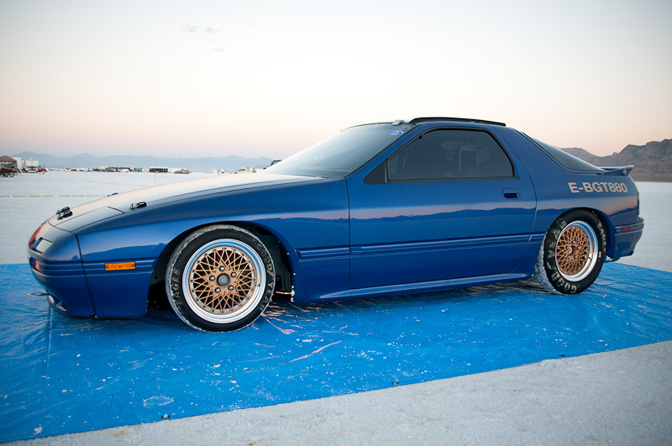 Speed Week 2010
, run by the
Southern California Timing Association (SCTA)
at the
Bonneville Salt Flats
has come and gone. It's more than a week later and I've still got Salt on my Suby (and my brain). For reals, I washed out more white stuff from under my bugeye WRX today. The Salt gets EVERYWHERE! I love it! Salt Fevaaaaaaa!
As I was snapping pics...photos (this is MotorMavens, these are photos!) of the activities, I was thinking about what I wanted to share with you guys on MotorMavens.com. There are TONS of things going on at the Bonneville Salt Flats! There were over 500 vehicle pre-entries at Speed Week 2010 - plus over 100 hot rods roaming the salt! Amazing! My hope is that I give you a flavor for what you'll experience WHEN (not if) you guys and gals attend your first Speed Week.
Read more...
---
I know that NASCAR isn't a topic normally covered here at MotorMavens...and I sure as hell never expected to be the person covering it. I'll be completely honest here. Even as a kid, I was never a huge fan of NASCAR. I imagined it couldn't be too entertaining watching cars go around an oval for hundreds of miles. Not only that, but I just didn't feel like I really fit in with the typical NASCAR fans... but I guess I never really gave it a chance.
I was approached by MotorMavens about traveling to Charlotte, North Carolina to cover the NASCAR All Star Race weekend. MotorMavens was invited to cover the race as guests of
Mobil 1
, as well as take a tour of a full-blown racing facility, the
NASCAR Hall of Fame
, and a few other surprise stops along the way. Obviously, I jumped at the opportunity. Regardless of
what I thought I knew
about NASCAR, I decided I was going to approach it with an open mind. It's a good thing, too... because I learned a lot of interesting things about NASCAR and had a lot of fun in the process!
Read more...
---