This weekend, while I was out of town handling some family business, drifting sharpshooter
Larry Chen
was out at Hollywood Park attending the media preview day of DC Shoes founder
Ken Block's Gymkhana Invitational
. I'm pretty disappointed that I wasn't able to make it to the event myself, as I absolutely LOVE gymkhana.
For those who don't know, gymkhana is kind of like a cross between
autocross
(slalom/solo racing in a parking lot, in a course laid out with cones) and drifting. Back before I started working the media end of the drifting scene, I was pretty active in driving at autocross events. It's fun, it improves your driving skills, and it's not too expensive.
Ken Block isn't the first person to try to organize a gymkhana event though.
Erik Jacobs
from
DG Trials
in Atlanta GA was the first person that I had ever heard of trying to make a series of drifting and gymkhana events... this was back around 2004 or so, when drifting was just beginning to blow up! To put things in perspective, back then,
Vaughn Gittin Jr
was still working on getting sponsored by Falken, and he was driving an S13 240SX, not a Ford Mustang!
Read more...
---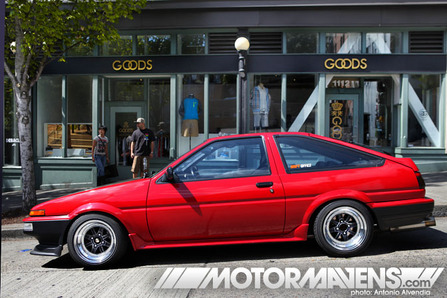 Every time I'm in Seattle, it's usually for a drift event. While traveling around the country/world may seem glamourous to some, to be completely truthful, it isn't really what most people imagine it to be. Don't get me wrong - I absolutely love traveling with friends; and when you're traveling to all the different nationwide stops of a big drifting series, it really is fun. Especially because if you have many friends in the drifting community, it's like every single city becomes a party destination. One thing that I hear pretty commonly though, is that many times people who travel for work don't get to spend much time enjoying the cities they go to. All too often, city visits consist of airport-to-hotel, then hotel-to-racetrack, then racetrack-to-hotel for a few days, then back to the airport. I didn't want my Seattle trip to be like that this time. Last year, I visited so many amazing places, but I felt like I was rushed through them by people I was traveling with, so I didn't really get to enjoy my stay like I would have if my coworkers hadn't been there.
So when all the drifting had ended at
Evergreen Speedway
, I linked up with my friends
Raymond
and Melanie and headed to Seattle for a day of relaxation and chillin in the city. One of the places we stopped was at
Goods
, a rather well known streetwear/sneaker shop in Seattle's Capitol Hill area. The funny thing though, is even when I'm not purposefully hunting for cars, sometimes the cars find their way to me anyway. Such is the case with AE86s and vintage Toyotas! No matter where I am in the world, usually if there's an AE86 or old school Toyota around, I'll accidentally find it.
Read more...
---