---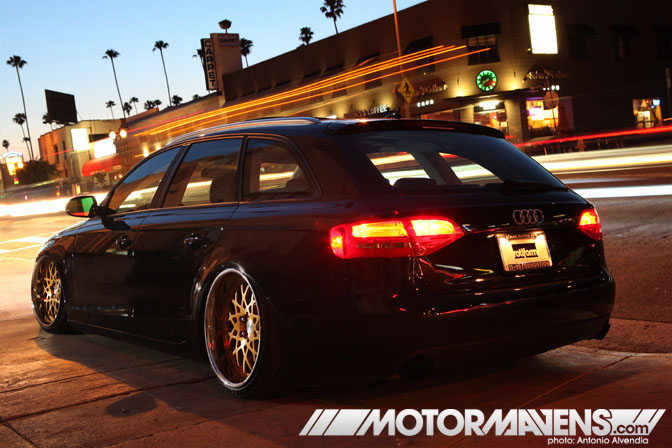 One thing about lining up a photo shoot is that sometimes it doesn't always go according to plan. After several months of planning, I was finally able to lock down a shoot date with Brian Henderson's 2010 B8 Audi A4 Avant. This, my friends, is what I would call a truly magnificent piece of machinery. Everything about it oozes class and originality - and who doesn't like class and originality?
After hanging around for awhile talking "car guy stuff" with Brian and Jason Whipple, the two guys who run the Rotiform shop, I was able to find out a little bit more about Brian's previous car history. Much more than just the car, I was interested in getting to know the reasoning behind the choice of the beautiful B8 Audi A4 Avant you see here as well as the motivating force behind Rotiform.
Read more...
---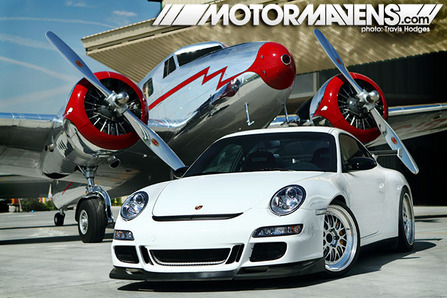 Hello MotorMavens readers! My name is
Tamer Omran
, and I'm a new writer on the MotorMavens website. Just to put it out there - I am somewhat of a euro-car nut (I used to be an intern at
European Car
Magazine
) and I pretty much spend most of my extra time going to Euro-related events. I'm hooked - I love this stuff and I hope you can see the love in my future posts.
By now you're probably thinking, "Enough already, dude, what's up with the sexy car?" You may even be asking where I got the plane for this shot. Well, this picture was totally a fluke. While wandering aimlessly around
AE Performance
's shop, which is located at the Chino private air field, we happened to stumble upon this nice gentleman's immaculate 1939 Lockheed executive twin prop plane. In the early 1940s, this was the plane of choice for shuttling around the ultra wealthy. Over 70 years later, it makes for an amazing shot, doesn't it?
The
Porsche GT3
is no slouch. It's the embodiment of the whole "rear-engined sports car" vibe. Just climbing into one evokes a Zen-like feeling of oneness with the road. For me, what makes a Porsche so great (I mean, besides those sexy hips it calls fenders) is the tone the engine produces at idle or wide open throttle - siiiick. It's everything from the undeniable racing pedigree to the fact that Porsche
actually
took out a patent on the 911 body style. Need I say more?
Straight out of the box, the GT3 is ready to conquer any track you throw at it. But for some people, that's just not enough.
This particular Porsche
is for those people. For them, Porsche decided to put the GT3 on a strict diet regimen to shed some unnecessary weight - a mere 44lbs. "What good is that," you say? Let me tell you - it makes a huge difference. So when I heard that the guys at AE Performance had a rare white Euro-spec
2007 Porsche GT3 RS
sitting at their shop, I just had to check it out!
Read more...
---