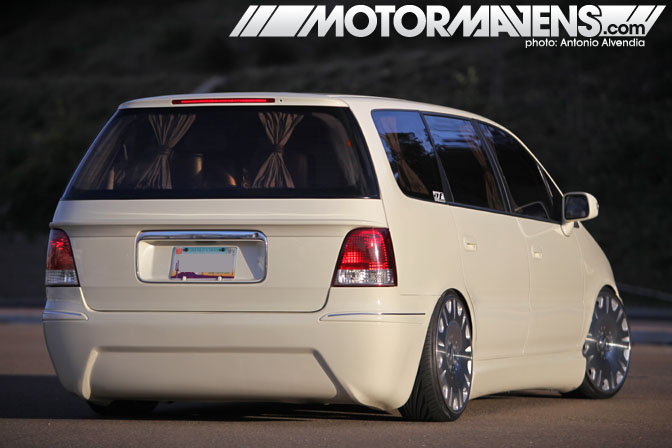 Before I get into the details of this incredible VIP style
Garson
and
Tra Kyoto
fitted
RA1 Honda Odyssey
, let me fill you in on some details. It was super late on Saturday night, and I had just finished a non-automotive editorial shoot for a Japanese magazine. I had a gorgeous model and the magazine's editorial staff sitting at my dining room table, talking to me about photo ideas while I was urgently texting members of the MotorMavens Crew to see who would be down to drive down to San Diego, CA with me for the
AutoFashion VIP Meet
.
I had just returned from Las Vegas, and was still reeling from a sleepless week of meetings, afterparties, and overall hustling at SEMA. However, I remembered that I made a promise to my friends at AutoFashion in San Diego - I told them that I definitely would be going to their VIP meet to show MotorMavens support, and to shoot photos of the event! I was still sleepy as hell, and I didn't feel like driving by myself, so luckily I was able to talk Tamer Omran, Lambert Paat (and his gf Daisy), and Driftwell founder Herbrock One into rolling to SD with me.
Right as we found parking at AutoFashion, this gorgeous cream-colored 1997 Honda Odyssey (RA1) immediately caught Tamer's eye. He immediately hunted down the owner, who drove it all the way from Tempe, Arizona to attend the show!
We found out that it took four years for the owner,
James Cherry
, to collect parts for his Odyssey and ship them over from Japan. Even though he was building on the car one by one, he decided that he would put it all together at once instead of bolting on parts one at a time - this way, the Odyssey would have more impact when it came out! Good move.
Read more...
---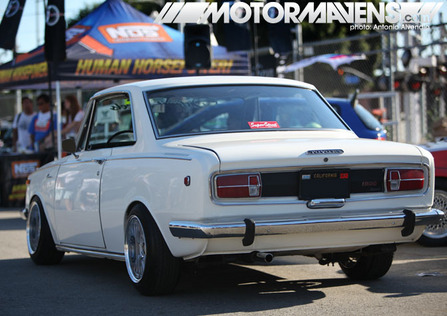 I'm sure many will agree with me when I say that I'm glad that the City of Los Angeles didn't complete its bulldozing and reconstruction project surrounding Downtown LA's newly built Alameda Street train station... this allowed
Ken Miyoshi
and his
Import Showoff crew to continue their tradition of throwing the
Nisei Showoff
in the heart of Little Tokyo. According to Ken, this year marked the 10 Year Anniversary of the Nisei Showoff, which always took place in conjunction with the historic Nisei Week Festival in Little Tokyo, celebrating the culture of second generation Japanese living in the United States.
This year, there were a ton of new cars that made their debut at the show, and several regulars that received makeovers. According to Ken Miyoshi, one of the things that has always separated Nisei Showoff from the other carshows is the face that Showoff has a really qualified panel of carshow judges who really have expertise in the automotive aftermarket. Nisei Showoff's judges include people who have a background of working with companies like HKS, Blitz, Toyota, and places like that. This may be a major differentiation factor to some people, but to me, it's completely different.
Nisei Showoff just has a particular vibe to it. It starts early in the morning, in the exciting hustle and bustle of the competitor load-in, as the cars form ridiculously long lines, jamming up the streets of Little Tokyo as they wait for the show staff to let them in the gate and park at their assigned spaces. It continues throughout the day, as the noontime sun heats up the entire place, and you get to bump into old friends and catch up on the things that are going on in everyone's busy lives. For me, the excitement continues on to the late afternoon too, as I complete my rounds through the show and stop by the cars that catch my eye, making new friends and checking out all the subtle things that everyone has done to their cars. Probably the most fun thing about Nisei Showoff (for me at least) is the fact that Ken Miyoshi has asked me to be the official emcee for the awards ceremony. I've been doing this for the past three (or four?) years now... and that part is really fun, because you get to see what the owners of the cars look like, as they come up and receive their trophy at the stage.
Read more...
---