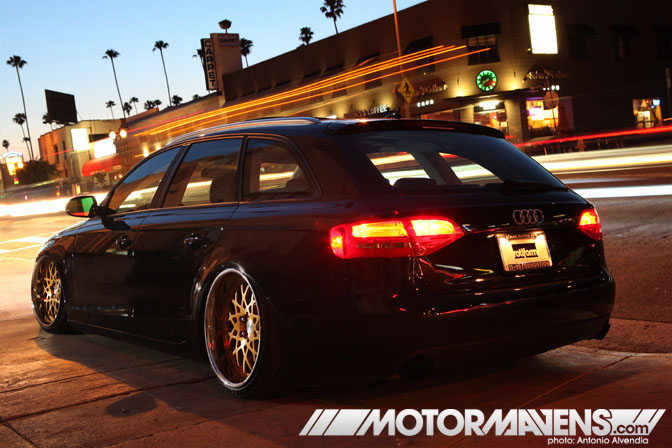 One thing about lining up a photo shoot is that sometimes it doesn't always go according to plan. After several months of planning, I was finally able to lock down a shoot date with Brian Henderson's 2010 B8 Audi A4 Avant. This, my friends, is what I would call a truly magnificent piece of machinery. Everything about it oozes class and originality - and who doesn't like class and originality?
After hanging around for awhile talking "car guy stuff" with Brian and Jason Whipple, the two guys who run the Rotiform shop, I was able to find out a little bit more about Brian's previous car history. Much more than just the car, I was interested in getting to know the reasoning behind the choice of the beautiful B8 Audi A4 Avant you see here as well as the motivating force behind Rotiform.
Read more...
---
Wheel Mavens, where you at?! This past weekend, I drove down to Rotiform in Orange County CA to drop off my wheels to be refinished. I've been steadily working on the newest MotorMavens Project Car, Project BMW E39 Touring, in attempt to step out of my " vintage Japanese car shell" and learn a bit more about European cars, and connect with the community as well. I've been learning a lot about BMWs lately (like how BMW power window regulators are not your friends), and have been enjoying the process.
I had to get my wheels rebored out to fit my E39′s larger center bore, as the factory BMW CB is normally 72.56… and my E39′s factory CB is 74.1mm. Thanks a lot E39 designers at BMW! WTH.
Anyway, in order to fit my new 19×9 and 19×10 wheels on my 5 series BM double, I had to rebore them out. However, when I was dropping off the wheels, my eye was caught on a couple sets of these super aggressive, concave face, super fat lip Ronal Racing wheels. Needless to say, I was JOCKING them!
Enough typing… just watch the video. If you're a wheel guy like I am, you'll be drooling all over your keyboard…
:: Antonio Alvendia
---