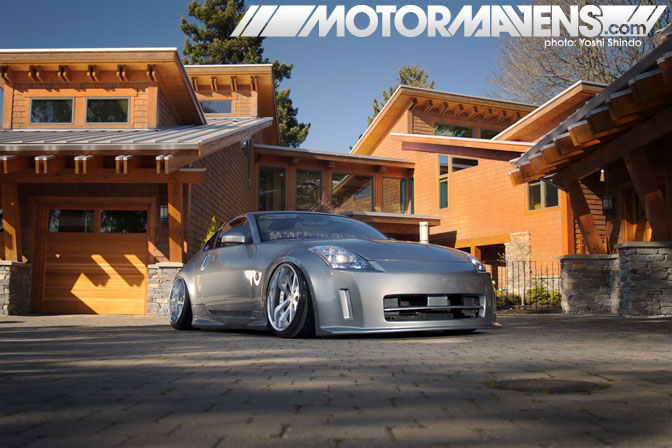 Everyone has their own personal style, preference and idea of what inspires and motivates them. Just as in so many other areas of our lives, these influences and tastes come through in the selection and overall direction of an automobile and its build. The great thing about having an automotive based hobby is that every part, every color and every look has a purpose to the individual builder. You really can say that, just by looking a car, you can tell a lot about the owner. Some like to take themes to extremes and others like to keep it mild. Some are more race oriented for track purposes and others lean more toward street driven enjoyment that allows for a less practical method of tuning. That's where
Ryan Lee
and his bagged 2003
Nissan 350z
come in.
When Ryan rolls up to places, slammed to the ground, on a bright Pacific Northwest day, people take notice. The sun reflects off the wheel centers catching your eye before your brain even realizes what's going on. In the split second after that moment, you unconsciously decide to either praise or criticize Ryan's ride. Either way - his point is made. His goal has been met and, whether you like it or not, you have already recognized his hard work and personal style.
Read more...
---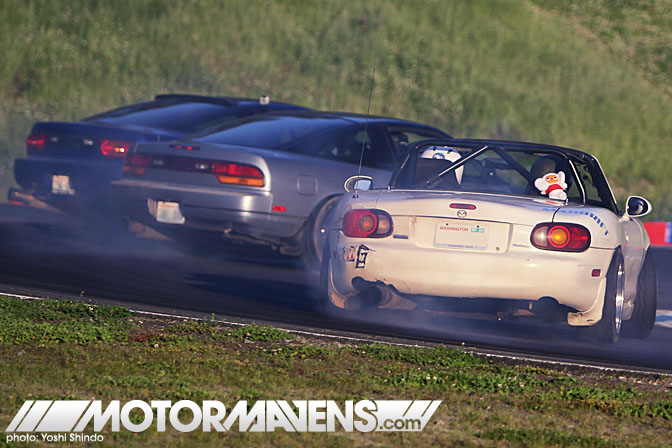 Around this time every year, school is finishing, with the stress from class and tests ready to be let out. For some, it marks a changing point; a time to move on, ready to take on the world... or off to the next phase of school after the summer.
Luckily for us, it was
Rob Primo
's graduation day on Saturday June 12th, because after several years of school, graduating with an MBA from
Western Washington University
, he went out with a bang, holding the second drift event at
Pacific Grand Prix
, inviting about 26 of his drifting friends and even more spectators. I couldn't think of a better way than
drifting
to celebrate and let loose after learning things like how magnets and rainbows work!
Read more...
---