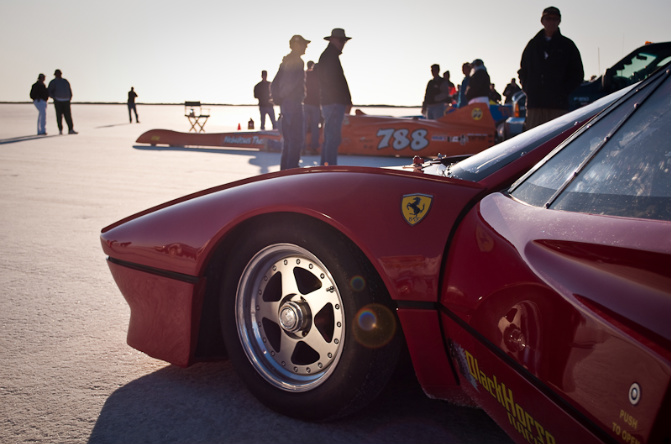 I'm stoked to be writing about the Bonneville Salt Flats for MotorMavens! I've been a HUGE fan of the site since it started last year. A super quick intro might be in order, I guess... I'm
Chris Hecht
, originally from SoCal, now living in Utah. I'm a husband of ten years, father of four boys, Quality Engineer for a medical device manufacturer by day, and car fanatic by...
day and night
. I live two hours from
Lands End
- where paved road meets the other planet known as the
Bonneville Salt Flats
.
I've been going to Bonneville's "
Great White Dyno"
for three (going on four) years. I was first invited out by my co-worker and friend Dallas Volk (too bad he's no relation to Volk wheels haha) - but he is a member of the prestigious
200MPH Club
. He and his family have been racing a
1929 Ford Roadster
his entire life. Dallas, his dad Larry (current President of the 200MPH Club!), brother Patrick and sister Allison (nicknamed "Hollywood") are all in the 200MPH Club. I'm not, but I have contracted a dreaded disease...
I've officially been diagnosed with
Salt Fever
- and it's uber contagious. Bonneville has its own culture and feel, just like drifting, time attack or drag racing. There are the old timers and veterans who keep the traditions alive with the new blood learning the ropes while adding their own style, flair and background.
I hope to bring to the MotorMavens readers a view of this motorsport and share the cars and culture that make it what it is today. For this first post, we'll have a look at some of the
import
land speed cars I've spotted. As you'd guess, the majority of cars built to make top speed runs down the long salt, of course, are American. However, the great part about Bonneville (and
El Mirage
) is that there are A LOT of classes to run in - many of which are perfect for Japanese and European cars because of their engine selections and aerodynamics.
Check the first picture. This Ferrari (#288) runs in the
AA/BGMS
class (AA = over 500 cubic inches, Blown (super or turbocharger), Gas Modified Sports). According to SCTA's site, it went 235mph and there's a comment on the notes..."Smoke?" Like any motorsport,
land speed racing
is all about the details. Check the front fenders...aero diffusers (not sure what they call them) to help direct the airflow and add stability. Most of these cars never see a wind tunnel, but the aero tricks are tried and true.
Read more...
---