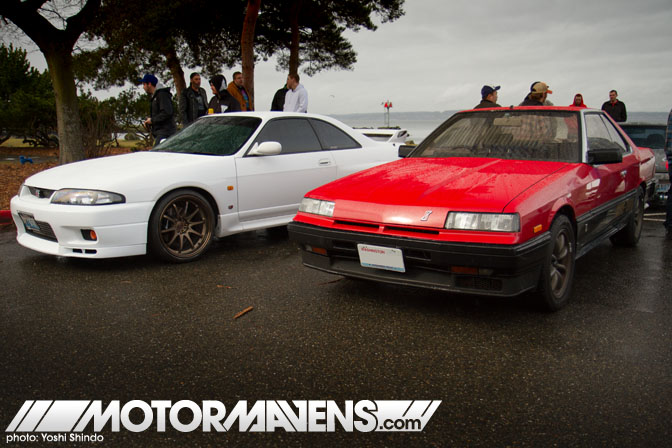 It's hit or miss, in
Seattle
, in the early Spring. Some days the sun is out and shining - some days, something resembling a monsoon could turn the parking lots into lakes. Even though it's only warmed up to nearly 55 degrees outside,
Seattle-ites
treat it like mid-Summer. That's what we are accustomed to here in the Northwest. Still, every year, toward the end of March, rain or shine, the
Northwest Nissans'
Golden Gardens Meet
is always a huge success.
This year, unfortunately, it was a bit wet with the sun only barely shining though the thin veil of overcast clouds later in the day. Weather aside, this year was just as packed as previous years with three main lots filling up. The parking overflowed along the street for at least a half mile. I could tell it was going to be a meet well worth checking out!
Read more...
---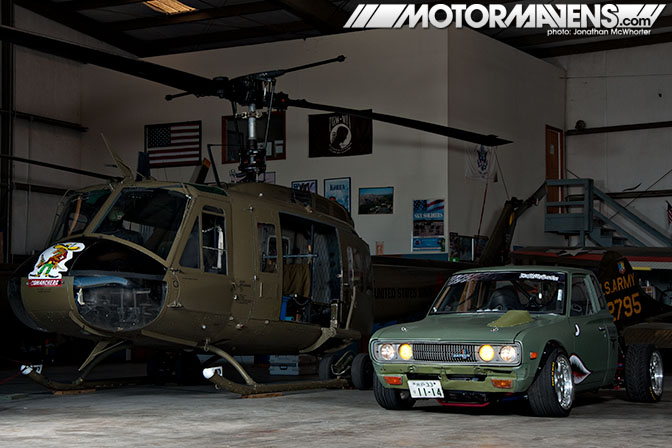 "I couldn't find the sports car of my dreams, so I built it myself." Ferdinand Porsche
Datsun didn't make a fast enough truck for
Chad Copeland
, so he followed Ferdinand Porsche's example of persistence and built his own. After three tours of duty in the Middle East as a part of the Air Force, Chad took some driving courses and practiced on
Eglin Air Force Reservation
trying to slide his truck around corners and hang it out as far as he could. This was long before the artform of hooliganism now known as drifting became a sport.
That first truck is now long gone but Chad is keeping the interest alive in the form of his current
Datsun 620 pickup
. At first glance, it's obvious that this isn't your everyday 620…just in case you happen to see these every day. In fact, as much as this truck shows you with its exposed components and armed forces-inspired livery, there is more to be found beneath the proverbial surface.
Read more...
---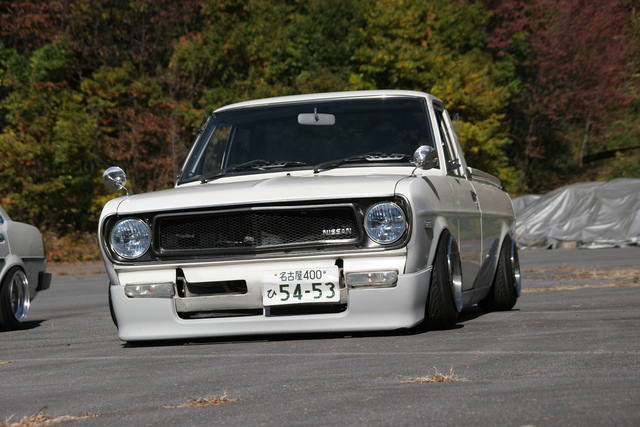 I love finding new things to learn about. Hours can be spent listening to new music, or researching new car parts that I don't need. So when I came across this crazy low little truck, I had to find out as much about it as I could. I'm not too familiar with all the cool old school cars that came out of Japan, so I had to enlist the help of some old school motor-heads to point me in the right direction. It was quickly revealed to be a Nissan Sunny truck (possibly B120 or GB120).
This rad truck is actually a ute, based off the Sunny car. Its basically a Japanese version of an El Camino or Ranchero, which I like because my grandpa had an El Camino with an 8-Track player in it when I was younger, so I am quite fond of quirky rides just like this Sunny.
In Stock form this car would catch many a gear head's eye I'm sure, but this one in particular is dripping with classic Japanese style. The tires on the 12inch rims look like they could explode with one bad speed bump; the fitment is just crazy! The front lip looks like it might be retrofitted from a different application, but its so well matched that its really hard to tell for sure. I love rides like these, the impractical driven on the street for all the laymen to gawk at.
When I was a kid we had a couple Datsun 620 Bullet-side trucks; one blue and one green. At the time I didn't know what they were, or what they could be, but when I look back on it, I wish we had kept them around. As I get older, and appreciate more cars, my want list keeps growing from old to new. I had briefly thought about getting another Datsun truck, but after looking at this Sunny, and then hearing that a friend of mine found a complete Toyota Stout in a barn recently, it got me thinking of getting an old rare mini-truck. Maybe someday when I finish my current projects, haha, yeah right…
:: Lucas Perez
Original link to the photo
As found on
ZipTied.com
UPDATE!!
This photo is from this blog:
http://beeoneoneoh.wordpress.com
Check it out, as they have some pretty awesome pics on there.
---