Simply Clean from Bluemotion on Vimeo.
Back in January I covered the Simply Clean + Stance event in Orlando Florida, which was completely awesome. I am saddened to hear that the next event may not be till November of this year… sad face!! I wish these guys would do a rotating event every 4-5 months or so to help promote proper car building. Cars with sunken wheels are 8 years ago people; change with the times! Flush wheels and no drop don't count either!
Anyway, the video is awesome and so is the sound track. Quan Vu at Bluemotion did an awesome job, and from the looks of it, it involved a Canon 5D Mark II. Rock on man – for his first car meet video, I am simply stunned. The song "More More More" is from the upcoming LP by SOY Is Real… so if you think it's dope like I do, just watch the video over and over again.
Lastly, BIG THANKS to Simply Clean's Nickoli for giving us the first shout out at the end of the video. You know I will be at the next one!!
If you want to view pictures of the cars that did not make it on the video and my coverage check out Nickoli's link.
:: Scottie Scheetz
---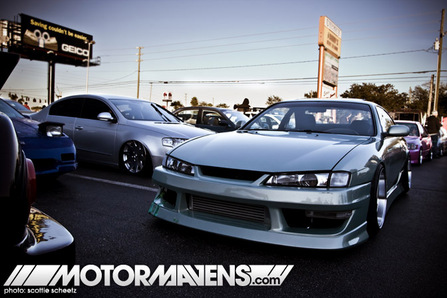 I made the short trek last weekend to the Winter Park section of Orlando. It was cold out by Florida standards, but was at least warmer than it had been the past two weeks. Last Sunday's event was the first of it's type (for this area) and the title stated it clearly.
Simply Clean
..... Proper stance, perfect wheel fitment, quality paint job.... Almost everything a car enthusiast should dream of! There were of course big horse power cars, so they filled in the missing link that we
gas mileage savvy
people left out. But lets think about this for a second.
One one-thousand...
Do you
really
need 500 horsepower when your car sits 1 inch off the ground and has a 95% chance of losing a bumper at every divot?
Well, I know I sure as hell do!
I can't think of anything better than the ability to yell louder than the passenger screaming in the seat next to you "SHUT UP! I F*CKING GOT THIS!" as you drive over your front lip, while laughing hysterically...
Read more...
---