I realize that our readers have been patiently waiting for these new photos from our coverage of the IDRC Finale at California Dragway in Fontana, CA. There were quite a few racers in attendance, and quite a few media outlets out there covering the event, so I'm sure there will be lots of great stories and links out on the internet that include everyone's quarter mile times.
Rather than bringing our readers the same stories as
the other guys
, I thought I would just publish a few more photos of cars that caught my eye. I'll be the first to admit - I don't know a whole lot about drag racing or Hondas, so if I don't go into as much detail as you might expect from one of my stories about drifting or Japanese nostalgic cars, then please bear with me. Actually, I'd love to invite a Honda Maven to share information with us, and even blog on the site! It would be pretty cool, as I know I certainly have a lot to learn when it comes to drag racing and Hondas...
Read more...
---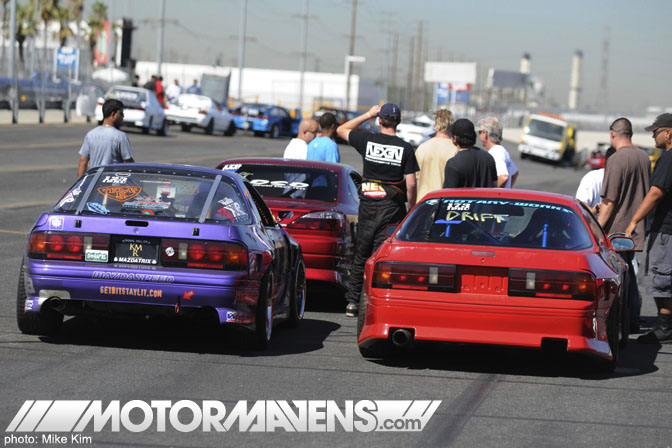 This weekend, the members of the
MotorMavens Crew
were straight up hustlin. (When are we
not
?) As a collective, we spread out to cover FIVE events in different geographic parts of the world. In Southern Cali, the first event we hit up was the
IDRC Finale
at
California Speedway
in Fontana, CA. We knew this weekend was going to be hot... real hot. At California Speedway, deep in the Inland Empire, the temperatures reached 107 degrees, but on the track it felt even hotter, with heat bouncing up off the tarmac, penetrating through sunblock and clothing to sizzle the skin of event goers. To be honest, hardly anyone from the MotorMavens collective was super excited to bake in the sun on Labor Day weekend. We wanted to chill out in the air conditioned comfort of our homes, or head to the beach to hang out and enjoy all the beautiful scenery of Southern Cali's last days of summer.
However, a couple weeks ago, we received a call from
DSPORT Magazine
's Marketing Director,
Tobin Honda
, asking for MotorMavens help in promoting the event, and we made a commitment. In the automotive aftermarket industry, there are often times when people make a lot of promises, but they don't have much follow through... Motor Mavens tries not to be like that. Since we're always out at events speaking to car owners and such, we made a concerted effort to promote the car show and the drag event, and we were extremely happy to see many of our good friends in attendance, showing their support!
Read more...
---