After
Walker Wilkerson
finished 18th overall in the 2011
Formula D
season and barely missed the
Rookie of the Year
finish, Walker knew he had to step up his game for the 2012 season. Being in the Top 20 wasn't good enough for him! He told me about how much he has learned as a driver and mechanic to keep his car maintained for each event. Which led him into big changes for the 2012 season. While talking to Walker about his future plans, he revealed that he realized he would have to ditch the SR20DET and go V8 to be even more competitive. I was shocked but I knew that this could help him out in the long run. However, I (and many others) will miss the sound of a stroked SR20 coming out of his exhaust.
Read more...
---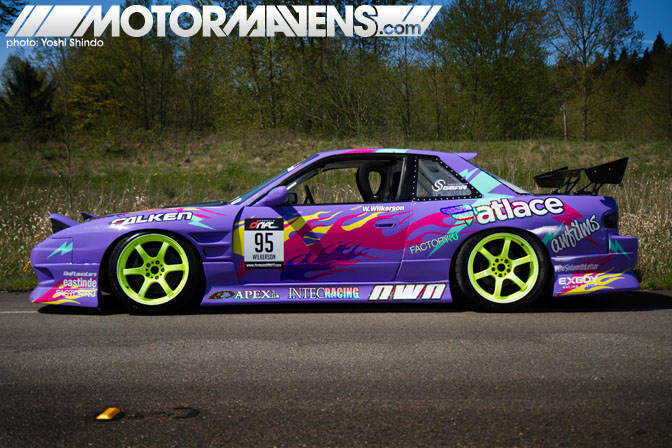 If you dont know who
Walker Wilkerson
is by now - you will soon enough. From seemingly out of nowhere, he showed up to the first event of the 2011 Formula Drift season and had an incredibly strong showing. Walker outscored many Formula D veterans in qualifying, moving forward to wow the crowd with exciting tandem performances, much like fan favorite
Fredric Aasbo
did with his JZA80 Supra last year.
With limited seat time he wowed the judges in his purple widebody
Nissan S13 240SX coupe
, equipped with a
stroked
480hp monster
SR20DET
, during qualifying. Eventually landing high at 7th place, deep within veteran territory. And with that explosive entrance in the pro arena - he secured his spot in the big show on Saturday in the Top 32. Not bad for a first timer in, well, pretty much everything for the day.
Read more...
---
It has always interested me to watch the background area of a competition, and all that is involved to bring it to life.
Formula D has so many people working, moving, going… There is a full TV show being produced, professional race event taking place, thousands of fans… And yet, it seems like most things move at a different pace in Las Vegas. The cars are still in a rush, but everyone else, everyone behind the scenes…
Once I started editing to this song (Sundriped), I felt the pace change from some of the other videos I have done more recently, so I countered with a different choice of footage out of my stash.
In the last video, I featured Justin Shreeve, Joe Ayala and Yoshi Shindo. In this video, I threw in a quick clip of Abbitt Wilkerson, another Northwest videographer. His older brother, Walker Wilkerson, acquired an FD license at the final Formula D event in Irwindale. Keep an eye out for what Abbitt, Shreeve, myself and the rest of YAER Productions will do for Walker's upcoming 2011 driver package.
Ian Dillon, of Factory 83, also collaborated with YAER Productions, providing graphics for this and other upcoming edits.
:: Ryan Davis

YAER Productions on Vimeo
More Formula Drift coverage from MotorMavens
---