Mannnnn… following up on the cool video that 0-60 Magazine's Alex Bernstein shot of Nakai san's Rauh Welt Porsches cruising through the highways of Japan, one of the friends of the MotorMavens Crew, fellow Japanophile Edwin Reyes from NYC sent me this video through our Facebook page.
For those who haven't heard of the Wangan Midnight comic book in Japan, it stars a certain S30 240Z and tells exciting stories of Japanese highway (wangan) battles with other high speed streetcars. I think the Wangan Midnight live action movie looks pretty cool – in fact, I can't wait to see the entire thing. Hopefully someone has a torrent of it somewhere that they'd like to share? If you have it, let me know please!
It's too bad NBC Universal didn't make their Fast&Furious movies into something more like this. Movies like this would be off the hook! In fact, watching this makes me want to drive a black JZA70 or JZA80 Supra on the highway right nowwwwww!!! Or a Porsche GT3RS! Or an R34 Skyline GT-R V-Spec… Or… (What else?)
:: Antonio Alvendia
---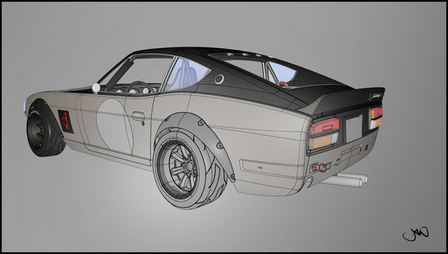 HOLY FFFFFFFFFFFFFFFFFFFFFFFFFF. I'm currently trying to recompose myself; you wouldn't believe how hard my jaw hit the floor when I first saw these renderings. I must have been shaking my head, muttering expletives for a good 20 minutes.
AMAZING. Now THIS is what it's all about. This is a 3D sculpted rendering of a
1972 S30 240Z
, which apparently has ZG flares and a standard Z432 nose with a BRE front chin spoiler.
The artist behind all this is actually an old school friend of mine; his name is
Jan Trondsen
(pronounced
yawn
, like you're sleepy), and he is first and foremost a car guy that's passionate about vintage Datsuns, and he has been that way since the first day I met him, over ten years ago. Nowadays, Jan is an alumnus of the prestigious
Art Center College of Design
in Pasadena, and a professional 3D sculptor working for a major car company... but it wasn't like that when we first met. When we first met, we were just a bunch of super broke car enthusiasts from the SF Bay Area that frequented the illegal street races, hardly able to scrape together enough funds to buy rebuild kits for the Mikuni 44phh carbs we wanted for our cars.
Nothing makes me happier or more inspired than seeing good people like Jan progress in their careers, all
without losing focus on what made them passionate about cars
in the first place. Let's face it. There are WAY too many corporate schmucks working within the auto industry; men and women that don't give a rat's ass about WHY people devote their whole lives to cars, or what makes cars cool. There are way too many
non-car-people
out there that scored jobs at big car companies just because they had degrees and were looking for a big corporate job with benefits after college. Jan is definitely not one of those. I'm glad to see there are still some folks out there who are intensely passionate about cars like all of us are (by
all of us
, I'm referring to the MotorMavens readers).
Read more...
---