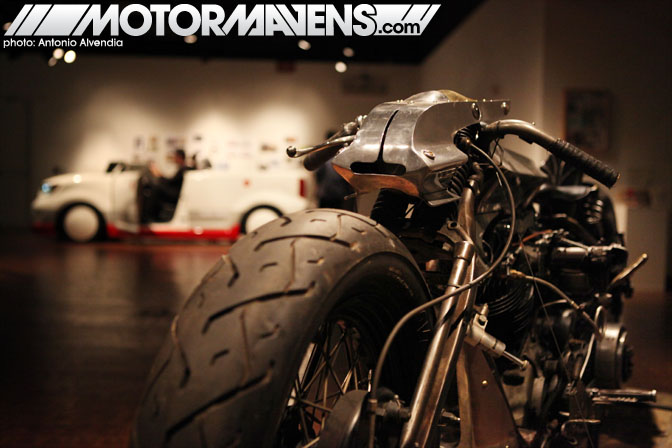 As part of its continuing "Salon Pop" series,
Giant Robot
and the
Japanese American National Museum
(JANM) in Little Tokyo (Downtown Los Angeles) unveiled the concept exhibition,
Zen Garage
, developed in collaboration between the JANM and
Eric Nakamura,
founder of Giant Robot, a brand that started out as a magazine devoted to art and the cooler aspects of Asian-American pop culture.
Even though I personally am not extremely well versed in the world of art, Giant Robot is an inspiration to me, because it started in 1994
without any kind of budget or corporate backing
(much like the MotorMavens website). Since then, Giant Robot has grown as a brand and as a movement - Giant Robot Magazine can now be found in major bookstores; there are Giant Robot stores in San Francisco and Los Angeles;
there's even a GR/Eats restaurant
in West LA! I remain fascinated by
homegrown brands that have blown up organically and become success stories
, and this is why Giant Robot's involvement in Zen Garage was interesting to me.
On top of all that, I think it's pretty interesting for an exhibit like this to exist within the walls of the Japanese American National Museum. We're talking about an museum that
isn't even purposefully focused on cars
. The JANM focuses on the experience of Japanese people in America, from World War II internment camp relics to artwork by
Mike Shinoda
of rock band
Linkin Park
... they don't normally focus on cars or car culture, so having the JANM recognize these cars and motorcycles as art... is a pretty big deal in my opinion.
Read more...
---