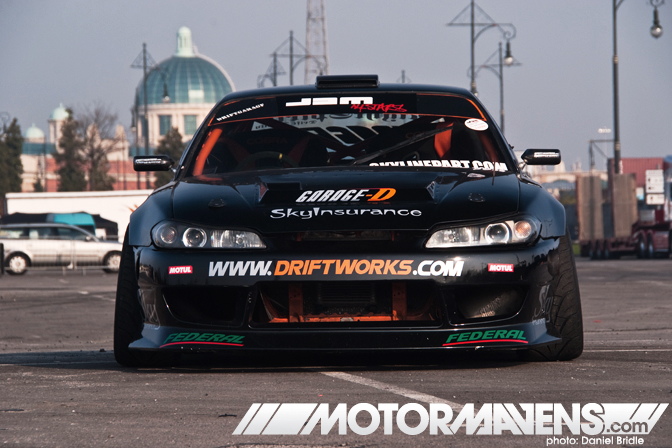 Ag-gres-ive
-adjective
1. characterized by or tending toward unprovoked offensives, attacks, invasions, or the like; militantly forward or menacing: aggressive acts against a neighboring country. 2. making an all-out effort to win or succeed; competitive: an aggressive basketball player. 3. vigorously energetic, esp. in the use of initiative and forcefulness: an aggressive salesperson. 4. boldly assertive and forward; pushy: an aggressive driver. 5. the
Driftworks S15
.
As it's been mentioned on other car blogs before, the latest guise of the Driftworks S15 has made it look angrier than ever, and I'm inclined to agree. It now looks like it wants to punch you in the face and eat children for breakfast.
I heard many rumors before Round 1 of
JDM Allstars
that this famous car was undergoing some changes and was to have a new look for the event. This car has always been a personal favourite of mine. I'm not a huge fan of a lot of pro competition cars these days, as they seem to have lost their "street car" roots - which (in my opinion) is what makes drift cars
so cool
in the first place. However, the Driftworks S15, as extreme and track orientated as it may be, has managed to capture the right mix of street and competition style. So as you can probably tell, I was extremely excited to see it in the flesh at Manchester! I had a feeling that our readers would want to see more of this incredible car, so I spoke to
Phil Morrison
(owner of Driftworks and the S15) and managed to organise a time in the morning before the final day of the JDM Allstars event kicked off to get some exclusive shots for
MotorMavens
.
Read more...
---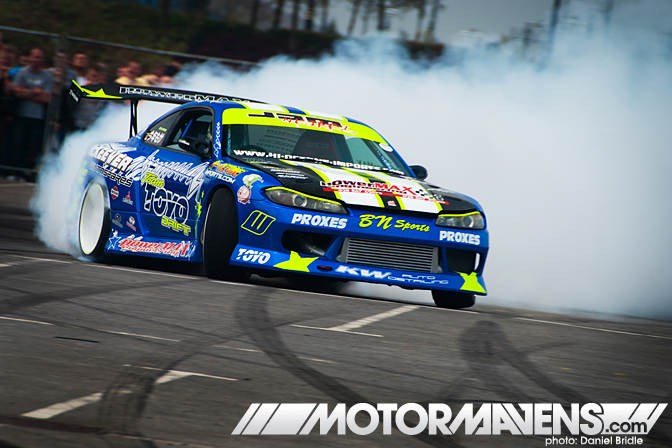 The
JDM Allstars Professional Drift Series
has become famous for raising the bar for UK drift events year after year, and the start of the 2010 championship was no different. Once again JDM Allstars rocked up to an all new location, this time the city of
Manchester
, a place that usually makes me think of Football, the band Oasis, and excitable accents that I can't understand.
Like Wembley and Newcastle before, the track would be a street based circuit in one of the overflow car parks outside the
Trafford Centre
, a shopping centre that looks like a cross between the inside of the Titanic, Ancient Rome and a giant US mall! When I arrived on Friday, I was blown away by the scale of the track and surrounding area. I had a feeling, with all the hype and build up, that the empty space I was looking at would be packed over the weekend!
Saturday morning came and it was looking like my feelings would be proven right. With the track ready, the crowds pouring in, and a whole heap of new cars, practice got under way. So here's a few photos from day one of a truly awesome drift event...
Read more...
---