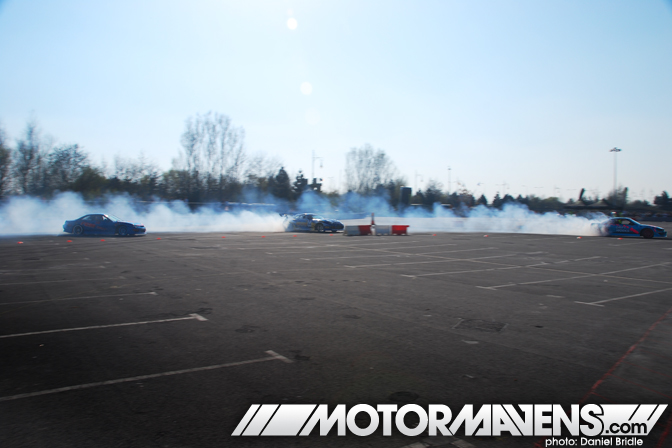 The JDM Allstars Professional Drift Series has become famous for raising the bar for UK drift events year after year, and the start of the 2010 championship was no different. Once again JDM Allstars rocked up to an all new location, this time the city of Manchester, a place that usually makes me think of Football, the band Oasis, and excitable accents that I can't understand.
Like Wembley and Newcastle before, the track would be a street based circuit in one of the overflow car parks outside the Trafford Centre , a shopping centre that looks like a cross between the inside of the Titanic, Ancient Rome and a giant US mall! When I arrived on Friday, I was blown away by the scale of the track and surrounding area. I had a feeling, with all the hype and build up, that the empty space I was looking at would be packed over the weekend!
Saturday morning came and it was looking like my feelings would be proven right. With the track ready, the crowds pouring in, and a whole heap of new cars, practice got under way. So here's a few photos from day one of a truly awesome drift event…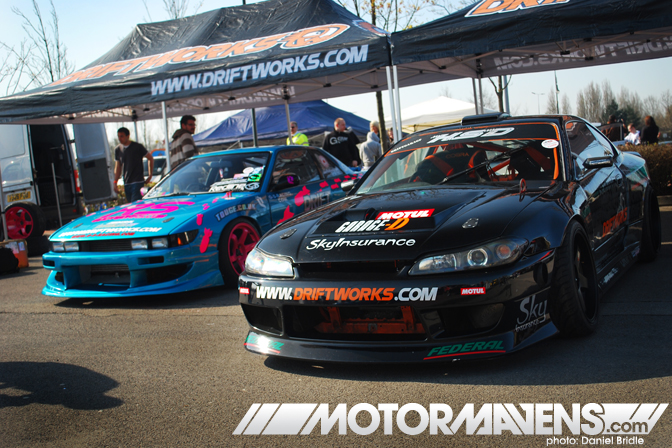 The first thing I saw when I entered the main paddock was Phil Morrison's Driftworks S15. I was so excited about seeing the car's new look after what I'd been hearing about it all day Friday. I have to say, it looks AMAZING. The old Do-Luck Double Six rims the car was rolling on have been ditched in favour of Rota's latest design – the GTR-D. In sizes 18x10J up front and 18x12J at the rear, I think they look great – especially in satin black!
I realise there are a lot of people who hate anything with the name Rota attached, but Rota does a great job of supporting drifting in the UK and the GTR-Ds are technically Rota's own design! It's so hard to come up with a rim design that hasn't been done before, so fair play to Rota for coming up with something in good sizes that looks decent.
The car has also had a few other touches along with the new graphic scheme which I'll tell you about a little later.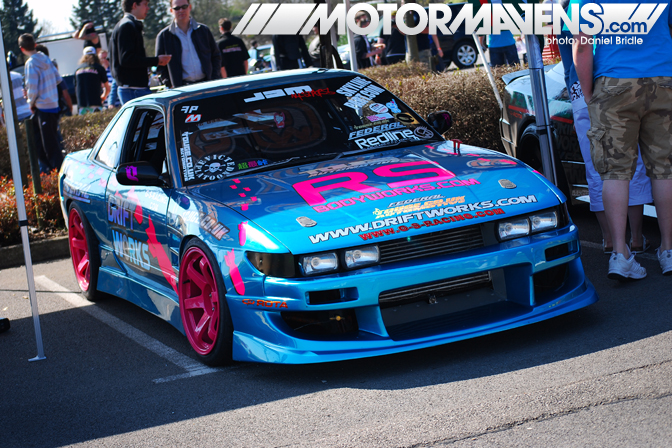 Dan Chapman was also rocking his latest look on the Driftworks PS13. Loud and in your face! A lot like Dan's driving style. I spoke to Dan a few weeks ago before he got the graphics done and he told me that if he couldn't run the car sticker-less and street style he might as well go all out and do something crazy. Hence the "touge" monster firing giant pink missiles down the side of the car!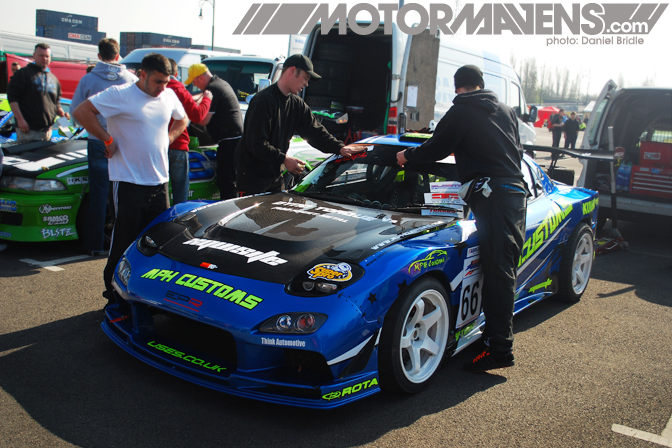 While I was meandering around the pits, I spotted Matthew Peter House and his crew putting the JDM Allstars decals onto the now famous LS3 V8 RX-7. It was great how clean the car looked before without any graphics but with sponsors and a business to advertise something had to go on. I think the car pulls it off well though and completes the competition look.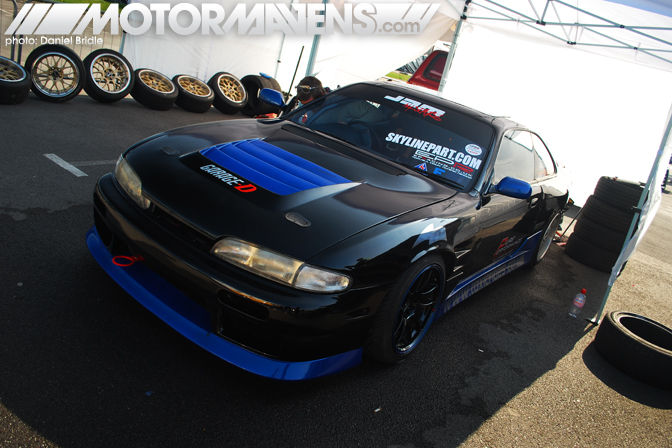 Brad McQueen's S14 Silvia was looking in better shape after an accident during Friday's testing. Badly worn out tyres affected his grip levels as he was driving through the first corner which resulted in the rear quarter hitting the wall. Fortunately it wasn't anything TOO serious and could be fixed. It sounded a lot worse though due to the barriers being made out of metal!
Brad has always been one of my favourite drivers in JDM Allstars. While other cars this year are running crazy power (in the region of 800BHP), Brad is running pretty much the same as last year – which was around 250! As you know, MotorMavens has a lot of support for the grassroots scene and its drivers, and Brad is no exception. He was killing it all weekend and I'm seriously looking forward to seeing how he does the rest of this year!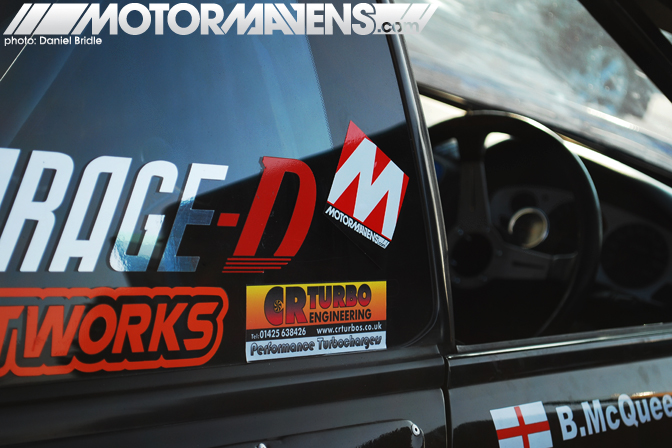 Speaking of support, Brad runs this MotorMavens sticker on his S14! Thanks man!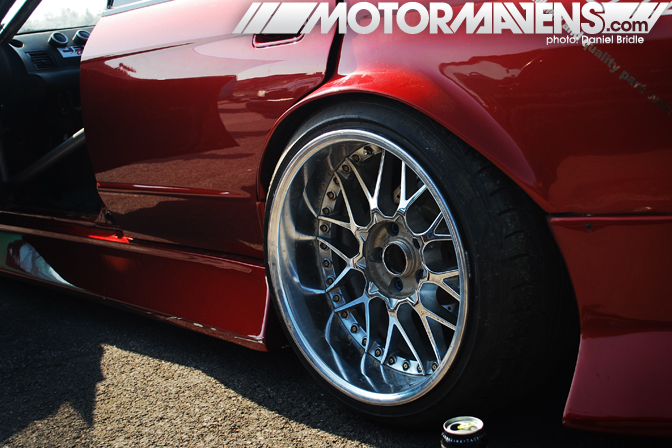 As I'm a sucker for cool wheels, I couldn't help but notice the big Works Rezax fitted to the JDM Garage R32. This is one of the two JDM Garage Skylines and it looks super sweet!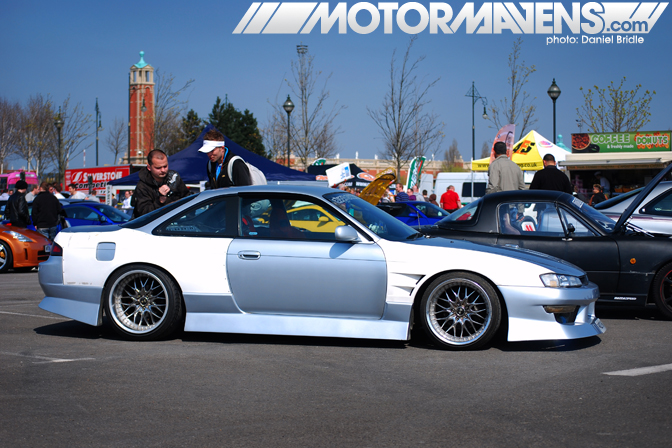 Before I headed out on the track, I decided to have a look around the show grounds to see some of the cars that were parked up. This S14A looked stunning and had great fitment with its… Works Rezax!? Oh man, these wheels seem to be stalking me. Maybe it's a sign that I need to get a car and fit a set?
Anyway, someone needs to buy this guy some paint for his overfenders to finish it off. It'll look great once it's all painted up!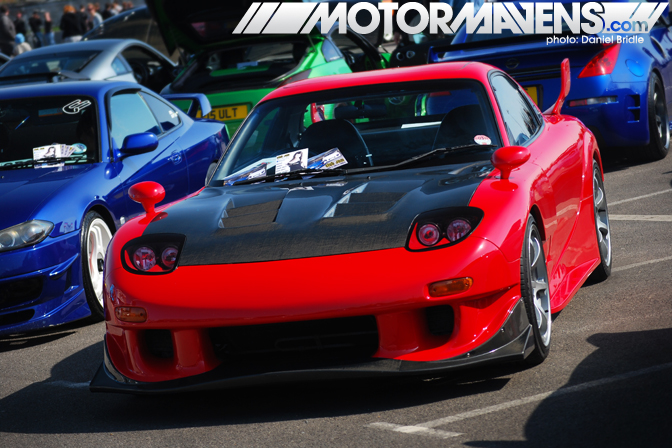 I've never been a big fan of car shows but there was some seriously awesome machinery on display. From this gorgeous RE-Animeya kitted FD3S RX-7…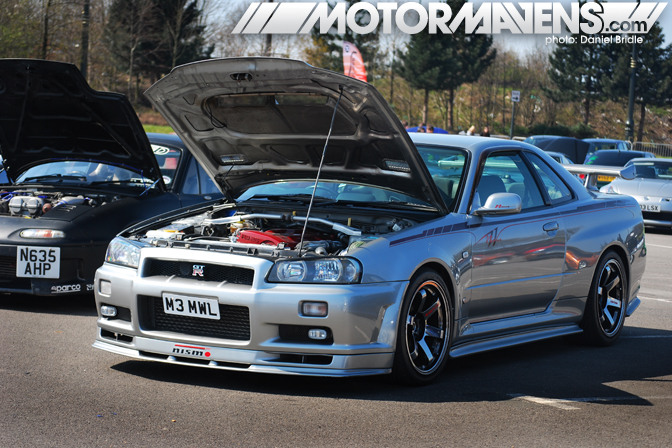 To a big turn out of Nissans such as this super clean R34 GT-R, which was chock full of Nismo parts!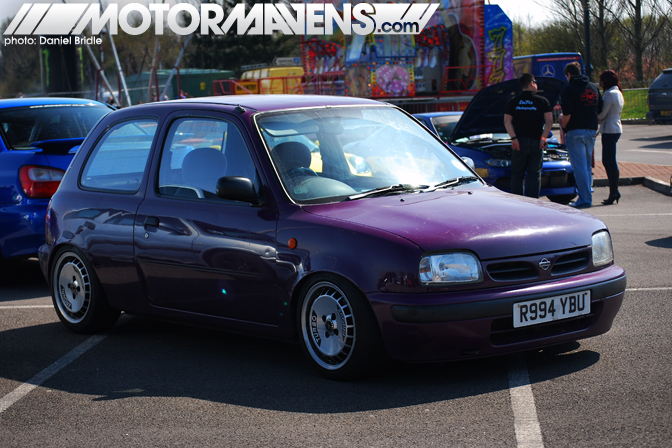 Even this little K11 Nissan Micra was pretty sweet. I've always had a weird soft spot for these cars. I guess you could say it's my automotive "guilty pleasure". I dig the wheels as well. Usually Ronal Turbo wheels are seen more on German and French cars so it was refreshing to see them fitted to something Japanese.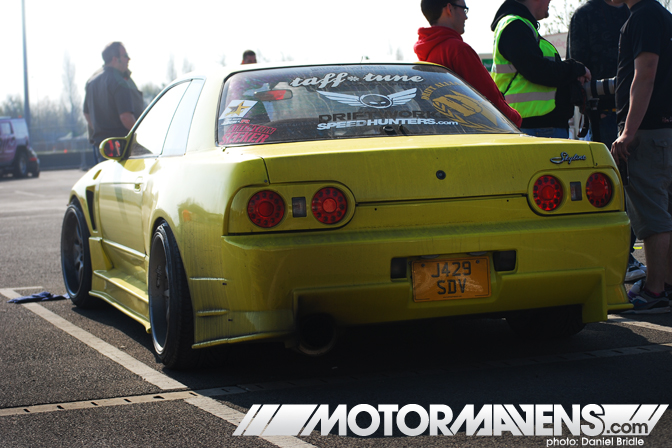 As I headed back out to the pits, Bryn Alban arrived in his genuine Bee-R R324 Skyline. I've been waiting a long time to see this car and I was not disappointed! The  yellow paintwork has always made me think of what Tsuyoshi Tezuka's famous Bee-R D1GP car would look like as a street car. The whole car has this badass presence to it, helped a lot by the awesome Work XD9 wheels fitted.
Bryn said he was gonna clean it but he couldn't be bothered after the 160 mile trip up to Manchester, haha.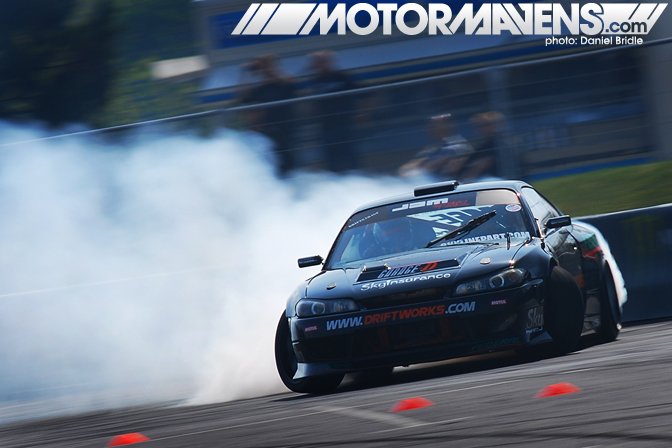 I wasn't long out on track before I was greeted with the sight of the Driftworks S15 thundering its way through the first corner. Just look how wide it is!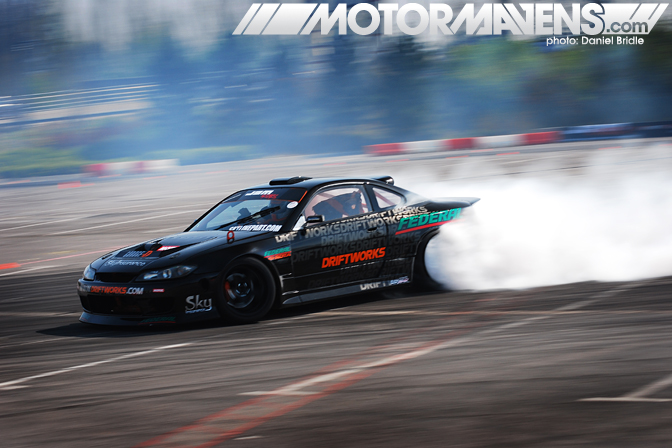 Here you can see the S15's new D-MAX roof and boot spoiler, both of which make the car seem a lot more aggressive than the old GT wing it had. Everyone has been saying it looks even angrier than before.
The Driftworks cars have always been able to create huge smoke. The Federal tyres seem to have this magic quality to them that creates tons of the stuff. So one run from the S15 was enough to make the track barely visible!

Uh oh. It was only when I looked back through these photos that I noticed what had happened to the JDM Garage R32 that Kenny Wingate was piloting. I thought the tyre looked a little flat as it came past me on the last corner but I didn't realise it had almost fallen off!? I really have no idea what happened here, but thankfully the beautiful wheel wasn't damaged. sadly, the car ran on less wide wheels for the rest of the day after that run.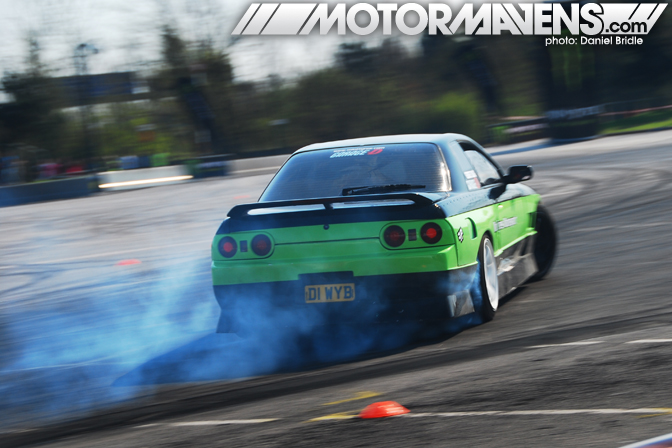 This was a funny one. I was speaking to George Tilling, the driver of the Mint Tyres R32 Skyline later on during the day, and he was complaining how there were no photos of him in the JDM Allstars Driver Search feature that I did recently. So this is for you George!
Like Brad, George was driving a relatively low powered car in comparison to others. In fact, I heard that the engine was pretty much stock. So props to him for laying down some seriously solid runs throughout the weekend.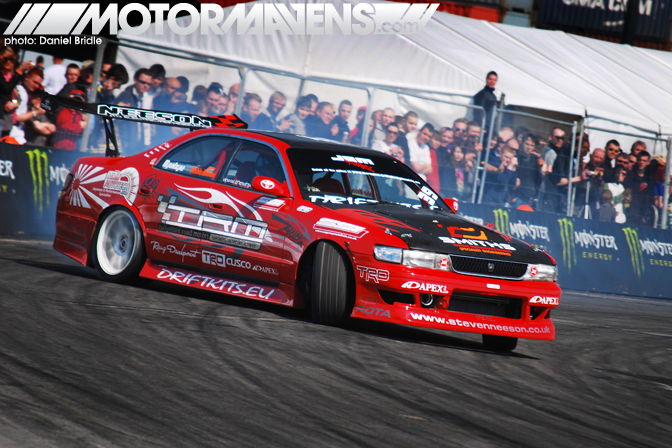 An award for one of the loudest 6 cylinder engines I've ever heard goes to this JZX90 Toyota Chaser. The ear splitting racket this car put out was insane! And with the Bee-R rev limiter turned up to something silly, it sounded like someone was firing a shotgun…in your ear…at point blank range…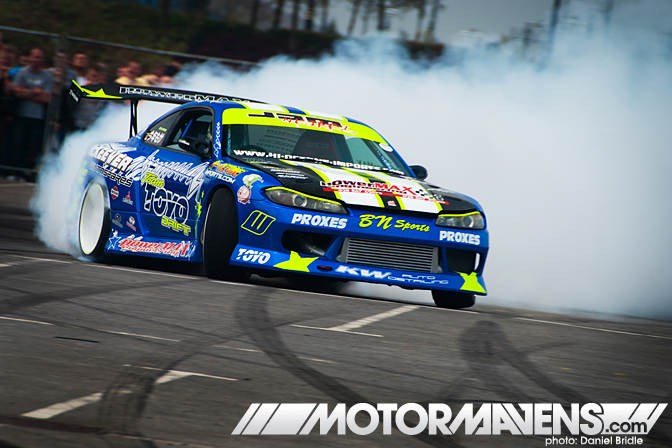 Speaking of loud. Allan McCord's Hi-Octane Imports LS2 V8 powered S15 Silvia sounded like the God of Thunder ushering in The Apocalypse (I seem to be using some fairly weird metaphors in this feature?) every time his right foot found the accelerator pedal. I realise I don't know what The Apocalypse would sound like, but I hope it sounds something like this. At least then it'll be kind of enjoyable!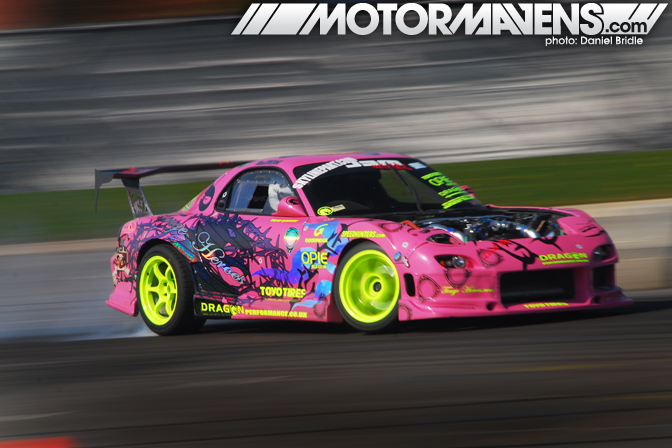 A lot of rumors had been floating about on the Internet forums over the new driver of the Dragon Performance FD3S RX-7. It turned out to be Brad Hacker, a guy that, from what I've heard, is mainly a street drifter! And as much as I dislike the way this car looks, it was interesting to watch someone with that sort of drifting background come onto the track and go up against some of the best drivers in Europe.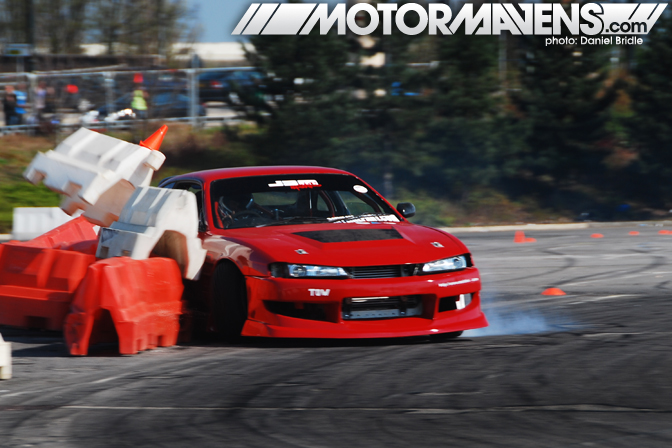 I feel a little sorry for Team Twisted's Bruno Esperanca, as he's become famous for his expert crashing skills over the years. I've yet to see one JDM Allstars event where his car hasn't been into a wall or scraping along one. So it's always exciting watching Bruno head out onto the track as you never know if you'll be dodging flying Nissan body panels or not! I don't think it's because he's a bad driver at all, it's just more down to the fact that he has a SUPER aggressive driving style.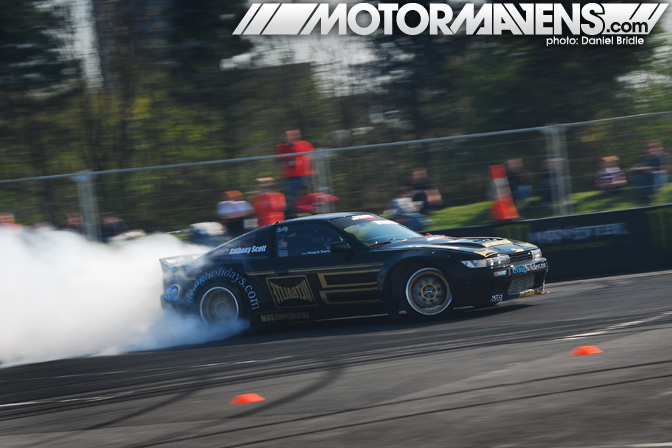 On the other scale of the damage spectrum, Anthony Scott's Rocket Bunny Sileighty has got to be one of the least damaged drift cars in the world! The only time I've seen it damaged was in a slight collision with Dan Chapman's PS13 last year at Wembley. I think it's great how well kept the car is, especially with a bodykit as rare as the Tra-Kyoto 6666. It's nice to see something fitting properly without having to use tons of cable ties.
Scotty was looking in top form all the way through practice as well, putting on some very smokey runs!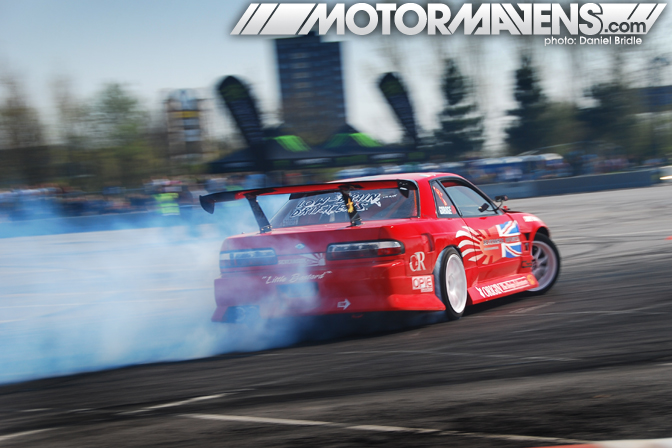 While Australian driver Luke Fink was stuck in Spain, hiring a car to drive all the way to Manchester thanks to the volcanic ash from an eruption in Iceland which grounded his flight, James Hudson stepped up to the plate to drive the car during practice. It's been about 2 years since James drove in the pro environment due to helping organise JDM Allstars, but he showed everyone that he's still got the skills to jump into a completely unknown car and drive it brilliantly.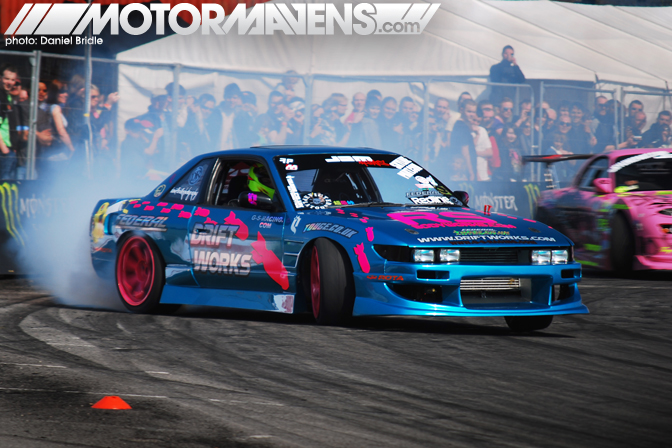 I'll leave you with this shot of Dan Chapman exiting the final corner of the Manchester street course. I simply cannot describe how good his driving was this weekend, the man is on fire!
I still have plenty more JDM Allstars eye candy to come, so keep your eyes peeled for Sunday's intense action!
::Daniel Bridle
4-Door
,
6666
,
Anthony Scott
,
Avon Bellamy
,
Bee-R
,
Brad Hacker
,
Brad McQueen
,
Bruno Esperanca
,
Cresta
,
D-Max
,
Dan Chapman
,
Daniel Bridle
,
Dragon Performance
,
drifting
,
Driftworks
,
FD3S
,
Federal
,
George Tilling
,
GT-R
,
HI-Octane Imports
,
James Hudson
,
JDM Allstars
,
JDM Garage
,
JZX90
,
K11
,
Kwnny Wingate
,
LS2
,
LS3
,
Luke Fink
,
Manchester
,
Matthew Peter House
,
Mazda
,
Micra
,
Mint Tyres
,
Monster Energy Drink
,
Nissan
,
Phil Morrison
,
PS13
,
R32
,
R324
,
R34
,
Re-Animeya
,
Rocket Bunny
,
Ronal Turbo
,
Rota
,
RX-7
,
S14
,
s14a
,
S15
,
Sileighty
,
Silvia
,
Skyline
,
Team Twisted
,
Toyota
,
Tra-Kyoto
,
Trafford Centre
,
UK
,
V8
,
Work Rezax
,
WORK XD9
---