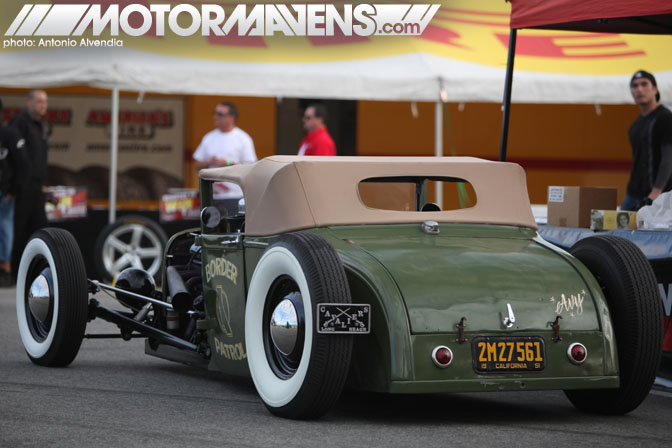 When most people think of the term
car culture
, they immediately (and possibly unconsciously) picture
particular types of cars
in their minds - cars that fit their own personal spectrum of interest. That is car culture's dirty little secret – it can be extremely
balkanized
, or broken up into little niches and peer groups.
If you're into muscle cars, then
screw those four bangers
. If you're into rotary powered vehicles, then
screw those pistons
! If you're into road racing and time attack, then
screw drifting
. If you're into Formula One, well, screw everybody. If you've been around car culture for any length of time, you know exactly what I'm talking about. You also probably know that
not everyone feels this way
. As we get a bit older and experience some of the great aspects of other car cultures, more and more of us are discovering that we're all the same under the hood – we're all just
car guys
.
In the middle of 2009 when we started MotorMavens, we established the site on a basic principle –
that everyone's voice is validated by their passion for the cars
and car culture because
the one thing that brings the entire spectrum of car culture together is passion
. We call it the "passion principle." Wherever you find some mind blowing interpretation of the automobile and the lifestyle that revolves around it, you also find some passionate person wrenching away – usually with a ton of pride and satisfaction in his/her accomplishments but very little money to show for it. That's exactly what the MotorMavens Crew searches for;
we look for that passion in every possible niche of car culture
so that we can broadcast it loud and clear to everyone when we find it.
So,
what does all of this have to do with the Mass Appeal Show?
It's simple. When
Ken Block
and the
Gymkhana Grid
team approached us to produce a car show at their Ken Block Invitational, we already knew that it would need to be different than what most people might expect. We knew our car show would need to represent the driving principles of MotorMavens... the car show would have to be
multi-car-cultural
; reflecting the wide spectrum of car culture that we love so much. It would have to have mass appeal - get it?
Read more...
---