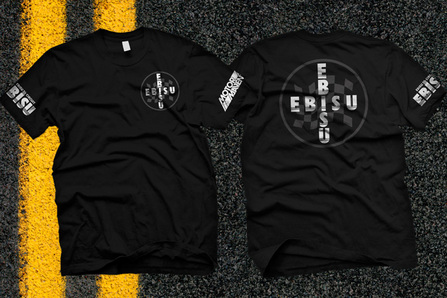 This just in! We just wanted to post up a little sneak preview of our newest Motor Mavens shirt! This is actually the SECOND shirt that we've produced for Motor Mavens. We produced a small run of shirts for members of the Motor Mavens crew to wear when shooting events, but we received so many comments from people at events saying they wanted to rock a Motor Mavens shirt too that we actually decided to sell some shirts at this weekend's Formula D grand finale at Irwindale.
Even though we are all going to be at Irwindale this weekend, we still have the Holy Land of Drifting, Ebisu Circuit, in our hearts… so we had our boy Antonio call up Ebisu's owner, Nobushige Kumakubo and ask him if he would be interested in doing a collabo Ebisu Circuit X Motor Mavens shirt. Guess what… after approximately .0032 seconds of careful deliberation, Kumakubo made up his mind and responded with a YES!
So there you have it… from the Home of Drifting in Japan to the House That Drifting Built, Irwindale Speedway… stop by the Eat Sleep Race booth on Saturday to buy one of these super legit Ebisu Circuit shirts! And FYI, they're made for American sizes, so you don't need to worry about the "One Size Fits Small" Japanese shirts…
BRING CASH MONEY TO IRWINDALE, and make sure to buy a shirt before you do anything else, because they WILL be completely sold out by the end of the day!
See you there!!!
:: Motor Mavens
---