AWOL Short: Driftcember from AWOL on Vimeo.
If you've heard of AWOL, then you're probably familiar with their well-produced, high production value webisodes exhibiting all aspects of motoring culture.  If you haven't heard of them, familiarize yourself.  Their latest offering being passed around the internet is the short titled "Driftcember."  They covered a local grassroots event in West Virginia in a way that even a lot of higher end events aren't, with chase helicopters.  If that doesn't impress you I'm not sure what will because everything is better when you add a helicopter.  I really enjoyed this video because it gives a fresh look on something we've all seen before.  Hopefully this will get other photographers and videographers to step up their creative game.
Check out awol.tv for more shorts and episodes of their automotive conquests.
:: Jonathan McWhorter
---
In Cars from Justin Shreeve on Vimeo.
The idea for this video came from a night of goofing off with friends and tossing ideas around. When this song began to play in the background, I knew I had to edit a drift video to it, but not just any drift video. That's when I decided to make a video using only the help of wearable/mountable cameras. Many questions arise when considering such a project. How will I get my hands on enough cameras? My old, broken GoPro SD sure wasn't going to cut it. Then, once I have enough cameras, how can I mount them in ways that keep the viewer interested throughout the entire video? I can assure you, this was a slightly daunting prospect that quickly found it's home in the recesses of my mind. That is, until Antonio Alvendia introduced me to Jason from Contour at the Apex'i/Lexus SC430 debut party in Seattle. I swear, that guy knows everyone!
This video is far from perfect, but I feel it captures some of the excitement and carefree qualities of drifting that are often difficult to see or feel through a lens or computer screen. I chose to leave the colors/exposure/contrast/everything alone with this video. There is zero color grading and very little audio mixing. My intent was to not only create a fun, relaxed drifting video, but to also show the grassroots drivers what these cameras are capable of straight out of the box.
A huge thanks goes out to Jason at ContourHD for making this project a possibility. Without the help of the ContourHD 1080p, my dream of an all point-of-view drift video may have never come to fruition.
:: Justin Shreeve

CONTOURHD Cameras
Shreeve Films
---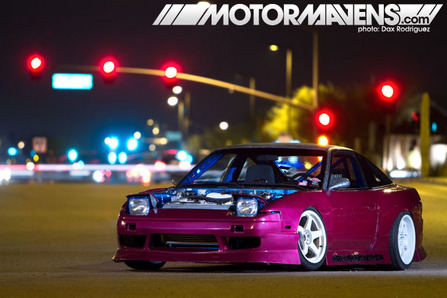 I can hear the theme song to
Welcome Back, Kotter
playing in the background as I type this. I'd like to apologize for my absence to all the people that actually like my work... Mom and Dad, I'm looking at you. To everyone that only comes to
Motor Mavens
for the photos,
this one is for you guys
from someone you don't know, never met and probably won't ever meet. Thank God it's Friday!
Don't be confused, this just isn't a "welcome back to the site" for me. Oh no, this is a huge welcome back to
fresh cars built by cool people on real world budgets
. Welcome back to grassroots drifting and sick street cars, which is what this site was built upon and the whole reason why we keep pushing forward. Like a skilled surgeon,
Mike Burns
and company have suited up in their drifting scrubs to save the all important life of grassroots drifting; but instead a sharpened scalpel, his finely tuned instrument is this super rad
RPS13 Nissan 240SX
.
Read more...
---