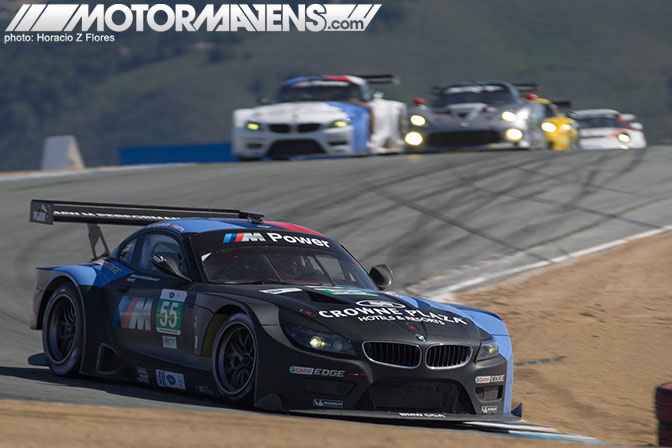 Racing today has become about
closeness
. Photo finishes, improved safety and lowered operating costs have made many sanctioning bodies look to
spec racing
, where all the cars are the same and the contest then becomes a
driver vs. driver
battle.
The major casualty in these forms of racing (ie: IndyCar, NASCAR, etc.) has been
truth in engineering
and innovation. There is not much you can do to innovate without breaking the rules - and being hung out to dry for it.
When the
American LeMans Series
(ALMS) came to the Monterey Coast at
Mazda Raceway Laguna Seca,
this theory was thrown to the dogs as multiple chassis, motor, and tire combinations had no hindrance on the level of competition. The four hour enduro proved to be an absolute slugfest. It looked far more like a
20 mile sprint
as it proved one of the most closely contested, nail biting, bump-and-rub fests of sports cars and prototypes lapping the twisty, hilly 2.238 mile circuit in 1:13.948 while making insane 10,000 rpm noises.
Read more...
---
I'm mad, seriously. Christmas weekend it is, but man….I can't hold back this level of hurt. Friends of mine can vouch for the level of anger I experience when seeing a Mazda RX3. When I let mine go up for sale, I thought it might feel good to let something move on… WRONG. I now fully regret the transaction and wish life had a rewind button like that of a DVD player – call it seller's remorse.
While I'm watching this video, gritting my teeth and wiping tears from my eyes, you can enjoy viewing this beautiful Mazda Savanna GT as it graces the country side roads of Japan. Take a closer look at the interior shots, and wish upon many stars that I may one day accomplish supreme levels of cool when building my next old school Mazda. Recaro front seats and Burberry-esque cloth covered rear seats. Observe the fresh RS Watanabe wheels which appear to be somewhere in the realm of 14 inches with a healthy tire side wall. Awesome fender mirrors? Check. Front lip with aero? Absolutely. If you own an RX3, please use this footage as a template and do not… I repeat, DO NOT sell your RX3. Unless of course I come knocking at your door inquiring about it. Then and ONLY then is it permissible. **sniff sniff**
: : Edward Uche
---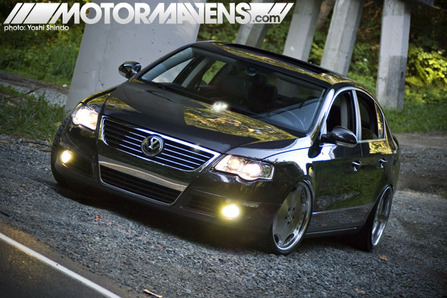 From compact commuter cars and SUVs, to GTs and supercars, most in our "scene" have seen just about every imaginable car "upgraded"- with the possible exception (in my case) of Zach Dunn's 2007 Volkswagen Passat. I must admit that I had yet to see one of these cars
done right.
And, since I seem to be in the mood for confession, I'm not going to lie, I've never been the greatest fan of VWs. However, the more I see of them (especially this one), the more they're starting to grow on me. Zach's 2007 Passat was the first I'd seen that had been slammed and enhanced with superior fitment - and that made all the difference in the world.
Read more...
---