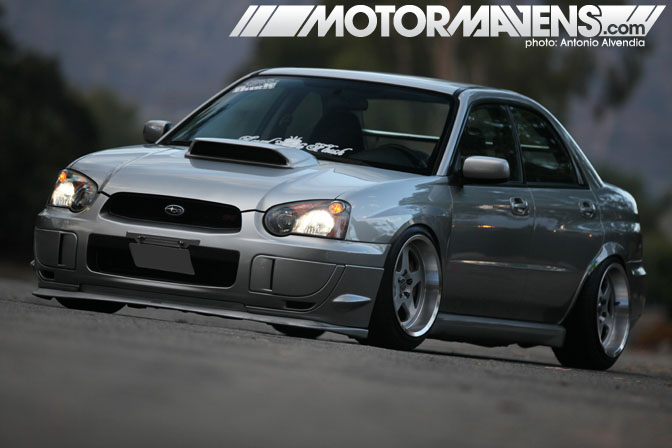 A few years ago, the term "royal flush" wouldn't make you immediately think of cars. Rather then picturing a car's wheel fitment and ride height, it was more associated with card games. However, with wheels right at the fenders, tires tucking underneath them, and frame rails sitting only a few inches above the tarmac, this
Subaru Impreza WRX STi
owned by
Austin Mardian
from the
Royal Flush Crew
really embodies what it means to have your car
sit flush
.
When Austin rolls out to car meets and shows, he and his friends from Royal Flush crew definitely roll deep, with more than enough slammed cars to back up the name. For those of you local to Southern California that have been to many of the larger car shows, you might have seen several of the Royal Flush "VIP" style cars. Whether it's a Lexus or Infiniti on air ride or Austin's STi, they mob out in big numbers to all of the events they go to. While some of the cars in the crew scream for attention, the clean subtle look to Austin's STi was actually what caught my eye when I saw his car for the first time.
Read more...
---
This past weekend, I went up to San Francisco to hang out with some of my old school friends from the Bay Area... but unfortunately a lot of them were out of town! Hawaii, Japan, Philippines... damn! Sometimes I have such bad timing! It was a good thing
Calvin Wan
was in town - he told me he had two events that he needed to attend that weekend. He needed to bring his FD3S RX7 to a motorsports show in Vallejo, and then bring his S14 Silvia (it really is a RHD Silvia from Japan) to the
Wekfest Car Show
in
Japantown
San Francisco. I've been hearing about (and seeing pictures of) the annual carshow in San Francisco's Japantown for quite some time, but this weekend was the very first time I had ever had a chance to attend it myself. I think in the past it used to be called the
JDM Theory
J's Gathering
, but apparently they decided to rename it Wekfest (
pronounced like 'weak-fest'
). Or it could be that the organizers are different now? Not sure.
Anyway, the Weksos Wekfest event was pretty crazy... TONS of cars, TONS of people in attendance, and a line of impatient people that stretched around the block. Seriously... that was a pretty long line!
Read more...
---