World Drift Series China 2009 from Larry Chen on Vimeo.
Once a year drivers from all over the world gather in China to drive the shit out of crappy cars. No rules. No limits. And sometimes no seatbelts.
This is the World Drift Series. Drifting is very new in the land of communism… but every year, American and Japanese drifters show the Chinese drifters how to do some REAL drifting. In 2008 and 2009, the main event, "WDS Hang Zhou" had a sellout crowd of 45,000 people.
This year, along with the American and Japanese drivers, there were quite a few drivers from Mainland China and Hong Kong as well. There was even a Russian drifter who came down for two events.
I had the privilege of traveling with the American team. I was given $1500 to purchase 4 sh!tty cameras and 3 sh!tty on-car mounts (I don't really shoot video). This short film is what I ended up with. I tried to concentrate more on the drivers, since I had an opportunity to live and travel with them for 2 weeks. Every part showcases a different driver and their unique personalities. Enjoy!
:: Larry Chen
---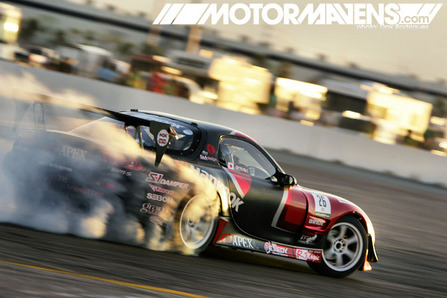 Continuing our Motor Mavens Coverage on Formula D Las Vegas... many of the fans and media members seem to have been focused on only the Top 32 tandem competition, but those who braved the Vegas heat earlier in the day were treated to some pretty exciting tsuisou action from the Formula D Pro Am drivers. Props go out to all the Pro Am drivers for coming up through the ranks and doin it big!
Read more...
---