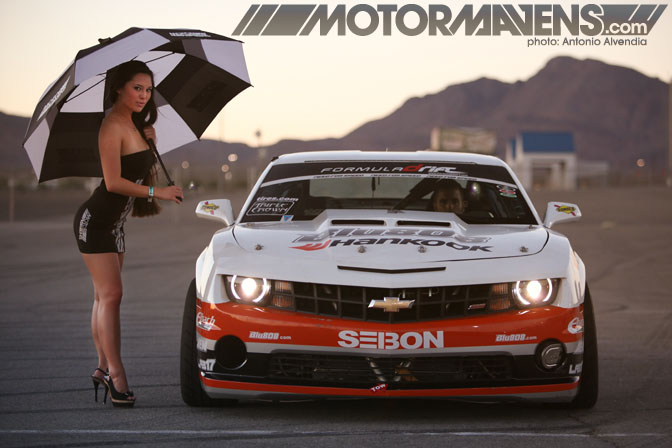 When it comes to Formula D Las Vegas, what can I say that hasn't been already mentioned? It was hot. Damn hot. Too hot to be outside without air conditioning. I don't understand how Las Vegas locals can handle the incredible heat over there, but they say they're just used to it now. Getting used to it is one thing... but I wonder if they
like it
though?
Just like the gypsy camps in the days of old, this year's Las Vegas round of Formula Drift brought thieves out of the woodwork. I was really surprised to find out that former Formula D judge (and current Tanaka Racing Corvette driver)
Alex Pfeiffer
's helmet was stolen. I suppose someone was a fan of Alex's Hawaiian print helmet, which had the traditional Hawaiian plumeria flowers painted on one side. The only question I have about that is...
Okay, thieves. Now that you have Alex's helmet, what the hell are you going to do with it?
Read more...
---
This weekend, while I was out of town handling some family business, drifting sharpshooter
Larry Chen
was out at Hollywood Park attending the media preview day of DC Shoes founder
Ken Block's Gymkhana Invitational
. I'm pretty disappointed that I wasn't able to make it to the event myself, as I absolutely LOVE gymkhana.
For those who don't know, gymkhana is kind of like a cross between
autocross
(slalom/solo racing in a parking lot, in a course laid out with cones) and drifting. Back before I started working the media end of the drifting scene, I was pretty active in driving at autocross events. It's fun, it improves your driving skills, and it's not too expensive.
Ken Block isn't the first person to try to organize a gymkhana event though.
Erik Jacobs
from
DG Trials
in Atlanta GA was the first person that I had ever heard of trying to make a series of drifting and gymkhana events... this was back around 2004 or so, when drifting was just beginning to blow up! To put things in perspective, back then,
Vaughn Gittin Jr
was still working on getting sponsored by Falken, and he was driving an S13 240SX, not a Ford Mustang!
Read more...
---